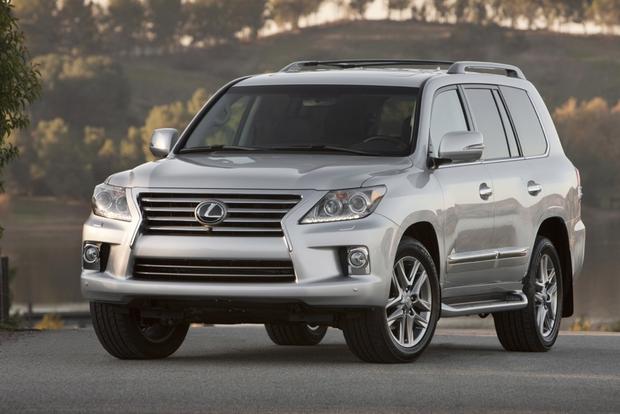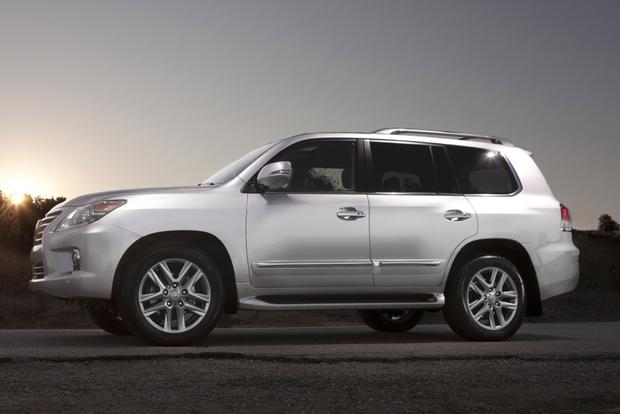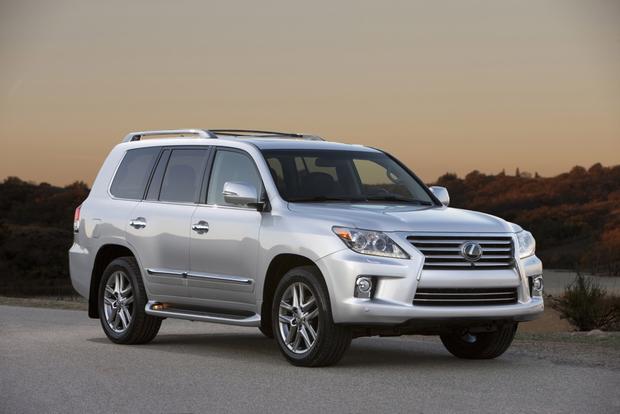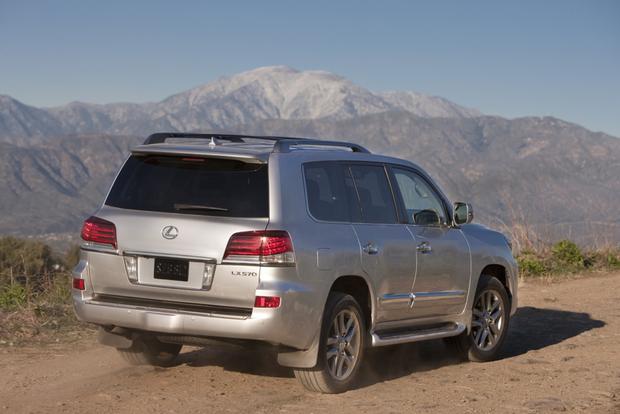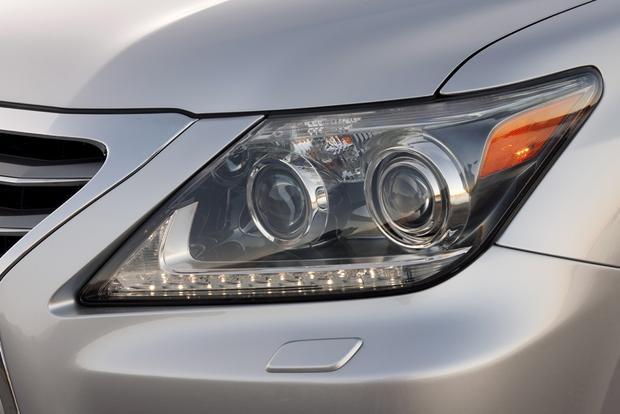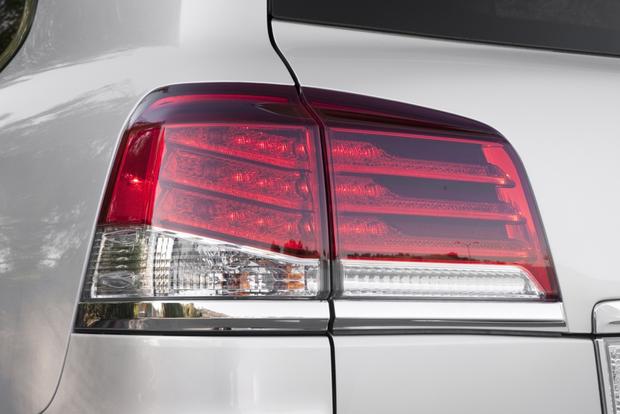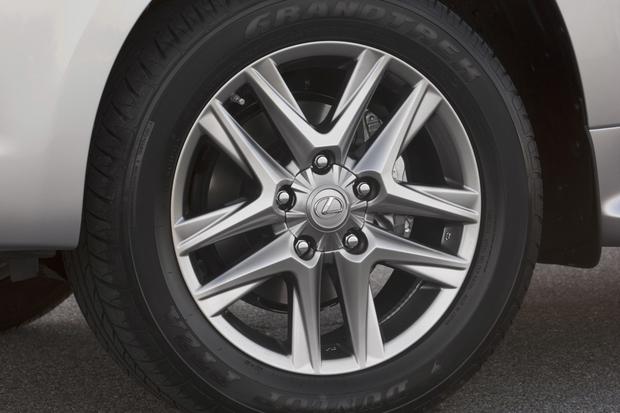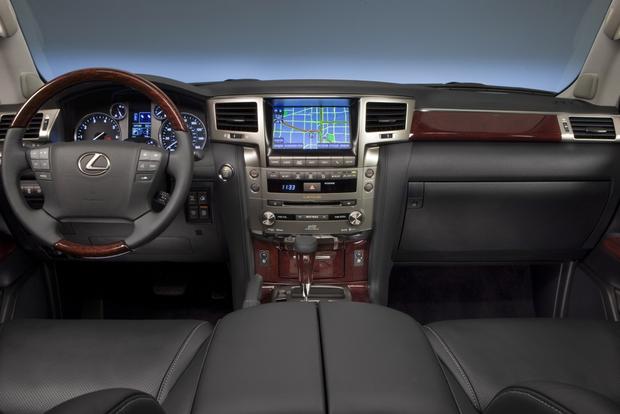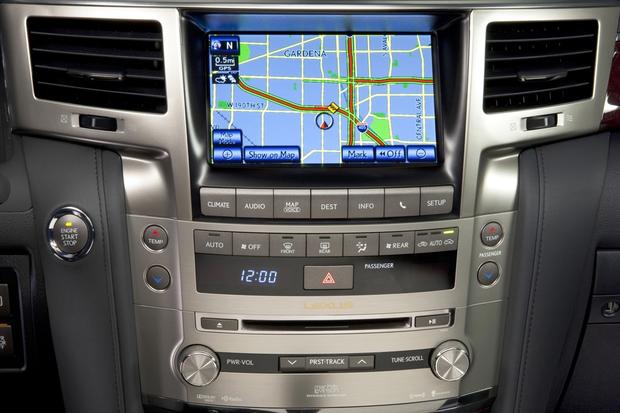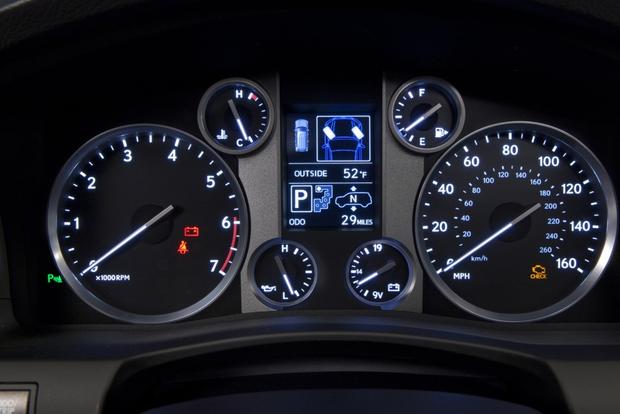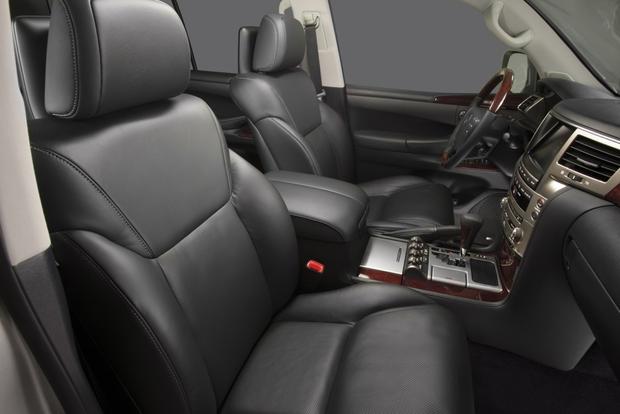 Pros: Strong V8 engine, off-road capable, lots of fun electronic gadgets
Cons: Firm ride, vague handling, gas hog, limited cargo area
What's New: The 2013 LX 570 receives Lexus' new grille and LED running lights, as well as 20" wheels, integrated side mirror turn signals and the Lexus Enform application suite. Crawl Control is also updated with a featured called Turn Assist.
Lexus' aging flagship luxury SUV gets a minor overhaul for 2013, adopting the company's new signature spindle grille and headlamp treatment, new wheels and some minor interior upgrades.
The LX 570 is Lexus' largest SUV, riding on a platform that, although modified over the years, is still basically the same vehicle platform shared by previous Lexus and Toyota SUVs for well over 10 years. While the design has proven to be an excellent one, racking up high praise for its reliability, durability and strong resale, it's falling behind the competition in the world of luxury SUVs. Where many newer luxury crossovers are now built from what is called a unit body, where the body and floor are welded into a single unit and then the suspension and engine are attached, the Lexus LX still rides atop a more traditional body on frame set up that sees the wheels and engine attached to a steel frame and the body is bolted down.
Unit body vehicles are generally quieter and less prone to rattles and vibrations; they also tend to handle better due to their ability to accept a more sophisticated suspension. But, the Lexus LX 570's design also has its benefits, including the ability to tow heavy weight and venture over rugged off-road venues. The first we think is likely for most Lexus buyers (think boat or horse trailer), but the latter, not so much. For the record, the Lexus is not the only body-on-frame luxury SUV on the market. Cadillac's Escalade still uses the design, as does the Mercedes G-Class.
If a stiffer ride, top-heavy handling and vague steering don't bother you, there is much to like about the LX, including a powerhouse of a V8, a wide range of luxury amenities, room for eight passengers and the ability to actually be taken off-road with utter confidence.
Comfort & Utility
Sitting in the driver's seat reveals a commanding view of the road, aided by an abundance of side glass and some of the least obtrusive windshield pillars we've seen, an important attribute for spotting pedestrians and avoiding off-road obstacles. The LX 570's firm seats cradle their occupants, sitting high enough off the floor to create a chair-like sitting position conducive to long-term comfort. Rear seat passengers will find similar seating, only slightly less accommodating to the long legged. The odd man out is the LX's third-row seat which is a bit cramped and too upright to be comfortable for long trips. It also stores not in the floor as most SUVs allow, but by folding up alongside each rear quarter window. This design not only limits visibility, it drastically reduces the usable cargo hold. Fortunately, however, the seats are power-operated via a set of switches located in the rear cargo area, making it easy for anyone to operate.
The LX's dashboard betrays the LX's age, sitting up high with a bulky look and a smattering of buttons that seem to have been randomly placed over the years as more and more features were added.
Where the LX 570 shines brightest is in its long list of available features. Befitting a $90,000 SUV, standard highlights include four-zone automatic climate control, power front seat cushion extenders, voice-activated navigation, adaptive front lighting, rain-sensing wipers and a power-sliding second-row seat. To make entry and exit somewhat less burdensome, the LX features Active Height Control that allows the suspension to be lowered by about two inches.
Options are few but notable. Buyers can opt for a 19-speaker Mark Levinson audio system, a rear seat DVD entertainment system, heated and cooling front seats, a heated steering wheel, Smart Access keyless entry and start, Dynamic Radar Cruise Control and a "cool box" for storing beverages.
Technology
Being a Lexus, the 2013 LX 570 is loaded with electronic assists designed to both aid and wow its driver. The voice-activated navigation includes Lexus Enform, a voice-controlled communication system that uses Bluetooth to access your phone as well as stream music. Enform also includes an application suite that leverages the apps on your smartphone, allowing you to access such popular apps as Pandora, make reservations at your favorite restaurant via Open Table or secure tickets for an evening show using MovieTickets.com.
Music aficionados will love the available Mark Levinson audio upgrade, featuring 19-speakers distributing 450-watts of rich, bass-filled sound through the cabin.
Performance features include an Adaptive Variable Suspension with settings for Normal, Comfort and Sport modes. To aid in off-road adventures, the LX is equipped with a new Multi-Terrain four-wheel drive system that changes crawl rates and suspension setting based on five different modes: Rock, Rock & Dirt, Mogul, Loose Rock, Mud & Sand. To help in city driving, the optional Wide-View Front and Side Monitor displays images at the vehicle's front bumper and sides, allowing you to see around blind corners (as when exiting a parking garage) or maneuver into a tight parking spot.
Performance & Fuel Economy
The LX 570 is powered by a 5.7-liter V8 engine that produces 383 horsepower and 403 lb-ft of torque. Power is routed to all four wheels via a six-speed automatic transmission with manual shift control. A Torsen limited slip center differential manages power between the front and rear wheels and can be manually locked to provide a constant 50/50 split. While we love this engine's smooth operation and instantaneous power distribution, its 12 mpg city/18 mpg highway fuel economy ratings leave us a little cold.
Safety
The Pre-Collision and Dynamic Radar Cruise Control not only keeps the LX a safe distance from traffic ahead, it can anticipate when a collision is eminent, tightening the seat belts and preparing the brake assist for use.
Standard safety equipment includes 10 airbags including front, front side-impact, second-row side impact, driver and passenger knee and full-length side curtain airbags covering all three rows.
The LX also comes standard with 4-wheel anti-lock disc brakes with electronic brake assist, electronic traction and stability control, Hill Start Assist, Crawl Control with Turn Assist (helps improve the LX's turning circle in certain situations) and Trailer Sway Control.
Driving Impressions
As much as we want to like the LX 570, it just fights us all the way. The ride and handling are average at best, with lots of lean and body roll in the curves and a ride that seems rough even over the smoothest pavement. The LX's steering is over-assisted to the point of feeling numb, and its turning circle is as wide as the rift between Republican and Democrat. Although, in all fairness, the LX's competition isn't much better. Setting the suspension to the Sport mode helps somewhat, but the LX will never ride or handle like a similarly priced Range Rover or Audi Q7.
As for power, here the LX excels. The engine is strong and smooth, always willing to give when asked. Merging on freeways or quickly overtaking slower traffic is a worry-free event, although toss a curve into the mix and things can become a bit dicey. The LX is happiest on smooth, straight pavement and, occasionally, boulder-strewn paths and sand-filled washes.
Other Cars to Consider
Cadillac Escalade - The Escalade's ride and handling are far better than the LX, it offers more interior room and it costs less to boot. But, you can't take an Escalade off-roading, and in EXT trim it's more difficult to fit into tight spaces.
Land Rover Range Rover - The Range Rover is superior to the LX in the areas of ride and handling, and its off-road abilities are every bit as good. But, the Range Rover doesn't have the same long-term reliability and resale as the LX 570, and it costs a fair bit more than the Lexus.
Mercedes-Benz GL - You'll find more to like in the way the GL rides, plus you can opt for a V6 or diesel engine. But, the GL isn't a serious off-road vehicle, although it can tow more weight than the LX.
AutoTrader Recommends
Our best recommendation is if you're going to spend $90,000 on a luxury SUV, you'd be better off with the Mercedes GL, Land Rover Ranger Rover HSE or even something like the Audi Q7 or Porsche Cayenne. But, if the LX 570 is a must have, get it with all the options.