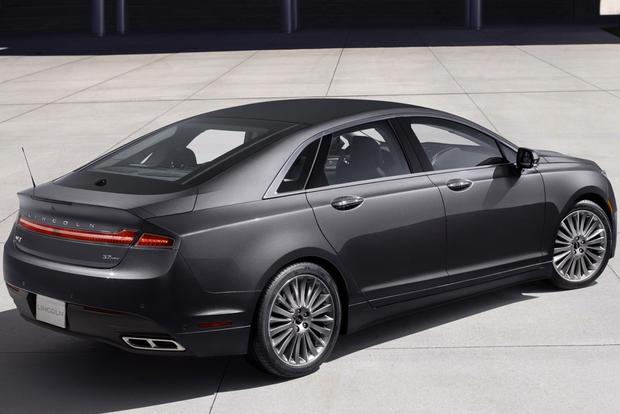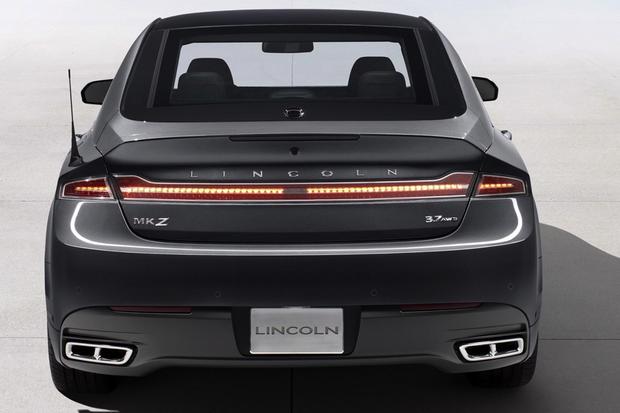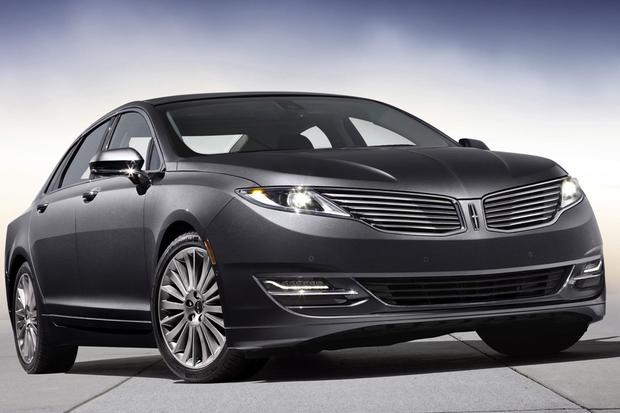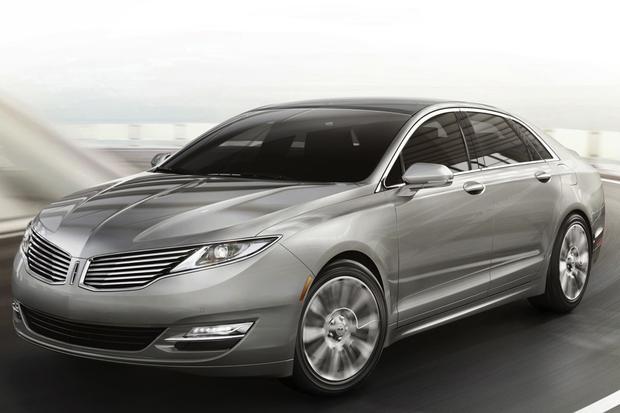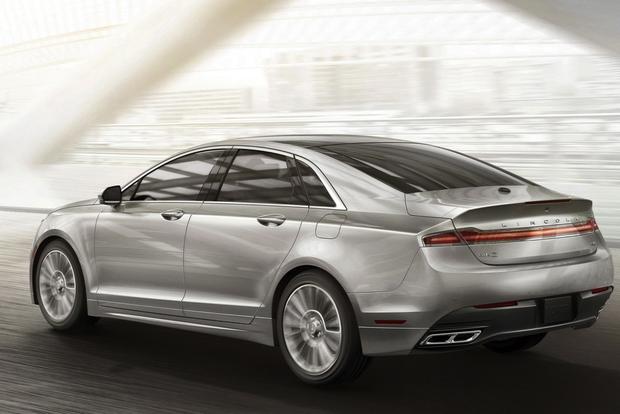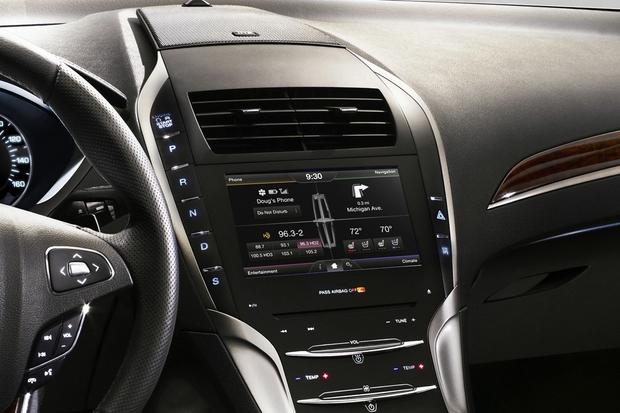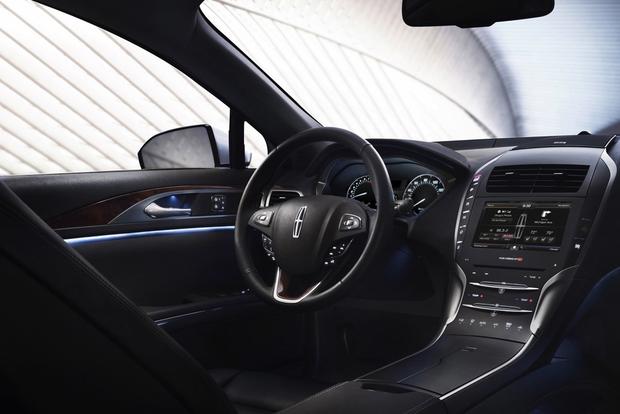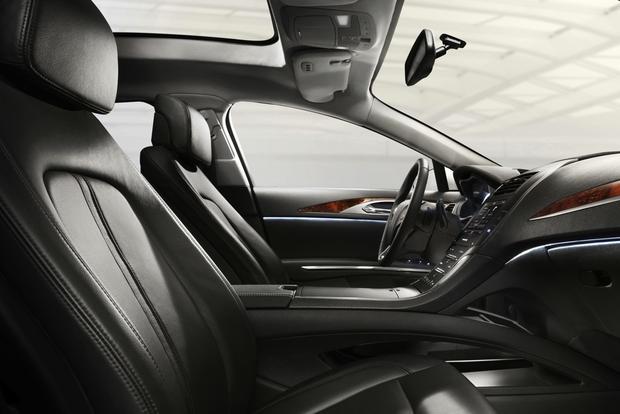 For those interested in a premium-level midsize sedan, the completely redesigned 2013 Lincoln MKZ is worth a look. Though not as desirable as some others in its category -- for instance, the BMW 3 Series or Cadillac CTS -- the MKZ offers a uniquely opulent design, a choice of three capable and efficient powertrains and a nice roster of upscale amenities, such as a fully retractable panoramic roof.
Most noticeable about the new MKZ is its fresh and distinctive coupe-like exterior styling. Although the signature split-wing grille remains polarizing, fans will appreciate Lincoln's latest iteration of this design. And the sedan's sweeping profile and classic character will certainly draw in those on the hunt for an automobile that exudes sophistication and prestige.
But shoppers not as interested in a status symbol may notice many of the MKZ's innovative features are also available on its popular Ford sibling, the Fusion, for thousands less. The trade-off is a Ford badge in place of the Lincoln markings.
If you're looking for a domestic midsize luxury sedan on par with BMW, Mercedes or Audi, the Lincoln MKZ isn't likely to be your first choice. But if you prefer pampering over performance, this distinctive sedan may very well appeal to you.
Interested in the 2013 Lincoln MKZ? Here's what you need to know. ...
What's New for 2013?
The Lincoln MKZ is completely redesigned for 2013.
What We Like
Plush ride; good fuel economy; an abundance of available tech/comfort features
What We Don't
Not so fun to drive; polarizing exterior styling; complicated MyLincoln Touch interface
How Much?
$36,800-$38,690
Fuel Economy
The new MKZ benefits from three different powertrains. The 2.0-liter turbocharged inline 4-cylinder delivers 240 horsepower and 270 lb-ft of torque and offers fuel economy of 22 miles per gallon city/33 mpg hwy in front-wheel drive and 22 mpg city/31 mpg hwy in all-wheel drive.
The more powerful 3.7-liter V6 outputs 300 hp and 277 lb-ft of torque with an Environmental Protection Agency rating of 19 mpg city/28 mpg hwy in front-wheel drive and 18 mpg city/26 mpg hwy in all-wheel drive.
The Hybrid with its 2.0-liter gas engine/electric motor combination yields a more-than-adequate 188 hp and achieves an impressive 38 mpg city/37 mpg hwy in front-wheel drive only. The hybrid's performance is considerably less than the V6 but still proves capable in most driving situations.
Options & Standard Features
The Lincoln MKZ is offered in two similar trim levels, MKZ and MKZ Hybrid. Both models, in base form, bring an impressive array of standard features and amenities, including 18-inch wheels, adaptive headlights, push-button start, cruise control, dual-zone automatic climate control, leather seats, heated power-adjustable front seats, driver seat memory and a tilt/telescoping steering wheel.
Concerning technology, MKZ and MKZ Hybrid have MyLincoln Touch interface, the SYNC voice command system, an 8-in touchscreen display and an 11-speaker stereo.
Building from the base model, there are several options packages. The bottom-rung Select Package includes auto-dimming side mirrors, a back-up camera, HD radio and wood trim on the steering wheel.
Next is the mid-range Reserve Package, which adds up-level features such as navigation, blind spot monitoring, power tilt/telescoping steering wheel and cooled front seats.
The top-tier Preferred Package builds off of the Reserve package by adding 19-in alloy wheels, heated rear seats and a THX II-certified sound system.
Off to the side is a Technology package, which includes a new lane departure system, adaptive cruise control, an automated parallel parking system and automatic headlights.
Stand-alone options include such premium amenities as a retractable panoramic moonroof, inflatable rear seat belts and upgraded multi-contour seats for the driver and front passenger.
Safety
The 2013 Lincoln MKZ includes standard front side-impact and side curtain airbags, electronic traction and stability control, blind spot monitoring, lane departure warning, collision warning, adaptive cruise control and inflatable rear seat belts.
In government crash testing the 2013 Lincoln MKZ earned five stars out of five for overall crash safety, five stars for frontal collision safety, four stars for side impact safety and four stars for rollover protection. It was also named a Top Safety Pick + by the Insurance Institute for Highway Safety.
Behind the Wheel
Overall, the 2013 MKZ isn't much of an enthusiast's car, but that's not necessarily a bad thing. Rather, it's more in the "comfortable ride and easy to live with" category. The MKZ's ride and handling are on par with similar models, such as the Lexus ES and Buick LaCrosse, thanks to Lincoln Drive Control, an intelligent system designed to deliver a well-balanced driving experience.
The MKZ's 2.0-liter turbo and 3.7-liter V6 are both actually quite robust, making launches from the line and highway passing enjoyable. And for those who think the MKZ Hybrid is a slouch, it's not. The Hybrid feels both confident and capable, yielding an impressive 37 mpg.
In typical Lincoln fashion, the MKZ's interior is well isolated from the outside world, making this sedan a comfortable and plush turnpike cruiser. Get the MKZ into tight turns and it will stick to the intended path. Just don't expect overly thrilling performance or dynamics anywhere close to that of its German rivals.
Other Cars to Consider
Lexus ES -- The ES may cost more than the MKZ, but it has a more luxurious interior and far better resale value.
Cadillac CTS -- The CTS is a far more engaged driver's car and has a much better interior layout than the MKZ. But the MKZ offers a hybrid model and more rear-seat legroom.
Buick Regal -- The MKZ has a more prestigious character as well as a longer list of upscale features.
Chrysler 300 -- The 300 offers more interior room and the option of a V8 engine, but the MKZ offers a high-mileage hybrid.
AutoTrader's Advice
Because the MKZ is not on the same performance tier as the Cadillac CTS, BMW 3 Series or Mercedes Benz C-Class, we wouldn't recommend it as a luxury sport-sedan choice. For this reason, the hybrid model offers the best value. It brings all the opulence, amenities and soft ride of the standard MKZ but also returns excellent fuel economy far superior to its nonhybrid rivals. We recommend adding the Reserve and Technology packages as well as the optional retractable panoramic moonroof. These options will round out the MKZ with upscale comforts and innovative safety features befitting a premium-level automobile.