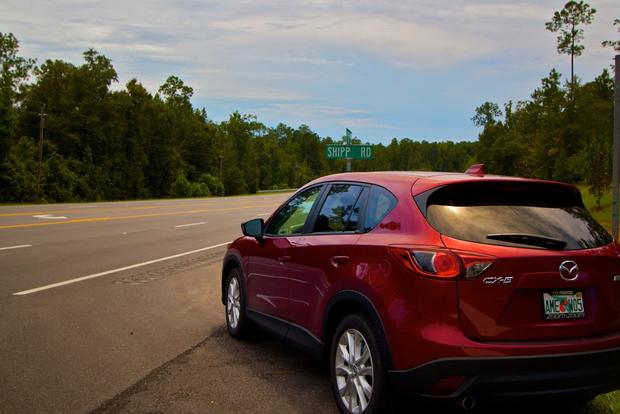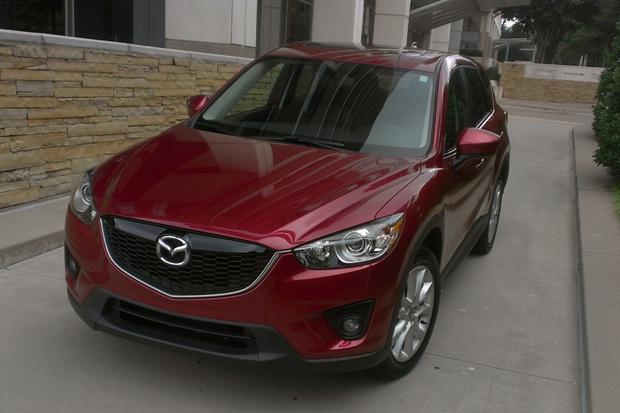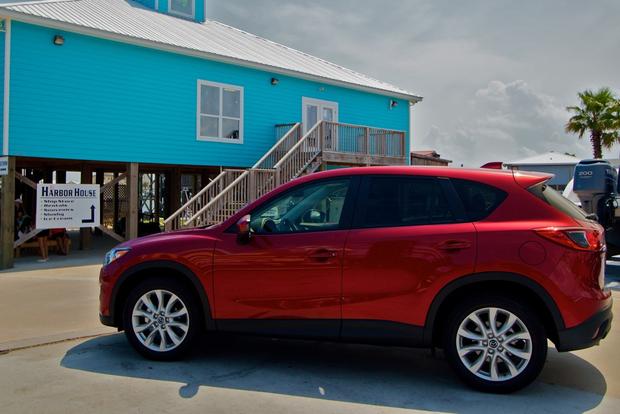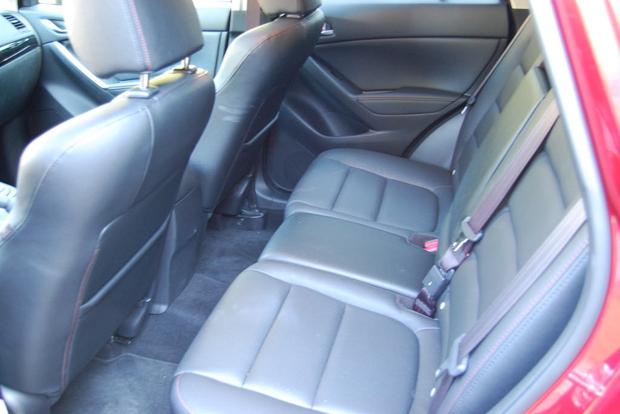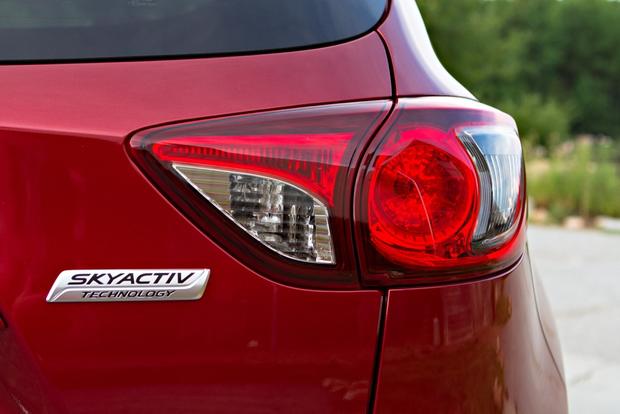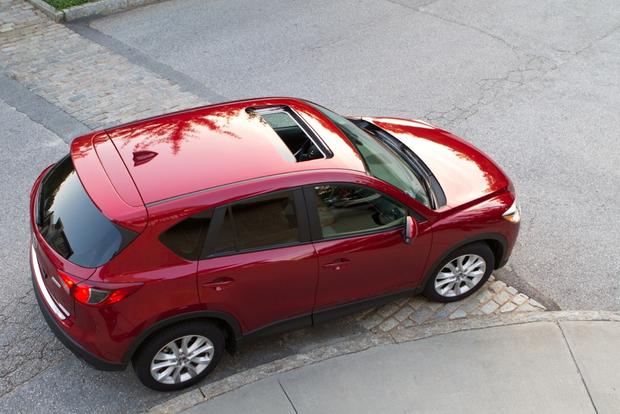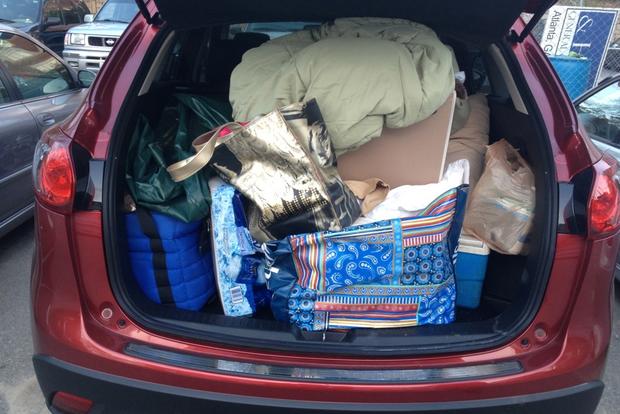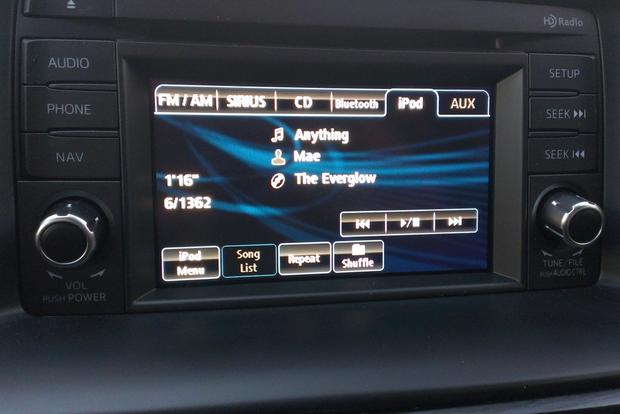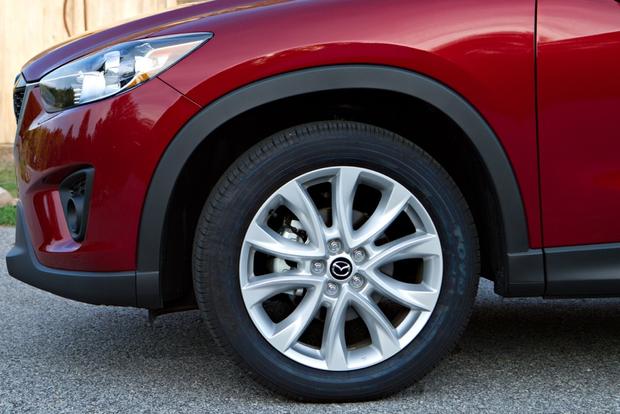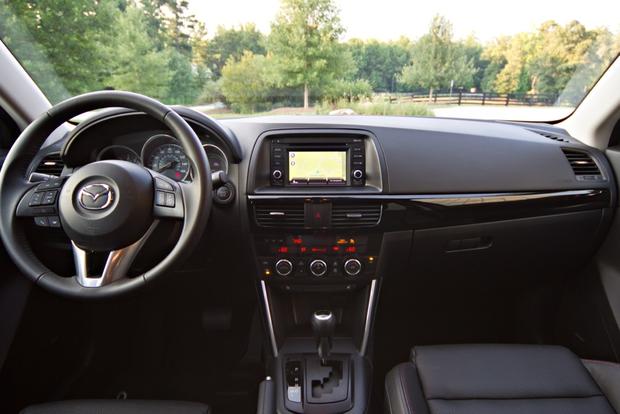 Our long-term test with the 2013 Mazda CX-5 is over, so it's time to reflect on our time with the small crossover. And the CX-5 has given us a lot to reflect on, both positive and negative. We'll start with a few positive aspects of our daily life with the CX-5.
Power and MPGs
Most of us were pleasantly surprised by the CX-5's performance. Yes, its 155 horsepower falls short of many rivals, and yes, its 2.0-liter engine isn't a match for some 4-cylinders, let alone V6s. But the CX-5 uses its engine well. Many of us felt it rarely lacked for power -- and more importantly, we know the low power figures help it return great gas mileage. That said, drivers who do want more muscle can upgrade to Mazda's new 2.5-liter CX-5, which puts out 184 hp.
The CX-5's fuel-sipping nature was another strong suit. No, our automatic model didn't return the 35 miles per gallon that's possible on a 2-wheel drive, stick-shift CX-5. But we frequently found ourselves around 30 mpg, which is impressive for a small crossover.
Options
We were also impressed by the CX-5's value. Ours cost just under $30,000 with shipping, a big number for a compact crossover. But a base-level CX-5 starts around $22,000, placing it among the least-expensive crossovers on the market. That means drivers can pick and choose the model that's right for them. And our $30,000 figure included some truly high-end features, such as a backup camera, heated leather seats, a navigation system, a blind-spot monitor and a remote starter.
Julie, on our Public Relations team, took the CX-5 out and was impressed with the blind-spot monitoring system. She said "The blind spot monitoring system in the CX-5 put me at ease. When a car was on either side of the vehicle, a light would illuminate on that side mirror, so I knew to not try to move over."
The rear parking camera was especially helpful. Content Producer Sadie Lake said "Most streets in New Orleans are packed with cars, and the only parking available is rather snug. Plus, almost all the parking requires you to parallel park."
Practicality was yet another area in which the CX-5 shined. Although some complained about the lack of a third row -- available on Mazda's larger CX-9 crossover -- most felt the CX-5 offered impressive room for luggage, sporting equipment and, on one trip, even large dogs.
So were there any major complaints about the CX-5? You have to really rack your brain -- and go back deep in our long-term test reports -- to find them. More than one driver grumbled about the lack of room in the back seat, including when fitting a rear-facing child seat. And we heard a few complaints about the infotainment system; namely, it includes some counterintuitive displays. And while many of us found the CX-5's powerplant adequate, a few drivers wished for more power. But the new 2.5-liter CX-5 should solve those problems.
When it comes to buying a CX-5, Site Editor Brian Moody thinks there's one option everyone should consider. He said "...if you have a very active lifestyle that keeps you outdoors or have kids that participate in lots of different sports - you're going to want the all-weather floor mats. The standard mats don't hold much in terms of mud or sand. All-weather floor mats for the Mazda CX-5 are available for an extra $100."
It's hard to say if the 2013 Mazda CX-5 has been our favorite long-termer, but it's certainly been near the top. We're definitely sad to see it leave the fleet.
What we know for sure is that the CX-5 should be considered alongside other compact SUVs like the Honda CR-V and Toyota RAV4. When push comes to shove, we think most shoppers will find it a dead tie between the RAV4 and the CX-5.
The Mazda's advantage is that it just feels sharper and is more rewarding to drive than other small SUVs.