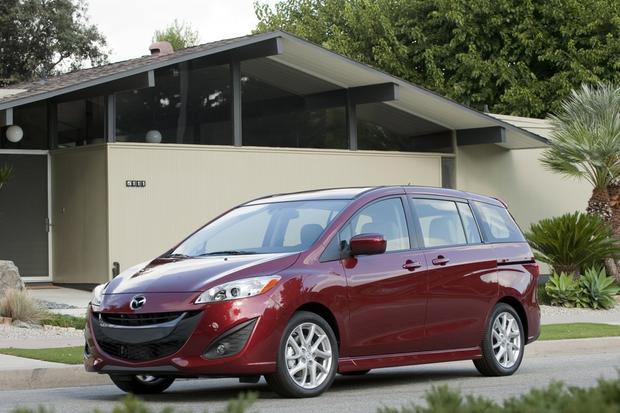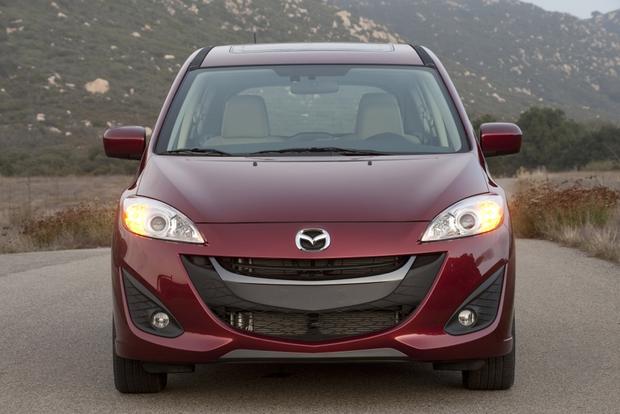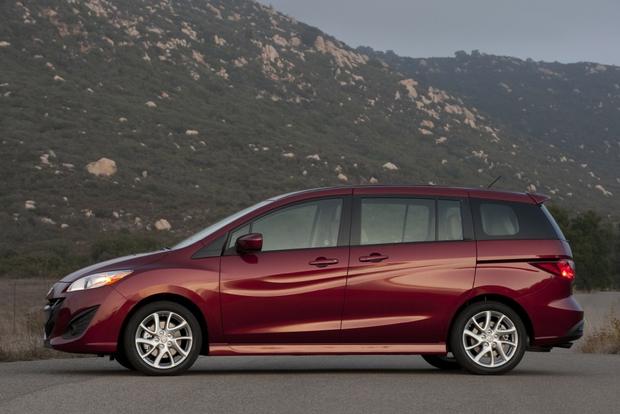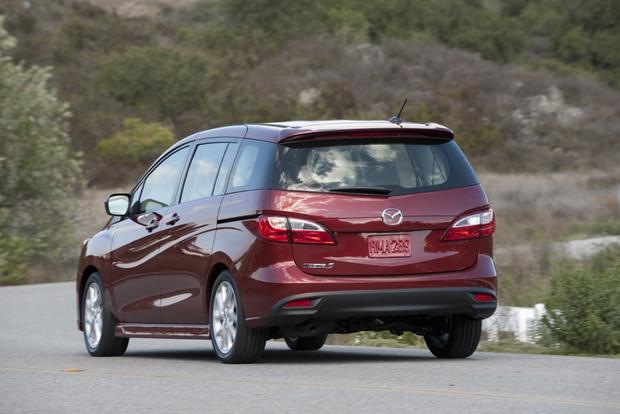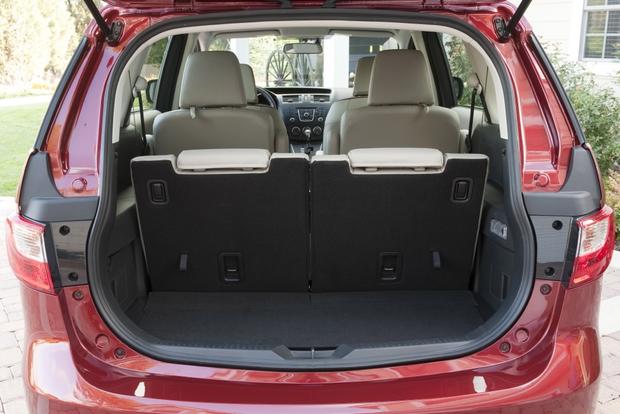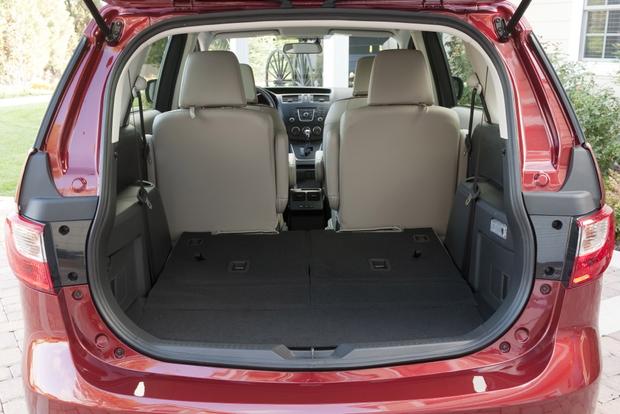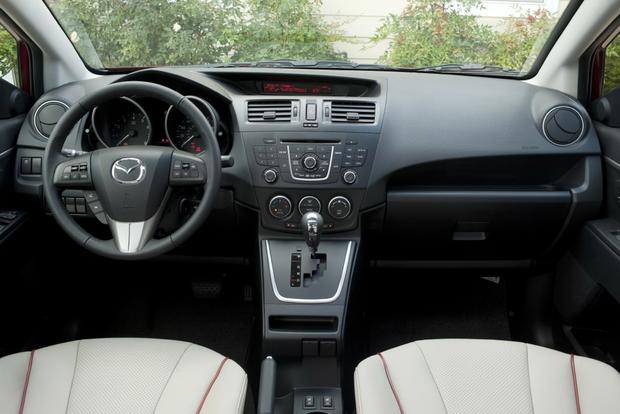 Pros: Sliding side doors for ease of entry; good fuel economy; clever use of interior space; great handling
Cons: Engine not terribly powerful; no navigation or backup camera option; no second-row bench seat option
What's New: The 2013 Mazda5 receives new outside mirrors with integrated turn signals, a USB port and, on Touring and Grand Touring, rear backup sensors.
The Mazda5 is a cool twist on the minivan. It rides atop a platform not much larger than those of most midsize sedans, but with an amazingly versatile interior. Sliding side doors make entry and exit so much easier, not to mention access to the third-row seat, and the fuel-efficient 4-cylinder engine will definitely go easy on your wallet. The Mazda5's unconventional styling also helps it stand out, with deep groves cut into the side sheet metal and a wide-mouth grille that makes the Mazda5 look as though it's grinning all the time.
Mazda has wisely avoided many of the add-ons that have turned most minivans into very expensive, very large rolling luxury wagons, so you won't find an options sheet with a V6 engine or power-operated side doors, nor will you find a power liftgate, a high-end audio system or power folding rear seats. The benefit of leaving these options off the table is a price point that starts around $20,000 for the Sport trim and tops out around $27,000 for a fully loaded Grand Touring with everything tossed in. Try doing that with a Nissan Quest or Honda Odyssey.
Comfort & Utility
The Mazda5 comes in Sport, Touring and Grand Touring versions. There's plenty to like about the 2013 Mazda5's interior, although the second-row seating may not be at the top of the list. We love that Mazda chose to place four captain's chairs in the front and middle rows, but some families may require the convenience of a bench seat, which the Mazda5 doesn't offer. On the plus side, quarreling siblings are relegated to their own respective corners, and the little walkway between the second-row seats makes access to the third-row seats easier. Speaking of the third row, it's no place for full-size adults, though two kids will likely find plenty of space to spread out. With the third row in place, however, there is precious little cargo room. Thankfully, Mazda designed the 50/50 split folding third-row seat to fold flush into the floor. If there is only one occupant back there, you can fold the other seat flat to create a larger cargo hold. For times when maximum utility is required, the second-row seats also fold flat.
The Mazda5's dual sliding side doors also make getting in and out easy, especially when tight parking spaces prevent ordinary swing-out doors from being fully opened, such as in tight parking spaces or when parked along a busy road. Rear access through the large flip-up liftgate allows all manner of items to be easily loaded into the Mazda5's cargo bay, from simple groceries to that 55-inch big-screen TV you've been dying to sneak home. Smaller items can be smuggled in the numerous storage bins, including storage cubicles beneath the second-row seat bottoms. A clever flip-up table fits nicely between the middle seats and includes dual cup holders.
Technology
Cost cutting has its drawbacks, so don't look for any fancy voice-activated audio or high-end navigation systems in the Mazda5, because the most you'll find is a 6-speaker audio unit, Bluetooth hands-free phone and streaming audio connectivity. There is no navigation option, Bose audio or backup camera. Technology you can get on the Mazda5 includes an optional DVD entertainment system, rear backup sensors, remote start, Homelink and Sirius satellite radio.
Performance & Fuel Economy
With its 2.5-liter 4-cylinder engine, you might think the Mazda5 is a tad underpowered. But this engine has a healthy dose of low-end torque, and the 5-speed automatic transmission it's attached to does a great job of milking every drop of power when it's needed most. Rated at 157 horsepower and 163 lb-ft of torque, the Mazda5's engine isn't going to blow the doors off a V6-powered minivan, but with its fuel economy of 22-mpg city/28-mpg highway, it might outrun one. This being a Mazda, there is also the option of a 6-speed manual transmission, but only on the base Sport model and with no added advantage in fuel economy.
Safety
Mazda equips every Mazda5 with a set of front-seat side impact airbags and side curtain airbags covering all three rows. Driver control is enhanced via the standard ABS, electronic traction control and Dynamic Stability Control. Traction control helps eliminate wheel slippage on snow and ice, while DSC can help the driver regain control when the car skids from its intended path.
Driving Impressions
With its stiff suspension and taut steering, the Mazda5 is a joy to drive. It rounds corners with the grace of a lithe sport sedan, albeit not nearly as fast. We found the ride pleasant, although it can get choppy over rough pavement or when encountering numerous expansion joints. We credit the Touring's 17-in tires for the great handling as well as the somewhat firm ride. Interior noise levels are a bit higher than we'd expect in this type of vehicle, but not annoyingly so (unless you're trying to use the Bluetooth). Acceleration is surprisingly strong with four passengers on board, but passing slower traffic requires a long path to complete the maneuver safely.
Other Cars to Consider
Toyota RAV4 - The RAV4 offers the same 3-row seating and low price as the Mazda5, but it can be equipped with a V6 engine and offers better audio, navigation and communication options.
Dodge Grand Caravan - The base Grand Caravan is priced similarly to the Mazda5, but it has a much larger interior and a V6 engine, plus more available features.
Dodge Journey - The Journey may not have the Mazda5's sliding side doors and 28-mpg fuel economy rating, but it does have more interior room, a lower base price and optional all-wheel drive.
AutoTrader Recommends
We'd opt for the top-of-the-line Grand Touring version of the Mazda5. Sure, it costs more, but at just a shade over $25,000 it's still less expensive than most well-equipped sedans and comes with such necessary features as heated side mirrors, leather seating, driver's seat lumbar support and HID headlamps. We think that's a pretty good deal.