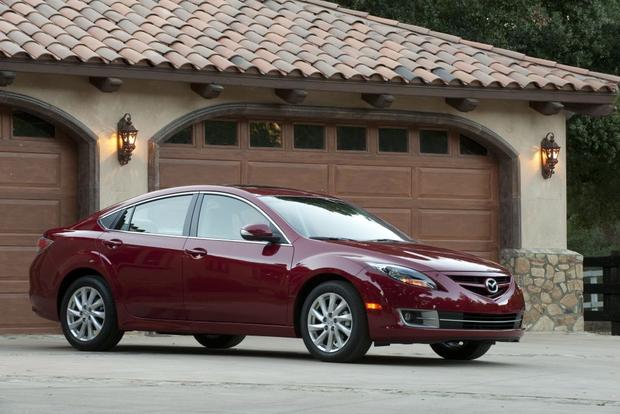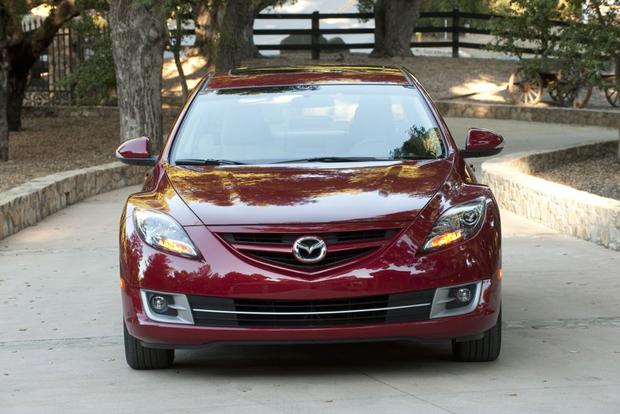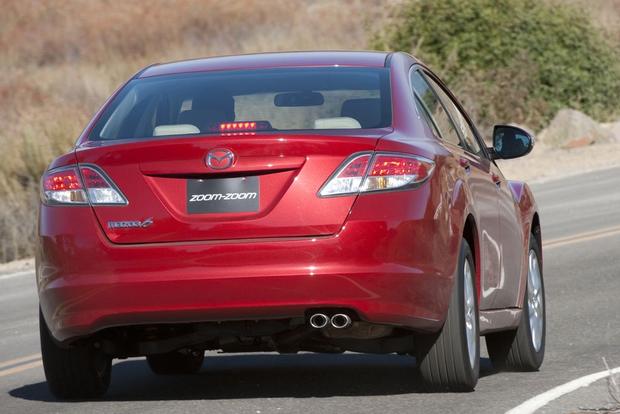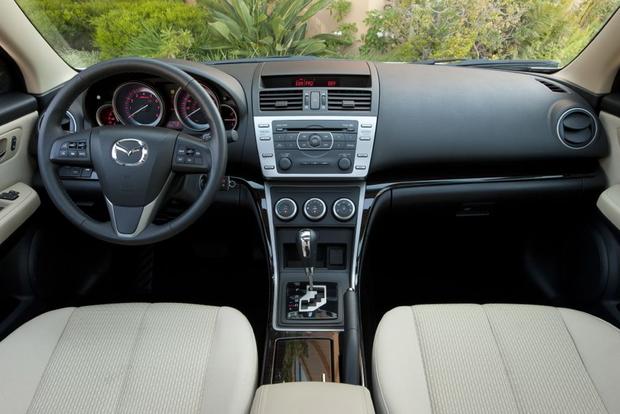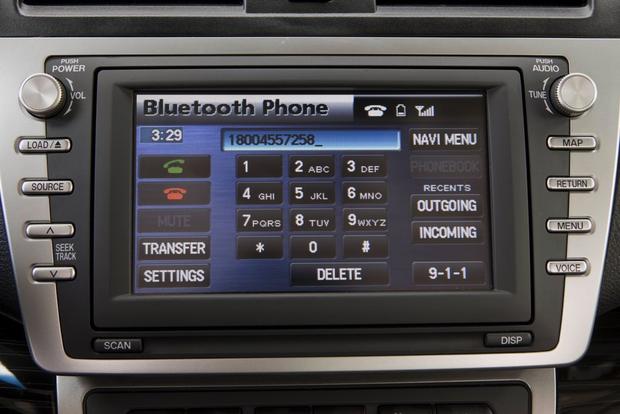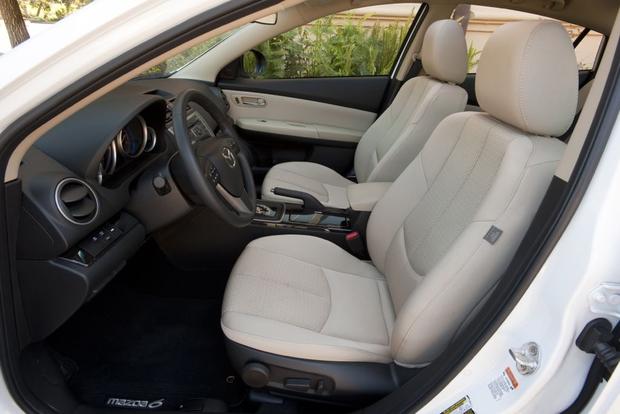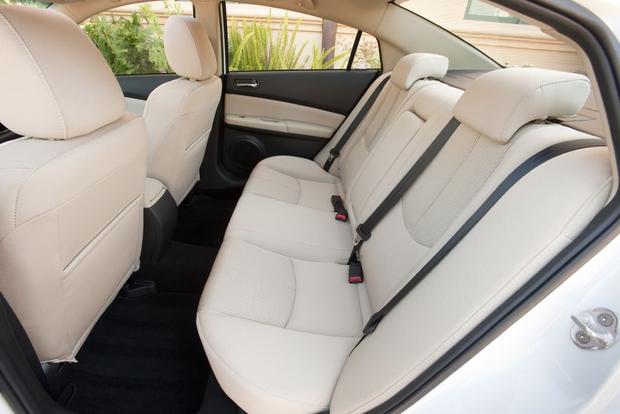 Pros: Sleek styling; high-quality interior; great ride and handling; roomy passenger cabin
Cons: So-so fuel economy; no information and entertainment system or ability to control iPod through the car's audio controls; tepid performance from 4-cylinder models
What's New: The 2013 Mazda6 goes unchanged from last year. An all-new 6 is expected to debut for 2014.
The Mazda6 is the company's sleek but aging midsize sedan. Once a standout against the conservatively styled sedans from Honda and Toyota, the Mazda6 now finds itself competing against increasingly modern designs with equally modern interiors and amenities. Still, when it comes to overall ride, handling and driving enjoyment, it's hard to put the Mazda6 on anything less than a pedestal. Its available V6 engine and a sport-tuned suspension make this one of our favorite big sedans, at least when it comes to spending time behind the wheel.
The Mazda6 is a roomy sedan, well equipped and reasonably priced. The problem for Mazda is that newer cars such as the Kia Optima, Chevy Malibu and Ford Fusion offer new and better technology for about the same price. For example, while the Mazda6's available Bose audio system sounds great, we're pretty sure that technology fanatics won't be satisfied with the lack of an advanced entertainment and communication system, such as Ford's SYNC or Toyota's Entune.
And those seeking maximum fuel economy also might feel left behind as the Mazda6's fuel economy figures skew toward the lower end of the midsize field. That last bit is important, since cars such as the Kia Optima, Hyundai Sonata, Toyota Camry and Ford Fusion all offer better mileage, more horsepower and hybrid options as well.
Comfort & Utility
The Mazda6 may not be the newest midsize sedan available, but its interior still ranks as one of the cleanest, most attractive designs on any car under $30,000. The dash is simple and uncluttered, with elegant touches of wood grain on Grand Touring versions. The GT also has leather seating with a handsome insert design. There is plenty of room to stretch out in the Mazda6, but headroom up front can be limiting with the optional sunroof, and taller occupants may find rear-seat headroom snug. We love the comfort and support offered by the Mazda6's front seats but wonder why the passenger's seat is limited to just a 4-way setting with no lumbar support. A large and deep 17-cu ft trunk can accommodate most luggage needs, and the folding 60/40 rear seatback can be folded down for even more cargo-friendly space.
The 2013 Mazda6 comes very nicely equipped. The base Sport offers power windows, locks and mirrors, air conditioning, cruise control, remote entry and an AM/FM/CD stereo. The Touring trim adds 17-inch alloy wheels, fog lamps, an 8-way power driver's seat, side blind spot alert (Touring Plus trim) and Bluetooth, while the top-of-the line Grand Touring gets leather seating, heated front seats, Bose audio and dual-zone automatic climate control.
Technology
While it's true the Mazda6 isn't up to date on the latest information and entertainment systems (there's not even a USB port for your iPod), it is still fairly well equipped when it comes to technological innovation. Touring Plus and Grand Touring trims come standard with a blind spot monitoring system, which warns of cars in the driver's blind spot prior to a lane change. The Advanced Technology package includes keyless entry and push-button start. The navigation option adds a backup camera and voice-activated navigation with a 7-in display screen and traffic updates. Other features available only on the Grand Touring include a 10-speaker Bose Centerpoint Surround Sound audio system with a 6-disc CD changer, rain-sensing wipers, HID headlamps and LED taillights.
Performance & Fuel Economy
Standard on the Sport, Touring and Grand Touring trims is a 2.5-liter 4-cylinder engine that generates 170 horsepower and 167 lb-ft of torque. The Sport comes with a 6-speed manual, while all other 4-cylinder trims use a 5-speed automatic with manual shift mode. We think it's unfortunate that Mazda couldn't see fit to offer the manual on all the trims, since it really fits with the zoom-zoom image the company wants its cars to embody. Fuel economy with the manual or the automatic is identical, rated at 21-mpg city and 30-mpg highway.
The better choice for a sedan of this size and weight is the 3.7-liter V6 available in the Touring Plus and Grand Touring models. With 272 hp and 269 lb-ft of torque, the V6 moves the Mazda6 with ease, providing the kind of passing power and off-the-line acceleration you won't get with the base 4-cylinder engine. The V6 is teamed to a 6-speed automatic transmission with manual shift control. However, with fuel economy ratings of just 18/27 mpg, you'll be stopping at the pump more often. By comparison, the Kia Optima SX offers a 274-hp turbocharged engine that gets an estimated 22/34 mpg.
Safety
The Mazda6 comes standard with front, front side impact and full-length side curtain airbags. Low-speed traction control helps prevent the front wheels from slipping on slick surfaces, while Dynamic Stability Control is designed to help the driver regain control should the tires break free from the pavement, as sometimes happens when rounding a turn too fast. Also standard is ABS with electronic brake-force distribution for a more even application of braking power.
Driving Impressions
Although it's classified as a family sedan, the Mazda6 doesn't ride or handle like a demure commuter car. The suspension engineers have struck a marvelous balance between delivering a smooth and comfortable ride on the highway while allowing for sports-car-like handling when the road gets twisty. Steering response is quick and direct, with just the right amount of power assist to aid the driver without giving a feeling of disconnection from the road.
As much as we love the short, precise shifts of Mazda's 6-speed manual transmission, it's only available on the 4-cylinder Mazda6 Sport. The 2.5-liter engine clearly helps keep the car's price low and delivers respectable fuel economy, but its performance is underwhelming and can become downright sluggish when the passenger compartment is fully loaded. For this reason, we prefer the V6, which delivers excellent results, whether starting off-the-line, merging into freeway traffic or just powering up a steep mountain road. The automatic transmission, a 5-speed on the 4-cylinder models and a 6-speed on V6s, does a good job of finding and holding the right gears, but true driving enthusiasts will want to use the manual shift control. Although it's not as precise as some newer double-clutch automatics, and not as quick to respond as a manual, the electronically controlled Mazda transmission is still fun to play with.
Other Cars to Consider
Toyota Camry - The Camry offers a more powerful base engine and better fuel economy, plus a hybrid model. It also offers a more advanced audio and communication system, Entune. But the Camry isn't as sleek-looking as the Mazda6, nor is its handling as precise.
Kia Optima - The Optima offers more powerful engine choices with much better fuel economy, a better warranty and more features, including USB connectivity and voice control for such devices as iPods. But the Optima's interior isn't quite as refined as the Mazda6, and its steering doesn't feel as precise.
Chevrolet Malibu - The Chevrolet Malibu offers better fuel economy than the Mazda6 and has a better powertrain warranty, but the Mazda6 has a lower base price and more interior room and an available V6 engine.
AutoTrader Recommends
If fuel economy trumps power, we say go for the i Sport model with the 6-speed manual. It's the most fun to drive even with the smaller tires and minimal options. If you can afford to spend a bit more, the i Grand Touring is our second choice. It's nicely equipped and can be outfitted with Mazda's best options while staying just under $30,000. If you must have the V6, we'd go with the Grand Touring, again because of the many standard features (leather seats, Bose audio) and the attractive options reserved for the GT's top-of-the-line status.