Car Review
2013 Mercedes-Benz S-Class: New Car Review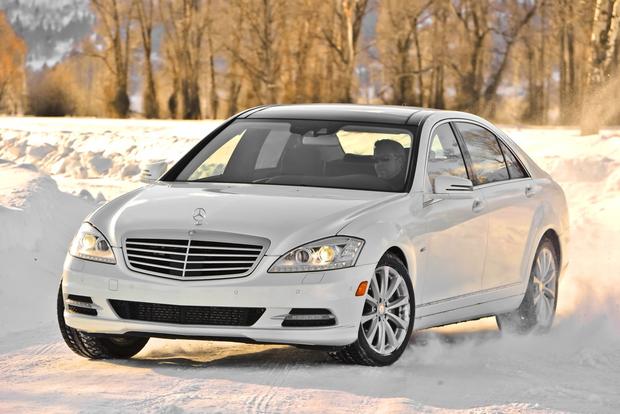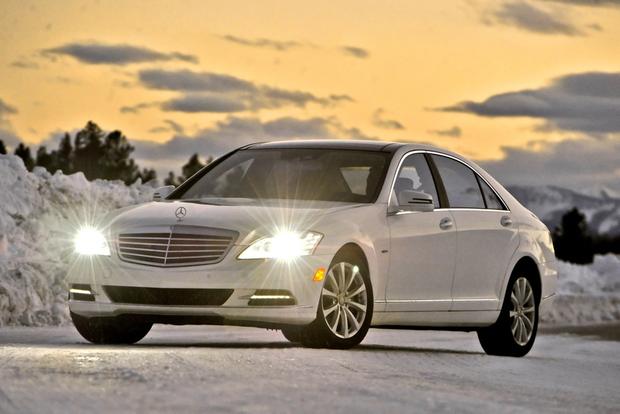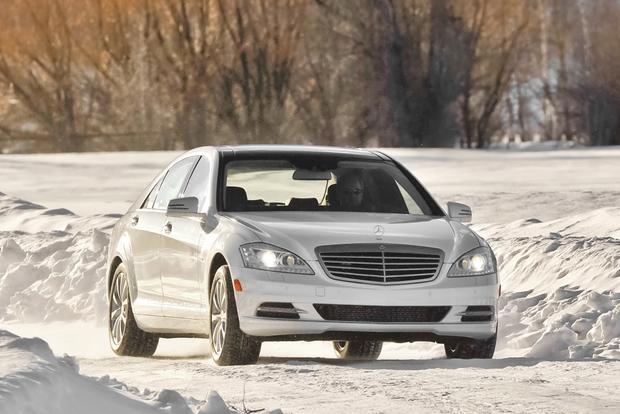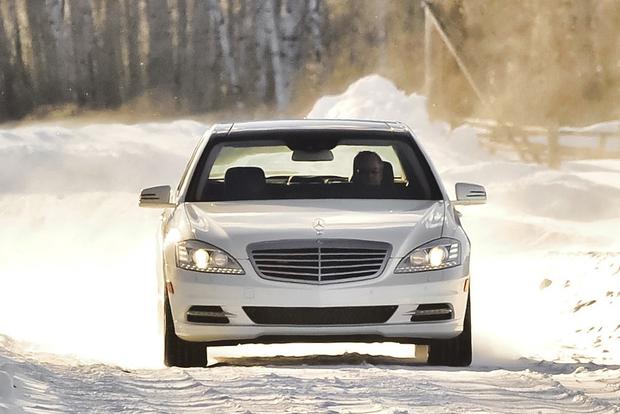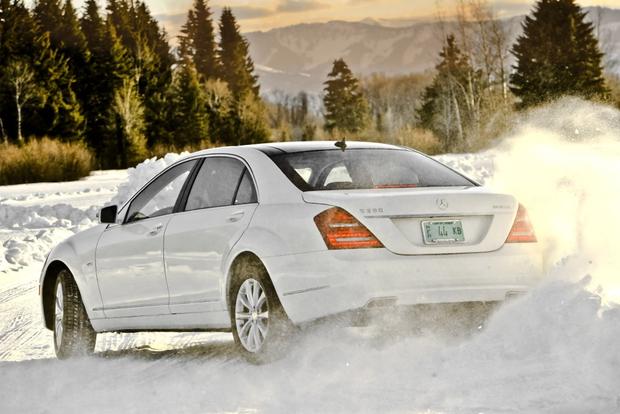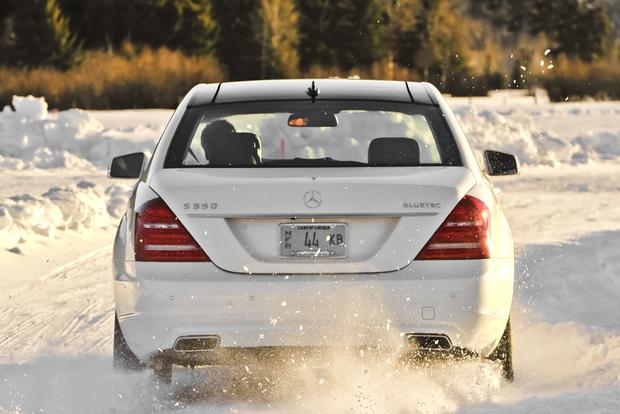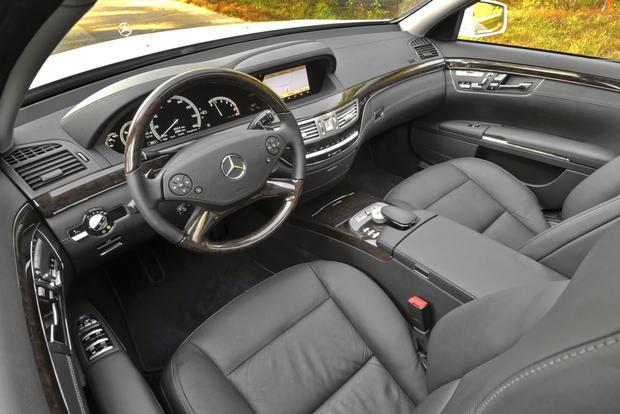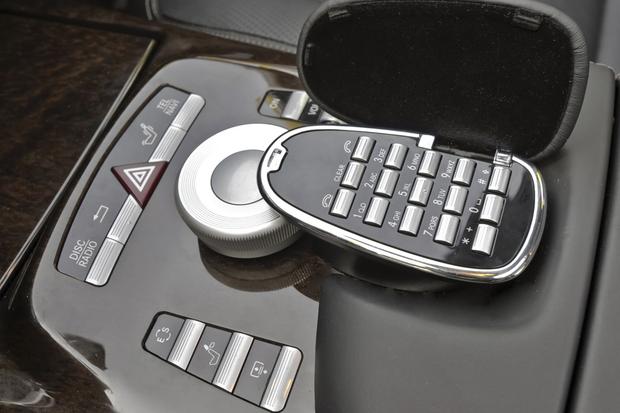 Pros: World-class luxury; leader in new technology; wide selection of powerful engines; innovative safety features; extremely refined ride.
Cons: Very expensive; features and technologies can be overwhelming.
What's New: Premium 2 option package is now standard on S350, S400 and S550.
When it comes to large luxury sedans, no car makes a stronger mark than the Mercedes-Benz S-Class. For decades, the S-Class has been on the leading edge of automotive evolution on every major front: technology, performance, safety and upscale feature development. Still the ultimate flagship, the 2013 Mercedes-Benz S-Class continues to serve as the benchmark for executive-level motoring.
With no fewer than six engine choices available for the S-Class, Mercedes offers varying degrees of economy and performance. The diesel-powered S350 Bluetec that joined the lineup last year is the thriftiest of the bunch. There's also the mild hybrid S400 that pairs a gas V6 with a battery and electric motor. The S550 remains the standard V8 offering. Two high-performance models, the AMG S63 and S65, deliver massive engine output and include special AMG components. The flagship of the lineup remains the V12-powered S600.
The S-Class's competitive set might be impressive, but the 2013 S-Class is still the leader by consensus, and with good reason. It offers virtually every desirable automotive characteristic except affordability. And for affluent buyers in this segment, price is rarely the most important concern anyway.
The S-Class exterior hasn't changed much over the last few years. Aside for some minor styling updates, this big Benz continues to be defined by its familiar executive-sedan appearance. Spearheaded by a prominent aero grille flanked by large wraparound bi-Xenon headlamps and LED lighting, the S-Class has enormous presence. Its long profile and expansive greenhouse further add to the S-Class's yacht-like character. The car's back end is adorned with integral exhaust pipes and the distinctive Mercedes stacked taillight design. Overall, the S-Class sedan might not be the most stylish car in the Mercedes lineup--some may even call it stodgy--but it's certainly the grandest.
Except for an equipment revision for the S350 Bluetec, S400 Hybrid and S550, the lineup arrives unchanged for the 2013 model year. Those three models now include the Premium 2 option package as standard equipment.
Comfort & Utility
The S-Class cabin is equal parts attractive, luxurious and spacious. Passenger room and amenities are abundant for all occupants, front and rear. Aside from supreme ergonomics and craftsmanship, this interior offers an enormous list of standard and optional equipment, including some first-ever applications in the realms of driver assistance technology, safety innovations and upscale features. Mercedes has met the challenge to impress even the most discerning buyer in this category and has created a car that's ideal for long-range cruising as well as the daily commute.
The S-Class passenger compartment is the most sophisticated in the large luxury sedan segment. Standard features for all S-Class models are too many to list, but here are some of the notable creature comforts: power front seats with heat and ventilation; leather upholstery; dual-zone automatic climate control; power rear sunshade; and a 15-speaker premium stereo system with HD radio.
Technology
Voice-command navigation and a USB interface are both standard on the 2013 S-Class. The roster of available high-end conveniences, depending on model and package, includes such features as a rear-seat DVD entertainment system, a backup camera and keyless start. One particularly useful feature is Speed Limit Assist, a system that can identify posted speed limits and alert the driver when the allowable speed has been exceeded. Another impressive innovation is Benz's SplitView interface, a dash-integrated dual screen that allows the driver and front passenger to view different content simultaneously.
Performance & Fuel Economy
Offering a broad range of powertrain technologies, the S-Class delivers robust performance and even some efficient green choices.
The most mainstream S-Class sedan is the S550, powered by a twin-turbo 4.6-liter V8. Output is 429 horsepower and 516 lb-ft of torque. Energy flows through a 7-speed automatic transmission to the rear wheels; all-wheel drive is optional. EPA-rated fuel economy is 15 mpg city/25 mpg highway for the RWD model and 15/24 mpg with AWD.
The flagship S600 utilizes a mammoth 5.5-liter twin-turbo V12 yielding 510 hp and 612 lb-ft of torque. This engine pairs with a 5-speed automatic transmission and feeds the rear wheels. Fuel economy is 12/19 mpg.
On the green front, the S-Class offers a hybrid and a clean diesel. The S400 Hybrid is propelled by a 3.5-liter V6 and an electric motor tied to an advanced lithium-ion battery. With its 7-speed automatic transmission, this setup is good for an ample 295 hp, 284 lb-ft of torque and EPA-estimated fuel economy of 19/25 mpg. Because it uses a mild hybrid arrangement with a relatively small battery in the engine compartment, the S400 sacrifices no trunk or cabin space.
The clean-burning, 50-state-legal S350 Bluetec gets a 3.0-liter V6 turbodiesel yielding 240 hp and a stout 455 lb-ft of torque. All-wheel drive and a 7-speed automatic are standard. The S350 is rated at 21 mpg in the city and 31 mpg on the highway.
On the super-high-performance side, a pair of rear-wheel-drive AMG variants round out the S-Class model range. The S63 AMG finds power from a 5.5-liter V8 tied to a 7-speed automatic. Output is 536 hp and 590 lb-ft of torque, and fuel economy is 15/22 mpg. The top-tier, extremely robust S65 AMG powertrain is defined by an astounding 6.0-liter twin-turbo V12 making 621 hp and a tremendous 738 lb-ft of torque. A 5-speed automatic transmission comes standard. EPA-estimated fuel economy is 12 mpg city/19 mpg highway.
With six distinct powertrain options, the S-Class offers a configuration for virtually every kind of buyer in the segment.
Safety
Passenger safety is complemented by 12 airbags, Mercedes's mbrace emergency telematics and a pre-collision system that adjusts seats and tensioners when it anticipates an unavoidable crash. A full suite of advanced safety systems is also at the S-Class's disposal. These include optional blind spot monitoring, lane departure warning and adaptive cruise control, all with automatic brake intervention. There's also a night vision system with pedestrian detection.
Driving Impressions
Each S-Class comes with a distinct personality based on its powertrain characteristics. From the smooth and seamless on-road experience of the S400 Hybrid to the obscene acceleration and redline performance of the S63 and S65 AMGs, it's all here. The more conventional S550 and S600 offer fantastic performance throughout the rev band, while the new S350 Bluetec delivers the stout low-end torque you'd expect from a strong diesel.
Regardless of model, the S-Class delivers a level of poise and nimbleness that defies its oversize proportions. Essentially, it is the automotive equivalent of an NFL running back performing in a ballet. Further enhancing the car's handling and cornering prowess are such features as Active Body Control with Crosswind Stabilization and Torque Vectoring Brake, which triggers rear wheel braking to maximize stability in fast corners.
Beyond performance, the 2013 Mercedes-Benz S-Class is the ultimate benchmark in ride comfort, thanks to a proven chassis. Its smooth roadgoing feel redefines premium motoring. The S-Class is stellar for any kind of commute or long-range driving.
Other Cars to Consider
BMW 7 Series - The BMW has a little more emphasis on handling dynamics than the S-Class, but the S-Class is more luxurious and technologically advanced.
Audi A8 - The Audi's design is considered more attractively modern, and for that reason, it's more appealing to younger buyers. Both the Mercedes and Audi enjoy a plush ride, but the Mercedes remains ahead in technology.
Hyundai Equus - The Equus is hands down the best value in a large luxury car. It certainly doesn't have the refinement, features or prestigious nameplate of the Mercedes, but it's tens of thousands lower in price, making it worth a look.
AutoTrader Recommends
Our S-Class recommendation is the S350 Bluetec diesel. With this model, you get the best of both worlds: performance and green credentials. Outputting 455 lb-ft of torque, the Bluetec enjoys fantastic acceleration. At the same time, it is very efficient and eco-friendly relative to most large luxury sedans, especially considering it has standard all-wheel drive. And with the Premium 2 package now standard, you get parking assistance features, keyless access and even massage front seats. Sure, it's expensive, but if you're shopping in this category, substance is probably more important to you than price.