Car Review
2013 Mercedes-Benz SL63 AMG: New Car Review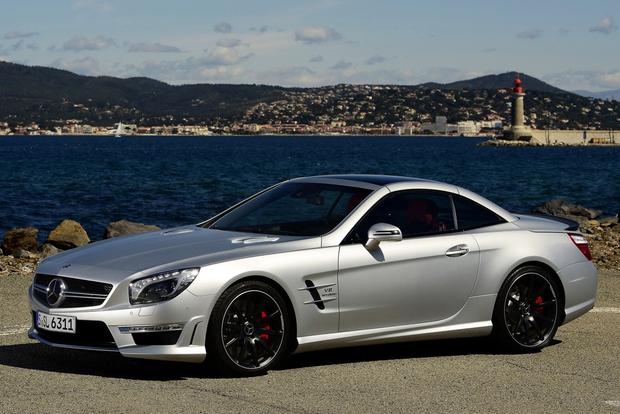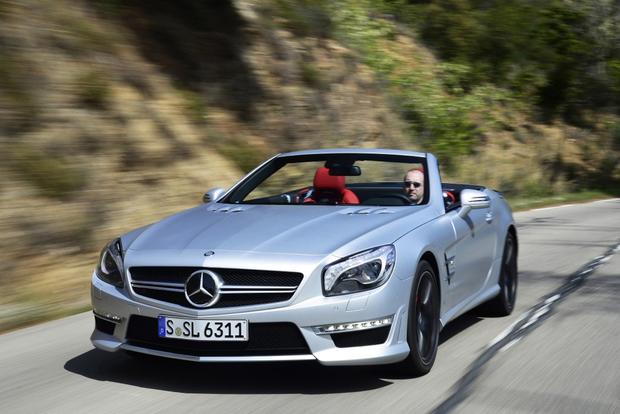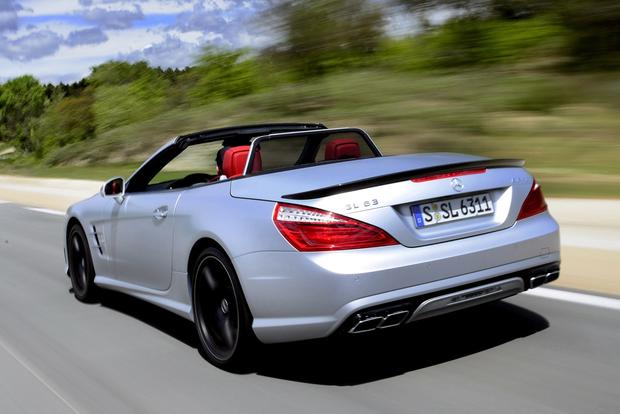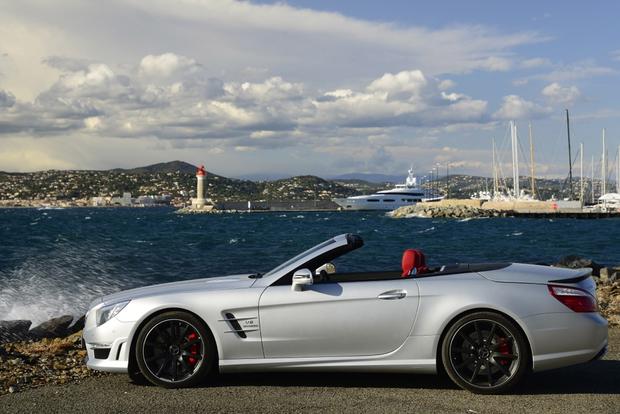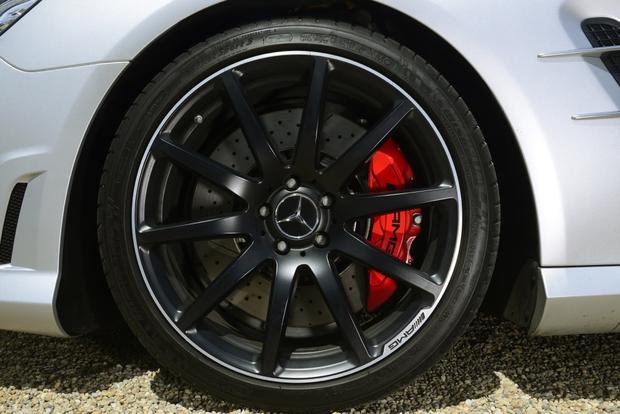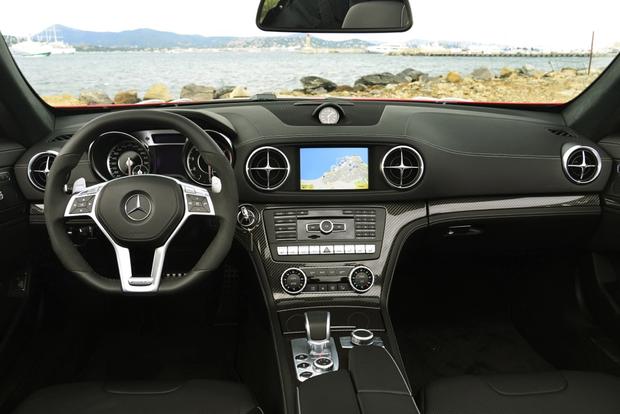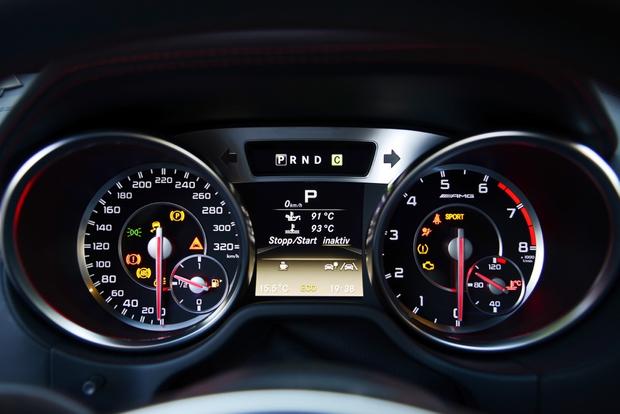 Pros: Much greater performance; seamless fusion of finesse and speed; solid build quality; commanding road presence
Cons: Clunky styling, if better than its non-AMG counterpart; limited trunk space with top down; breathtakingly high price
What's New: The SL63 AMG is all-new for 2013.
How do you improve on a slick but stately roadster that has become a bona fide hit among the country club set but isn't much of a track monster? If you're Mercedes-Benz, you ditch a lot of weight by incorporating an all-new aluminum chassis, and add more power with a twin-turbocharged 5.5-liter V8 producing 530 horsepower and 590 lb-ft of torque. The new engine in this $146,695 two-seat roadster is not only smaller, it boosts output by 12 hp and 125 lb-ft of torque. The win/win gains extend on the new model with better fuel efficiency despite a larger footprint.
The 2013 SL63 AMG receives a multi-clutch seven-speed transmission and gets a carbon composite lined trunk lid for weight savings. Also included is a standard active spring and damper system tuned for higher-performance driving that's an option on the SL550, and a slew of updates from its redesigned interior to its mechanical underpinnings.
Muscular yet refined, the SL63 AMG tackles the challenging task of combining blistering performance with civility and luxury.
Comfort & Utility
Although it's two inches wider and longer than the model it replaces, the SL63 AMG's interior proportions sometimes feel smaller than they should because of the aluminum chassis, which requires bulkier construction. Make no mistake, this is still a big-ego car with an imposing presence, but the SL63's interior is lighter on space and storage compartments than you might expect. Although shallow bins are available on a rear parcel shelf, capaciousness is not what it could be.
On the flip side, comfort-related features abound, including available heated and cooled seats with massage functionality, a turbulence-reducing rear windscreen and Mercedes-Benz's AIRSCARF feature, which sends warm air towards occupants' necks.
Technology
Beginning with the same aluminum chassis found in the SL550, the SL63 AMG adds a carbon composite material bonded to a plastic outer shell which shaves 11 pounds when compared to the non-AMG car. Along with the SL550, the SL63 packs other weight-saving measures, including a magnesium hardtop roof assembly that helps lower the vehicle's center of gravity. Standard on the SL63 is an active suspension system that stiffens shocks independently to reduce body roll by as much as 95 percent. Mercedes-Benz's mbrace2 system is also featured on the SL63, includes Internet and remote functionality that can be accessed through iPhones or Android devices. For an added fee, mbrace2 makes a 24-hour concierge available for your every organizational whim.
Performance & Fuel Economy
Thanks to its greater power and a 275-pound weight reduction compared with its predecessor, the Mercedes-Benz SL63 AMG is capable of getting from 0 to 60 mph in a fleet 4.3 seconds. And if the stock 530-hp AMG setup isn't sufficient, ticking the box for the Performance package unleashes an additional 27 hp and 74 lb-ft of torque, shaves a tenth of a second off the 0-to-60-mph time and raises the top speed to 186 mph. That added edginess will cost you: the package adds $9,000 to the total vehicle price, which is chump change when compared to the carbon ceramic brake option, at $12,625.
Though official EPA numbers have yet to be released for the SL63, an estimated 30 percent improvement compared with its predecessor can be attributed to the lighter weight working in conjunction with the direct-injection powerplant, auto stop/start technology and numerous efficiency improvements to the engine.
Safety
Mercedes-Benz's reputation for safety requires continuing advancement to uphold, and the SL63 AMG has no shortage of features to keep it on the cutting edge of its class. A new feature called Magic Vision Control uses a novel windshield wiper setup with tiny holes injected into the blade to spray water on the upsweep, which is immediately whisked off the glass on the downsweep-greatly reducing the time duration in which glass is blurred by wiper fluid.
Attention Assist monitors driver fatigue by tracking eye movements and lapses in vehicle control, while two-stage dual front airbags and head-thorax side impact airbags do their part in the event of an accident. An automatic pop-up roll bar also promises passenger protection in the event of a rollover accident.
A $2,950 Driver Assistance Package adds Distronic Plus (which features PreSafe braking), active blind spot assist and active lane keeping assist features.
Driving Impressions
Fire up the twin-turbocharged V8, and there isn't much drama to suggest the outrageous things this expansively styled roadster is capable of. Loafing around town, the SL63 moves forward swiftly enough under light acceleration, but its true personality emerges when driven more provocatively. Switch the adaptive suspension to dynamic mode by pressing the traction control button, one of a small handful of selectors lined up in a row alongside the leather-wrapped aluminum shifter, and jabbing the throttle delivers torque without the intrusive power cutoffs that curtail the fun in the standard mode.
With the more permissive stability control settings, wheel spin and tire sliding become much easier, and the SL63 is all the more eager to accelerate with uninterrupted, seat-compressing rawness. With the transmission adjusted to its most aggressive setting, Sport +, the V8 reaches high into its power band before rifling off a shockingly quick shift-100 milliseconds fast, according to Mercedes-Benz's reckoning. It takes a moment for the paddle shifters to trigger cog swaps. That's why it's best to leave this transmission in automatic mode, where downshifts are intuitively timely and upshifts remarkably smooth, yet crisp.
Steering feel is a bit numb on-center-AMG tells us that issue is being addressed and will be solved before the car comes to market-but the SL63's overall handling dynamics are otherwise rather remarkable, managing a sweet spot between smooth highway cruising and firm, responsive handling on twisty roads. Credit the active suspension system, which can be set to one of three levels with independently calibrated subsettings depending on several variables. A graphic representation of the system on the nav screen displays the relative stiffness at each of the car's four corners as it adapts to changing dynamics.
The hard top requires 20 seconds to fold down. The cabin space is relatively quiet during al fresco driving when the windows and the power-operated windscreen are deployed. But the greatest sounds this convertible makes come from the quad chrome-tipped exhaust pipes as the engine hums and burbles its way through the rev band.
Other Cars to Consider
BMW M6 Convertible - At $113,100, the 2013 BMW M6 Convertible is significantly more affordable than the Mercedes-Benz SL63 but weighs nearly 400 pounds more. It likely won't be as performance focused as the Merc, either. The Bimmer does, however, pack the most powerful M engine ever, the same 560-hp turbocharged V8 found in the M5.
Porsche 911 Turbo Cabriolet - A more uncompromising sports car compared with the SL63, the Porsche 911 Turbo Cabriolet ($149,000) and Turbo S Cabriolet ($172,100) offer higher levels of driver involvement in a more compact package. Both versions are currently only available in the previous-generation 997-series models, but we expect Porsche to spin off even more potent performance ragtops when the next iterations arrive.
Jaguar XKR-S Convertible - This 550-hp sports car is the most powerful ragtop to hail from Jaguar, and it's also got a price to match: $138,000. With a 0-to-60-mph time of only 4.2 seconds and a top speed of 186 mph, the Jaguar offers a slightly less sleek but still rather stirring alternative to the German car.
AutoTrader Recommends
This is some car, even though its price approaches $200,000-SLS AMG Roadster territory-when fully equipped.