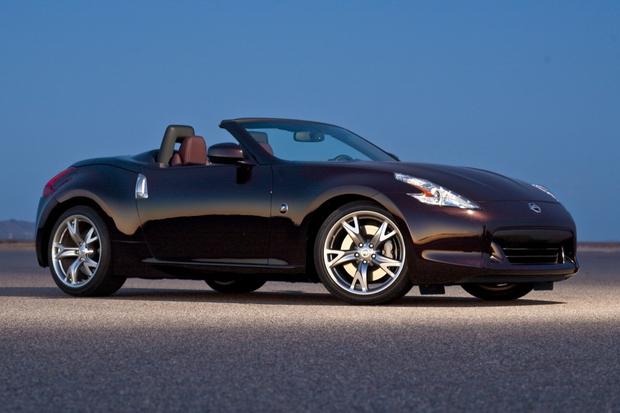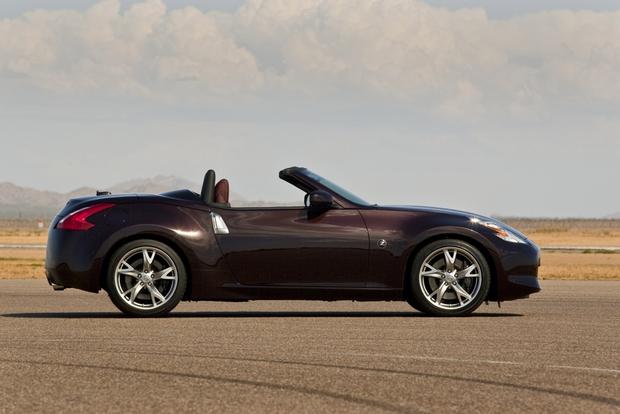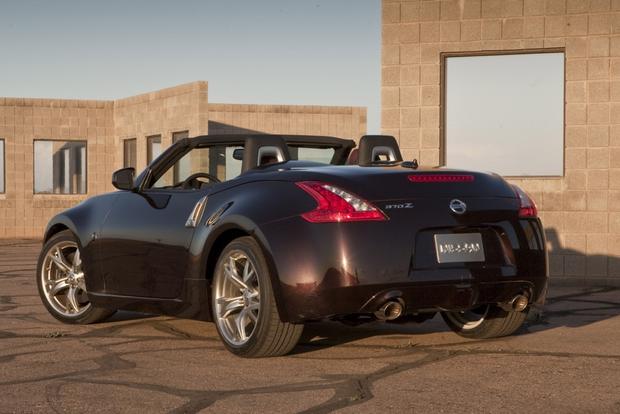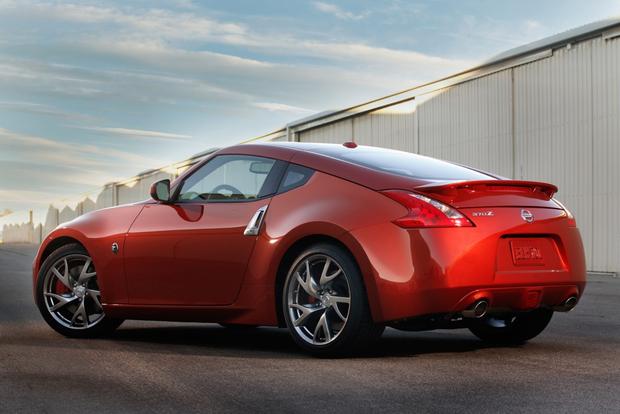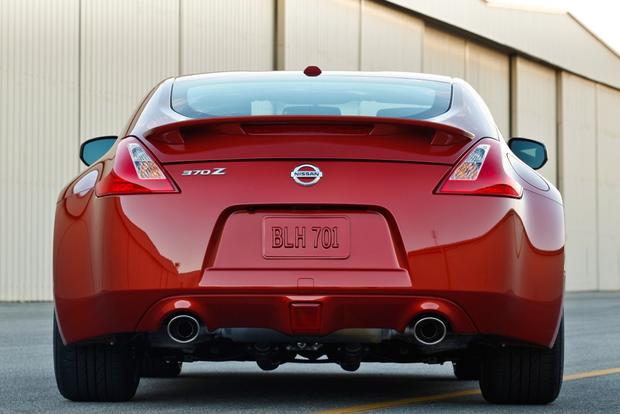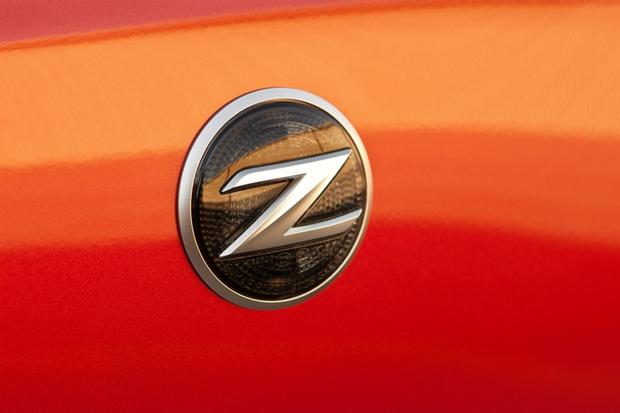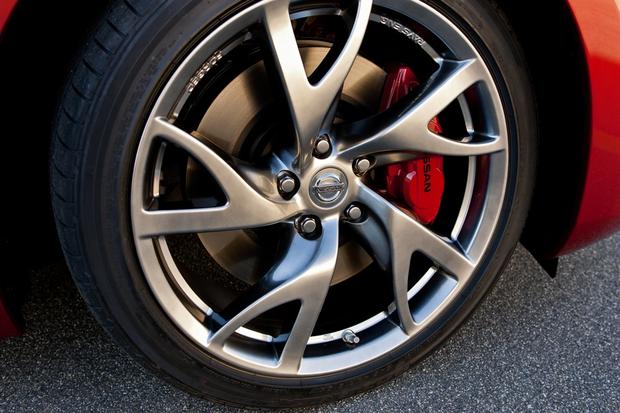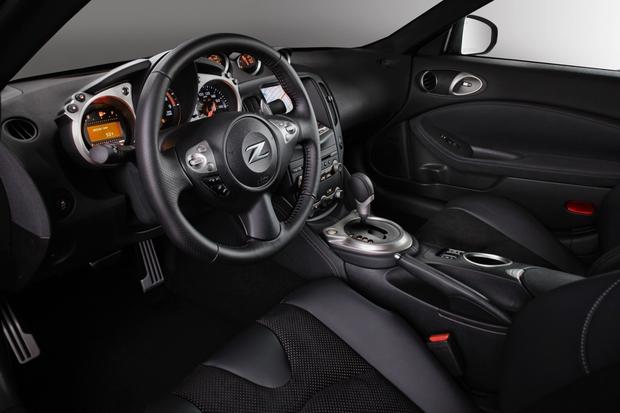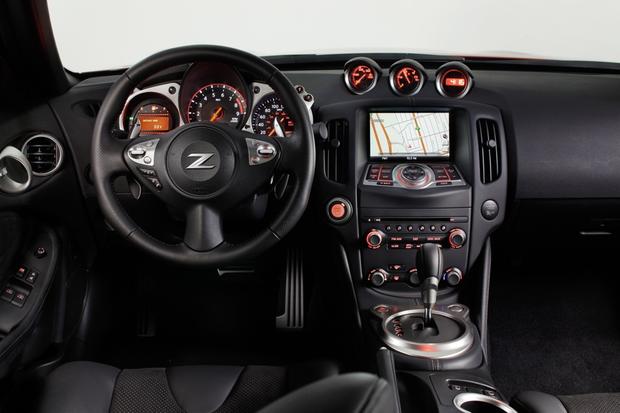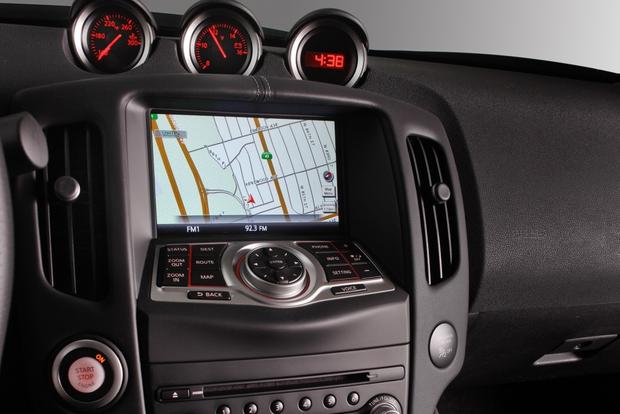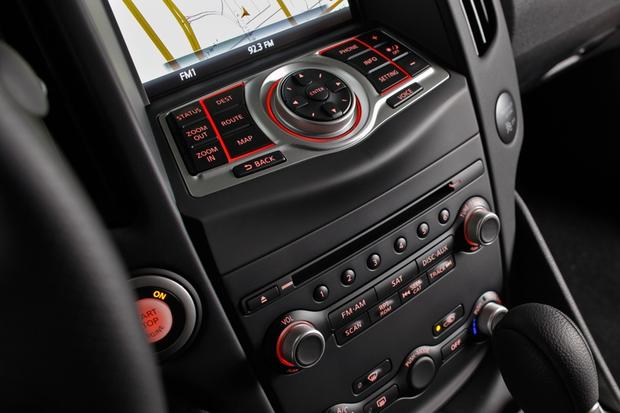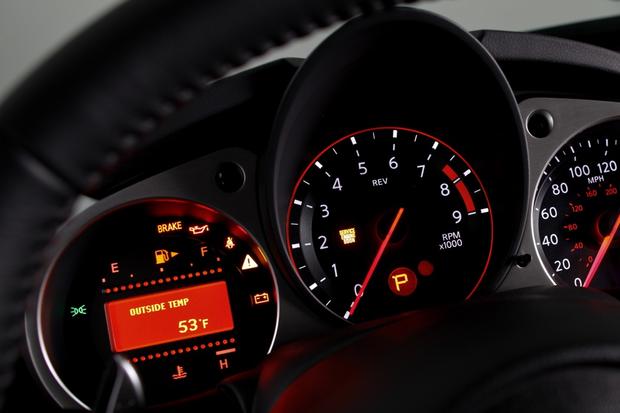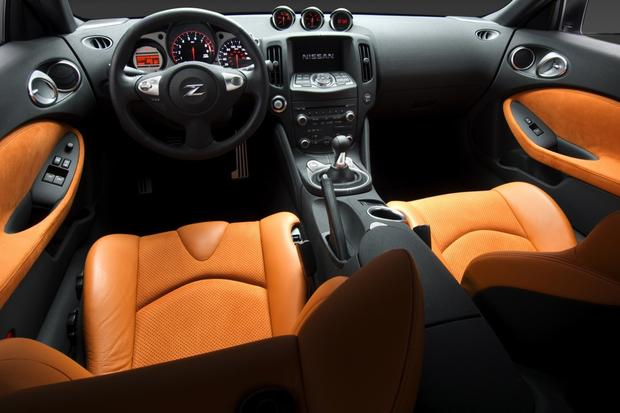 Pros: Powerful engine; responsive handling; strong brakes; well-crafted interior; excellent performance.
Cons: Poor rear visibility; excessive tire and road noise; buzzy engine when approaching redline; very limited cargo space
What's New: Revised front fascia with LED daytime running lights; new wheel designs; red-painted brake calipers and updated shocks with Sport package; two new exterior colors
The iconic Z car has been around since the 1970s, when it was still called a Datsun. More than 35 years later, the sleek, sexy sports-car essence of the Z remains intact, and it continues to live up to its performance billing.
Enthusiasts will consider the rear-wheel-drive 2013 Nissan 370Z a pure sports car, defined by a robust engine, laser-precise steering, track-caliber agility and a race-inspired 2-passenger cockpit. It's a formula shared by many world-class sports coupes, but the Z is available at a fraction of the price. For that reason, some call it a poor man's track toy. In other words, you can enjoy real sports car performance without going broke.
For those who prefer their high-speed escapades with a dose of vitamin D, there's the open-top 370Z Roadster. It brings virtually the same level of athleticism as the coupe but with the benefit of a retractable fabric roof that can be dropped in just 20 seconds.
If the standard 370Z isn't powerful or sticky enough, buyers have the choice of the even edgier 370Z Nismo. It offers greater firepower from under the hood, a much firmer suspension, upgraded brakes, aero body enhancements and larger wheels. If track days are your cup of tea, the Nismo Z is an excellent weapon of choice.
For 2013, the 370Z arrives with a few minor changes over the prior year. A revised front fascia now includes LED daytime running lights. The Coupe gets newly designed 18-inch wheels, and the Sport package for both Coupe and Roadster includes redesigned 19-in wheels, Euro-tuned sport shocks and red-painted brake calipers. Two new exterior colors--Midnight Blue and Magma Red--are available.
The Nismo 370Z includes the revised fascia too, LED running lights, red-painted calipers and available Magma Red paint, too. For 2013, it also includes high-rigidity brake lines, race-grade brake fluid and newly available Bose sound with a 6-disc in-dash CD player and Bluetooth hands free.
In any of its forms, the latest Z is one of the best performance bargains ever.
Comfort & Utility
The 370Z's twin-seat cockpit is an excellent match for the car's performance credentials. From its racing-style gauge cluster to its bright metallic trim, the interior makes you feel you're moving fast even when the car is parked. And there's heritage here, too, with dash-top instruments for oil, temperature and volts that pay homage to early Z car designs.
The Z's seats are supportive and well bolstered. Driver's seat height positioning is nearly perfect for command of the wheel, and legroom is surprisingly generous considering the car's smallish cabin space. The front seats can easily accommodate 6-footers.
If there's one real shortfall to this car, it's cargo room. But shoppers aren't buying the Z for its luggage-carrying capabilities. The coupe gets a tiny 6.9 cu-ft of storage, and the roadster offers even less: 4.2 cu-ft, enough for a couple of small overnight bags.
The 370Z coupe is available in base, Touring and Nismo models, while the Roadster arrives in base and Touring only. Standard convenience features on base models include push-button start, heated power mirrors, cruise control and a 4-speaker stereo. The Touring has power-adjustable heated seats and a premium 8-speaker audio system. The Nismo adds performance upgrades and just one interior equipment option, the new-for-2013 Bose audio package.
Technology
The Nissan 370Z does not deliver the kind of high-tech content found in coupes from Audi, BMW and Porsche. No advanced driver assistance technologies like adaptive cruise control or blind spot warning are offered. But there is a roster of useful electronic features including Bluetooth, USB connectivity, voice-command touchscreen navigation and a backup camera.
Performance & Fuel Economy
The 2012 Nissan 370Z is motivated by a 3.7-liter V6 producing 332 horsepower and 270 lb-ft of torque. This engine is managed by either a 6-speed manual gearbox or a 7-speed automatic transmission with steering-wheel-mounted paddle shifters.
Performance is optimized on the manual-transmission Z with an optional SynchroRev Match feature, which automatically blips the throttle to provide seamless clutch engagement during downshifts, eliminating the need for heel-and-toe downshifting. For those who prefer to do it the old-fashioned way, the SynchroRev Match feature can be turned off.
The 370 Nismo uses a revised version of the same V6 engine, with output bumped to 350 hp and 276 lb-ft of torque. The Nismo comes only with the manual transmission and SynchroRev Match.
Fuel economy for the 370Z is 18 mpg city/26 mpg highway with the manual and 19/26 mpg with the automatic. The Roadster yields 18/25 mpg with either transmission.
Safety
Safety features for the 370Z, Roadster and Nismo include ABS, stability control, active head restraints and six airbags--front, side and head curtain. Since the Roadster has no roof, its curtain airbags are deployed from the top of the door frame.
Driving Impressions
Thanks to its strong engine and quick-shifting transmissions, the Nissan 370Z provides an abundance of power and acceleration. There's no shortage of straight-line performance here. The Z will impress you both off the line and on the open road. And with the SynchroRev Match feature, the performance experience is deftly elevated.
But the real magic happens when the Z's sport-tuned suspension is put to the paces at high speeds through tight corners. Whether on sharp canyon switchbacks or a super-curvy racetrack, this car exhibits gobs of grip and virtually no body lean. Its blend of agility and balance inspires tremendous confidence. Push the Z extra hard, and the stability control will likely step in to spoil the fun, but this system can be shut off if the driver really wants to test the limits. What he or she will learn is that those limits are not easily reached. The 370Z Roadster's driving experience is about the same as the coupe, but with a lot more wind in the hair.
The Nismo takes the performance factor up a notch. This model is actually more appropriate for a track than normal roads, as it's a bit rigid for everyday driving. There's not much sense in buying one unless you have the time and inclination for weekend trips to the track.
Aside from its commendable sporting performance, the regular Z is still a fine car for the daily commute. Its ride is compliant enough to get you where you're going comfortably.
Other Cars to Consider
Chevrolet Camaro - The Camaro is not as nimble or as track-capable as the 370Z, but it's the more muscular straight-line performer.
Audi TT - The TT has a better balance of ride and handling and a more sophisticated overall package, but the 370Z has more cornering prowess and grip. Both offer extremely precise steering.
Hyundai Genesis Coupe - The Genesis and the Z are both very competent sports cars. However, the Genesis has more refinement for everyday driving. The 370Z is a sharper handler, and it's better equipped for twisty roads and track-style motoring.
AutoTrader Recommends
Both the coupe and the convertible deliver excellent performance at a very reasonable price. We suggest you go with the 7-speed automatic, which still allows you to choose gears manually when the mood strikes. The Touring trim's more upscale presentation and wider array of amenities beats the base model's stripped-down interior, which suffers especially with that puny 4-speaker stereo. The Nismo is just too hard core for everyday use, but the optional Sport Package brings the Z closer to Nismo caliber without the harsh ride. We also suggest the Navigation Package option. The 2013 Nissan 370Z Touring outfitted in such a way is an affordable world-class sport coupe that's equipped like a premium car.