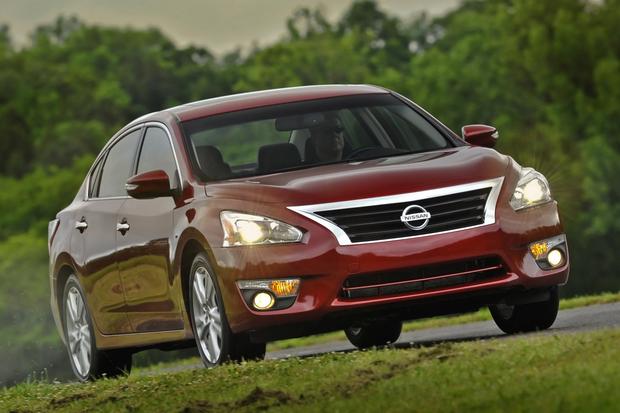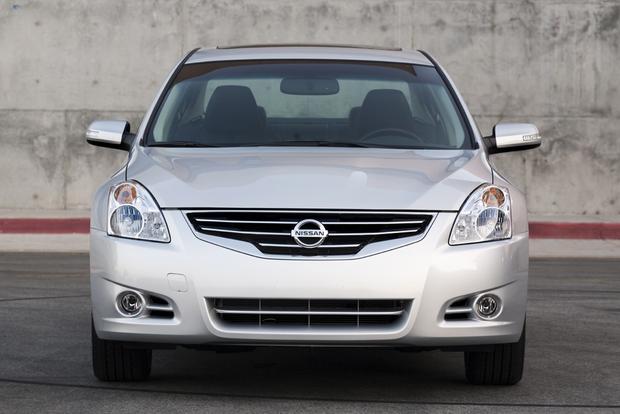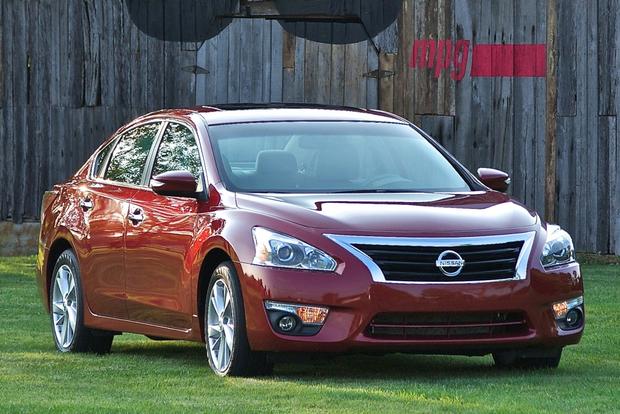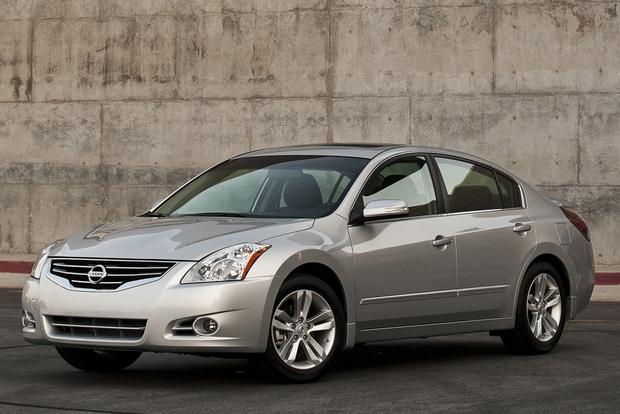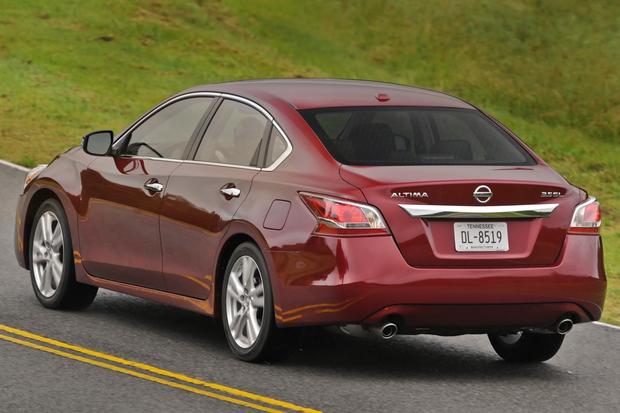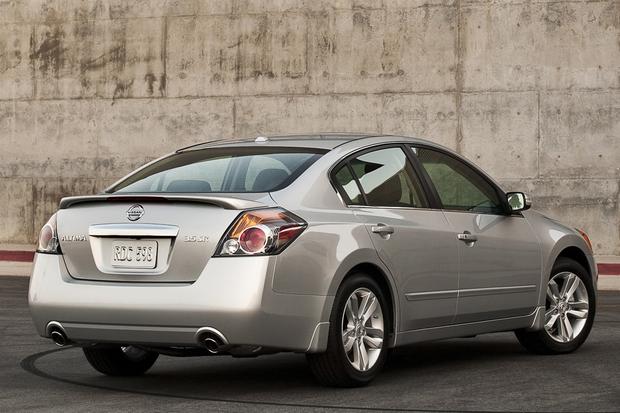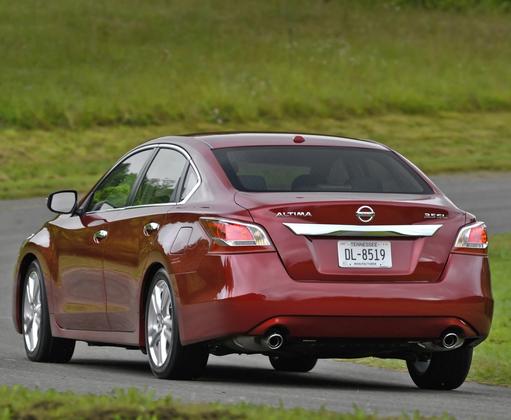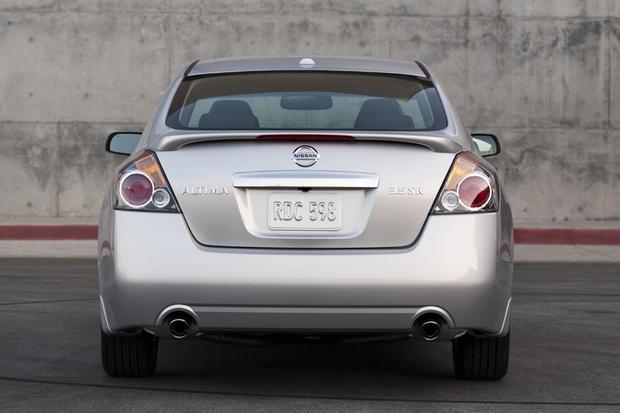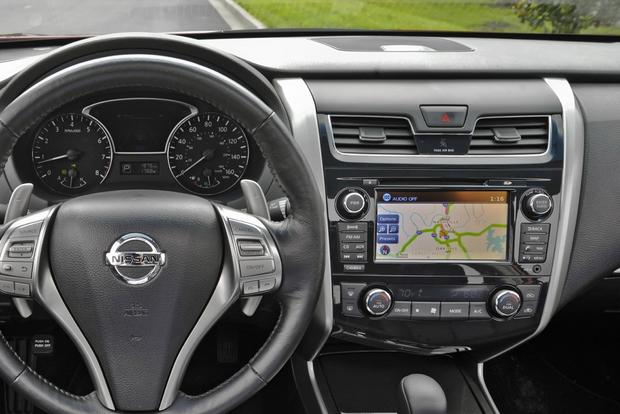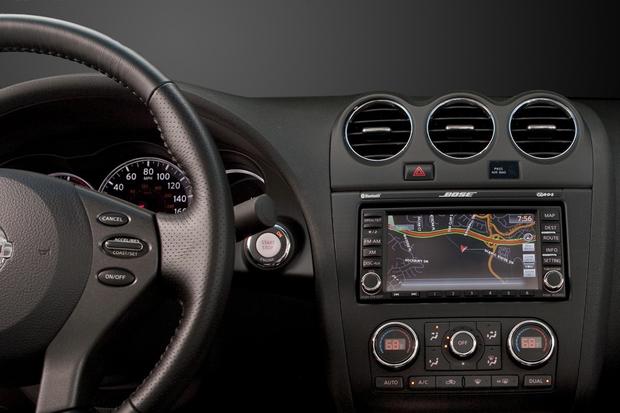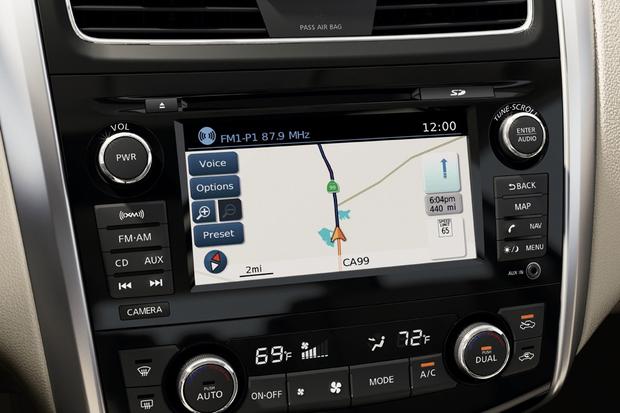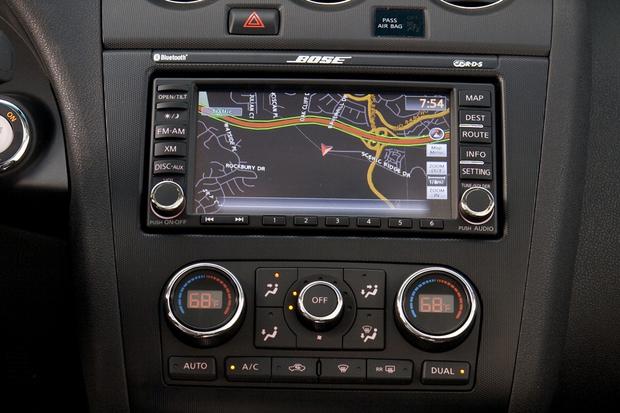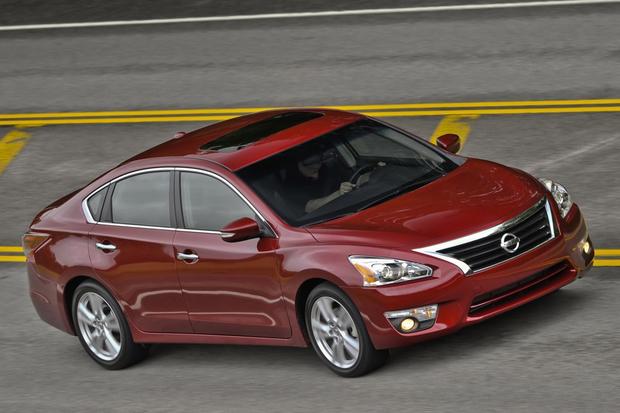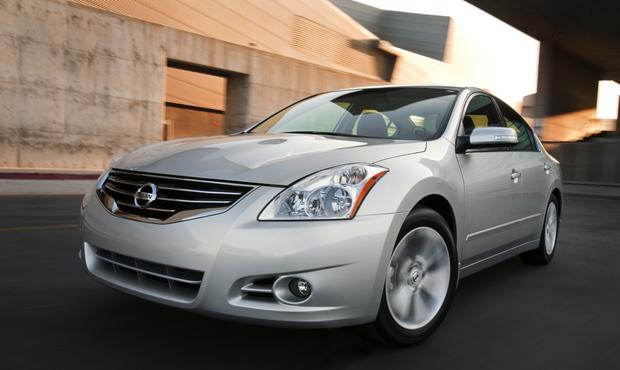 Introduction
Nissan has redesigned its Altima midsize family sedan for 2013, calling it the most revolutionary Altima ever. Given that the 2002 Nissan Altima was a game changer in the segment when it debuted more than a decade ago, that's a strong assertion that we plan to challenge in this installment of New vs. Old.
Before we dive into the details, some housekeeping is in order. First, Nissan redesigned only the 2013 Nissan Altima Sedan. The Altima Coupe continues as a carryover model based on the previous-generation platform. Second, Nissan offers the new Altima Sedan in 2.5 and 3.5 model series, in S, SV, and SL trim levels. Third, the Altima 2.5 is also available in a base trim level sold primarily to corporations as a fleet vehicle.
With those facts setting the stage, let's see if it makes more sense to buy a new Nissan Altima or a clean used example.
Fuel Economy
When the Altima debuted over the summer, Nissan called it the most fuel-efficient gasoline mid-size car in America. This claim is not entirely correct, as the EPA rates the Hyundai Elantra as a mid-size car, and that model receives a 34-mpg combined fuel economy rating compared to the 31-mpg combined rating for the 2013 Altima 2.5. However, since Hyundai markets the Elantra to compact car buyers while the Altima clearly competes with mid-size family sedans, we'll cut Nissan some slack on this technicality.
For 2013, the Altima 2.5 is equipped with a new 2.5-liter 4-cylinder engine that the company says is lighter, stronger, quicker, and more fuel-efficient. The engine makes 182 horsepower at 6,000 rpm and 180 lb-ft of torque at 4,000 rpm, and Nissan pairs it exclusively with a new version of the company's Xtronic continuously variable transmission (CVT) driving the front wheels. The EPA says the powertrain will return 27 mpg in the city, 38 mpg on the highway, and 31 mpg in combined driving.
The previous generation Altima 2.5 also has a 2.5-liter 4-cylinder engine, rated to generate 175 hp at 5,600 rpm and 180 lb-ft of torque at 3,900 rpm (170 hp and 175 lb-ft in California emissions tune). It also has a CVT and front-wheel drive, and EPA fuel economy ratings are 23 mpg in the city, 32 mpg on the highway, and 27 mpg in combined driving.
Clearly, when it comes to comparing the new Altima 2.5 to the previous generation version, the new car offers a significant double-digit improvement in fuel economy. It is also more powerful, but the older car makes its peak power at slightly lower revs.
Let's shift discussion to the Altima 3.5 models. The redesigned 2013 Altima 3.5 is equipped with Nissan's familiar VQ series 3.5-liter V6 engine, generating 270 hp at 6,000 rpm and 251 lb-ft of torque at 4,400 rpm. It has a CVT with paddle shifters and a manual shift mode, and the EPA says it will get 22 mpg in the city, 31 mpg on the highway, and 25 mpg in combined driving.
The previous generation Altima 3.5 is equipped with the same VQ series V6 engine, making the same 270 hp at the same 6,000 rpm. However, the older Altima provides more torque, with 258 lb-ft of twist available at 4,400 rpm. The previous generation model's CVT offers a Sport mode and adaptive shift logic, and from 2007 to 2010, Nissan offered a 6-speed manual gearbox to enthusiast drivers. Fuel economy with the CVT rated 20 mpg in the city, 27 mpg on the highway, and 23 mpg in combined driving. Models with the manual transmission lose 2 mpg in city and combined driving ratings.
The previous generation Altima was also available as a Hybrid model, but Nissan sold that car only in a few states. The EPA rated the Altima Hybrid to get 33 mpg in the city, 33 mpg on the highway, and 33 mpg in combined driving. The Atkinson-cycle 2.5-liter 4-cylinder engine, electric assist motor, and nickel-metal hydride battery pack make a combined 198 hp, and this car is a full hybrid, which means it can run solely on battery power at low speeds.
So which model is the victor here? The best-selling model, the Altima 2.5, is slightly more powerful and much more fuel efficient for 2013 compared to the previous Altima 2.5, making it the clear choice for people focused on maximizing fuel economy--at least in states where the previous generation Altima Hybrid is unavailable. The 2013 Altima 3.5 is also more fuel efficient than the older car, but it loses a bit of torque compared to last year and is unavailable with a manual transmission.
Overall, we'll call this category in favor of the new Altima, but only because Nissan never sold the 2008-2011 Altima Hybrid nationwide.
Safety
For 2013, Nissan equips the redesigned 2013 Altima Sedan with a new Easy Fill Tire Alert system. With this new feature, the car's horn sounds when, during re-filling, the driver reaches the proper tire pressure, precluding the need to have a tire gauge on hand.
Additionally, the new 2013 Altima comes standard with headlights that automatically illuminate when turning the wipers on, and offers an optional NissanConnect system with hands-free text messaging. A Technology Package for the SL models includes a blind spot information system, a lane departure warning system, and Moving Object Detection technology designed to warn the driver when vehicles are approaching the Altima as it reverses from a parking space.
The previous generation Altima offers none of these features. A reversing camera was optional on the Altima 3.5 model, the most modern piece of safety technology available on that vehicle. Nevertheless, the previous Nissan Altima achieved impressive crash test ratings according to the National Highway Traffic Safety Administration (NHTSA), a 5-Star overall rating from 2007 to 2010, and a 4-Star overall rating for 2011 and 2012 after the NHTSA strengthened its testing parameters.
In crash tests conducted by the Insurance Institute for Highway Safety (IIHS), the 2007-2008 Altima models are not as good at protecting against injury as the 2009-2012 models due to a Marginal rating for the car's ability to protect against whiplash. The rating improved to Acceptable for 2009-2012 models, which matched the car's Acceptable roof crush strength test rating for all model years. The previous generation Altima was never called a Top Safety Pick by the IIHS.
By comparison, the new 2013 Altima has achieved a 5-Star overall crash test rating from NHTSA. The new Altima, as we write this article, has not been tested by the IIHS.
Advantage: 2013 Altima.
Reliability
The previous generation Nissan Altima is a reliable car, though Consumer Reports data reflects that owners have experienced trouble with the vehicle's braking system. Nissan has also extended the warranty for the CVT on 2007-2010 Altimas, covering them for 10 years or 120,000 miles, though Consumer Reports data reflects no problems with this transmission.
If a used Altima is five years old or less, with 60,000 miles or fewer miles, and passes an initial 150-point vehicle inspection, it qualifies for Nissan's Certified Pre-Owned used car program. Under the program, a CPO Altima comes with a 7-year/100,000-mile warranty covering the drive train, with the car's owner paying a $50 deductible for any repairs. Nissan also offers roadside assistance and towing reimbursement during the extended powertrain warranty period, and a free 3-month subscription to satellite radio.
Additionally, every CPO Altima comes with a CARFAX vehicle history report and a 3-year buy-back guarantee protecting the owner against any DMV-branded title that the report might miss.
Compare these warranties and upgrades to the new 2013 Nissan Altima, which comes with a 5-year/60,000-mile powertrain warranty, a 3-year/36,000-mile bumper-to-bumper warranty, and that's it. Nissan offers no roadside assistance with new models.
Normally, new cars offer better warranty coverage than certified pre-owned vehicles, but Nissan's standard warranty is weak enough to make the CPO warranty look appealing.
Value
As we write this article, certified pre-owned Nissan Altima Sedans are on sale for $12,750 to $27,595, depending on model, mileage, and equipment. Compare those values to the price of the new 2013 Altima Sedan, which starts at $22,280 and tops out at $31,950 before dipping into the dealer-installed accessories cookie jar. Add all the extras, and the 2013 Altima's price tag surpasses $35,000.
Though a certified pre-owned Altima is a less expensive alternative to a new Altima, keep in mind that interest rates for used vehicle loans are typically higher than those for new vehicles.
Technology
From its new NASA-inspired zero gravity front seat designs to its Easy Fill Tire Alert System, the redesigned 2013 Altima is a far more technologically advanced vehicle than the previous generation Altima. Additional upgrades include Blind Spot Warning, Lane Departure Warning, and Moving Object Detection systems, and NissanConnect technology with hands-free text messaging capability, Pandora Internet radio streaming, and Google point-of-interest search. The new Altima also comes with an Active Understeer Control system to help improve cornering abilities.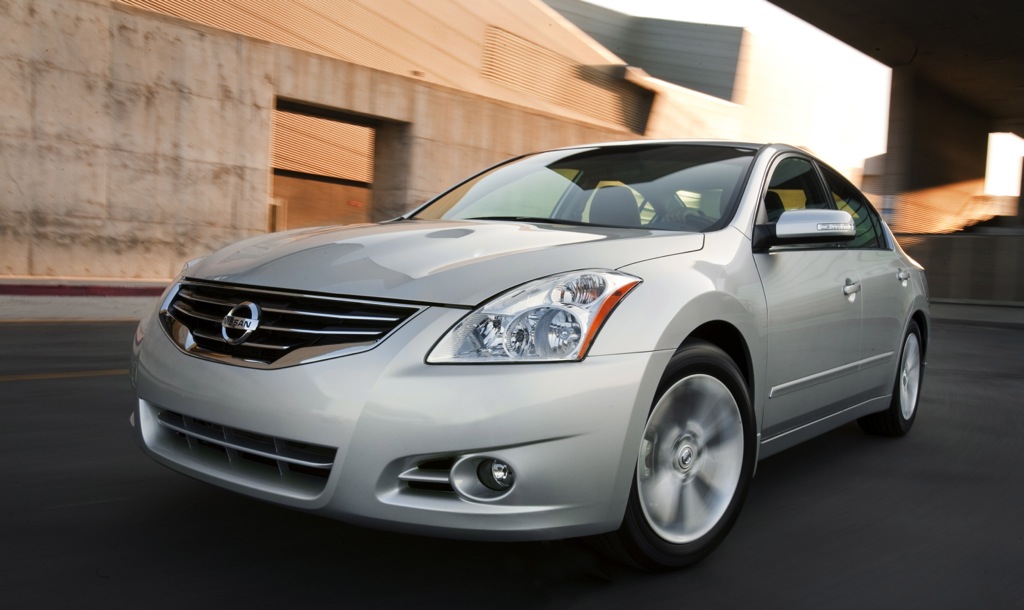 AutoTrader Recommendation
Based on the redesigned 2013 Altima's fuel economy improvement, its new safety and convenience technologies, its comfortable zero-gravity front seats, and its reasonable pricing, we think the new Altima is a better car than the previous generation Altima.
However, if you live in a region where the 2008-2011 Altima Hybrid is available, and your priorities are to maximize fuel economy and minimize the purchase price, rest assured that it is a safe, reliable, and fuel-efficient family sedan. When protected by Nissan's CPO program, the Altima Hybrid is especially compelling as a more affordable alternative. The only drawback here is a smaller trunk due to the battery stack located behind the rear seat.