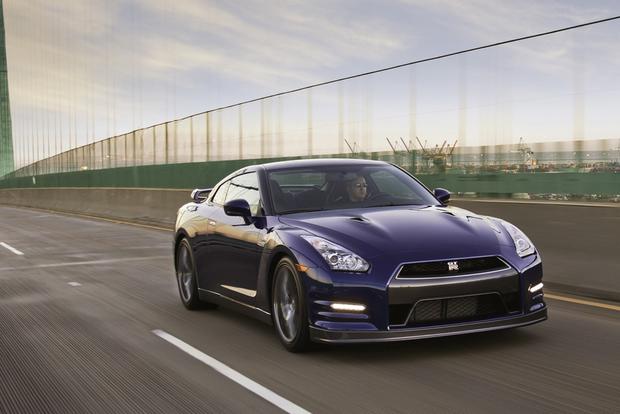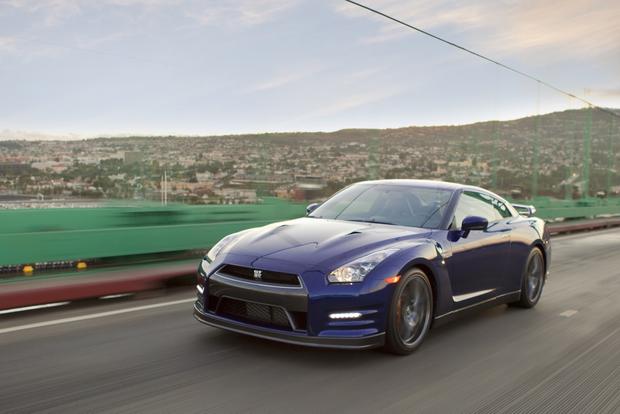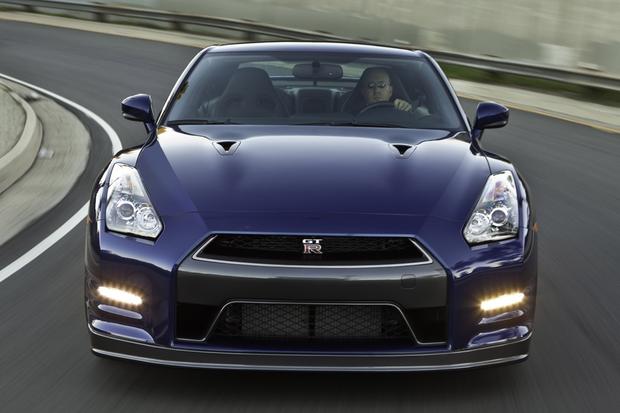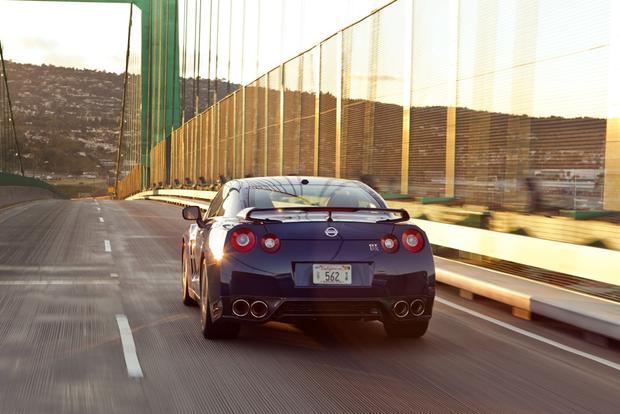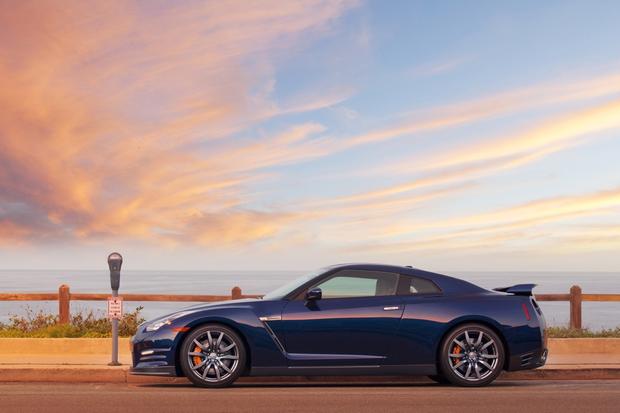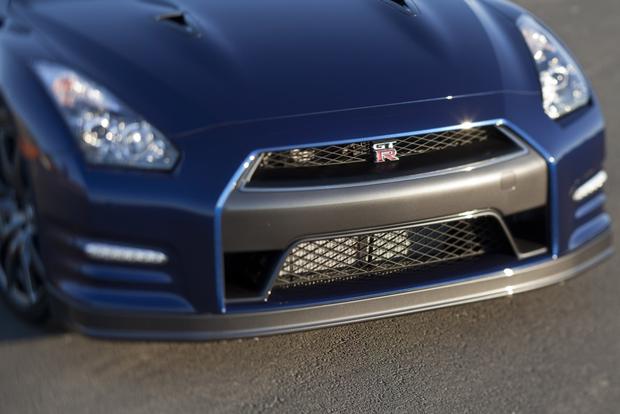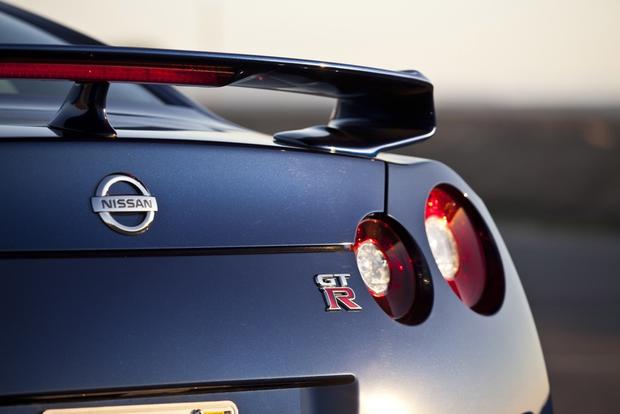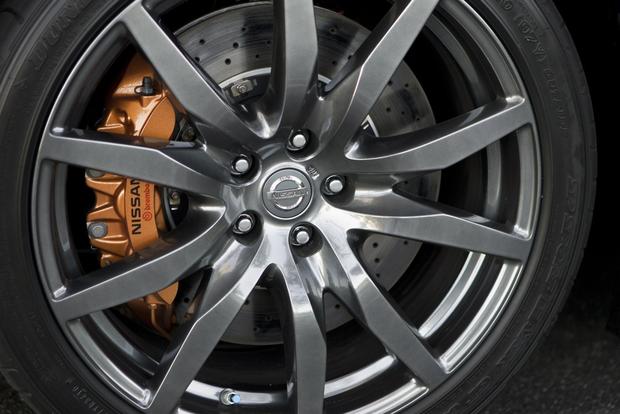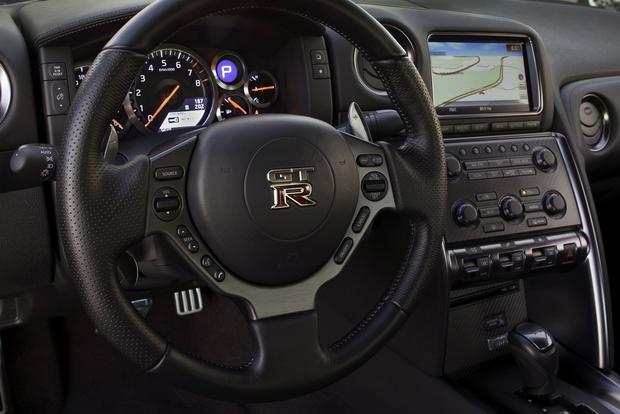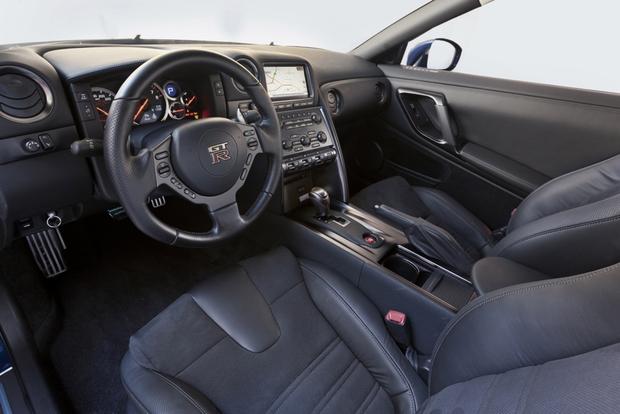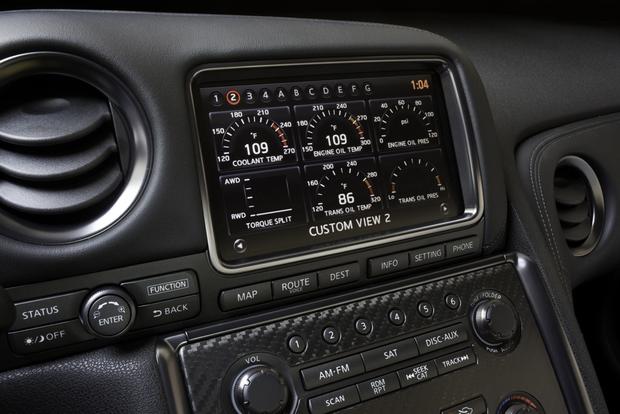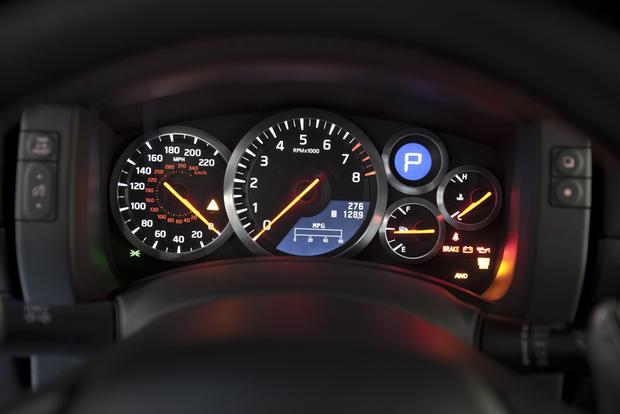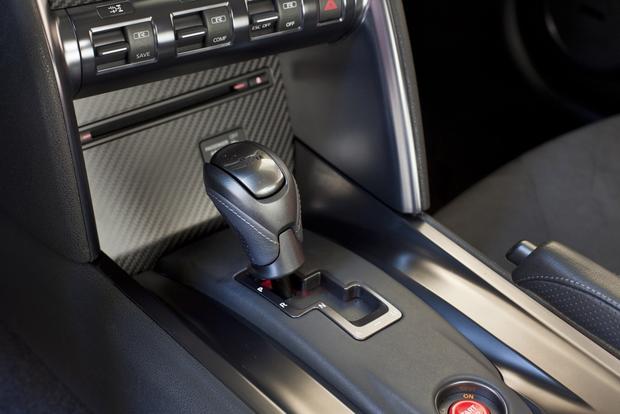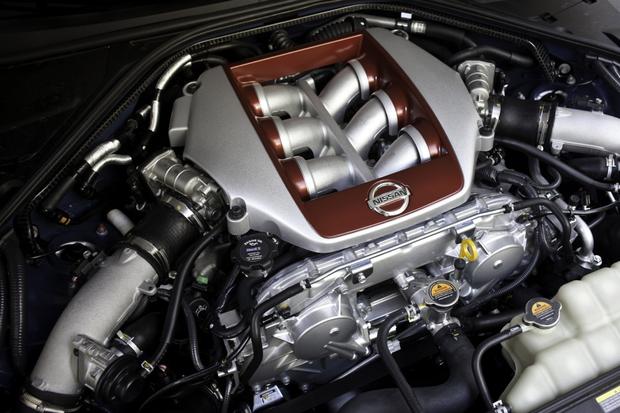 Pros: Very fast; superb acceleration; extremely agile; upscale interior; abundant premium amenities; affordable relative to competition.
Cons: Less of a status symbol than most competitors; feels a little large and heavy in corners.
What's New for 2013: More horsepower and torque; refined transmission and suspension; standard carbon fiber spoiler for Black Edition; standard backup camera.
The 2013 Nissan GT-R is a 2+2 sport coupe, but that description doesn't do it justice. This supercar's track-caliber credentials are on par with many exotics that cost three, four and even five times as much. For that reason, it's considered one of the best high-performance values in the world.
The GT-R achieves its world-class status thanks to an extremely potent twin-turbo V6, a fast-shifting automated manual gearbox, sport-tuned suspension, powerful Brembo brakes and a sophisticated all-wheel-drive system. All of these elements come together to make the GT-R an extremely capable sports car.
Despite its intentions in performance, the GT-R is not light; it has a curb weight of more than 3,800 lb. And although its dynamics are above and beyond those of most performance cars, it can feel a little weighed down when taking corners at high speeds. Still, with more power for 2013, the GT-R is a track-ready machine that begs to be pushed to its limits.
Inside and out, the GT-R looks the part of a fast car. Its exterior is sleek and aerodynamic, and inside is a well-crafted, sport-infused cockpit with no shortage of performance cues.
For 2013, output of the GT-R is increased to 545 hp and 463 lb-ft torque. The transmission is refined for smoother, quieter shifts and the suspension has been retuned. Blue lighting accents the tachometer ring, and a backup camera is now standard. The Black Edition returns for 2013 with a new, handmade dry carbon spoiler.
Blending performance, technology, aesthetics and affordability, the Nissan GT-R is a rare breed among fast cars. Some enthusiasts might be turned off by the fact that it's a Nissan and not a European exotic, but for anyone wanting a superb sports car without breaking the bank, there might be no better choice.
Comfort & Utility
A high-tech, high-performance cockpit with a sporty and futuristic look defines the GT-R's 4-passenger interior. Premium-quality materials abound, and everything--gauges, meters, controls, vents, dash panels--comes together seamlessly. The entire space is visually stunning, and the ergonomics are excellent.
The front compartment is headlined by a carbon fiber center stack with matte black switchgear and a dash-top multifunction display that details a range of performance data, including G-forces, shifting patterns and lap times. The driver can use this information to improve his or her piloting skills.
The front sport seats are supportive, very well bolstered and designed to keep occupants in place through all of the GT-R's high-speed acrobatics. Unlike many performance cars, there's plenty of headroom and legroom in front, even for people over six feet tall. And the seat comfort is more than adequate for everyday driving and longer highway journeys.
The GT-R's rear seats are tight and difficult to access. They're fine for kids but they won't comfortably accommodate most adults. In terms of trunk space, there's a useable 8.8 cu-ft, which is enough for a couple of overnight bags.
Notable convenience features include Xenon headlights; leather and suede upholstery; power front seats with heat; and a premium 11-speaker audio system. The GT-R Black Edition trades in the standard front sport seats for a pair of black and red leather Recaro seats.
Technology
The GT-R's most notable advanced electronic feature is the standard multifunction display unit, which captures pertinent high-performance driving data and allows it to be reviewed by the driver. Other technological amenities include Bluetooth with streaming audio, a USB interface, navigation with real-time traffic and a hard-drive music storage component.
Performance & Fuel Economy
The 2012 Nissan GT-R is equipped with an uprated 3.8-liter twin-turbo V6 that makes a tremendous 545 hp (15 more than the 2012 model) and 463 lb-ft of torque (an increase of 15 lb-ft). The increase comes courtesy of more efficient intake and exhaust emissions and improved control. All of this energy is fed to an advanced all-wheel-drive system by way of a revised 6-speed dual-clutch automated manual gearbox that offers smoother, quieter shifting thanks to sturdier components. The transmission offers three driver-selectable shifting programs.
Acceleration numbers are not available at this time, but the 2013 GT-R's 0-to-60-mph time should beat last year's time of 3.2 seconds. Top speed is expected to exceed a blurring 190 mph.
As one would expect, the GT-R's acceleration is awe-inspiring. Making the performance experience even more ethereal is the rev-matching throttle-blip feature, which mimics the skill of heel-and-toe driving. The GT-R also offers paddle shifters mounted on the steering wheel for drivers who prefer that approach.
Safety
Standard safety features for the GT-R include ABS, stability control, traction control and six airbags: front, side and head curtain.
Driving Impressions
From a speed and acceleration standpoint, the GT-R is as good as it gets, with blindingly fast straight-line performance and tire-melting torque. All this power feels a little less daunting because it is accompanied by a very precise steering system, sophisticated all-wheel drive and big, strong brakes designed to reel the car in with precision and control.
The GT-R is as sure-footed and stuck to the pavement as a world-class sports car can be. That's especially true in the curves, whether on harrowing canyon switchbacks or a racetrack. The GT-R feels extremely confident in corners almost regardless of its speed. It maintains racecar-like grip and balance, offering a true sense of control and stability. But if the driver is feeling a little daring and wishes to break the car loose, the stability control can always be shut off.
The GT-R's main drawback is its 3,800-plus-lb curb weight, which makes the GT-R feel a bit less agile than a few of its top German competitors. If this car were to shed 200 to 300 lb, it would be better positioned to outmatch top performance cars.
The GT-R offers an easygoing ride thanks to a driver-tunable vehicle dynamics system. In normal mode, the car takes on a less rigid personality, making it viable for daily commuting or interstate cruising. Everyday comfort is something that many vehicles in this category can't claim.
Other Cars to Consider
Porsche 911 - The starting price for the iconic Porsche is close to that of the GT-R, but optional equipment adds up quickly. Similarly equipped, the Porsche is pricier. It's also more nimble in corners. The GT-R's off-the-line acceleration is more impressive.
Chevrolet Corvette Z06 - The Corvette is more affordable than the GT-R, but from a pure performance standpoint the GT-R is quicker and more agile. In short, the Nissan is a better track car.
Mercedes-Benz C63 AMG - Available in coupe or sedan form, the AMG can offer both luxury and performance at very high levels. The GT-R offers more all-around track prowess, while the AMG is better suited to daily driving.
AutoTrader Recommends
The 2013 Nissan GT-R is available in two trim levels: Premium and Black Edition. Nissan offers only two options, a Cold Weather package with all-season tires and special Super Silver paint. Buyers in northern climates should seriously consider the no-cost Cold Weather package unless they plan on storing the GT-R for the winter. The Black Edition, which is primarily an appearance package, costs an extra $9,500 (taking the base price of $96,820 up to $106,320) and buys a handmade carbon spoiler, black and red leather Recaro seats, a black headliner and blacked-out alloy wheels for an extra dose of aggression on an already mean performance machine.