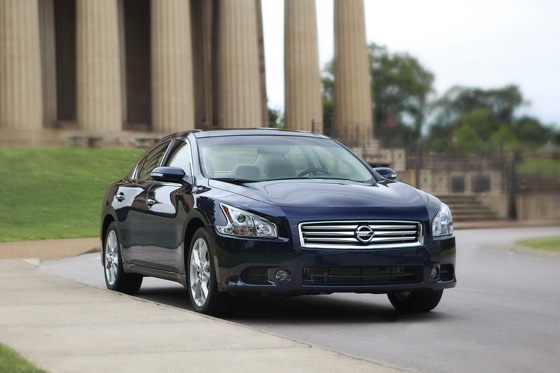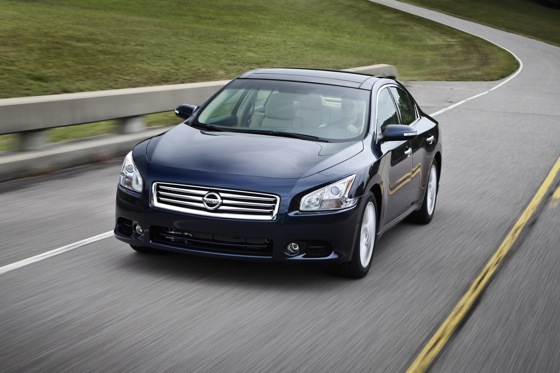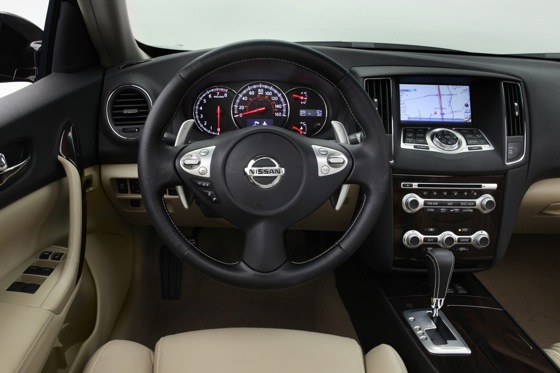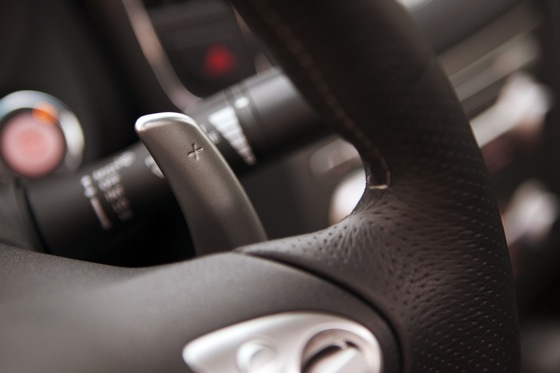 Pros: Well built; agile handling; powerful engine; near-luxury cabin; abundance of available features.
Cons: Pricey options; not quite a status symbol; no manual transmission offered.
What's New: Revised options packages, including new SV Value package; Pearl White exterior paint color.
Based on the way it looks, drives and feels, the 2013 Nissan Maxima should be considered a luxury performance sedan. If it had the badges of sister brand Infiniti pasted to its grille, wheel centers and deck lid, it would certainly qualify as an upscale model. Instead, the Maxima wears more pedestrian Nissan logos, so its personality leans away from luxury and toward performance.
Even so, the Maxima is a comfortable and compliant family sedan that offers near-luxury accommodations for five passengers. It also has an ambitious, sporting character capable of competing with mid-size performance sedans like BMW, Audi and Volvo. And it achieves all of this at a reasonable price point.
The Maxima offers a handful of updates for 2013, most of which affect its various options packages. A new SV Value package is available. It offers 9-speaker Bose audio with satellite radio, and heated front seats, steering wheel and side mirrors. A new Bose Audio package includes just the upgraded 9-speaker system with satellite radio. The Sport package now includes a 7-inch color monitor in the center stack that serves as a display for the backup camera. A climate controlled driver's seat and graphite finished 19-in aluminum wheels are also included. Finally, a new exterior paint color called Pearl White is available on the 2013 model.
The Maxima's blend of build quality, visual appeal, interior refinement and driving prowess makes it one of the most balanced sedan offerings for its price. The Maxima is not a status symbol, but in these difficult economic times that might be a good thing.
Comfort & Utility
The Maxima's premium-level cabin has a decidedly sporting character, advanced electronics and excellent craftsmanship. If you didn't know better, you'd think you were sitting in an Infiniti. The gauges and controls are sophisticated with performance-oriented flair. The focal point of the driver's cockpit is a tactile, thick-grip steering wheel.
The Maxima's front seats are well contoured and nicely bolstered. They're also adequately padded to make for a more comfortable interstate ride. The rear seat is available as either a 3-passenger bench or a pair of bucket-style seats with a folding armrest and trunk pass-through.
The trunk is a usable 14.2 cu-ft, which is not the largest in the segment, but not the smallest either. This cargo space is expanded and made more flexible thanks to the base model's 60/40 split folding rear seat. The up-level SV, to preserve maximum chassis stiffness, has a handy pass-through instead of a folding second row to accommodate longer items, like skis.
The Maxima is available in two trim levels: S and SV. Standard convenience features for the base S model include dual-zone climate control, push-button start, cruise control, power adjustable front seats and a 60/40 split folding rear seat. The SV adds power-adjustable lumbar support, extending thigh support for the driver's seat, leather upholstery and a universal home remote. Notable options and luxury amenities bundled in a variety of packages include a dual-panel sunroof; heated and cooled front seats; power tilting and telescoping steering wheel; heated steering wheel; and a power rear shade. Drivers who want to add optional equipment packages must choose the Maxima SV trim.
Technology
The Maxima offers a wide array of advanced electronics, mostly as part of options packages. These include a 7-in touchscreen electronics interface, a USB port, a digital music storage component, a backup camera and voice-command navigation with real-time traffic. The only tech-centric feature that comes standard on both the S and SV models is Bluetooth connectivity.
Performance & Fuel Economy
The front-wheel-drive 2013 Nissan Maxima is powered by a potent 3.5-liter V6 that makes 290 horsepower and 261 lb-ft of torque. This engine is managed by a continuously variable automatic transmission (CVT). One of the biggest criticisms of the Maxima is that it has no manual transmission choice, taking it off the test-drive lists of many drivers looking for a sport sedan. Despite that fact, the Maxima's engine and transmission combination is very responsive, with strong power throughout the rev band. Acceleration is as good as other sport sedans in its price range.
EPA-estimated fuel economy for the Nissan Maxima is 19-mpg city/26-mpg highway. The city figure is low relative to entry-level luxury competitors.
Safety
Standard safety features for the Maxima include ABS, stability control, traction control, six airbags and active front head restraints. For 2013, the Maxima earned the highest front and side crash test ratings from the Insurance Institute for Highway Safety (IIHS).
Driving Impressions
Aside from lacking a manual transmission, the Nissan Maxima is as robust and exhilarating as any well-regarded sport sedan. That shortfall is compensated for by a manual mode that uses steering-wheel-mounted paddle shifters to simulate the experience of a 6-speed gearbox.
The Maxima is strong off the line and very confident in mid-sprint. It's effortless at highway passing and does so with an aggressive snarl. Furthermore, handling is impressive with steering that's both quick and precise, allowing the Maxima to corner with the agility and nimbleness of a smaller sports car. The tires offer plenty of grip, and the car remains virtually flat through sharp turn-ins.
Yet the Maxima's ride is very compliant. Regardless of its sporting personality, it delivers a feel that is comfortable for the daily commute as well as long-distance highway cruising, making it a fine choice for a family sedan.
Other Cars to Consider
BMW 3 Series - The BMW is more expensive than the Maxima but offers a notably higher level of driving dynamics. It's also much more of a status symbol than the Nissan. However, the Maxima's ride quality is more conducive for carting around the family.
Chrysler 300 - The 300 is more elegant, while the Maxima leans more in the direction of sport. The Maxima's smaller overall package helps make it a better handler.
Hyundai Genesis - Both are legitimate sport sedans, but the Genesis offers more luxury and refinement than the Maxima. The Genesis has quickly made a reputation for itself as a premium-level car. For that reason, it is more of a status symbol.
Volkswagen CC - Many will argue that the Volkswagen is better built due to its German engineering roots, but the Maxima is right on par in quality. The two cars are comparable in performance.
Volvo S60 - The Volvo's upscale Swedish design makes it a bit of a unique proposition compared with the more conventional-looking Maxima. Volvo's emphasis on safety is unmatched. But in ride, handling, performance and interior comfort, the Maxima competes strongly.
AutoTrader Recommends
Our recommendation for the Maxima is the up-level SV. It adds leather upholstery and more comfortable and supportive seats, both of which will make your daily drive or weekend road trip more enjoyable and comfortable. The SV trim is also eligible for our two recommended options packages. The new SV Value package adds heated seats and steering wheel, and upgrades sound to the 9-speaker Bose unit. The technology package adds more sought-after electronics, such as voice-command navigation, a digital music storage component and Bluetooth audio streaming. Sure, you can live without this stuff, but isn't it better not to?