Car Review
2013 Nissan Maxima: New Car Review Video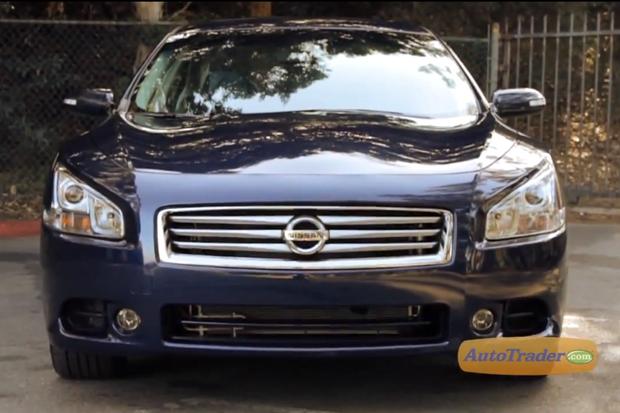 If you want a car that gives you equal parts performance and luxury, you're going to have to drop some serious cash on an upscale European vehicle, such as the BMW 3-Series or Audi A4. With the new 2013 Nissan Maxima, Nissan understood the large gap and decided to do something about it. Now, you'll be able to find a genuine luxury-performance sedan without the premium price tag.
Even though the 2013 Maxima is pretty much a carryover from the 2012 model, it does offer style, a high-end interior and enough horsepower and handling ability to satisfy the performance requirements of just about anyone shopping for a sporty sedan. And with two trim levels, including S and SV, plus a few different option packages, consumers have many options to make a Nissan Maxima the vehicle they demand.
On the inside, Nissan perfected the interior with the use of classy, luxurious bits that offer a sporty yet contemporary feel. The Maxima also offers a great selection of electronics such as standard Bluetooth, but the optional 7-inch touchscreen navigation system with voice command and rearview monitor is not to be overlooked. On the downside, one would expect at least a USB port or even iPod integration, but neither are available standard or as part of an option package.
Under the hood, the 2013 Maxima comes with a 3.5-liter 290-horsepower V6 engine that offers excellent straight-ahead performance that is better than many in its class. However, unlike its German counterparts, the Maxima cannot be found with a manual transmission, but one can get the optional steering-wheel mounted shift paddles if you need to simulate manual shifting. Also, since the Maxima is front wheel drive, the pure enthusiast might feel the understeer when driving aggressively.
The fuel economy for the Nissan Maxima is decent at 19 miles per gallon city and 26 mpg highway. These numbers might be a tad below what other entry-level luxury sedans can ring up, as they might use a manual transmission or even a smaller, turbocharged engine.
On the flip side, those entry-level luxury sedans might be way more expensive than you think. The base price for the new Maxima is just $33,270, but you'll be surprised by the near-lavish interior, first-rate craftsmanship and loads of available upmarket features. Also, with a muscular V6 and athletic handling, the 2013 Nissan Maxima is incredibly crowd-pleasing at a great price.