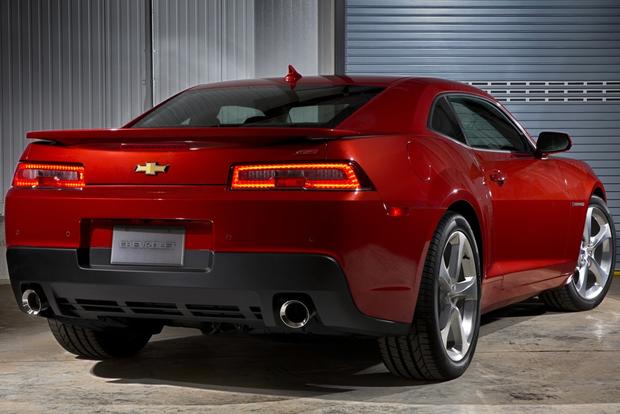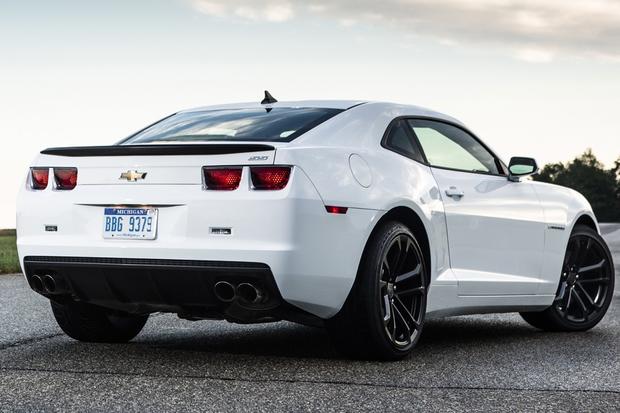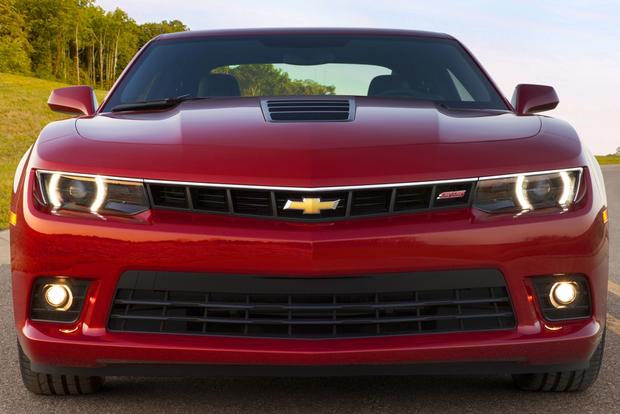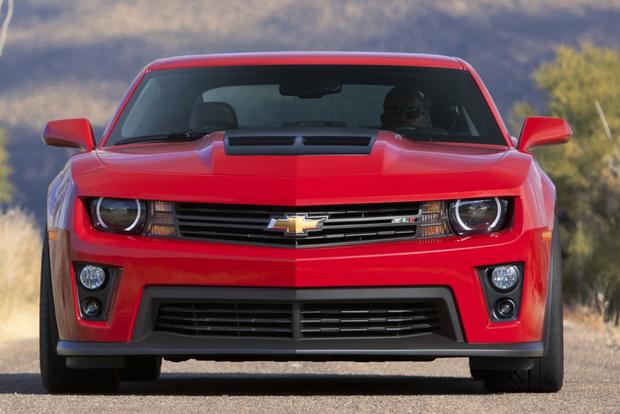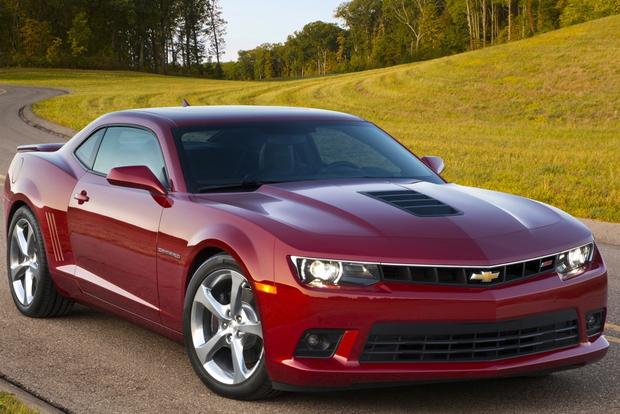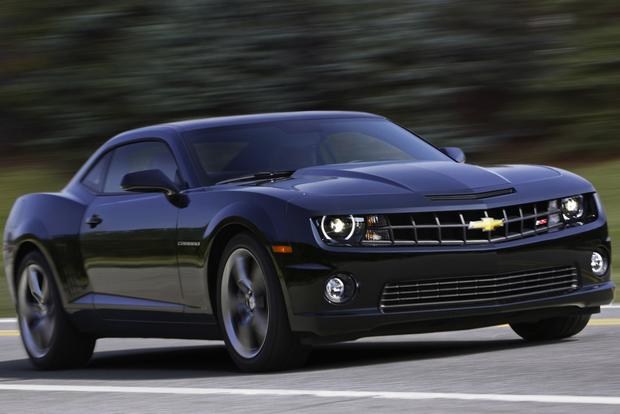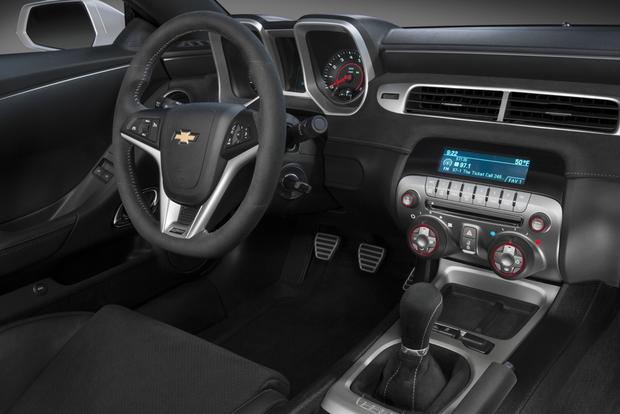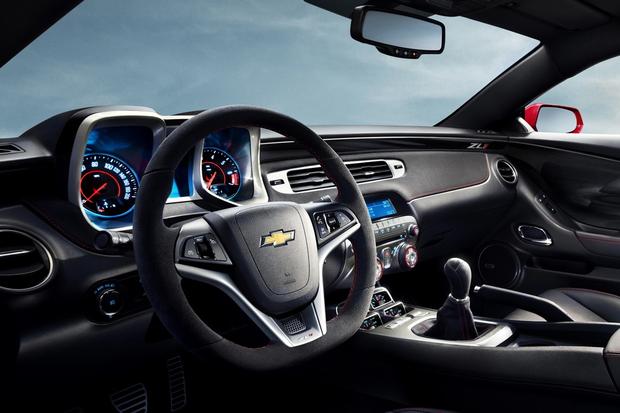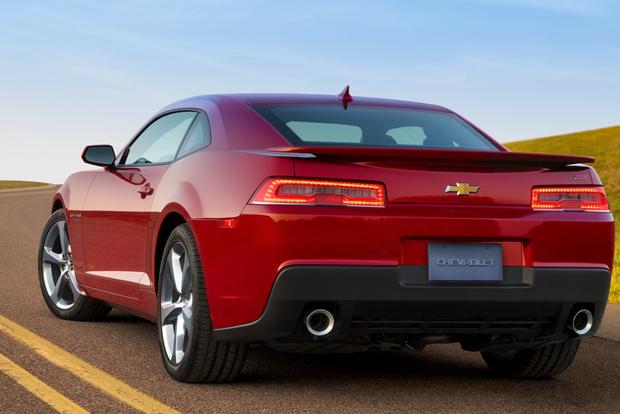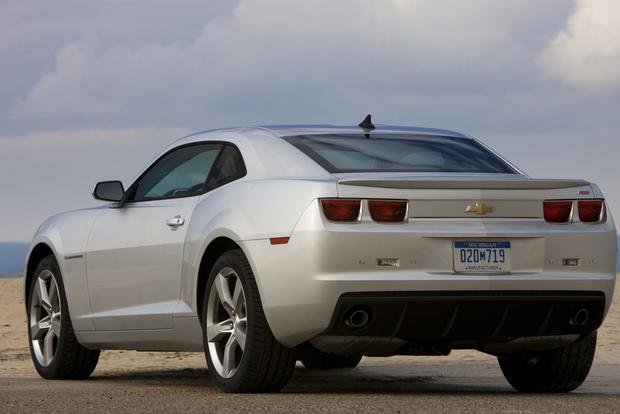 The 2014 Chevrolet Camaro is restyled to make it look wider and lower, and the Camaro Z/28 performance model returns to the lineup as a track-ready racer with the old Corvette Z06's powertrain and a stripped-down level of specification. Sound appealing?
Don't jump to conclusions. Last year's Camaro also received significant performance upgrades, not the least of which were the addition of the 1LE Performance Package as an option for the Camaro SS and the debut of the high-powered ZL1 Convertible. Moreover, the 2013 Camaro could be equipped with Chevrolet MyLink technology for the first time, and Chevrolet offered limited-production Camaro Hot Wheels Edition and Dusk Edition models.
As Chevy dealers work to clear the 2013 Camaro from lots to make room for the restyled 2014 Chevrolet Camaro, you might be asking yourself whether or not it makes sense to take advantage of deals on the old Camaro, or wait for the new Camaro. Let's take a closer look.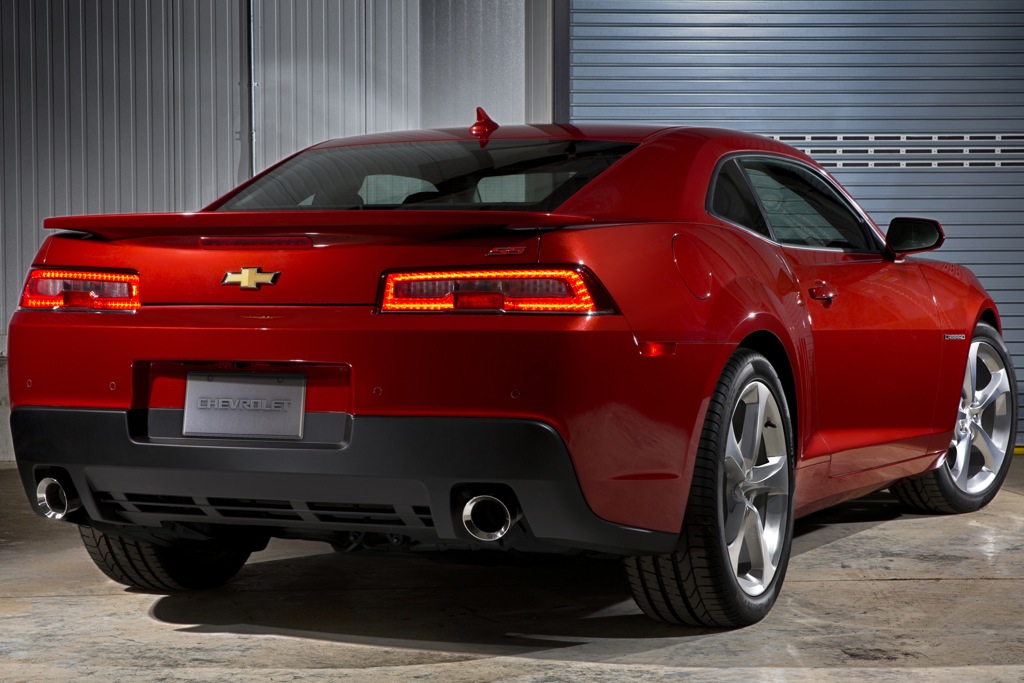 Fuel Economy
Because Chevrolet is making no powertrain changes, the 2014 Chevy Camaro is expected to get the same fuel economy as the 2013 Camaro. For the 323-horsepower V6 installed in the Camaro LS and LT, that means 20 to 22 miles per gallon in combined city and highway driving, depending on transmission selection.
The 2014 Camaro SS model's 6.2-liter V8 makes 426 horsepower with the standard manual gearbox, and is rated to get 19 mpg in combined city and highway driving. If you can't shift your own gears, an automatic transmission is optional, dropping power output to 400 hp and fuel economy to 18 mpg.
These ratings are identical to the equivalent 2013 Camaro variants. The Environmental Protection Agency has not yet rated the new 500-hp Camaro Z/28 or the 2014 versions of the ZL1 Coupe and ZL1 Convertible, which have a 580-hp supercharged 6.2-liter V8 that formerly resided in the Corvette ZR1. Last year, the ZL1 models got 14 mpg in combined city and highway driving with the optional automatic transmission, and 16 mpg with the standard manual shifter.
Given that fuel economy ratings for the new and old Camaros are identical, there is no benefit to choosing one over the other.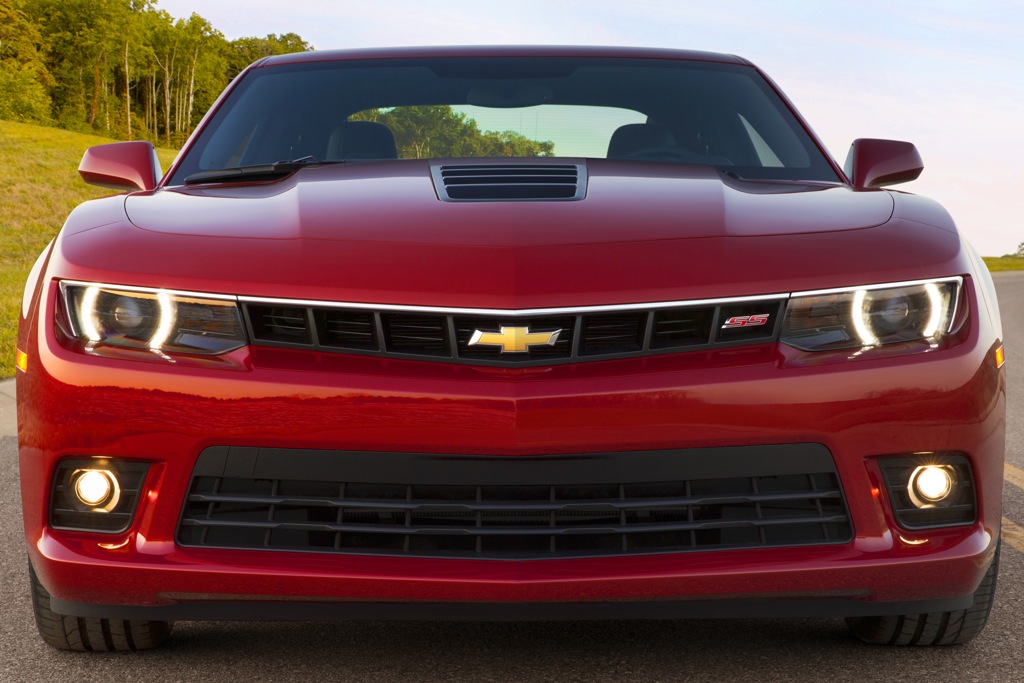 Safety
Likewise, Chevrolet has announced no structural modifications for the 2014 Camaro, and the car is expected to offer the same safety-related features as before, which include standard OnStar telematics with Automatic Crash Response and Crisis Assist service, optional rear parking-assist sensors and an optional reversing camera.
Because the new Camaro is essentially the same underneath the skin as the old Camaro, the National Highway Traffic Safety Administration has already given the 2014 Camaro Coupe a 5-star overall crash protection rating, the same as last year. The Insurance Institute for Highway Safety has not performed crash tests on the Camaro.
Identical in safety engineering, equipment and ratings -- we've got another tie between the old Camaro and the new one.
Reliability
In J.D. Power surveys about initial vehicle quality and used-vehicle dependability, the Camaro rates highly compared to other vehicles in its class. According to Consumer Reports, Camaro reliability is average, though it does give the sporty coupe its coveted Recommended rating.
Since the 2014 Camaro's mechanical parts carry over unchanged -- except the new Camaro Z/28's 7.0-liter V8 and manual gearbox, of course -- this car's reliability record is unlikely to change. Plus, in addition to the standard 5-year/100,000-mile powertrain warranty and 3-year/36,000-mile vehicle warranty, Chevrolet has announced it will offer free scheduled maintenance on all of its 2014 models during the first two years or 24,000 miles of ownership. Roadside assistance is standard, too, with 24-hour coverage for the first five years or 100,000 miles.
If you think that sounds good, wait until you learn what's included with a Certified Pre-Owned (CPO) Camaro. The powertrain warranty and roadside-assistance coverage are included, along with the balance of the standard vehicle warranty or a minimum of 12 months or 12,000 miles of bumper-to-bumper protection. Each CPO Camaro goes through a 172-point inspection, includes a free vehicle history report and comes with free trial subscriptions to OnStar and satellite radio. Scheduled maintenance service is on the house for the first two years or 30,000 miles of ownership, and if you don't like the Camaro you've selected, you can bring it back for a different one within three days or 150 miles, whichever comes first.
Thanks to an exceptionally strong CPO program, we have another tie between the new 2014 Camaro and the older models.
Value
Based on a national search of AutoTrader classifieds, a CPO Camaro costs as little as $16,000 for a 2010 Camaro LS with a V6 and nearly 60,000 miles to as much as $45,000 for a 2013 Camaro SS Convertible with fewer than 900 miles on the odometer. Used Camaro ZL1 models are listed for as much as $62,000 after having traveled fewer than 500 miles since rolling off the assembly line.
Choose a new 2013 Camaro, and you'll spend between $24,295 for a Camaro LS with no options and about $47,000 for a Camaro 2SS Convertible with all the trimmings. And that's before loading up on dealer-installed accessories. The ZL1 models run between $56,550 for the coupe and $66,990 for a fully equipped ZL1 Convertible.
Chevy dealers are discounting remaining 2013 Camaros. In addition to low lease rates, the old Camaro is offered with a $1,500 cash rebate or with 0-percent financing for 36 months. If you want to finance a CPO Camaro, you can take advantage of 0-percent short-term financing as long as you are a "well-qualified buyer."
Prices have not been set for the new 2014 Camaro at the time of writing, but they rarely fall from year to year. This, coupled with big discounts by choosing a CPO Camaro or a remaining new 2013 model, make the old Camaro a better value.
Technology
Unless you categorize the Camaro's new Recaro performance seat option in the technology column, the 2013 Camaro and the restyled 2014 Camaro are evenly matched regarding technology. Note, however, that Camaros built for 2010, 2011 and 2012 were not available with a Chevrolet MyLink color touchscreen infotainment and connectivity system.
AutoTrader's Advice
Based on available information about the restyled 2014 Chevy Camaro, unless you're shopping for the resurrected Z/28 model, a leftover new 2013 Camaro or a CPO Camaro will supply just as much attitude and performance at a lower cost. If you're in love with the 2014 Camaro's new look, you'll pay for the privilege of owning one.