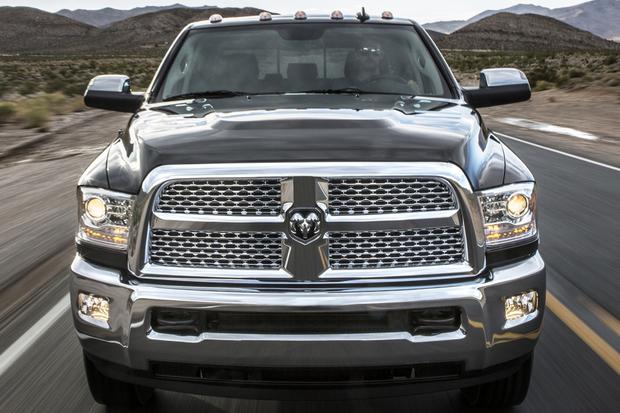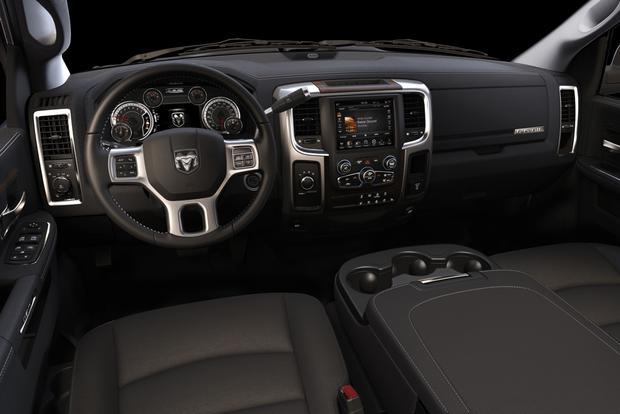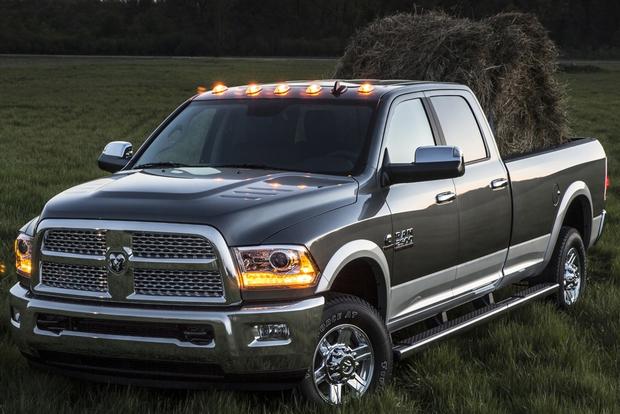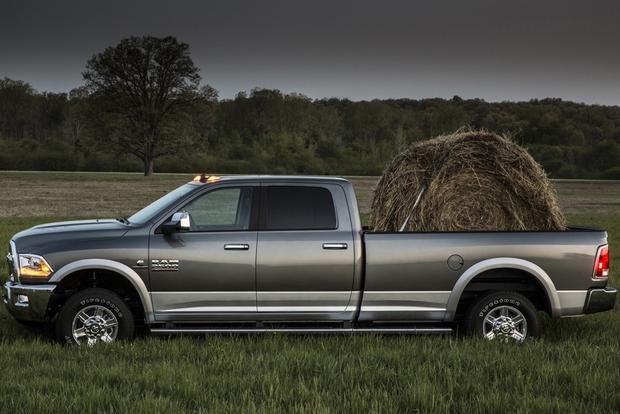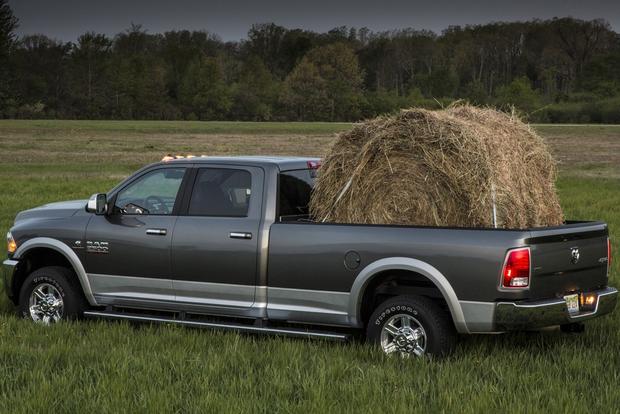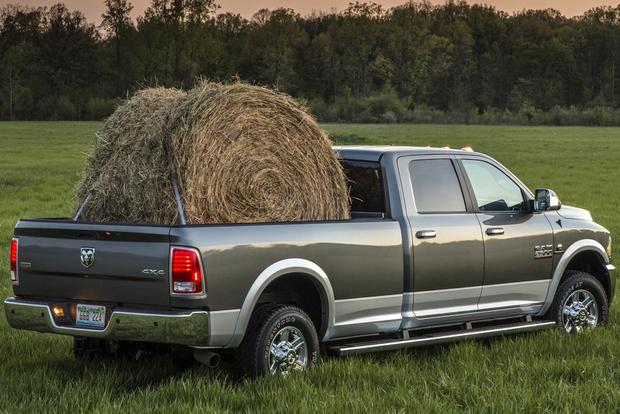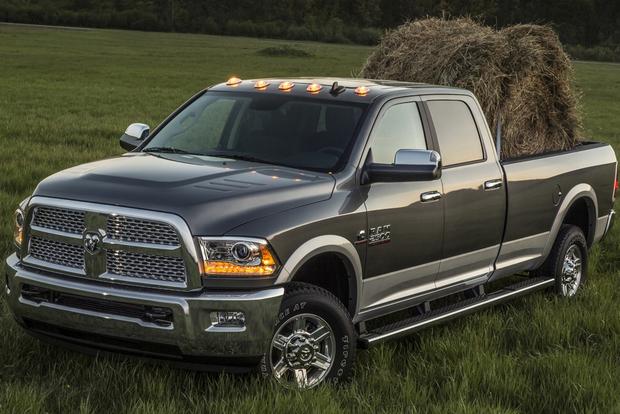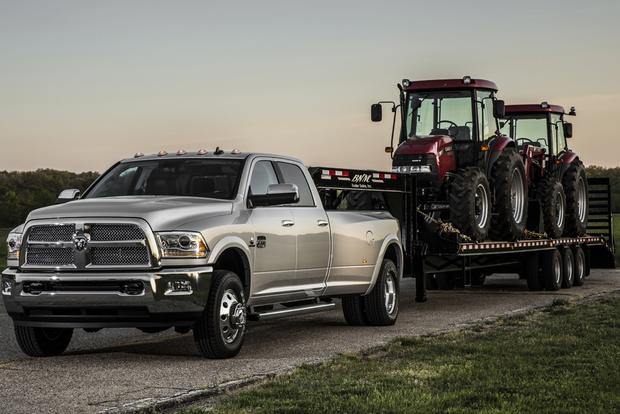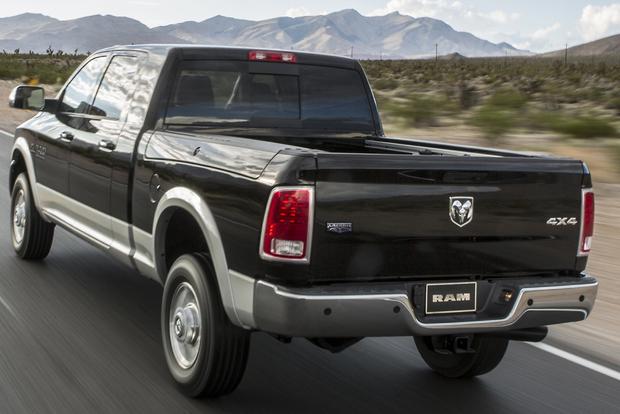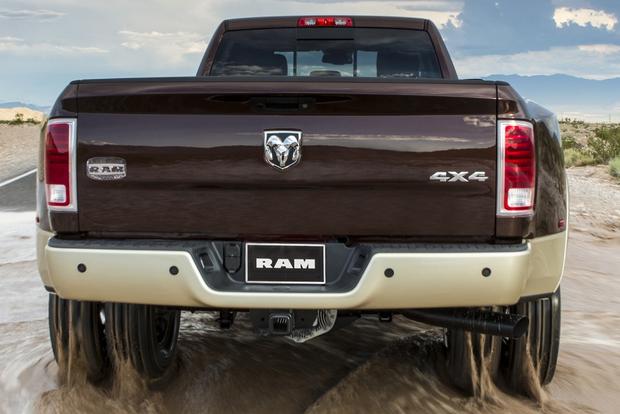 The 2013 RAM 2500 and 3500 will be the first to tell you: It's hard being a heavy-duty truck these days. Thanks to the full-fledged arms race among RAM, Ford and GM, it seems there's a new "most capable full-size truck" every month. This is especially apparent among turbodiesel trucks, in which bumping up power and torque is as simple as rewriting some software. The madness will have to stop at some point, but now the RAM HD's 6.7-liter Cummins turbodiesel is at a ridiculous 850 lb-ft of torque. And counting.
Coming up with real demerits for these trucks is like criticizing 18-wheelers. The fact is that they're all exceptionally capable -- and almost certainly up to any task. Sure, we miss the RAM 1500's smooth-riding rear coil springs (the HD remains a leaf-spring loyalist, though that's changing for 2014), but that's a heavy-duty truck for you. It's a tool to get the most challenging jobs done, not a sofa on wheels.
What's New for 2013
The 2013 RAM 2500 and 3500 are heavily updated for 2013. In addition to stronger suspension for towing, they offer even more power -- and torque -- from the available 6.7-liter Cummins turbodiesel engine. The trucks also boast a new interior with available Uconnect infotainment.
What We Like
Robust Cummins turbodiesel inline 6-cylinder with available manual transmission; impressive capabilities all around
What We Don't
Gas-powered engine could use a little more grunt; suspension could use a little more refinement
How Much?
RAM 2500: $30,000-$53,000
RAM 3500: $31,000-$55,000
Fuel Economy
The RAM 2500 comes standard with a 5.7-liter V8 rated at 383 horsepower and 400 lb-ft of torque. The transmission is a 6-speed automatic. The Hemi V8 is smooth and strong, with enough grunt for all but the most taxing jobs. For those, you'll want the 6.6-liter Cummins turbodiesel inline 6-cylinder, which is optional on the 2500 and standard on the "dually" (dual rear wheels) 3500. The Cummins cranks out up to 385 hp and 840 lb-ft of torque through either a 6-speed automatic or a 6-speed manual.
Towing capacity peaks at 22,750 pounds on RAM 3500 models, while the 2500 tops out at around 15,000 pounds. The Environmental Protection Agency doesn't test heavy-duty trucks for fuel economy, but don't get your hopes up as far as fuel costs go.
Options & Standard Features
The 2013 RAM Heavy Duty is offered in either standard 2500 or dually 3500 form. There are three cab options -- 2-door Regular Cab, 4-door Crew Cab and extended 4-door Mega Cab. The Regular Cab comes with only a 96-inch long bed; the Crew Cab comes with either the long bed or a 76-in short bed; and the Mega Cab only comes with the short bed.
The RAM HD is available in three basic trim levels -- ST, SLT and Laramie. The ST ($30,000) gives you 17-in steel wheels, air conditioning, manual windows and door locks (power in Crew and Mega Cabs), vinyl upholstery, a 40/20/40-split front bench seat, Bluetooth connectivity and a 6-speaker CD sound system with an auxiliary audio jack.
The SLT ($34,000) steps up to 17-in alloy wheels, chrome trim for the bumpers and grille, power heated mirrors, power windows and locks, a power-sliding back window (not available on Regular Cab), keyless entry, cruise control, cloth upholstery and satellite radio.
The fancy Laramie ($45,000), offered in Quad and Crew Cabs only, tacks on a 2-tone exterior color scheme, dual-zone automatic climate control, wood-grain interior trim, a heated leather-wrapped steering wheel, power driver adjustments with memory, a heated power front bench seat, leather upholstery and a 6.5-in touchscreen infotainment system with hard-drive music storage. Some of the higher trims' standard equipment is optional on lower trims.
Notable packages include the adventure-oriented Outdoorsman, the off-road-ready Power Wagon and the ultra-luxurious Laramie Longhorn.
Safety
The 2013 RAM 2500 and 3500 Heavy Duty come with 4-wheel anti-lock disc brakes and four airbags (front and full-length side curtain).
While heavy-duty trucks don't get crash tested, you'll be on the safer side of most collisions.
Behind the Wheel
The RAM HD is like the RAM 1500's bodybuilding older brother. It's not nearly as refined -- trading in the 1500's rear coil springs for the HD's industrial-grade leaf springs will have that effect -- but, man, it is tough. The coolest thing about the heavy-duty RAM is you can get a manual transmission with the turbodiesel. Plenty of truck guys still like to shift for themselves, but the RAM HD is the only truck that lets you do it.
The RAM HD's front seats -- generally a 3-person bench, though the Laramie also offers two individual buckets -- are about what you'd expect in a big rig, providing plenty of space for a wide range of physiques. Front passengers will notice that the RAM HD's dashboard is similar to the RAM 1500's, which means there's genuine style and respectable materials quality. The controls are ergonomically sound, and they're even operable by a gloved hand in most cases. The touchscreen, however, is considerably less straightforward.
In addition to the 2-door Regular Cab, the RAM HD offers two 4-door configurations. The Quad Cab provides plenty of room for adults, while the limo-like Crew Cab has so much legroom it might as well come with rear ottomans.
Other Trucks to Consider
Ford F-Series HD -- The F-250, F-350 and F-450 lineup is arguably the most complete among heavy-duty trucks, and the F-450 still lays claim to the highest towing capacity on the consumer market.
Chevrolet Silverado HD -- The Silverado's calling card is its Duramax turbodiesel V8, which is probably the best all-around diesel engine in this class, though not by much.
AutoTrader's Advice
Since we don't need a dually, give us the RAM 2500 HD with the Cummins turbodiesel and the manual shifter. We'd be reminded of our truck's uniqueness with every gratifying throw of the 6-speed lever.