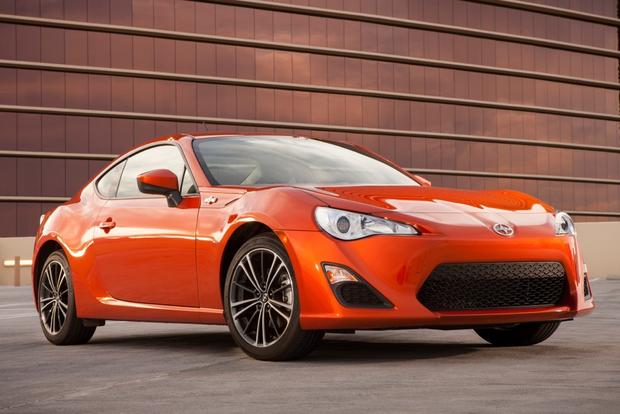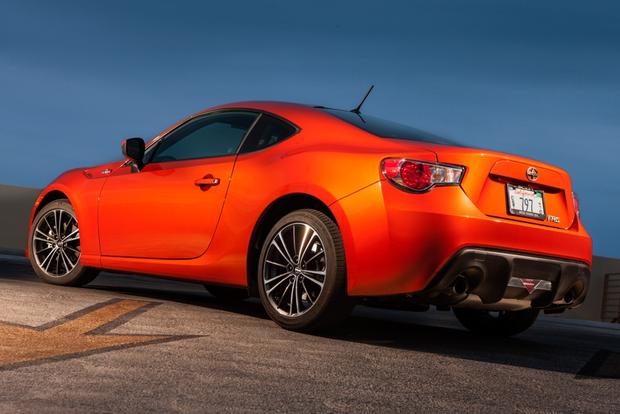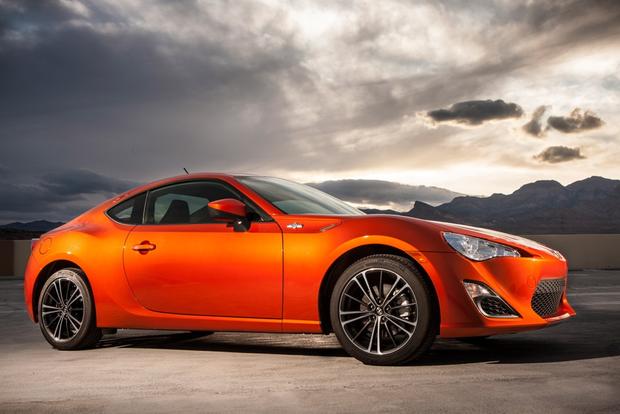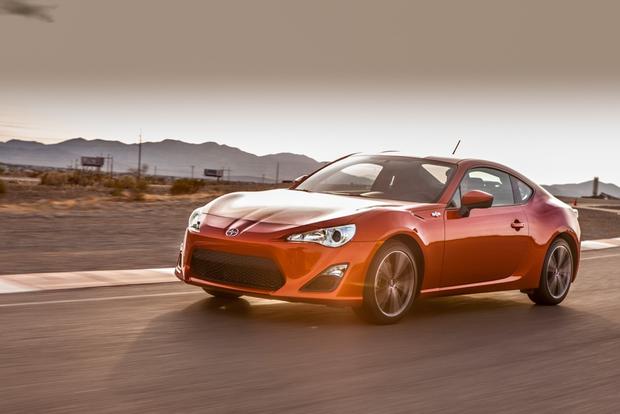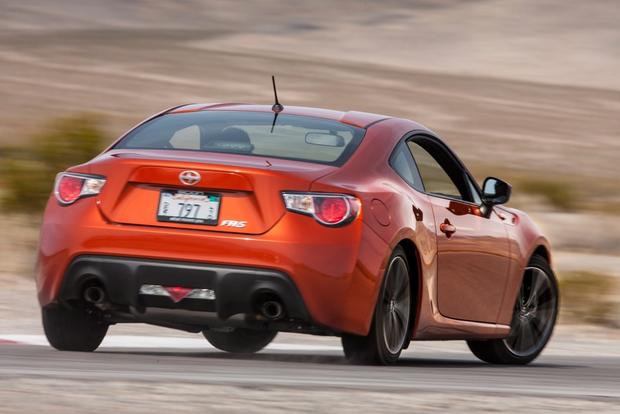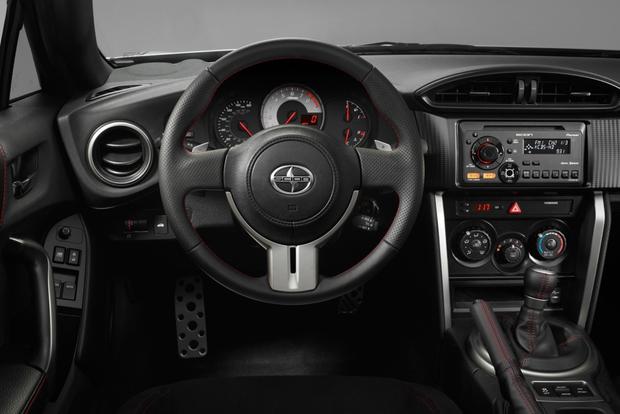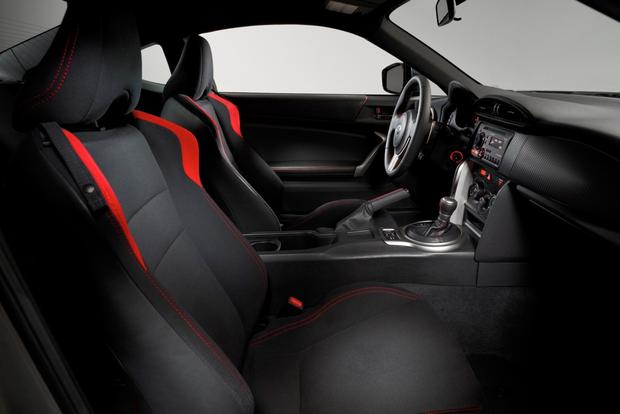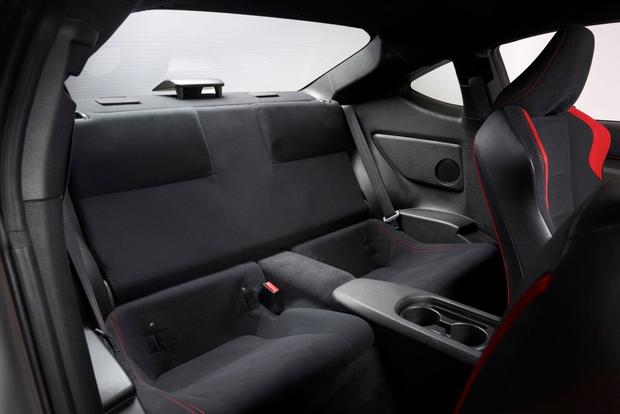 Pros: The essential goodness of a sports/GT car; simple specs and an affordable price
Cons: Shop elsewhere (for now) if you need 300 hp or an interior swathed in leather and tech
What's New: The Scion FR-S is all-new for 2013.
You want to read about mass-market vehicles like the latest mid-size car or hatchback; we want to tell you about them. But occasionally we all need a break from the ordinary. Just such a respite is provided by the all-new FR-S, a Front-engined, Rear-wheel-drive Sports/GT car from Scion.
Designed and engineered by Toyota in partnership with Subaru, Toyota says its design mandate was "balanced performance and handling, in combination with compelling style, flexible utility and surprising fuel efficiency." And we think they nailed it. The sheetmetal, while somewhat conservative relative to Nissan's 370Z, is a shape that will wear well over 60 monthly payments. Its balance, with the Subaru-sourced flat-4 mounted low and rearward relative to the front wheels, is exceptional. And with the admittedly marginal rear seats folded, you have enough trunk and stowage area for the set of racing rubber you want to use on track days.
Regrettably, there aren't a lot of alternatives when shopping for the above-referenced attributes. With roughly 20 percent more power than a Mazda MX-5 Miata, the new Scion is a logical next-step for Mazda enthusiasts. If, however, you're comparing the Scion with a V6 Mustang or Camaro, a similar mid-$20,000s investment nets you 300-plus horsepower (and another half-ton of curb weight) on the Ford or Chevy showroom.
Comfort & Utility
Despite a relatively aggressive shape and a smallish footprint, the new FR-S provides a surprising amount of comfort and utility. Getting in and out doesn't require the typical contortions of the sports car paradigm, and once inside you'll find an expansive greenhouse, a great view over the hood and reasonable visibility to the sides and rear of the car.
The Scion's front buckets provide an optimal balance between adequate lateral support and reasonable accessibility. To Toyota's credit, the rear seats fold flat, but the accommodation offered is marginal at best. Given their limited space, we think a good argument could be made for a delete option, providing customers the opportunity to substitute more expansive storage for the rare moment when you actually take a third or even a fourth passenger. There is access between the trunk and rear seat area, providing additional flexibility for bulky items. Notably, Scion's FR-S is not a hatch; structural rigidity was deemed more important to the sport mission than utility, and we think the designers made the right call.
Technology
Keeping both purchase price and vehicle weight relatively low, the Scion FR-S is, to its credit, not overwhelmed by technology. Clear evidence of that is offered by the Scion's steering wheel, an ergonomic shape featuring three spokes, an airbag, a horn button-and nothing else. Most tech is devoted to safety, bundled in Toyota's Star safety system. This includes traction control, electronic brake-force distribution, vehicle stability control, brake assist and ABS. The engine's direct injection certainly speaks to high tech, as does the rev management technology mated to Scions with an automatic transmission.
For those wanting to stay connected to something other than the road, an eight-speaker Pioneer audio system is standard, with HD radio and Bluetooth. And the FR-S will be the first Scion to offer BeSpoke, supplying a higher level of connectivity with Facebook, Twitter and Internet radio.
Performance & Fuel Economy
If Ferry Porsche were mixing and matching today's production components into a low-volume sports/GT car, the result would look a lot like the Scion FR-S. The Subaru-sourced flat-4 is philosophically close to all that the Porsche family holds dear, as is a sporty profile providing day-in, day-out utility. Of course, in Porsche's post-World War II heyday, 100 horsepower was a commendable power output; the new Scion delivers 100 hp for each liter of displacement, for a total of 200 hp.
Whether connected to its six-speed manual or six-speed automatic, we found the FR-S responsive, if not outlandish. Maximum fun behind the wheel requires maximum input, but that's not a bad thing. Could another 50 hp be put to advantage? Absolutely. But additional power would dictate bigger brakes, tires and price. We think Toyota hits a compelling sweet spot in its price/performance balance, while an EPA estimate of 30 mpg on the highway with the manual transmission and 34 mpg with the automatic is a bonus.
Safety
The 2013 Scion FR-S delivers a full house in active safety. Relatively light weight, well-connected steering, good visibility and strong braking give a reasonably aware driver the tools to avoid an accident.
If, however, you fall victim to a collision, know that the FR-S comes standard with six airbags, including dual-stage advanced driver-and-front-passenger airbags, front-seat-mounted airbags and side curtain airbags. And as referenced previously, Toyota's Star safety system is part of every Scion in the lineup.
Driving Impressions
One hopes to be objective when making an evaluation, but the new FR-S had us at "hello." Clean lines, a balanced chassis and a $25,000 purchase point are a compelling combination. This is an eminently entertaining package and should remain that way well after the warranty and payment book are retired. The steering is well connected, braking is positive and acceleration, if properly executed, can genuinely entertain. We liked it on both two-lane county roads at the Spring Mountain road course outside Las Vegas.
Other Cars to Consider
Subaru BRZ - Built by Toyota in partnership with Subaru, Subaru's own derivative, the BRZ, arrives on showrooms, like the Scion, in early summer. Rather than the Scion's one-size-fits-all sales philosophy, Subaru will bring two trim levels to the showroom, along with two price points. Subaru has also indicated a relatively conservative number of first year sales, while Toyota reportedly intends to build as many as they can sell. So, if you have a relationship with a Subaru store, the BRZ is certainly an alternative. And if you haven't, the availability of Scions suggests you won't need one.
Mazda MX-5 Miata - For someone coveting the essential simplicity of a sports car, Mazda's Miata remains compelling, while not offering the day-to-day practicality of the FR-S.
Ford Mustang, Chevrolet Camaro - Both modern-day muscle cars supply exceptional value, but we'd wait for Detroit to sign up with Weight Watchers (which should happen with their respective redesigns) before committing the $25,000 you'll need to hit the road in either car.
AutoTrader Recommends
Someone else uses the tagline, but the new FR-S truly offers "everything you need, and nothing you don't." We'd opt for a manual transmission, a color we can enjoy for four or five years and little else. Toyota's performance division, TRD, will seduce you with dealer-installed options, and a few will be of value. But before you pull out the MasterCard at the parts counter, get to know your FR-S in its pure, as-Akio-Toyoda-intended form. You'll be pleased with the decision.