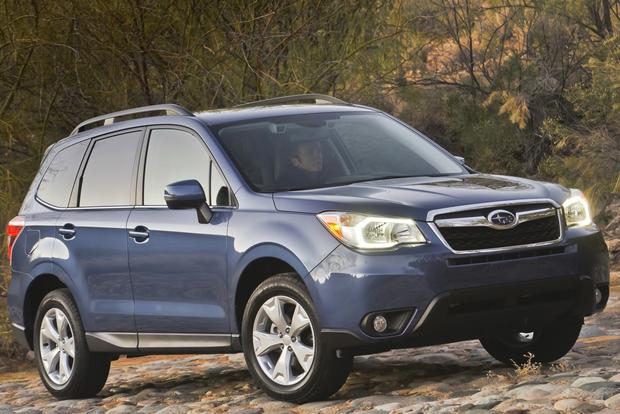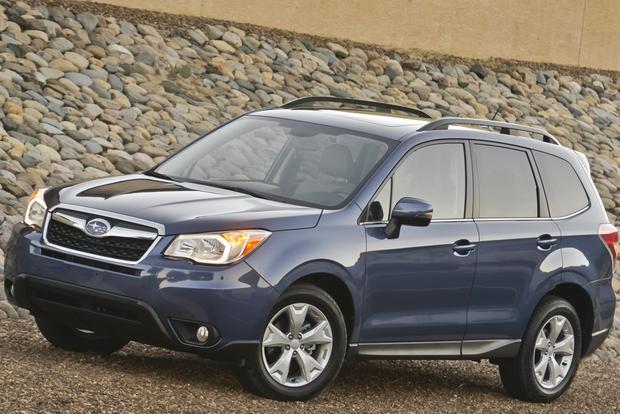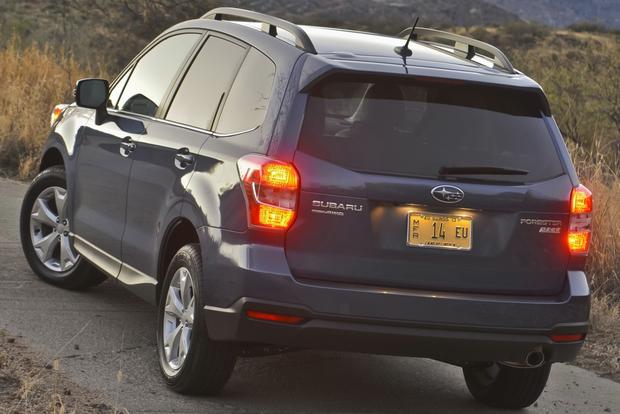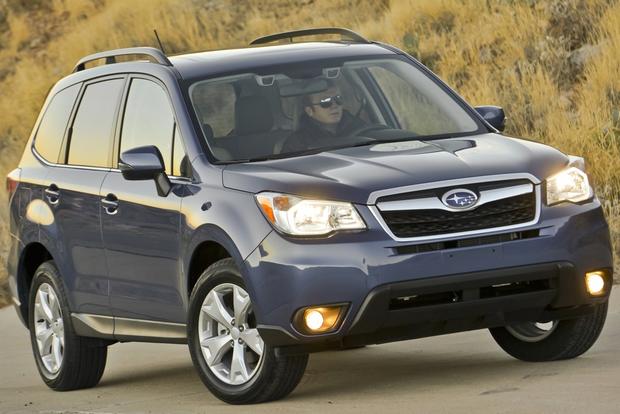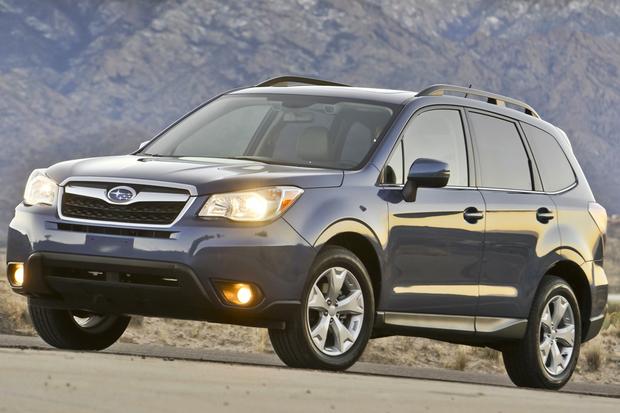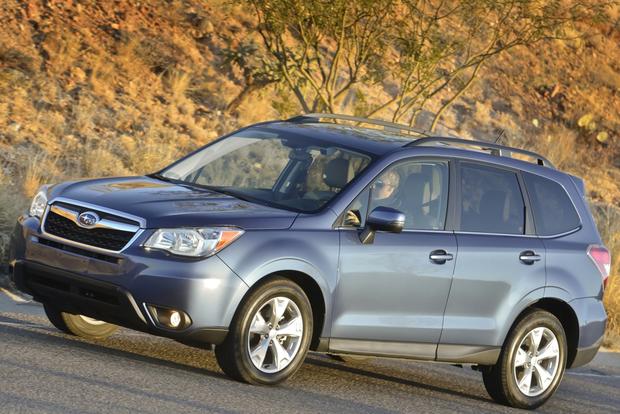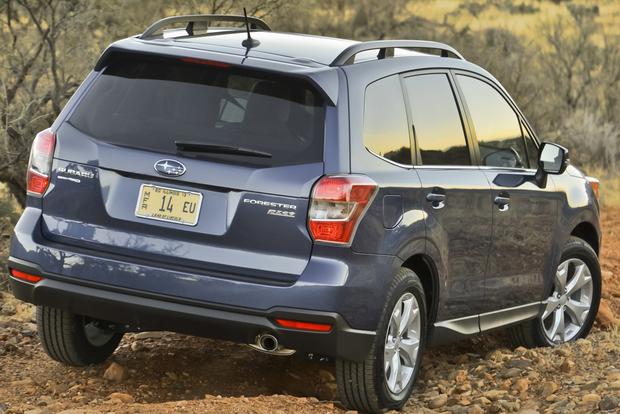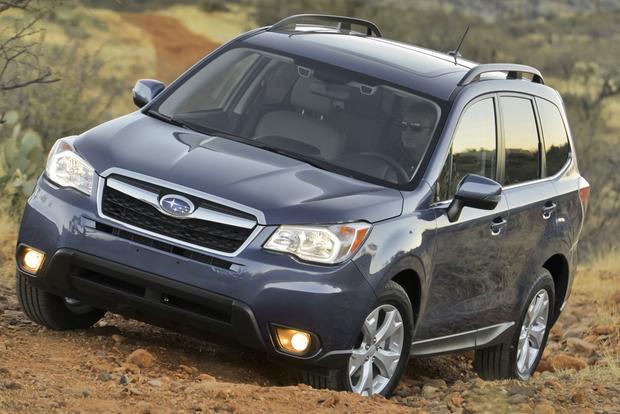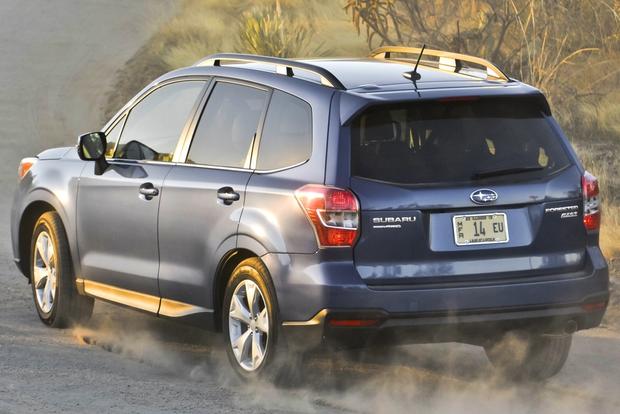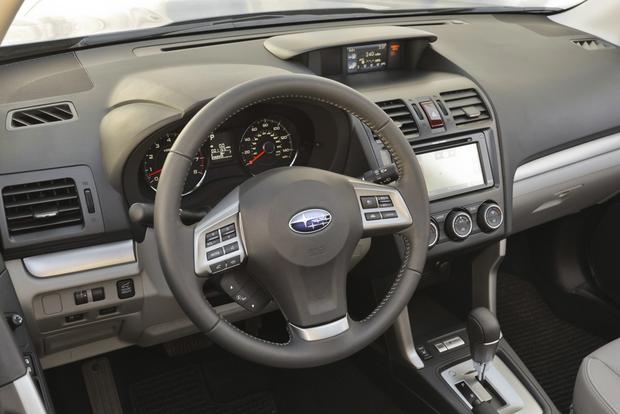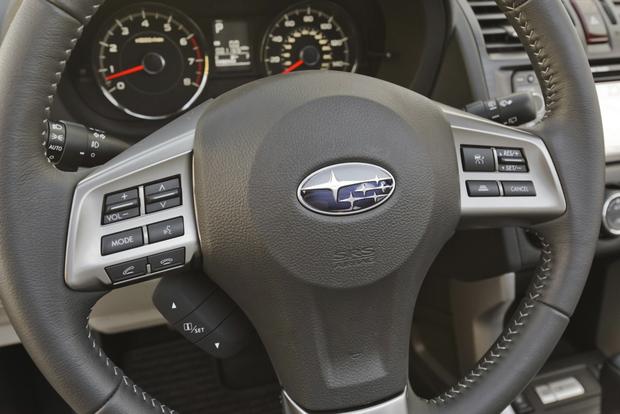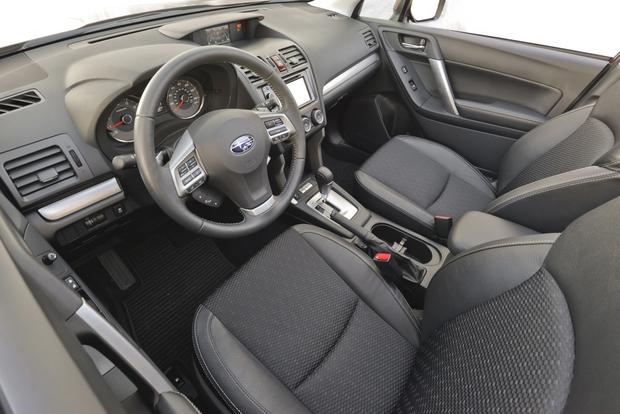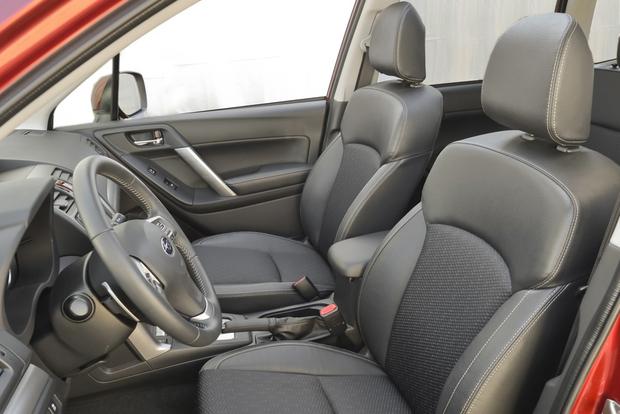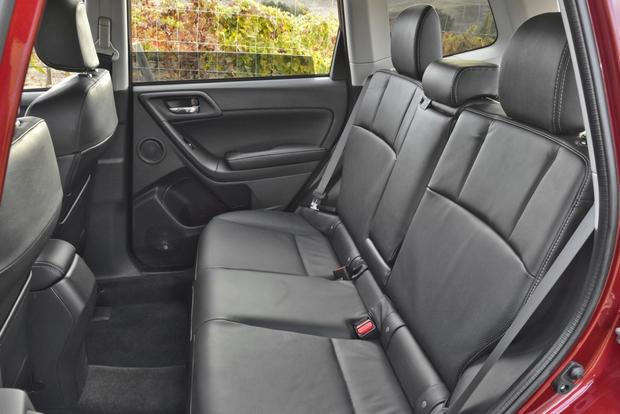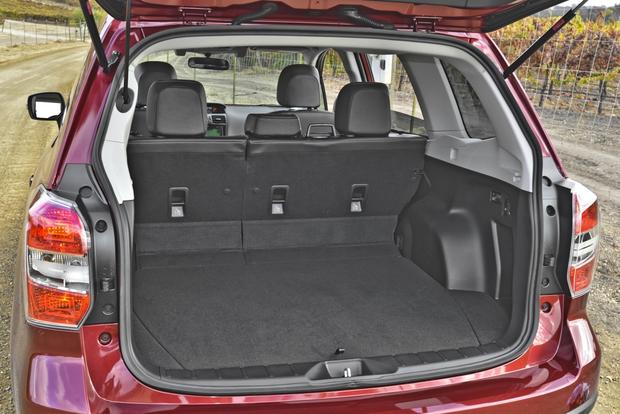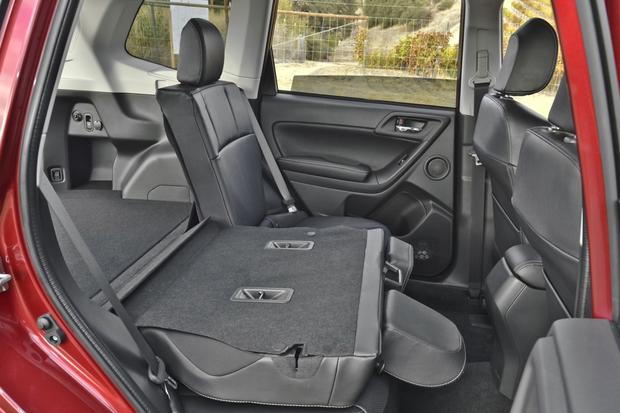 The 2013 Subaru Forester is perfect for people looking to move out of a small car and into something with a bit more room and with all-weather capability. With the Forester, you gain an exterior design that is attractive but not revolutionary and a simple, straightforward interior that is a welcome respite from more advanced designs that can sometimes feel too technical.
Interested in the 2013 Subaru Forester? Here's what you need to know. ...
What's New for 2013?
Subaru adds standard equipment to the 2013 Forester this year. All versions include Bluetooth hands-free calling and music streaming, an auxiliary audio input jack and a USB port. The Forester 2.5X Premium gains heated front seats, heated exterior mirrors and a windshield wiper de-icer grid, but only when equipped with a manual transmission. These items are included in an optional All Weather Package for 2.5X Premium models with an automatic. A color touchscreen infotainment system is also optional for the 2.5X Premium this year.
What We Like
IIHS Top Safety Pick; standard all-wheel drive; well equipped even in base trim; panoramic sunroof option
What We Don't
Two-star side-impact pole crash-test rating from the NHTSA; unimpressive fuel economy; no high-end audio or communications system
How Much?
$21,295-$29,995
Fuel Economy
The Subaru Forester 2.5X is equipped with a 2.5-liter 4-cylinder engine serving up 170 horsepower and 174 lb-ft of torque. For the Forester, this is plenty of power, even with the added weight of the standard all-wheel-drive (AWD) system. A 4-speed automatic transmission is optional, and Environmental Protection Agency fuel economy ratings are identical for each transmission choice at 21 mpg city/27 mpg highway.
The Forester 2.5XT models have a turbocharged version of the same 2.5-liter engine, paired only with the automatic transmission and developing 224 hp and 226 lb-ft of torque. Although acceleration is better than the nonturbocharged engine, don't expect performance equal to Subaru's vaunted WRX. Fuel economy ratings are 19 mpg city/24 mpg hwy.
Options & Standard Features
The Forester comes in 2.5X, 2.5X Premium, 2.5X Limited and 2.5X Touring models, as well as turbocharged 2.5XT Premium and 2.5 XT Touring variants.
Standard equipment for the Forester 2.5X ($22,090) includes air conditioning, Bluetooth calling and audio streaming, a USB port, an auxiliary audio input jack, power windows, power door locks with remote keyless entry, power exterior mirrors, a tilt steering wheel and cruise control. A set of 16-inch steel wheels and plastic wheel covers identify this model from the outside. Aluminum wheels, a roof rack and an automatic transmission are optional.
The Forester 2.5X Premium ($25,090) adds aluminum wheels, rear privacy glass tinting and roof rails. A power driver's seat, a tilt/telescopic steering wheel and additional interior storage are also included for this model. With the standard manual gearbox, an All Weather Package is added, providing heated front seats, heated side mirrors and a wiper de-icer grid. With the optional automatic transmission, the All Weather Package is an option but a panoramic sunroof is tossed in. Both transmissions are offered with a Plus Package containing fog lights and a touchscreen audio system.
Choose the Forester 2.5X Limited ($27,990) for a standard automatic transmission, panoramic sunroof and All Weather Package, plus leather seats, automatic climate control, fog lights and more.
The Forester 2.5X Touring ($29,190) is the top-of-the-line model, equipped with dual-zone climate control, a reversing camera, a premium sound system, HID headlights, electroluminescent gauges, and upgraded interior and exterior trim. A Navigation Package adds a navigation system, a reversing camera, text messaging capability, HD Radio and iTunes song tagging to the Limited and Touring models.
Turbocharged Forester models are offered in 2.5XT Premium ($28,090) and 2.5XT Touring ($30,790) trim levels, equipped with the same features as the 2.5X plus a functional hood scoop and a rear roof spoiler.
Safety
The 2013 Subaru Forester features six airbags, anti-lock brakes and a traction and stability control system as standard equipment. Foresters with a manual transmission feature Incline Start Assist, which keeps the vehicle from rolling backward when starting out on an incline. A reversing camera is optional.
The Forester is rated highly by the Insurance Institute for Highway Safety (IIHS), performing well in all of its crash tests. The National Highway Traffic Safety Administration (NHTSA) gives the Forester a 4-star overall crash-test rating but notes that the SUV earned just two stars in the side-impact pole test.
Behind the Wheel
Thanks to its Impreza roots, the Forester is a maneuverable crossover utility vehicle (CUV). The soft suspension makes for a comfortable ride, but it does get a little bouncy over rough terrain. The steering is nicely weighted without too much assist. Despite more than 8 inches of ground clearance, the Forester maintains its composure even in the sharpest of turns. Thank the vehicle's low center of gravity and the optional 17-in wheel and tire combination for the Forester's stability.
The standard 2.5-liter engine delivers spirited driving performance, never lagging in power but not bowling anyone over with its acceleration time, either. The turbo is a better choice for those who crave the power of a V6 engine, but it's not a high-performance engine, and its power comes on gradually rather than in a rush.
The Forester's 4-speed automatic is a real bummer, as it offers neither great performance nor great fuel economy. Oddly, the 5-speed manual isn't offered with the one model in which it would most be appreciated: the turbocharged 2.5XT. Then again, given the manual's long throws and rubbery feel, it's probably best left to the base model.
In any form, the Forester is big on room, overall comfort and flexibility. The driver's seat has an adjustable lumbar feature for added back support on long trips. The Forester's passenger seat is height adjustable, a welcome feature at this price. Rear passengers enjoy ample room and can recline their seat backs.
The Forester's cargo area is large enough for a big dog or a couple of backpacks. With the rear seats folded, the Forester offers a large, level load floor and a tall roof ideal for carrying items too big to fit in a conventional trunk. If you run out of room inside, there's an available cargo carrier that can be mounted to the roof rack and which nearly doubles the Forester's capacity.
Visibility is excellent all around. We also like the accessibility of the Forester's audio and temperature controls. However, we did find some of the steering wheel's control buttons small and difficult to decipher at night.
Other Cars to Consider
Ford Escape -- The redesigned Ford Escape can be equipped with a long list of comfort, convenience and technology upgrades that are simply unavailable for the Subaru Forester. Additionally, the Escape's optional turbocharged engine is more powerful.
Honda CR-V -- The Honda CR-V offers more modern styling than the Forester and a slightly more upscale interior. AWD is optional rather than standard on the CR-V -- one reason the Honda goes farther on a gallon of gas.
Kia Sportage -- Equipped with styling that is decidedly sportier than the Forester, the Kia Sportage offers more features for less money and a better warranty than the Subaru.
AutoTrader's Advice
The Forester 2.5X Premium offers the most CUV for the money. You get lots of cool standard features, and for a few hundred bucks more you can add the optional All Weather Package and a touchscreen infotainment system. Don't forget: If fuel economy and price are not your top concerns, the turbocharged 2.5XT trim offers more power and fun without much of a penalty in terms of fuel economy.