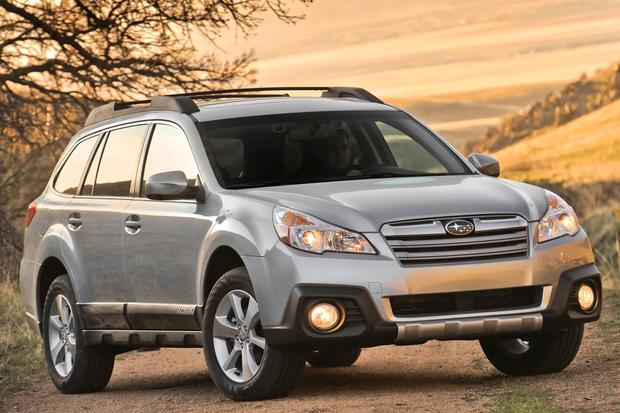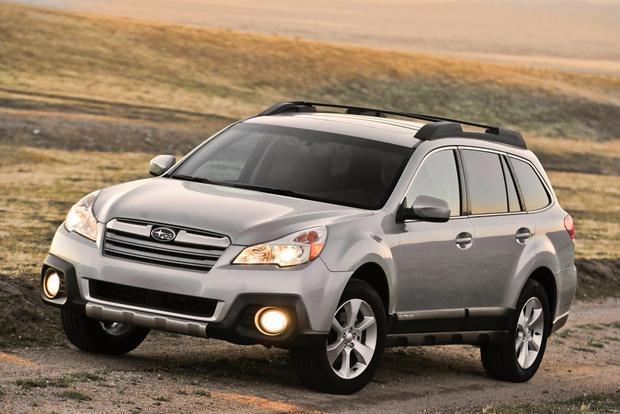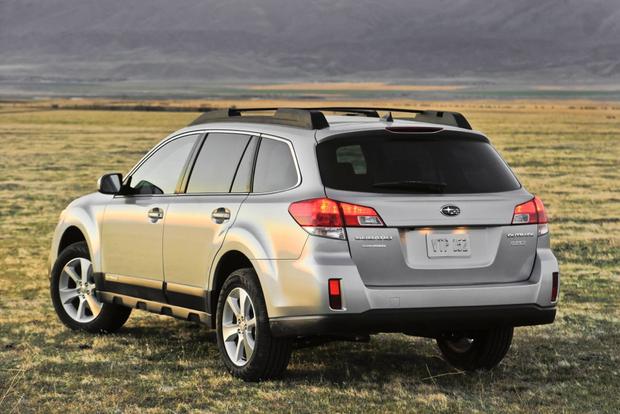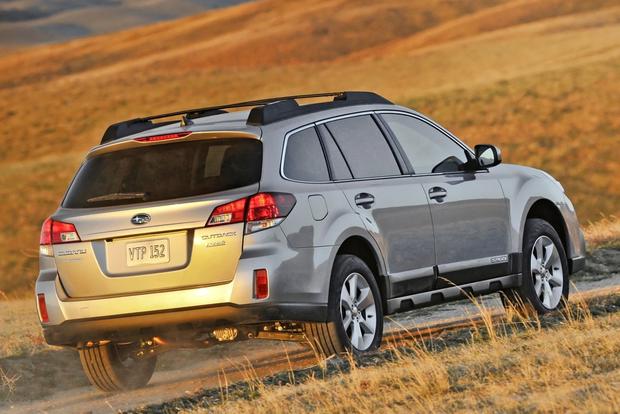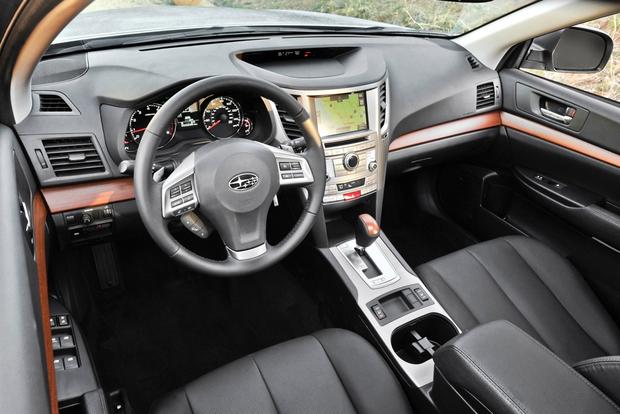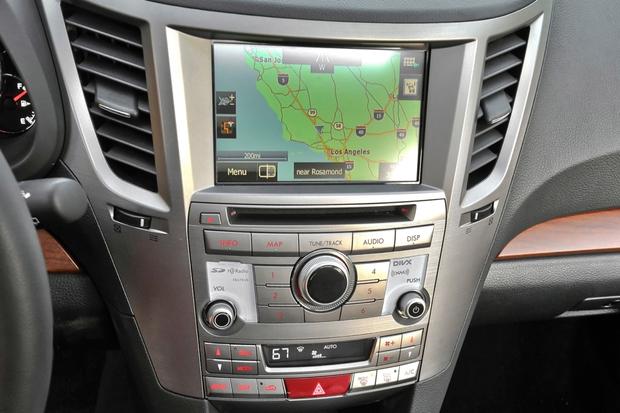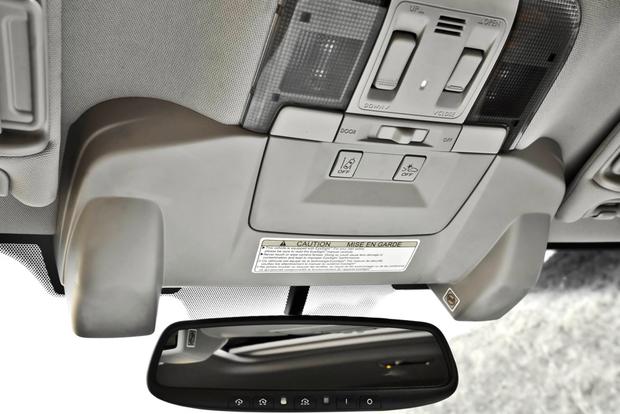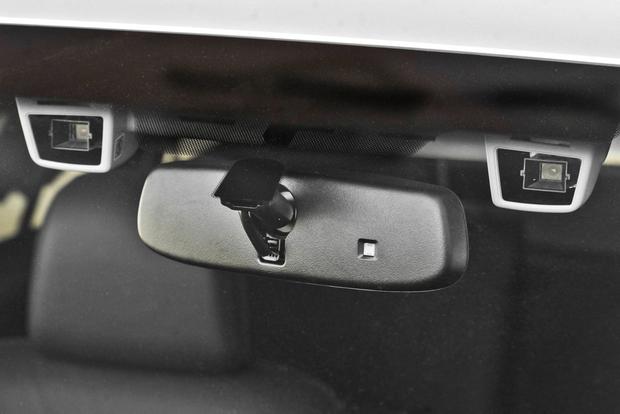 Pros: Advanced new safety features; more power, better fuel economy and fresher looks; solid off-the-beaten-path choice for rugged individualists.
Cons: 2.5i model is underpowered; 3.6R model only comes with 5-speed automatic; plain-Jane road presence.
What's New: The Subaru Outback has been updated for 2013 with a more efficient four-cylinder engine and updated safety features.
Subaru owners tend to swear by their car's no-nonsense capabilities, especially when it comes to inclement weather driving and cargo hauling. Function dominates the design of the 2013 Subaru Outback. For instance, its 4-cylinder engine has a boxer (horizontally opposed) configuration to lower the center of gravity and enable more nimble handling, and its long, low shape adheres to the traditional wagon layout, which isn't as popular as the typical SUV-like crossover silhouette. Long considered the go-to choice for practically minded rainbelt drivers, the new-for-2013 Outback gains incremental updates that include a wider torque spread for its 2.5-liter 4-cylinder engine, improved interior amenities, an updated continuously variable transmission, and the possibility of up to 30 mpg from the base engine. Also freshened is the Outback's front-end styling. Available with two engine packages (a 2.5 liter 4-cylinder, or a 3.6 liter 6-cylinder) and three trim levels, the 2013 Subaru Outback continues to serve a particular, if enthusiastically supported, niche.
Comfort & Utility
Though the 2013 Outback's Premium trim package includes pleasant leather upholstery and convincing faux wood trim throughout the cabin, those luxurious touches don't distract from this Subie's utilitarian roots. Available creature comforts include a 440-watt, 9-speaker Harman/Kardon sound system and a moonroof package that includes a rear camera embedded into a 3.3-inch display in the mirror. But other options betray the soul of the Outback's rugged capabilities, such as the standard roof rails with retractable crossbars for reduced wind noise when they're not in use, or the All-Weather package that includes heated front seats, side mirrors and a deicer for the wiper. And, of course, there's Subaru's Symmetrical All-Wheel Drive, which comes in three flavors: the viscous-coupling locking center differential, which offers fifty-fifty power distribution with the manual transmission; the 2.5i version, which uses an electronically managed transfer clutch for active power distribution with the CVT; and the 3.6R variant, which has a Variable Torque Distribution system. With the rear seatbacks raised, the Outback delivers 34.3 cu-ft of cargo volume. This figure more than doubles to 71.3 cu-ft when the seats are folded flat.
Technology
While the Outback's technological offerings don't exactly dazzle, they offer an adequate amount of features to help the Japanese wagon keep up with the competition. For instance, the 2.5i's optional navigation system comes with voice-activated controls and available XM NavTraffic, along with iPod control capability. For 2013, the standard audio systems in 2.5i and 3.6R models include Bluetooth phone and streaming connectivity, iPod control and a USB port. Opt for the EyeSight driver assist package and the safety features will include adaptive cruise control, lane departure warning and sway warning, which detect when the car is wandering in its lane.
Performance & Fuel Economy
The Outback's 2.5-liter 4-cylinder engine produces a mellow 173 horsepower and 174 lb-ft of torque, and can be mated to a 6-speed manual transmission or a Continuously Variable Transmission (CVT). The 6-speed manual delivers 21-mpg city and 28-mpg highway, for a combined figure of 24 mpg. Coupled with a CVT, fuel economy jumps to 24/30, with a combined number of 26 mpg. Opt for the 3.6i model and you'll get a notable bump to 256 hp and 247 lb-ft of torque. Along with a 5-speed automatic, the 3.6i delivers 18-mpg city and 25-mpg highway with a combined figure of 20 mpg. Both powerplants run on 87-octane gas, which helps cut down on fuel expenses.
Safety
The Subaru Outback's big news for 2013 is its new EyeSight system, which uses stereoscopic "eyes" mounted behind the rearview mirror to detect obstacles and provide automatic pre-collision braking when necessary. We tested the system by driving toward a mocked up image of a person at around 20 mph, and the car managed to recognize the shape and gradually start braking on its own before escalating the rate of deceleration and coming to an abrupt halt. Above 20 mph, the system will do its best to avoid a collision using the pre-brake function, but this does not guarantee that contact will be avoided entirely. EyeSight technology also monitors lane markers to detect when the car is veering from its intended path. If the driver applies his turn signals, the system recognizes that the turn is intentional and doesn't emit a warning beep. The system also offers adaptive cruise control.
Driving Impressions
The Outback might not win any personality awards, especially when compared to Subaru's resident wild child, the rally-bred Impreza WRX STi. But it delivered comfortable, capable performance during our test at North Carolina's Outer Banks. Though it boasts a broader torque curve for 2013, the 2.5i still feels somewhat stressed hustling its 3,400 lb curb mass with only 173 hp at hand. The 3.6i's power-to-weight ratio makes it more manageable in day-to-day passing and acceleration duties. But the 2.5i's CVT deserves props for its smooth operation and uninterrupted flow of power. And on a similar note, it's a shame the 3.6i is only available with a 5-speed, as an extra gear would help optimize its acceleration and take advantage of everything the engine has to offer. We put the wagon through its paces at the area's famed sand dunes, and the Outback's 8-in clearance and all-wheel-drive system helped it negotiate several challenging sections with ease. The Outback offers a tall seating position for its occupants, and excellent visibility all around.
Other Cars to Consider
Mazda CX-5 - More of a crossover than a wagon, the $20,695 CX-5 nonetheless targets the Outback with its back-to-basics aesthetic and emphasis on functionality. Driving enthusiasts might find more to love with the Mazda, as its 2.0 liter 4-cylinder engine and available manual transmission make it the most fun car in its class, hands down. Interestingly, it also boasts the highest fuel economy with 35 mph.
Toyota Venza - With its higher starting price of $27,700, the Venza also offers all-wheel drive, but without the rugged personality of the Outback. Think of this as a road-biased alternative to the do-it-all, Swiss Army Knife attitude of the Subaru.
Volkswagen Jetta SportWagen - Coming in at a lower price point ($20,395), the Jetta SportWagen's smaller size makes it easier to achieve better fuel economy than the 4-cylinder Outback 2.5i. In this case, it gets 33 mpg on the highway, while the pricier 2.0L TDI clean diesel achieves up to 42 mpg. But wet-weather dwellers should note that the Volkswagen doesn't offer all-wheel drive.
Volvo XC60 - A more upmarket take on the wagon paradigm, Volvo's XC60 starts at $34,200 and offers more luxurious accommodations along with its renowned reputation for safety.
AutoTrader Recommends
The Subaru Outback delivers a rather specific style of wagon (which, incidentally, the manufacturer has taken to calling a crossover). Improvements for 2013 bolster its competitive position in the market, but with the top line 3.6R Limited version starting at $32,095, the Outback starts reaching into a territory replete with plush, capable options. At least in the case of the Outback, we're guessing brand loyalists will continue to flock to Subaru and revel in the fact that the object of their cult crush doesn't sacrifice utility for refinements.