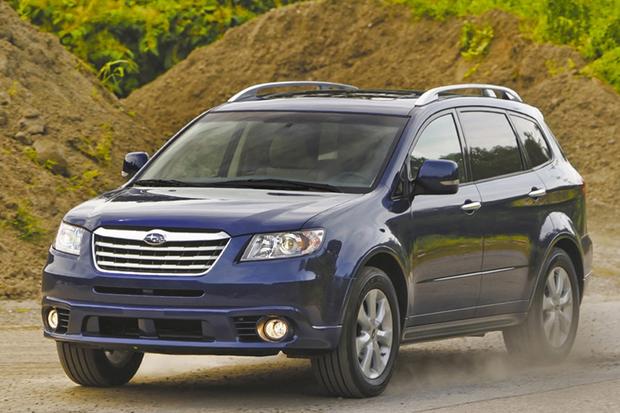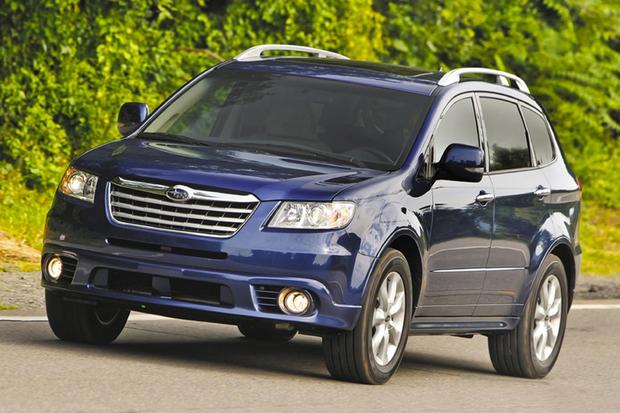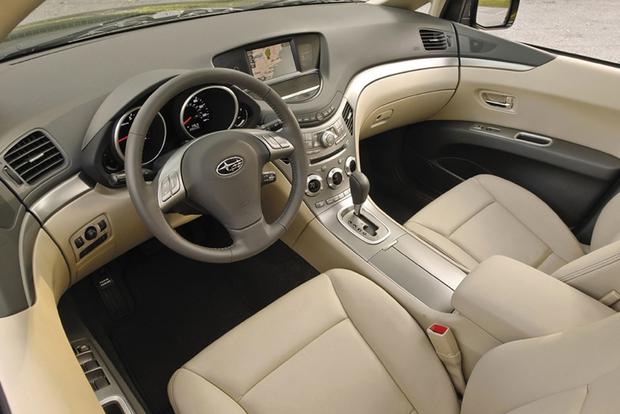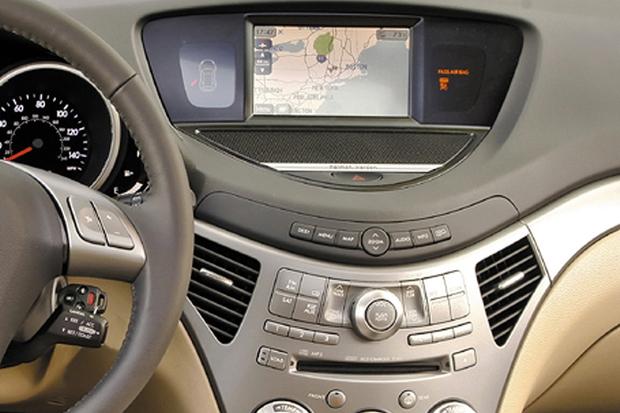 Pros: Symmetrical All-Wheel Drive standard; Insurance Institute for Highway Safety (IIHS) Top Safety Pick
Cons: Small rear seat; audio and communication technology lagging; poor fuel economy; bland styling
What's New: The 2013 Subaru Tribeca is whittled down to just one model: the 3-row, 7-passenger Limited. A new brake override feature is added. The system cuts engine power when the brake and accelerator pedal are depressed simultaneously.
Subaru has reduced the number of trims and options available on the 2013 Tribeca, a move usually associated with slow sales or the final year a model is in production. It's not that the Tribeca is a bad SUV, its just outgunned by larger, more fuel-efficient and more technologically savvy competitors. The Tribeca's outward appearance is also dated, looking more minivan than rugged SUV, but without the convenience of a sliding side door. Though it claims seating for seven, the Tribeca's third-row seat seems like an afterthought, crammed into the vehicle where it is difficult to access, doesn't provide much in the way of legroom, and basically eats up the entire cargo bay.
But for Subaru loyalist looking for a place to take their growing families, the Tribeca is still a safe bet. Like all Subaru products, the Tribeca is equipped with Symmetrical All-Wheel Drive, a big selling point for those who regularly cope with winter's worst. There is plenty of room for adults in the front and second-row seats, and the cabin is filled with nice amenities, such as rear seat A/C and an available DVD entertainment system. The Tribeca also rides and handles better than most of its competitors, chiefly because of its low-sitting boxer engine that helps reduce its high center of gravity.
Still, we wonder what would compel us to purchase a Tribeca over something like a GMC Acadia, Ford Explorer or Toyota Highlander? It's certainly not the styling, nor the fuel economy, or even the price.
Comfort & Utility
While five people can fit comfortably into the Tribeca, to squeeze in seven requires the last two persons to be either very small or very limber. The 2013 Subaru Tribeca's third-row seat is a cramped affair and not terribly comfortable nor supportive. Fold it down, and you have much more usable space for luggage or groceries. You'll likely find the front seats much more comfortable, with lumbar support and heating elements standard for both the driver and passenger. The Tribeca's second row features a 40/20/40 folding seat and reclining backrest, while the 60/40 seat cushions have 8-inches of fore and aft travel. There is also a fold and tumble feature to help make accessing the third-row a bit easier.
We like the look of the Tribeca's curvaceous dash, but find that some of the buttons and knobs are difficult for the driver to see at a glance. The culprit here is the curving center console that makes it impossible to create a flat surface for the various controls. We also found that some of the LCD readouts would wash out when viewed through polarized sunglasses.
And, although the Tribeca seems sufficiently wide from the outside, the opening at the rear hatch is rather narrow, particularly near the bottom half, making it more challenging to load in large or bulky items.
Technology
While you won't find anything like Ford's SYNC communications system in the Tribeca, Subaru's largest offering still delivers a number of cool electronic features most of us can't seem to do without. Bluetooth is standard and a navigation package with rear vision camera is optional. You can also get a rear vision camera with its monitor built into the rearview mirror when ordering the Limited trim's Moonroof Package. We don't understand why something as important as a rear backup camera isn't standard or a least offered as a stand-alone option, but Subaru feels compelled to bundle it with the pricey Moonroof Package, so that's the only way customers can get it.
We aren't big fans of Subaru's navigation unit. The system doesn't seem very intuitive and is somewhat dated in its map storage and feature content. The Limited's 385-watt harman/kardon audio system is a vast improvement over most stock systems, but still lacks any kind of USB hookup allowing for control of an iPod or other portable music device, although there is an AUX input jack.
Performance & Fuel Economy
The Subaru Tribeca derives power from a 3.6-liter 6-cylinder boxer engine. With 256 horsepower and 247 lb-ft of torque, the Tribeca has more than enough power to manage quick sprints up an on-ramp, or to rapidly overtake slower moving traffic. Fuel economy, however, will likely suffer as you foot it around town, as the Tribeca can only manage a mere 16-city and 21-highway, and that's under ideal driving situations. While you may not be happy with the Tribeca's thirst for fuel, at least it happily runs on the cheap stuff (87 octane).
Power from the 3.6-liter engine is distributed evenly to all four wheels via Subaru's Symmetrical All-Wheel Drive with Variable Torque Distribution (VTD) that delivers power to the wheels with the best traction.
Safety
The Tribeca earns a Top Safety Pick award from the IIHS and scores well in the frontal offset, side impact and roof strength tests. Standard airbags include side-thorax front seat airbags and side-curtain airbags. Oddly, the side-curtain airbags do not fully extend to the third-row passenger area, a pretty big "oops" in our book. Other standard safety equipment includes electronic traction and electronic stability control, which Subaru dubs VDC (Vehicle Dynamic Control). Stability control monitors the direction a vehicle is heading and, should the car begin to skid out of control, selectively applies the brakes while cutting the throttle to bring the car back in line.
Driving Impressions
Despite its nearly 8.5-inches of ground clearance, the Tribeca remains remarkably stable and well balanced. The steering feels tight with good feedback, and the Tribeca tracks straight and true at highway speeds. Under normal driving conditions, the VDC distributes more torque to the rear wheels, which helps improve cornering when accelerating out of a curve. The Tribeca's 5-speed Sportshift automatic transmission does a good job of finding and holding the right gear. For those so inclined, the Sportshift can be manually shifted by tapping the gear shift. This feature comes in quite handy when you need extra passing power, or to use engine braking to slow the vehicle during a steep descent.
Other Cars to Consider
GMC Acadia: The Acadia is larger than the Tribeca both inside and out, and its third-row seat has more room both in front and behind it. But the Tribeca's AWD system is more advanced than the Acadia's, and it holds its value a bit better.
Ford Explorer: The Explorer offers a selectable AWD system that is every bit the Tribeca's equal, plus it offers better styling, more advanced audio and communications systems, better fuel economy and more engine choices.
Dodge Durango: The Durango is more accommodating than the Tribeca and offers the option of a V8 engine, higher tow ratings and airbag protection for all three rows (as do the Ford Explorer and GMC Acadia).
AutoTrader Recommends
As there is only one trim offered this year, there's not much to say other than go for the Sunroof Package that includes the rear backup camera and avoid the costly navigation system.