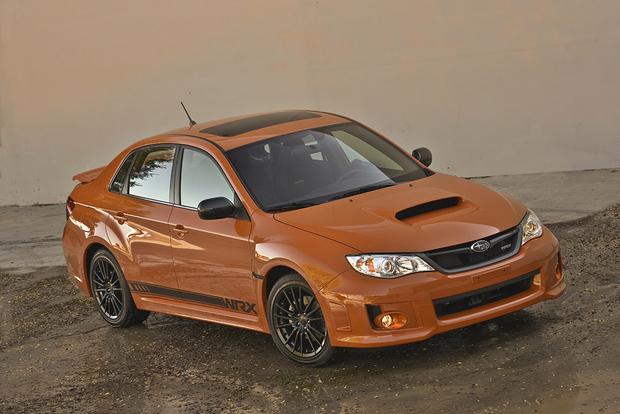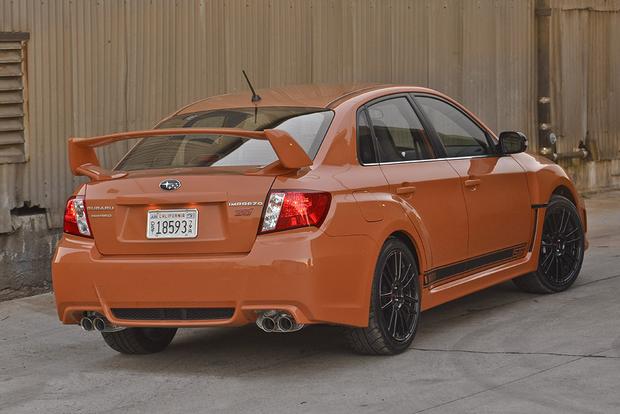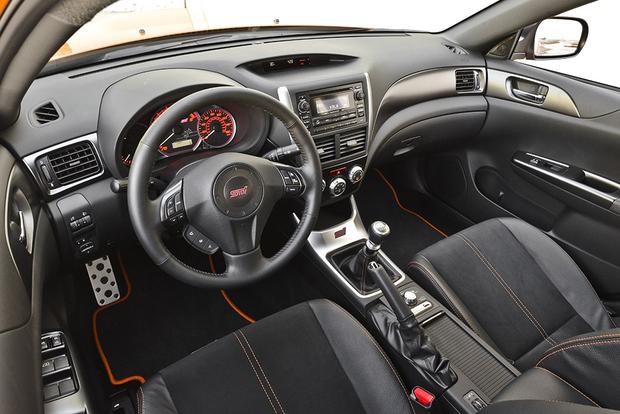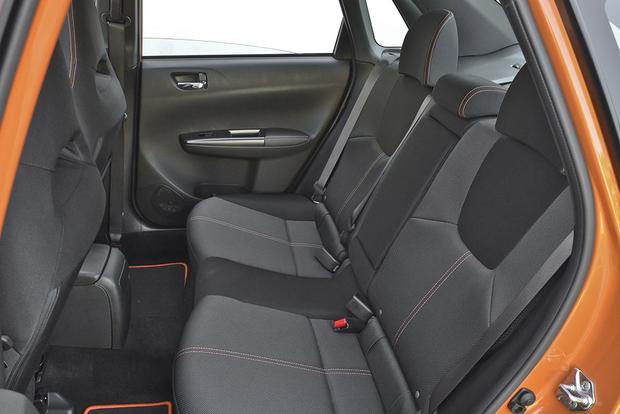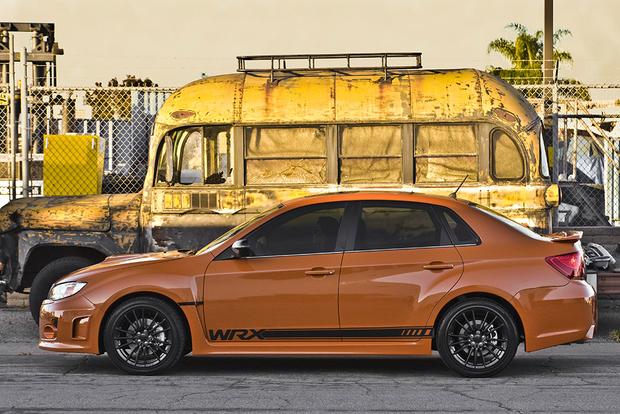 The 2013 Subaru WRX and WRX STI are among the world's most impressive performance machines. The WRX's rally-inspired all-wheel-drive setup comes standard, as does an excellent sport-tuned suspension, 5-speed manual transmission (6-speed on the STI) and snug bucket seats. Because it's based on the tried-and-true Subaru Impreza platform, the WRX makes for a very livable daily driver, with room for four adults and, in wagon form, a generous cargo hold. The WRX also holds fairly good scores when it comes to repair and reliability ratings. In comparison, it offers better traction and acceleration than the VW GTI, a more refined ride than the Mitsubishi Evo and more horsepower than both.
Now for the not-so-great news: These cars get driven hard, so finding a used model that hasn't been beaten up too badly may be challenging. Fuel economy on the WRX isn't horrible, but the same can't be said for the STI version. If you have kids, you can bet your insurance rates are going up, as will the cost of tires, brakes and everyday maintenance.
What We Like
Excellent performance; all-wheel-drive grip; reasonable price; roomy interior; Subaru dependability
What We Don't
Cheap interior plastics; poor audio and navigation systems; no power-seat option; poor fuel economy with the STI trim; no automatic transmission
Fuel Economy & Engine Specs
The 2013 WRX comes with a 2.5-liter turbocharged boxer engine producing 265 hp and 244 lb-ft of torque. A 5-speed manual is the only transmission option. The Environmental Protection Agency (EPA) rates the WRX at 19 miles per gallon in the city and 25 mpg on the highway.
The WRX STI uses the same 2.5-liter engine but with a more powerful turbocharger and an intercooler with Subaru's dual Active Valve Control System to produce 305 hp and 290 lb-ft of torque. A 6-speed manual is the only transmission option. EPA ratings for the STI are a reported 17 mpg city/23 mpg hwy.
Keep in mind, these fuel economy figures are the result of normal driving conditions in a controlled test. If you drive the WRX the way Subaru intends, don't be surprised if your fuel economy is noticeably lower than what EPA estimates.
Standard Features & Options
The 2013 WRX comes in three trims: base, Premium and Limited. The WRX STI is offered in base and Limited. Both models are offered in 4-door sedan or 5-door wagon body styles.
The WRX includes a 5-speed manual transmission, a tilt-telescopic steering wheel with cruise and audio controls, automatic climate control, a 6-speaker AM/FM/CD/satellite radio with iPod integration, Bluetooth hands-free phone connectivity, 60/40-split folding rear seats, power windows, power door locks, power mirrors, remote keyless entry, 17-inch alloy wheels, a digital outside-temperature gauge, auto-off headlights, incline-start assist, cloth-covered sport bucket seats, aluminum pedals and a leather-wrapped shifter and steering wheel. The 5-door wagon adds a rear wiper/washer, a rear cargo cover and clear rear lenses with LED taillights.
The WRX Premium adds a power moonroof, fog lights, heated side mirrors, heated front seats and a windshield-wiper de-icer. Sedan models get a rear-deck spoiler.
The WRX Limited adds leather seating and HID headlights.
The WRX STI is equipped similarly to the WRX Premium but adds 18-in alloy wheels, Brembo performance brakes, a 6-speed manual transmission, Subaru's Driver Controlled Center Differential (DCCD), limited-slip front and rear differentials, Alcantara seating with black leather bolsters, an upgraded performance suspension, functional front brake-cooling air scoops and functional side engine-cooling vents. A larger rear-trunk spoiler is affixed to the sedan, while the 5-door model receives 18-in BBS alloy wheels.
The WRX STI Limited adds the 18-in BBS wheels, fog lights, leather upholstery and a power moonroof. This trim is offered only in sedan form.
Options for the Premium and Limited trim include a 6-speaker touchscreen navigation radio with Bluetooth music streaming, iTunes tagging and SMS text-messaging capability.
Pricing
The WRX is a hot commodity, so you can expect pricing to be on the higher end of the used-car spectrum. A well-maintained model with low mileage will likely draw a premium price but might be worth the extra cost versus a lower-priced WRX that has been driven hard. To get a good idea of the WRX's price range, we suggest checking the used-car values at KBB.com. You can also search the Autotrader Classifieds to see what models are currently for sale in your area.
Recalls
The National Highway Traffic Safety Administration (NHTSA) issued the following recall for the 2013 Subaru WRX:
A recall was issued for a possible problem with road salt corroding the rear brake lines. A hole in the line could lead to loss of brake fluid and, ultimately, partial brake failure.
Recall repairs are required by law even if the vehicle is out of warranty. Your dealer can check to see if the repairs were performed and, if not, will fix the car at no charge to you. You can also check the NHTSA website. Simply enter your vehicle's identification number for a list of performed recall repairs.
Safety Ratings & Warranties
Although neither NHTSA nor the independent Insurance Institute for Highway Safety (IIHS) crash-tested the WRX, they each tested the Impreza, which the car is based on. The government gave the Impreza its best rating of five stars in all its crash-test categories, while IIHS awarded the Impreza its highest rating of Good in all tests performed.
All Subaru WRX models left the factory with a 3-year/36,000-mile bumper-to-bumper warranty and a 5-year/60,000-mile powertrain warranty. If you purchase your WRX through Subaru's certified pre-owned vehicle program, the powertrain warranty period is extended to 6 years/100,000 miles, and owners have the option to buy plans that will cover electrical issues, steering, suspension, brakes, air conditioning and the fuel system.
Other Cars to Consider
2013 Mitsubishi Lancer Evolution GSR -- The Mitsubishi is the top-end performance rival of the WRX STI. The Evo's ride is a bit harsher, and it only comes in sedan form, but its interior is better-equipped with options such as Recaro seats and a 710-watt Rockford Fosgate audio system.
2013 Volkswagen Golf R -- The Golf R isn't as powerful as the WRX, but its ride, interior and overall feel are more refined. The WRX is faster than the Golf R and displays better cornering ability but is less expensive.
2013 Mazdaspeed3 -- The Mazdaspeed3 offers similar styling, dimensions and power from its turbocharged 4-cylinder engine, plus a much nicer interior and an optional Bose audio system. However, the Mazdaspeed3 doesn't handle as well as the WRX, and its front-drive layout is prone to noticeable torque steer.
Autotrader's Advice
We think the WRX Premium offers the best value. It's nicely equipped, reasonably priced and offers a good combination of performance driving ability and daily driver comfort. However, taller drivers may appreciate the added headroom afforded by the base WRX, which doesn't include a moonroof. The WRX STI trims are enticing, but they cost significantly more, have a rather harsh ride and are more expensive to maintain over time. Also, with the money you save buying the WRX, you can opt for a really nice aftermarket audio setup.