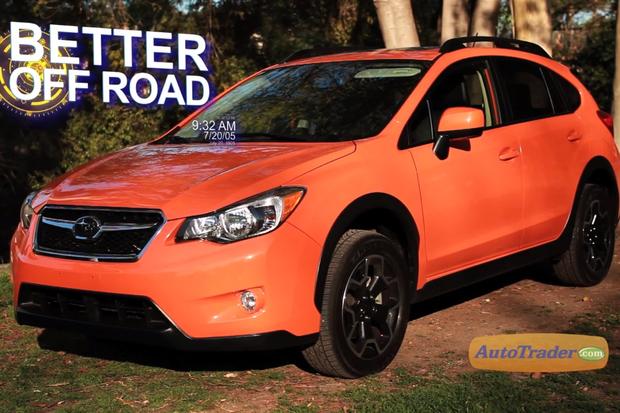 Lots of American drivers love the high seating position of an SUV, but many of us don't want or need such a large vehicle.
That's why Subaru thinks it's got a just the answer with the all-new 2013 Subaru XV Crosstrek.
Boasting the high ride of a crossover and the tidy dimensions of a compact hatchback, the Crosstrek looks like the perfect mix. Here are AutoTrader.com's 5 Reasons to be a Crosstrek convert.
1. "Commanding Height"
The XV Crosstrek is about five inches higher than the Impreza hatchback it's based on, and that makes a big difference. The driver seat is right at thigh level for most folks, so saddling up is as easy as sliding onto a barstool. And once you're buckled in, you'll be seeing eye-to-eye with crossovers and even some cargo vans, giving you that extra feeling of confidence on the road.
2. "Great Fuel Economy"
Standard all-wheel drive usually means big gas bills, but Subaru calls the Crosstrek "the most fuel-efficient AWD crossover in America." If you get the continuously variable automatic transmission (CVT), that means 25 mpg city and an awesome 33 mpg on the highway. A lot of AWD crossovers would do well to get 25 mpg on the highway, so Subaru's definitely got something special here. We're extra-impressed because the company's trademark "boxer" four-cylinder engines have never been known for thier fuel-efficiency, yet the Crosstrek proudly packs a 2.0-liter engine.
3. "Top-Notch Tech"
We used to chastise Subaru for skimping on standard technology, but the company has really changed its ways. Even the base Crosstrek gives you a good-sounding, six-speaker premium stereo with iPod/USB connectivity and Bluetooth streaming audio, all for about $22,000 to start. And if you don't mind paying extra, you can get a 4.3-inch LCD screen with a rearview camera, or even a navigation system with a 6.1-inch touch screen.
4. "Versatility to Spare"
If you're worried that the XV Crosstrek isn't big enough to haul stuff, don't be. There's 22.9 cubic feet of space behind the rear seats -- more than you get in any sedan's trunk. And with the rear seatbacks folded, you've got 51.9 cubic feet, which is close to real crossover territory. In other words, the Crosstrek is plenty handy for most tasks.
5. "Better Off Road"
Most crossover drivers stick to paved roads, but Subaru people are a little different. That's why Subaru gave the XV Crosstrek an impressive 8.7 inches of ground clearance -- same as the Forester crossover, except without the added bulk and weight. So if you want to take the road less traveled, the Crosstrek's got your back. Even if you don't go off-road, the Subaru's all-wheel drive and extra ground clearance work well in areas where it rains or snows a lot.
THE BOTTOM LINE
Because of its economy car roots, the Crosstrek isn't the smoothest, most refined car on the road. Vehicles like the Ford Escape and Kia Sportage feel a little more solid. Still, with its crossover capabilities and compact footprint and impressive fuel economy, the 2013 Subaru XV Crosstrek might just get you to reconsider compact SUVs. The 2013 Subaru XV Crosstrek starts at about $23,000. If you're planning to purchase a Crosstrek, assuming good credit and a 3 percent loan over 3 years, that's about $530 per month if you make a 20 percent down payment.