Car Review
2013 Subaru XV Crosstrek: New Car Review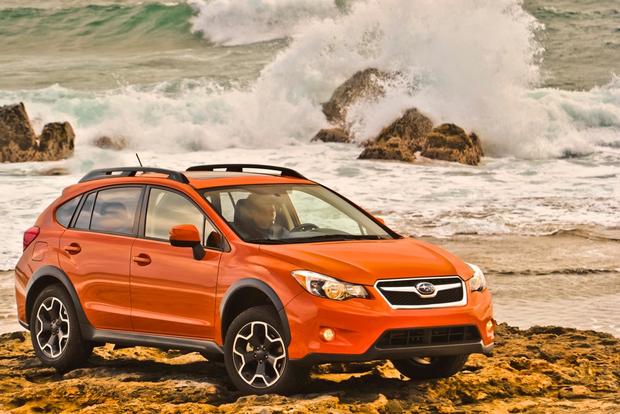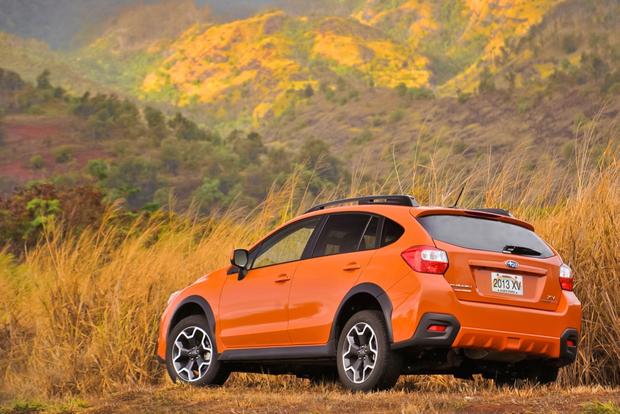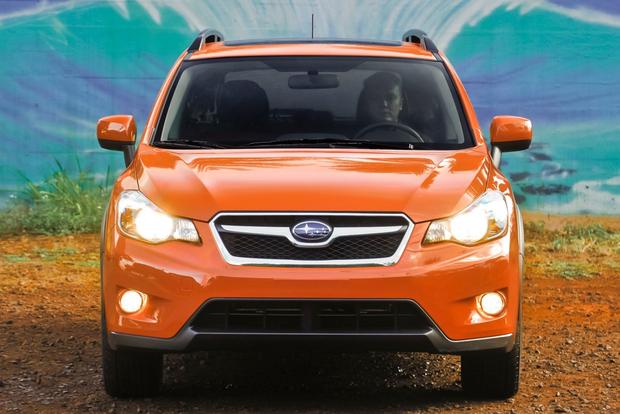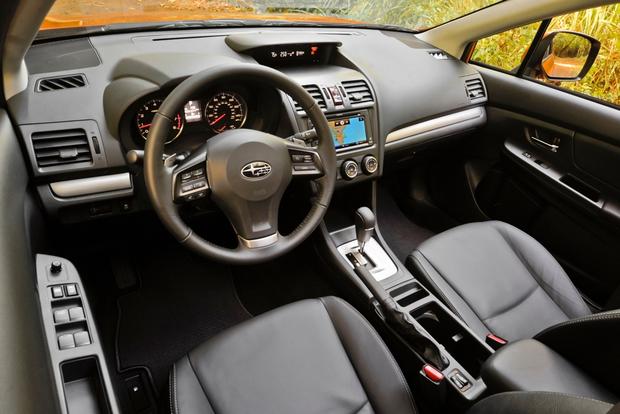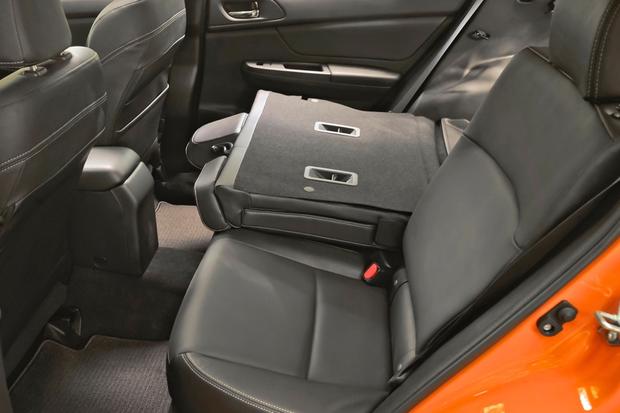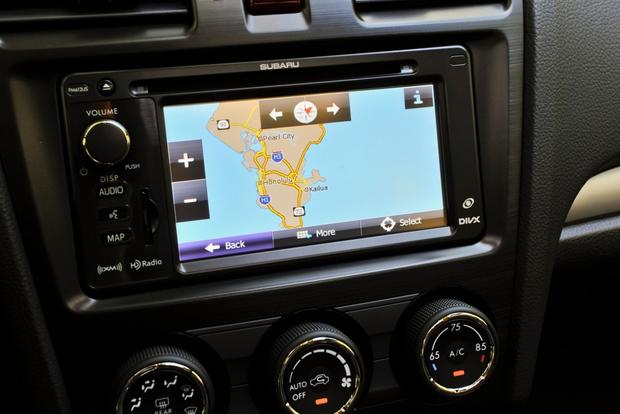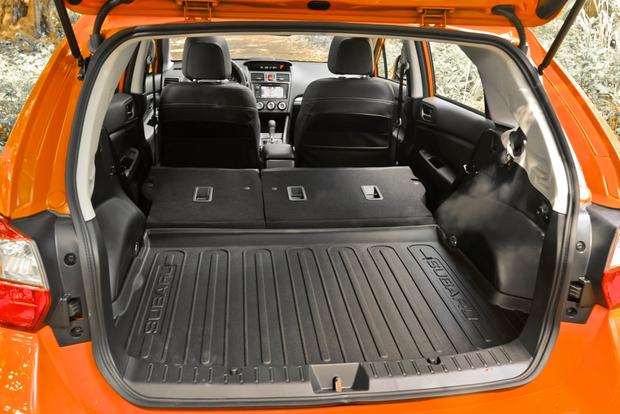 Pros: A lot of capability for not much money
Cons: Low on muscle
What's New: The XV Crosstrek is an all-new vehicle making its debut as a 2013 model.
The 2013 Subaru XV Crosstrek is a compact crossover utility vehicle (CUV), based on the Subaru Impreza, a car held in high regard by those who appreciate value, build quality and a fair amount of driving fun. Rather than make this vehicle part of the Impreza family, though, Subaru has created a whole new nameplate.
The many changes made to the Impreza, such as a reinforced chassis and tougher brakes, create a very different type of car. The higher ride height, plastic cladding and roof rails also help to consolidate the XV Crosstrek's distinct identity.
The 2013 Subaru XV Crosstrek goes on sale in September 2012, in Premium or Limited trim levels.
Comfort & Utility
The cabin exhibits the "built to a budget, but built well" approach Subaru has for all its vehicles. Where the elbows come to rest are areas of soft plastic and the top of the center console slides forward far enough to provide support for front occupants. Under that lid is a compartment designed especially to house a square tissue box.
Leather seating surfaces are available, but the fabric upholstery is fairly rugged. The seats themselves are bolstered and cushioned for levels of support and comfort that are more than adequate. The same description applies to head and legroom for rear passengers.
With the rear seats in place, cargo volume is 22.3 cubic feet, big enough to accommodate three golf bags. It's a simple operation to fold them down - they split 60/40 and form a flat load floor. Cargo space then expands to 51.9 cubes.
XV Crosstrek buyers are expected to lead active lives, so there's a removable waterproof cargo tray where users can fling their wetsuits or hiking boots without making a mess throughout the rest of the interior.
Another useful inclusion is the standard all-weather package that features heated front seats, heated side mirrors and a wiper blade de-icing function.
And although the roof rails are standard, the adjustable crossbars that complement them are on the options list.
Technology
Tried and true rather than state-of-the-art, there are no surprises among Subaru's tech offerings. But Bluetooth and iPod connectivity as standard is still welcome, along with a six-speaker audio system. Premium trim brings a choice of touchscreen navigation with a rearview camera or a moonroof. Both can be enjoyed in the Limited version; the camera is standard in this upper trim.
The audio system upgrade features HD and satellite radio, plus a text messaging function.
Performance & Fuel Economy
Instead of pistons moving up and down inside an engine, flip that image by 90 degrees and imagine them moving side to side. Then see half of them going in one direction as the other half goes the opposite way. That's how a boxer engine is configured.
A four-cylinder version (also known as a flat four) is under the XV Crosstrek's hood. From a displacement of 2.0 liters, 148 horsepower and 145 pound-feet of torque is delivered. An output of rather modest proportions and the sweet spot where most of that power is accessed is on the small side. Subaru hasn't released any official zero-to-60 mph time yet, but something in the relaxed nine-second region is a fair guess.
Pressing the throttle at low revs doesn't result in much of a surge, while top end punch is similarly lacking. With a full complement of passengers and towing the maximum of 1,500 pounds, the dog probably won't bother sticking its head out of the window. But let's argue that these scenarios would only account for 10 percent of driving situations, in which case the XV Crosstrek has adequate muscle for the majority of our mobile lives.
A five-speed manual transmission comes as standard in the Premium model. A continuously variable transmission (CVT) is optional here, but standard in the Limited. With the manual, there's too broad a gap between first and second, and this setup returns worse fuel consumption figures than the CVT. Subaru claims 23 mpg city, 30 mpg highway and 26 mpg combined for the stick shift; CVT models are rated by the company at 25/33/28 mpg.
Subaru says this 33 mpg highway figure is best in class when comparing all-wheel-drive compact crossovers. And every XV Crosstrek is rated as a Partial Zero Emissions Vehicle (PZEV).
Safety
Subaru expects the 2013 XV Crosstrek to earn a maximum of five stars from the National Highway Traffic Safety Administration (NHTSA) and become a "Top Safety Pick" of the Insurance Institute for Highway Safety (IIHS).
Airbag placement includes side curtains, front side/torso protection and one for the driver's knees. The anti-lock brake system includes electronic brake force distribution and brake assist, plus an override function if the brake and throttle pedals are pressed at the same time. Permanent all-wheel drive could be considered a safety feature. It certainly brings a sure-footedness in winter weather. But it also has a positive bearing on the next category.
Driving Impressions
Since power goes to all four wheels all the time, there's a stability to the XV Crosstrek that rivals the Swiss currency. Admittedly, the engine never taxes it, but the chassis has a talent that can deal with canyon roads, dirt tracks and grumpy relatives. It's controlled, composed and still fairly comfortable.
Ground clearance is 8.7 inches, which is pretty good and comes into its own when mud and ruts replace paved roads. Yet because of that flat four engine, the XV Crosstrek's center of gravity is still the best in its class. A low center of gravity helps with that feeling of stability and brings a liveliness to the ride.
Mention the letters CVT to a driving enthusiast and expect a tirade about slow responses and drivetrain drone. Put that same enthusiast in the business seat of an XV Crosstrek and watch those words being eaten. There is no advantage to having the manual transmission. Even if there's an itch to select the occasional gear oneself, this setup includes steering wheel-mounted shift paddles for clicking through six pre-programmed virtual ratios.
The drive isn't without its negatives, though. As well as the aforementioned lack of oomph, there's a sense of detachment to the controls - numb steering (though nicely weighted) and numb accelerator pedal - plus some road noise coming into the cabin.
Other Vehicles to Consider
Kia Sportage - This latest generation of Sportage is already a hit, thanks to smart styling, generous equipment levels and decent pricing. There's also a turbo version.
Mitsubishi Outlander Sport - Somewhat under-appreciated, the Outlander Sport receives an update for the 2013 model year with a freshened appearance and comparable standard equipment to the XV Crosstrek.
Nissan Juke - Exhibiting a singular aesthetic sense mixed with fine on-road manners, the Juke takes a predominantly paved route rather than a wooded trail.
AutoTrader Recommends
Go for any CVT-equipped model - it will ultimately have better re-sale value. The entry-level model starts at $22,790 including destination charges, so checking the box marked 'CVT' is probably within a potential customer's budget.