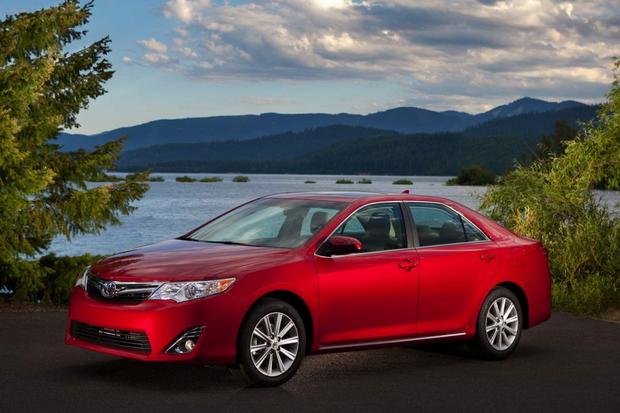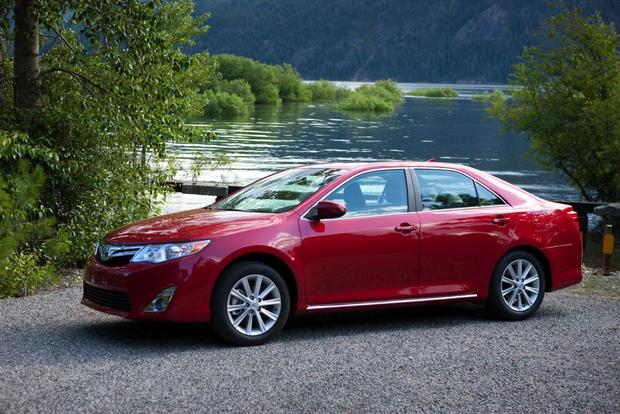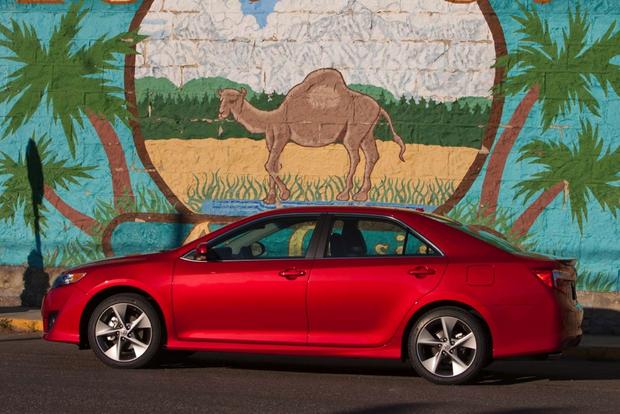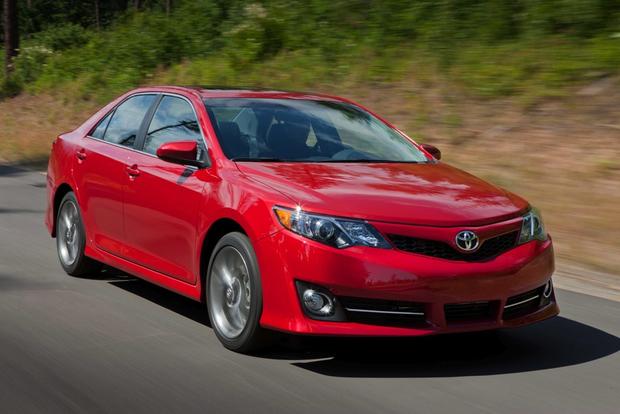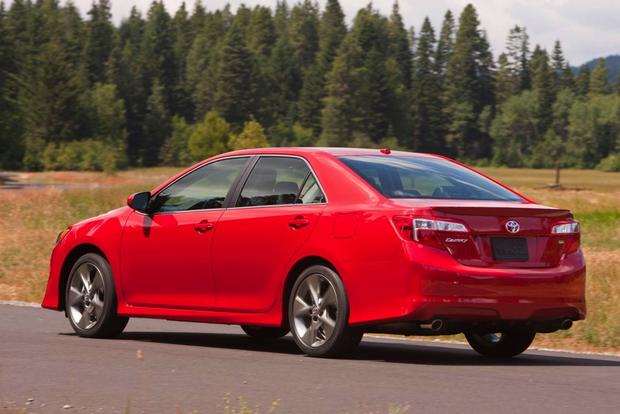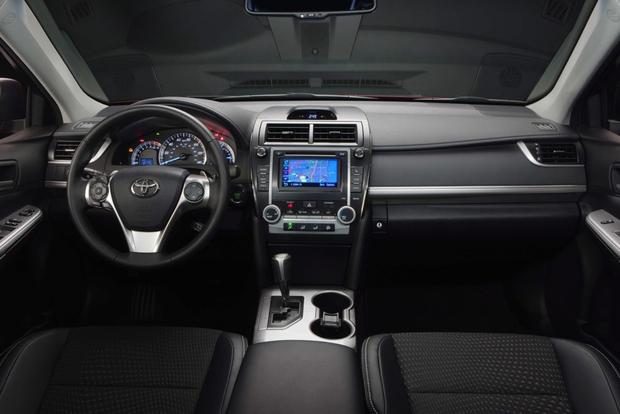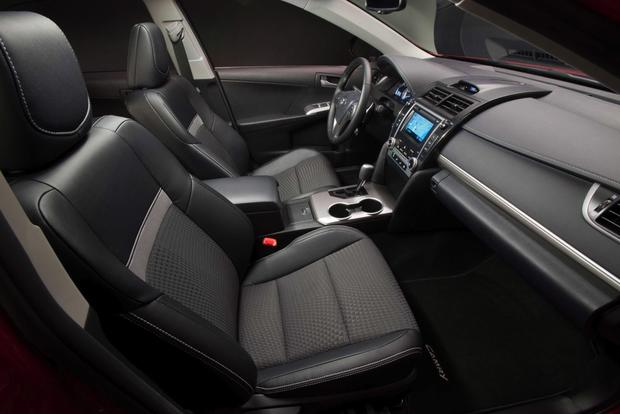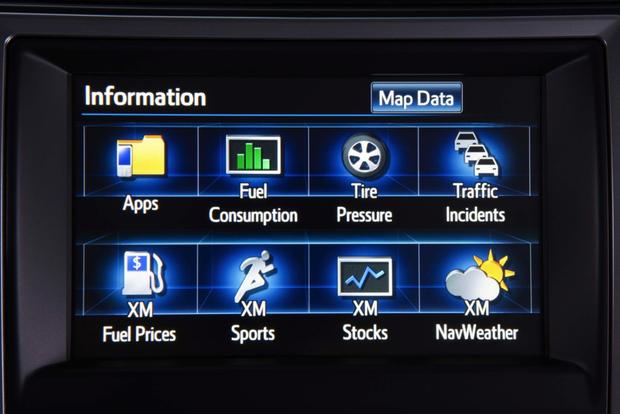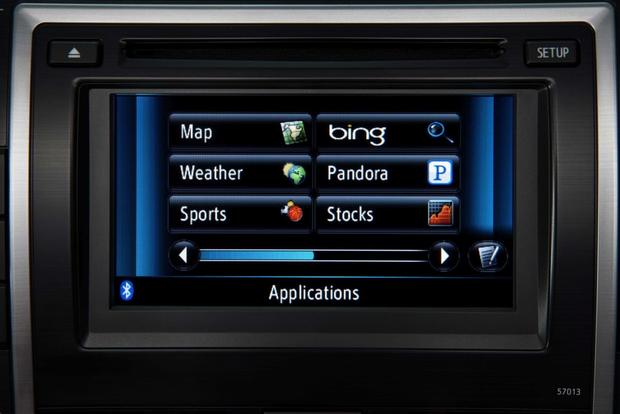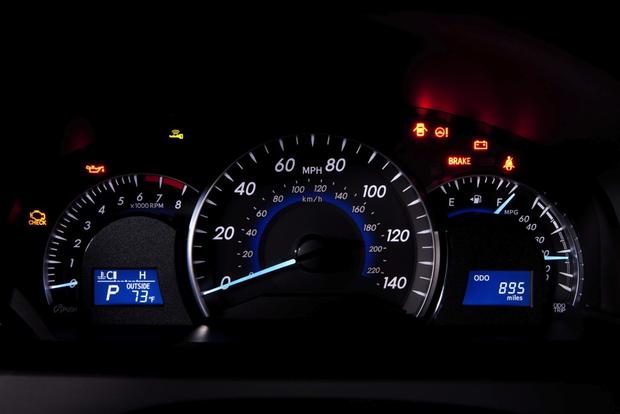 Pros: Roomy interior, smooth and quiet ride, surprisingly capable handling, plentiful standard features, great fuel economy (especially in the Hybrid), optional V6 is an all-time fave.
Cons: Entune smartphone integration isn't available on L or LE, inconsistent build quality, polarizing taillights.
What's New: All 2013 Toyota Camry models come standard with a touch-screen audio system (last year's L model didn't have it), while the blind-spot-monitoring system adds rear cross-traffic alert and is now available on SE models as well as XLE. Minor interior trim upgrades round out the changes.
Introduction
If you're looking for big changes for the 2013 Toyota Camry, you're a year too late. The Camry was completely redesigned last year, including bolder exterior styling with jagged taillights that we deemed "adventurous." The interior got a makeover, too, departing from the Camry's traditional conservatism with an eye-catching variety of textures, shapes and curves.
We wondered whether no-nonsense Camry buyers were ready for such a major makeover. But the market has spoken, and it turns out Americans can't get enough of Toyota's new midsize sedan. As of this writing, the Camry is projected to be the best-selling vehicle of 2013, edging out even Ford's perennial sales champ, the F-150 pickup truck.
Aggressive styling aside, we're not surprised that the new Camry has met with such success. Toyota has managed the neat trick of pleasing Camry loyalists while also broadening the car's appeal with new features. In keeping with tradition, the 2013 Camry rides smoothly and quietly, and fuel economy is better than ever, touching 35 mpg in standard trim and up to 43 mpg in the Hybrid. Yet the latest Camry also handles pretty well, especially with the SE model's sport-tuned suspension, and its technology offerings have gone from lagging to leading, highlighted by standard touch-screen infotainment and USB/Bluetooth across the lineup.
Notably, a number of rivals have received redesigns of their own over the past year, including the Ford Fusion, Honda Accord, and Mazda6. They're all strong contenders, so we recommend test-driving as many as you can before deciding. But the 2013 Camry remains an excellent choice, leveraging the fruits of last year's redesign to retain its class-leading position.
Comfort & Utility
The 2013 Camry is offered in four basic trim levels: L, LE, SE and XLE.
The base L is mostly, well, basic, from its manual cloth seats to its 16-inch steel wheels with plastic covers, but it does provide a six-speaker touch-screen stereo with iPod/USB and Bluetooth connectivity. That's pretty cool for an entry-level model.
The LE adds automatic headlights, variable intermittent wipers, keyless entry and steering-wheel-mounted audio and Bluetooth controls.
If you want navigation or Entune smartphone-app integration, you'll have to step up to the SE, which also features sporty exterior styling cues, 17-inch alloy wheels (18-inch with the V6), sport-tuned suspension and steering, a leather-wrapped steering wheel with shift paddles, and what Toyota optimistically calls "sport seats."
The top-of-the-line XLE drops the SE's sport-themed goodies but adds standard power front seats (optional on LE and SE), dual-zone automatic climate control with rear vents, and wood interior trim.
Note that the Camry Hybrid is only available in LE or XLE trim and comes with an exclusive suite of gauges and hybrid monitoring displays, while the Camry V6 is only offered in SE or XLE trim.
In our interior evaluation, we found that the Camry L and LE's standard manual front seats cover the basics, including a height adjustment for the driver. However, we think the power front seats -- optional on LE/SE and standard on XLE -- are a worthwhile upgrade. Unlike in previous models, the power driver seat has a bottom cushion that tilts independently, so drivers of all sizes can dial in perfect seating angles.
No matter which trim you choose, the backseat is palatial, providing ample leg and headroom along with excellent under-thigh support for taller passengers. You can certainly buy a bigger sedan than the Camry (Toyota's own Avalon comes to mind), but you probably won't need more rear passenger space than this.
The Camry's primary gauges remain among the simplest and most legible in the business. As usual, Toyota's got the ergonomics nailed, too, thanks to big knobs and clearly marked physical and virtual buttons. Build quality may be an issue, however, as the plastic trim pieces at the bottom of the center stack were loose and creaky in two different Camrys we tested. Also, the array of shapes and patterns may be a bit much for folks who like to keep things simple.
Trunk space ranges from a healthy 15.4 cubic feet in regular Camry models to 13.1 cubic feet in Hybrid form. But don't worry too much about the Hybrid's space deficit, because the load floor remains nice and flat, unlike the lumpy floor in the rival Ford Fusion Hybrid.
It's worth noting that while the regular Camry's rear seatback folds down in a 60/40 split, the Hybrid's folds down all at once, so you can't carry both a rear passenger and, say, a few sets of skis in the Hybrid.
Technology
The big technology news is the 6.1-inch touchscreen display, which is now standard in every Camry trim for 2013. On L and LE, its primary purpose is to operate the stereo, though it also displays your Bluetooth phonebook and affords access to various vehicle settings. We think the touchscreen works well enough, but we're disappointed that L and LE models miss out on two key upgrades: the navigation system and Toyota's new Entune smartphone software, the latter of which uses your compatible smartphone as a platform for handy mobile apps like Pandora and OpenTable. These upgrades are only offered on SE and XLE models; moreover, only the XLE is eligible for a premium 7-inch touchscreen with a hard-drive-based navigation system.
Still, for a car that has not historically been a technological trendsetter, this is all neat stuff.
Performance & Fuel Economy
The front-wheel-drive Camry starts with a 2.5-liter inline-4 rated at 178 horsepower and 170 pound-feet of torque. Optional on SE and XLE is a 3.5-liter V6 good for 268 horsepower and 248 pound-feet of torque.
A six-speed automatic transmission is standard with both engines; shift paddles (with rev-matched downshifts) are included in both 4- and 6-cylinder SE models.
The Hybrid pairs a 2.5-liter 4-cylnder gas engine with a battery-powered electric drive system to produce an even 200 horsepower; its transmission is a continuously variable automatic (CVT).
We like the 2.5-liter 4-cylinder a lot more than we expected to. Those 178 horses are hard workers, lending the Camry an eager nature through the gears that's unusual in a 4-cylinder family sedan. As such, if the V6 were anything other than the best 6-cylinder engine in its class, we'd be hard-pressed to recommend it over the four. But it is the best, from its creamy refinement to its sports-car-grade acceleration, so we'd advise springing for it if you value performance more than efficiency.
As for the Hybrid system, it's actually a shade quicker than the base four-cylinder, and the CVT is surprisingly responsive -- so you aren't punished in the performance department for going green.
EPA fuel economy ratings for the regular four-cylinder Camry are 25 city/35 highway, while the V6 checks in at a still-respectable 21 city/30 highway.
Predictably, the Hybrid blows them both away with ratings of up to 43 city/39 highway (the Hybrid XLE drops slightly to 40 city/38 highway).
Safety
The Camry has the usual assortment of safety equipment and then some, boasting stability control and no fewer than ten airbags (front, side, side-curtain and knee). A blind-spot monitoring system with rear cross-traffic alert is optional on SE and XLE.
So how's it all work? In government crash testing, the 2013 Camry wasn't perfect, but its scores of four stars for frontal protection, five stars for side protection, and four stars for rollover protection were good enough to earn the maximum overall score of five stars. The independent Insurance Institute for Highway Safety gave the 2013 Camry its top rating of "Good" in every category.
Driving Impressions
As mentioned above, the new Camry retains the smooth, quiet ride that Camry fans have come to expect. So that's no surprise. What is surprising, though, is the Camry's newfound surefootedness around corners. Even the non-sporty trim levels acquit themselves pretty well in the handling department, while the sport-tuned SE, which benefits from sharper steering, wider tires and a firmer suspension, brings the Camry's athleticism close to that of class leaders like the new Honda Accord. That Toyota has managed to add this sprightliness without compromising the Camry's ride quality is impressive indeed.
Other Cars to Consider
Honda Accord - It's back! After ballooning to full-size status in the previous generation, the 2013 Accord has been reinvented as a taut, sporty model that reminds us of Accords past. Interior quality is much-improved, as well.
Kia Optima - Sharing many parts with the popular Hyundai Sonata, the sexy Optima is the supermodel of midsize sedans, and it comes in regular, performance, and hybrid models, just like the Camry. Take a look at the excellent turbocharged EX as a cheaper, more fuel-efficient alternative to the Camry V6.
Volkswagen Passat - The American-built Passat certainly has the size and softness to win the hearts of Toyota devotees. It also features an attractive interior, a turbo-diesel model that's nearly as frugal as the Camry Hybrid, and an optional 3.6-liter V6 that gives the Camry's six a run for its money.
AutoTrader Recommends
Well, there's really not a bad apple in this barrel. The 4-cylinder L and LE are certainly the value leaders, but if you want extra fuel economy or performance, you can't go wrong with the Hybrid or V6, respectively. The Camry lineup is exceptionally well-rounded.