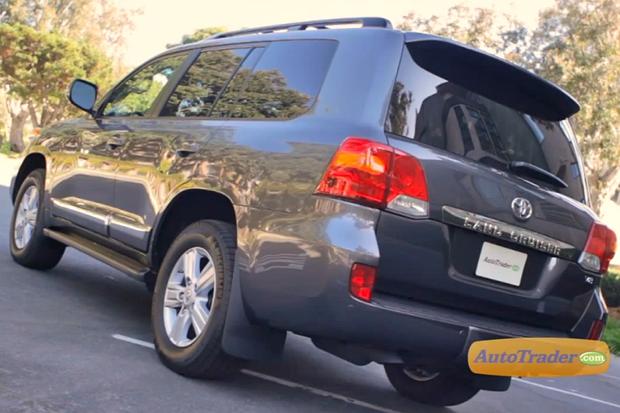 Emerald Robinson: With 60 years of storied history to build on, the 2013 Toyota Land Cruiser takes the utilitarian vehicle towards the ultimate luxury SUV nirvana.
Jeff Thisted: Not that it's lost any of its historic off-road capability. Just get behind the wheel, and you can tackle virtually any terrain on the planet. Not to mention it's loaded with Toyota's full arsenal of high-tech gadgets.
Emerald: With all that and its enormous size, the Land Cruiser can make you feel almost invulnerable. The over-the-top luxury touches give it a very Japanese Range Rover appeal.
Jeff: That's right, and like its Range Rover rival, it's got good ground clearance and low-range gearing for serious off-roading-something you're not gonna find in a blinged-out Cadillac Escalade.
Emerald: And if expressive styling is high on your list, shop it against the Infiniti QX56, too.
There's only one fully loaded trim for the Land Cruiser: features that used to be optional are now standard. And that includes the impressive voice-activated touchscreen DVD navigation system and an integrated backup camera.
Jeff: This also has Toyota's Entune system to connect your smartphone and access apps like Pandora and OpenTable…very convenient.
Emerald: The dashboard materials are maybe not as plush as the more expensive Range Rover, but they're still very upscale. Honestly, there's really not that much to complain about.
Jeff: I agree, and we like that the front seats are mounted high. It gives us great visibility.
Emerald: And, if you need it, there's eight-passenger seating with a rear-seat DVD entertainment system that comes standard.
Jeff: And with the rear seats folded, cargo space is about 82 cubic feet. It isn't huge, but you can put a lot of stuff back there.
Emerald: It's really surprising how fast this Land Cruiser accelerates, considering how big and heavy it is.
Jeff: Its 5.7-liter V8 is one of the most refined we've tested. It delivers 381 horsepower and 401 lb-ft of torque through a six-speed automatic transmission to full-time four-wheel drive.
Emerald: That's right, Jeff. That's enough power to tow 8,500 pounds. And 90 percent of peak torque is available at a low 2,200 rpm. But all that power can really hurt at the pump.
Jeff: Call it a tradeoff for terrific off-road performance.
Incidentally, the Land Cruiser has five different crawl speeds and can disengage the front and rear stabilizer bars for maximum wheel articulation. That means the wheels have great movement up and down for heavy-duty off-road maneuvers.
Emerald: With a base price of $77,955, buyers should expect extras like this in an off-road-ready vehicle.
Jeff: And for carefree adventuring, Toyota gives Land Cruiser owners a three-year, 36,000-mile basic warranty and a five-year, 60,000-mile powertrain warranty.
Emerald: With all the ability, luxury and extra features, it's hard not to recommend the 2013 Toyota Land Cruiser.
Jeff: Absolutely. This SUV is made for those rugged souls who want to do some heavy-duty wilderness driving and want to do it in style.