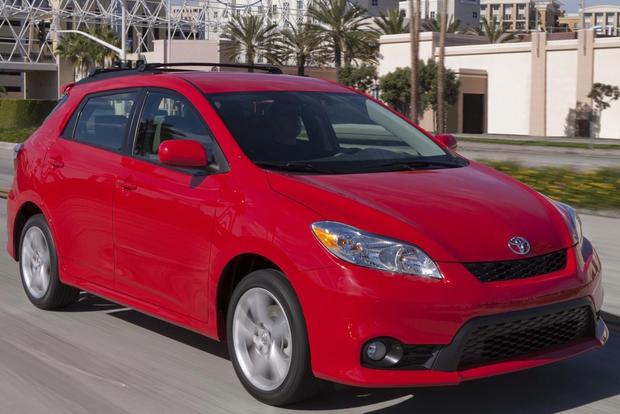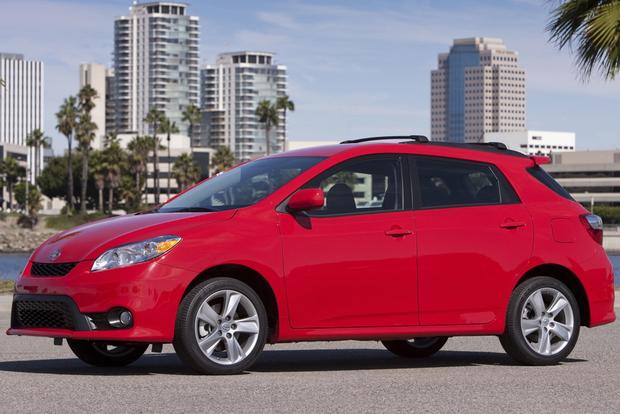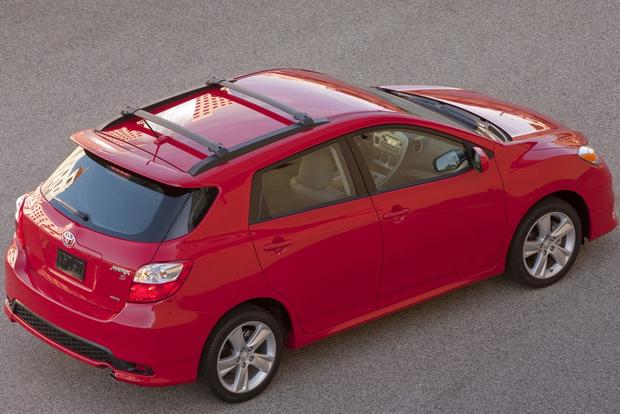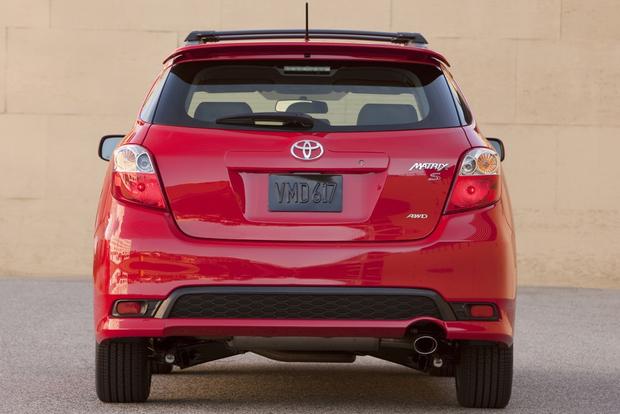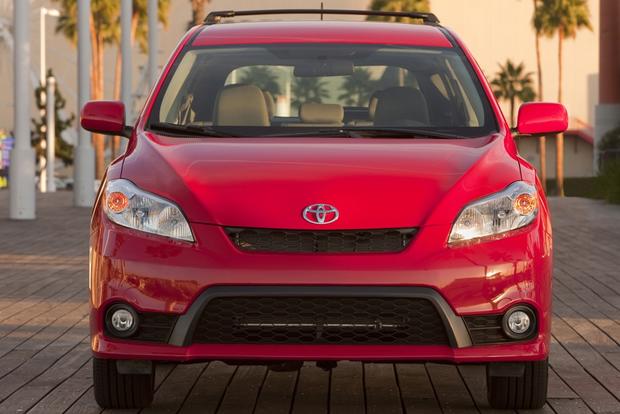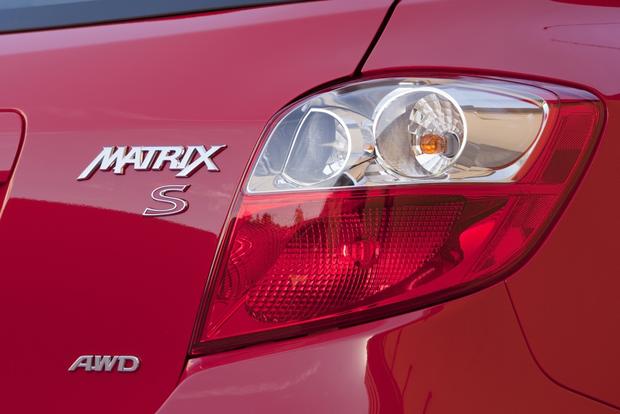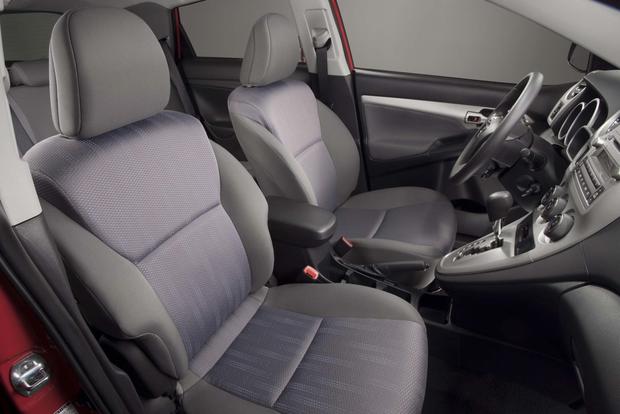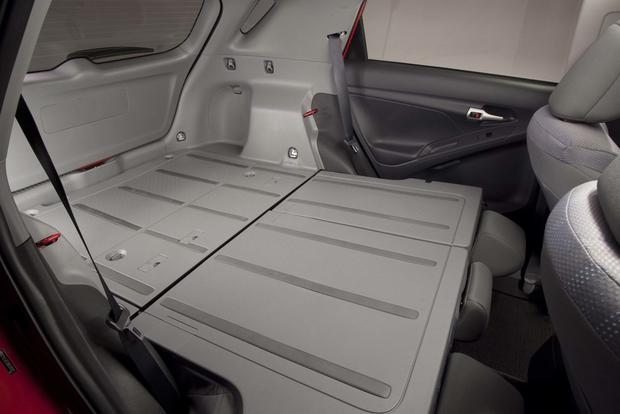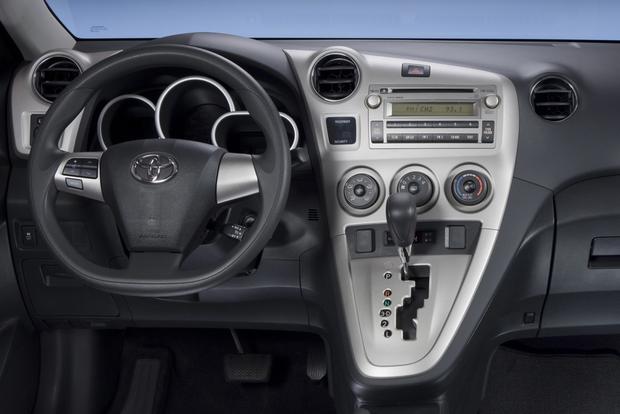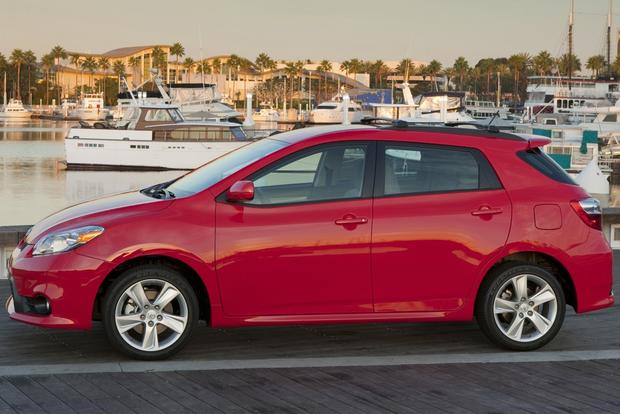 The 2013 Toyota Matrix may not be the newest or most memorable small car on the market, but it's definitely a dark horse candidate. The Matrix isn't just another compact hatchback. Built from the ground up to be a different car, the Matrix is known for a high seating position and a roomy backseat. The Matrix's tall body also yields an unusually large cargo capacity.
This Toyota is somewhere between a hatchback and a compact crossover SUV in practicality, especially with the optional all-wheel-drive system, and that's not a bad place to be.
There are reasons why more people aren't raving about the Matrix. For example, the base 1.8-liter engine, borrowed from the Corolla sedan, is under-powered, and its fuel economy isn't anything special. Also, the design is outdated compared to newer rivals from Kia, Hyundai and Ford.
Still, the Matrix deserves more attention. If you're looking for a practical all-around car that won't break the bank, give this Toyota a chance.
What's New for 2013?
Last year's base-level Matrix becomes the Matrix L for 2013. The hatchback also adds several standard features, including a USB port, Bluetooth and satellite radio.
What We Like
Higher seating position than a normal hatchback; ample cargo capacity; roomy back seat; available all-wheel drive
What We Don't
Mediocre fuel economy; weak base engine; outdated 4-speed automatic
How Much?
$20,000-$23,000
Fuel Economy
The Matrix L features a 1.8-liter 4-cylinder rated at 132 horsepower and 128 lb-ft of torque, while the Matrix S steps up to a 2.4-liter 4-cylinder good for 158 hp and 162 lb-ft. You can get a 5-speed manual transmission with either engine. The L has an optional 4-speed automatic that's outdated by current standards. The S can be equipped with a 5-speed automatic on the front-wheel-drive version or a 4-speed automatic with all-wheel drive.
For the base model, fuel economy checks in at 26 miles per gallon city/32 mpg hwy with the manual and 25 mpg city/32 mpg hwy with the automatic. The Matrix S certainly has more moxie, especially off the line, where its unusually strong torque will easily chirp the front tires if you're not careful. Fuel economy naturally suffers, dropping to 21 mpg city/29 mpg hwy with the 5-speed automatic, 21 mpg city/28 mpg hwy with the manual and 20 mpg city/26 mpg hwy with all-wheel drive and the available 4-speed automatic.
Options & Standard Features
The 2013 Toyota Matrix comes in two trim levels: L and S. The L has the 1.8-liter engine, while the S has the 2.4-liter engine with available all-wheel drive.
The base L ($20,000) has standard features such as 16-inch steel wheels, a height-adjustable driver's seat, power accessories, cruise control, a tilting and telescoping steering wheel and a 4-speaker audio system with an auxiliary audio jack. Newly standard features for 2013 include a USB port for music, Bluetooth and satellite radio.
The S ($21,000) gets sportier exterior styling cues, variable intermittent wipers and a 6-speaker stereo. Also, alloy wheels and a power sunroof are only offered on the Matrix S.
Safety
The 2013 Toyota Matrix comes with six airbags, standard stability control and active front head restraints. Four-wheel disc brakes are standard, which means Toyota didn't scrimp on costs concerning the Matrix's braking ability.
The government hasn't crash tested the Matrix, but the independent Insurance Institute for Highway Safety awarded it the top Good rating for both frontal offset and side impacts.
Behind the Wheel
The Matrix is entertaining to drive at moderate speeds thanks to its responsive steering and good body control. The manual shifter mounted rally-style next to the driver's hand adds to the fun. Bumps are firmly transmitted by the suspension, however, and road noise is pronounced. The Matrix is far from a cushy Camry in the way it rides.
In part because of the high-mounted seats, the Matrix's outward visibility is unusually expansive for a compact hatchback. The S model technically has "sport" front seats, though we didn't notice a huge difference in bolstering. The gauges are easily read at a glance. While the dashboard has some stylistic flair, the materials are strictly basic. However, the Matrix's back seat is impressively roomy compared with other economy cars.
Cargo space measures 19.8 cu ft in the trunk and 49.4 cu ft with the 60/40 split rear seat backs folded down. That's a lot for a small hatchback; the mid-size Honda Crosstour, for instance, has a maximum capacity of about 51 cu ft.
Other Cars to Consider
Ford Focus -- The recently redesigned Focus is available as a sleek hatchback, and we love its premium driving character. It has great fuel economy, as well. Watch out for the tight back seat, though.
Mazda 3 -- The Mazda 3 hatchback's new SkyActiv 2.0-liter inline 4-cylinder makes almost as much power as the Matrix's 2.4-liter engine, and it gets much better fuel economy. We prefer the Mazda's ride and handling, too.
Hyundai Tucson -- If you really want that elevated driving position, check out the Tucson, which is a proper crossover SUV with compact dimensions.
AutoTrader's Advice
The Matrix model that stands apart is the all-wheel-drive S with its peppy engine and all-weather capability. Yes, the gas mileage isn't great, but if you live in a harsh climate, you might be willing to sacrifice a few miles per gallon in return for the practical Matrix's many virtues.