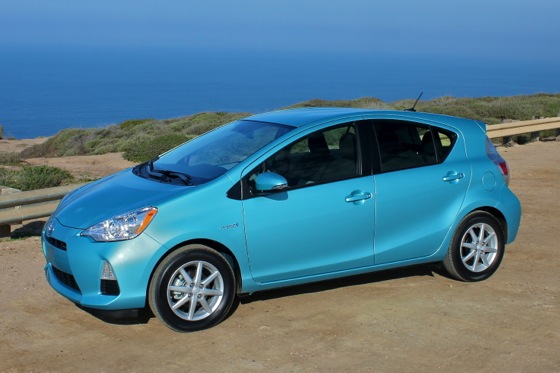 Pros: Stellar fuel economy; appealing price; hatchback convenience
Cons: Firm ride by Prius standards; ponderous acceleration
What's New: The 2013 Prius c Two and Three models have new SofTex stain-resistant dashboard trim, while the Four adds a SofTex-trimmed steering wheel.
Introduction
It didn't take long for the 2013 Toyota Prius c to become one of Toyota's rising stars. Orders for the new pint-sized Prius exceeded expectations last year, transforming this projected bit player into a marquee attraction. In retrospect, we should have seen this coming. After all, the Prius c gets the same overall fuel economy as the regular Prius -- an astounding 50 miles per gallon -- yet its base price is more than $5,000 lower.
Not surprisingly, the Prius c driver must make certain compromises relative to Prius norms. Because the structure comes from the short-wheelbase Yaris subcompact, it's not as refined and yields a firmer, bouncier ride. Moreover, road noise is elevated, and space for passengers and cargo is diminished. We'll also give big brother the nod for both exterior styling and cabin quality.
But the Prius c is certainly better at navigating tight spaces, and its handling feels more responsive, for those who care about such things. Plus, $5,000 is a lot of Benjamins, representing a discount of roughly 20 percent compared to the cheapest regular Prius.
Overall, while the 2013 Prius c isn't a full Prius substitute, it's undoubtedly the cheapest way to hit the 50-mpg milestone in a new car today. That's the formula that propelled the Prius c to instant stardom, and we expect it to maintain its appeal in these consumption-conscious times.
Comfort & Utility
The 2013 Toyota Prius c subcompact hatchback comes in four trim levels: One, Two, Three and Four.
The entry-level One feels pretty basic inside, though it does come with power accessories, automatic climate control (an unusual luxury under $20,000), a 3.5-in color display with a real-time power-flow diagram and a 4-speaker audio system with iPod/USB and Bluetooth connectivity.
Step up to the Two and you'll get six speakers for the stereo, variable intermittent wipers, 2-tone seat fabric with a driver seat height adjustment, SofTex dashboard trim, a 60/40-split folding rear seatback (the One's rear seatback folds down in one piece), cruise control and a center console with an armrest.
The Three adds voice command recognition, a navigation system, the Entune smartphone-based mobile app interface (see Technology below) and keyless entry/ignition with push-button start. (Lesser models have a traditional twist key.)
The Four tacks on fog lamps, 15-in alloy wheels (optional on Three), heated front seats and SofTex trim for the seats and steering wheel.
A sunroof can be added to either the Three or Four, and sunroof-equipped Fours are eligible for 16-in alloy wheels with a quicker steering ratio.
In our interior evaluation, we took a genuine liking to the One model's front seats, which have fixed headrests and surprisingly prominent side bolsters. They remind us of those cool game room chairs for kids that sit flush with the floor. The seats in the other trims are more conventional, though they include a driver height adjustment -- a detail that the base seats lack. Either way, we wish the steering wheel telescoped out farther for tall drivers.
While the Prius c's dashboard isn't spaceship-swoopy like that of the regular Prius, we definitely appreciate the huge, no-nonsense temperature knob that juts toward the driver on its own private promontory, falling readily to hand. The digital gauges and hybrid system displays will be familiar to any Prius veteran, and they don't take much time to learn for newbies.
Interior materials are a cut below those in the regular Prius, though at least the c's hard plastics have a variety of different grains to keep things visually interesting. The back seat is a downgrade as well, but we did find surprisingly ample headroom and foot-room back there, even if knee-room was at a premium.
Toyota only quantifies the cargo space behind the back seat, which measures 17.1 cu-ft -- about the size of a large sedan's trunk. If our calculations are correct, that means there should be somewhere around 35 cu-ft available with the rear seatbacks folded. Not much, you might be thinking, but look at it this way: That's two large sedan trunks. In a car this small, with a battery pack tucked under the floor, no less, we think that's pretty impressive.
Technology
We like that iPod/USB and Bluetooth connectivity are standard even on the One model, but we've got a bone to pick with the standard twist-key ignition. In such a high-tech car, we'd like to see push-button start come standard, as it is on the regular Prius. It's an odd sensation to twist the key and receive no mechanical feedback whatsoever -- you just see a ready light illuminate next to the speedometer. We're accustomed to that with buttons, but not with keys. Also, there's a circular dummy depression on the dash where the push-button would be, forever reminding you that you didn't ante up for at least the Three.
Otherwise, the Prius c has a strong array of technology, as you'd expect. The big news is the Entune system, which uses your smartphone's data connection to send mobile apps straight to the Prius c's touchscreen interface. The app roster includes Pandora Internet radio and OpenTable dining services. It's a nifty service if your smartphone's data plan can handle the extra usage.
Performance & Fuel Economy
The front-wheel-drive Prius c is powered by a 1.5-liter gasoline inline-4 and an electric motor teamed with a battery pack. Total output is 99 horsepower, which isn't much in a car that weighs 2,500 pounds. Not only is the Prius c slow, it also emits a distinctive moo at full throttle that might have you wondering why you never noticed that cow pasture before.
But speed has never been the point of any Prius, and given that the Environmental Protection Agency (EPA) rates the Prius c at a whopping 53 mpg city/46 mpg highway (50 mpg combined), we suspect most owners won't mind setting a leisurely pace.
Like every Prius, by the way, the Prius c is a dual-mode hybrid, which means the electric motor can operate on its own under light-load situations. Don't get too excited about the EV mode, though, as it's barely distinguishable from driving the Prius c normally: Give it a smidgen too much throttle and the gas engine automatically rumbles to life.
Safety
The Prius c comes with standard stability control, nine airbags and anti-lock brakes.
The government had not crash tested the Prius c at the time this article was written, but the independent Insurance Institute for Highway Safety (IIHS) gave the Prius v its highest rating of Good in all tested impact categories.
Driving Impressions
The Prius c doesn't have the smooth ride of the regular Prius. They're different cars underneath, and the Prius c's Yaris genes don't do it any favors. It's not as quiet at cruising speeds, either. But while we unexpectedly found the steering a bit too heavy (heavier still with the Four's optional 16-in wheels), it's reasonably precise for a car of this nature, and body roll is kept within acceptable limits. We also love the tiny turning circle, which makes U-turns a breeze. The regenerative brakes may feel strange if you're a hybrid novice, but you'll get used to their inconsistent feedback in time.
Other Cars to Consider
Honda Insight - Conceived as a Prius-fighter, we think the Insight might be a better match for the comparably priced Prius c. The Insight's back seat is inhospitable even compared to the c's, but we enjoy driving Honda's hybrid hatchback a bit more.
Honda CR-Z - If you don't need a back seat but could go for a more engaging drive, the 2-seat CR-Z is about the only game in town, delivering superior dynamics (and considerably worse fuel economy) for similar money.
Toyota Prius - If the Prius c doesn't seem like enough, keep in mind that the regular Prius starts under $25,000 and comes very well-equipped.
AutoTrader Recommends
We'd have to have push-button start, so put us down for a Prius c Three. That pushes the price past $21,000, but it gives you a lot of technology for the money.