When the Toyota RAV4 arrived for the 1996 model year, it helped define a new vehicle breed that would ultimately become one of the most popular kind of vehicles sold in America: the crossover SUV. Now, the redesigned 2013 Toyota RAV4 loses several signature traits in favor of compact crossover conventions.
The original RAV4's key characteristics (fuel-efficient power train, front-wheel drive, unibody vehicle construction, the driving dynamics of a car and the styling of a rugged off-roader) became the template for the crossover SUV and today even the Ford Explorer, the model responsible for popularizing the SUV more than 20 years ago, is a crossover.
Over the years, the RAV4 has been redesigned three times: in 2001, 2006, and 2013. With the new 2013 RAV4, Toyota makes several changes to simplify both the lineup and life in general with its popular crossover. Are the modifications worth taking a pass on a discounted 2012 RAV4 or a Certified Pre-Owned example of the previous-generation model? Let's take a closer look.
Fuel Economy
The previous-generation RAV4 was equipped with a choice between a 4-cylinder and a V6 engine. In 2012, the standard 2.5-liter 4-cylinder engine was rated at 179 horsepower and 172 lb-ft of torque, and was paired with a 4-speed automatic transmission and a choice between front-wheel drive and an all-wheel drive (AWD) system with a manual Lock feature to evenly split power distribution between the front and rear wheels.
The optional 3.5-liter V6 engine generated 269 hp and 246 lb-ft of torque, and delivered power to the front or all four wheels through a 5-speed automatic transmission. With the optional V6, the RAV4's maximum towing capacity rose from 1,500 pounds to 3,500 lbs.
The 2012 RAV4 was also offered with an electric drivetrain, though only in small quantities. Available only in California, the RAV4 EV cost $49,800, provided a driving range of just over 100 miles and could be fully recharged in six hours using a 240-volt, 40-amp home charging station.
For the 2013 Toyota RAV4, the automaker simplifies the powertrain lineup. The new RAV4 is offered only with a 2.5-liter 4-cylinder engine generating 176 hp and 172 lb-ft of torque. A 6-speed automatic transmission is standard, and buyers choose between front-wheel drive and AWD. The powertrain includes Eco, Normal and Sport driving mode selections, and the optional Dynamic Torque Control AWD system supplies Auto, Lock and Sport driving mode selections. Maximum towing capacity is 1,500 lbs.
Aside from product simplification, the primary benefit of Toyota's singular powertrain approach for 2013 is improved fuel economy. Though official Environmental Protection Agency (EPA) estimates were not available at the time this article was written, Toyota projects that the new 2013 RAV4 will get 24 miles per gallon in the city and 31 mpg on the highway with front-wheel drive, and 22 mpg city/29 mpg hwy with AWD.
Compare those figures to the EPA ratings for the 2012 RAV4 with a 4-cylinder engine. With front-wheel drive the previous-generation RAV4 was rated at 22 mpg city/28 mpg hwy, while AWD models were rated 21 mpg city/27 mpg hwy. Note, however, that the 3.5-liter V6 engine formerly offered in the RAV4 was far more powerful than the 4-cylinder engine, and nearly as fuel efficient. Fuel economy ratings for the RAV4 V6 models were 19 mpg city/27 mpg hwy with front-wheel drive and 19 mpg city/26 mpg hwy with AWD.
Strictly speaking, the new 2013 RAV4 is more fuel efficient than the previous-generation model. However, the old Toyota RAV4's greater powertrain variety, more powerful engines and 3,500-lb maximum towing capacity certainly are compelling reasons to choose the old RAV4 — and served as differentiators in the compact crossover class.
Safety
In its final year, the previous-generation 2012 RAV4 came with six standard airbags, a traction and stability control system and 4-wheel disc antilock brakes with brake assist. Toyota's Smart Stop technology (which makes it impossible for the RAV4 to accelerate when both the brake pedal and accelerator pedal are pressed) also came standard on 2012 models, and versions equipped with a V6 engine or the optional third row seat were equipped with downhill assist and hill start assist technologies.
For 2013, the RAV4 is equipped with two additional airbags, one for the driver's knees and a new front passenger's seat cushion airbag. Whiplash Injury Lessening front seat back designs are also included, and every 2013 RAV4 is equipped with a standard reversing camera. The RAV4 Limited model can be optioned with a new Blind Spot Monitor and Rear Cross Traffic Alert system.
In terms of crash test performance, the previous-generation RAV4 received a Top Safety Pick award from the Insurance Institute for Highway Safety (IIHS) in a single model year: 2009. From 2006 to 2008, its ability to prevent injury in a rear impact collision was rated Marginal. For 2009 that rating changed to Good, but when the IIHS began including roof crush strength test results in its Top Safety Pick criteria for 2010, the SUV's Acceptable rating in this regard eliminated it from the competition. In all model years, the IIHS gave the previous-generation RAV4 a Good rating for frontal impact protection and for side impact protection.
In crash tests performed by the National Highway Traffic Safety Administration (NHTSA), the old RAV4 received an overall rating of five out of five stars for the 2006 through 2010 model years. Starting in 2011, the NHTSA strengthened its testing program and added a side impact test designed to replicate a lateral collision with a telephone pole. As a result, the 2011 RAV4 model's rating fell to three stars overall thanks to a 2-star rating for the front seat passenger in a frontal impact collision, a 3-star rating for the front passenger in a side impact collision, and a 2-star rating for the driver in the side impact pole test. Toyota elected to make running changes to the RAV4 and the SUV received a 4-star overall rating in its final year on the market, though its 2-star side impact pole test result remained.
The 2013 RAV4 has not been crash tested by the NHTSA or the IIHS as of the writing of this article. Because the previous-generation model did not excel in this regard, the natural expectation is that the redesigned version will perform better. It is for this reason, in combination with additional airbags and new technologies, that we believe the new 2013 RAV4 is the safer of the two vehicles.
Reliability
Traditionally, the Toyota RAV4 has been a reliable vehicle, and Toyota claims that 80% of all the RAV4 models ever sold in the U.S. are still on the road.
The new 2013 RAV4 is equipped with a 3-year/36,000-mile bumper-to-bumper warranty, a 5-year/60,000-mile powertrain warranty and a 2-year/25,000-mile ToyotaCare program providing free roadside assistance and complimentary scheduled maintenance. New 2012 RAV4 models remaining on dealer lots also include the same coverage.
Previous-generation 2006 RAV4 models equipped with a V6 engine are reported to have engine, electrical and suspension problems, according to Consumer Reports. Otherwise, there are few reliability issues to be concerned about.
Toyota's Certified Pre-Owned (CPO) program includes a 160-point vehicle inspection, a free CarFax vehicle history report and one free year of roadside assistance service. The powertrain warranty is extended to seven years or 100,000 miles, whichever comes first, and CPO buyers receive the balance of the original comprehensive warranty or a 12-month/12,000-mile comprehensive warranty, whichever is longer.
Given the RAV4's generally impressive reliability history combined with extensions of its original powertrain and comprehensive warranty programs, a CPO version of the RAV4 is appealing, even if it doesn't include ToyotaCare free maintenance. We'll call this one a tie.
Value
According to a search on AutoTrader, there were 2,393 Certified Pre-Owned Toyota RAV4 models on sale nationwide at the time when this article was written, ranging in price and mileage from a 2006 RAV4 base model with more than 80,000 miles, front-wheel drive and a price of nearly $13,000 to a 2012 RAV4 Limited with 3,000 miles, a V6 engine and AWD for nearly $31,000.
Toyota dealers are still selling the 2012 RAV4 when this article was written. The least expensive model costs $23,495 while the most expensive RAV4 Limited with a V6 engine, AWD and all the options runs $32,855. To clear stock of the outgoing 2012 RAV4, Toyota is offering lease specials, low-rate financing and cash-back deals through the first week of January 2013. If old 2012 RAV4s remain in stock as the redesigned 2013 models arrive, Toyota will likely extend or sweeten the offers.
New 2013 RAV4 pricing had not been set when this article was written, but window stickers are likely to range from around $24,000 to as much as $34,000.
As long as Toyota is trying to sell the remaining 2012 RAV4 models, they represent the best value. Once they're gone, the CPO RAV4 models will offer a compelling alternative to the new 2013 model, especially if buyers are seeking the discontinued V-6 engine, the canceled third row seating option or the dropped RAV4 Sport model.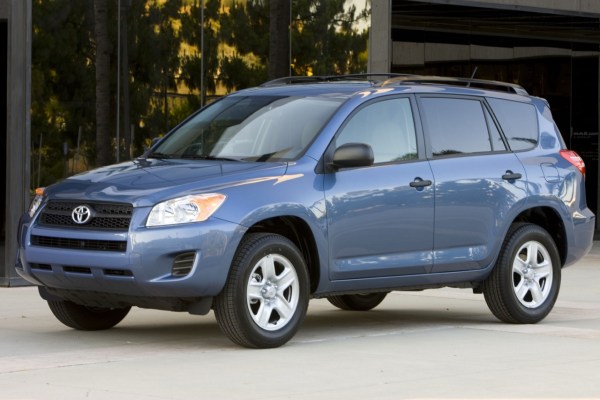 Technology
As is typical when a vehicle is completely redesigned, the new 2013 RAV4 is a more technologically sophisticated vehicle than the model it replaces.
The new RAV4 is equipped with electric steering and a 6-speed automatic transmission, and it offers Normal, Eco and Sport driving modes that can be selected by the driver. A new Dynamic Torque Control AWD system is also offered, and includes Auto, Lock and Sport driving modes chosen by the driver.
Additionally, new airbags, a reversing camera system and a 6.1-in Display Audio system with Bluetooth are standard on the new RAV4, and the RAV4 Limited model can be optioned with a new Blind Spot Monitor with Rear Cross Traffic Alert technology.
The clear advantage in terms of technology goes to the new 2013 RAV4.
AutoTrader Recommends
The redesigned 2013 RAV4 offers improved fuel economy, upgraded safety and technology features, a roomier interior with greater cargo capacity and free ToyotaCare scheduled maintenance for the first two years or 25,000 miles. Plus, the SUV has historically proven itself to be reliable. Most people place a great deal of value on such things.
However, the 2013 RAV4 has lost some of its more unique traits. It no longer offers a strong V6 engine option or a sport-tuned suspension, and it loses 1.2 inches of ground clearance, 2,000-lbs of maximum towing capacity and 55 lbs of minimum payload capacity compared to the previous-generation model. Plus, the new RAV4 weighs more and offers less horsepower than the old model. In many ways, the new RAV4 is more normal than the version it replaces. Most RAV4 buyers did not opt for a third row seat or V6 engine, so the loss of those features won't matter to most shoppers.
Bargain hunters should consider the leftover 2012 RAV4 while supplies last. And if any of the previous-generation RAV4's unique — and now canceled — attributes are appealing, there are always clean Certified Pre-Owned examples from which to choose.
Given that the RAV4 improves in all the ways that matter to the typical buyer, and because the new RAV4 drops its former swing-out tailgate design with an externally mounted spare tire for a new conventional liftgate with the spare tire mounted under the cargo floor, AutoTrader recommends that buyers give the new 2013 RAV4 strong consideration. This is especially true for people who are shopping for a model with a 4-cylinder engine. The quicker steering and tighter suspension should please would be Sport model shoppers while giving the average buyer a car they can feel is more engaging than a typical compact crossover SUV.