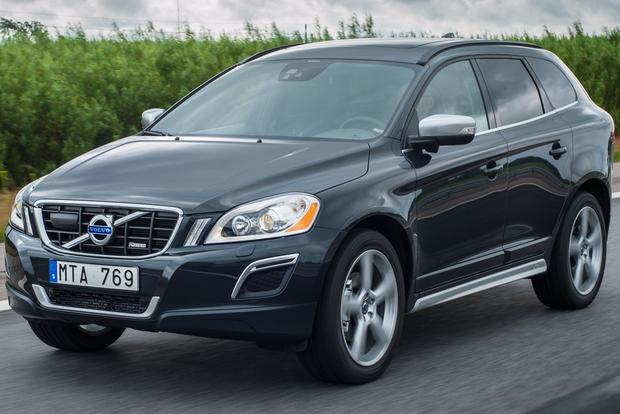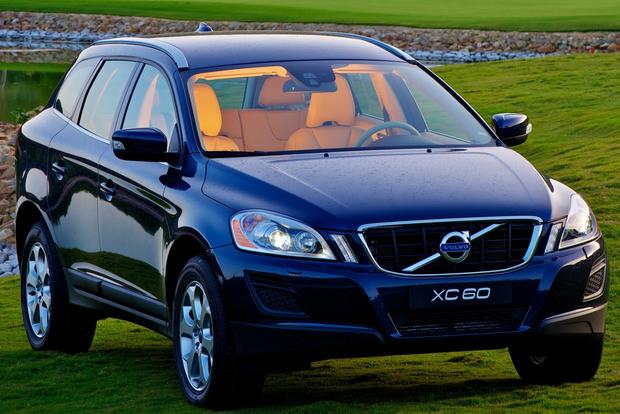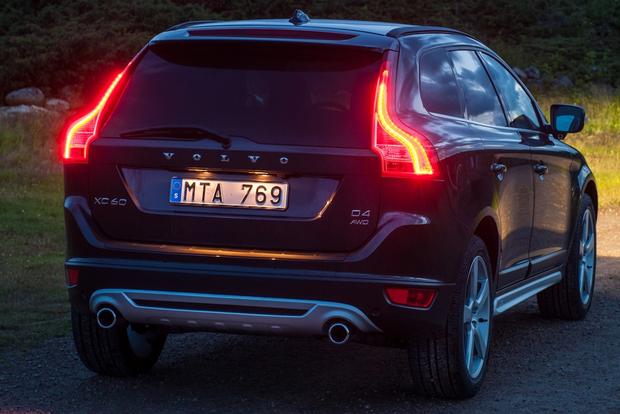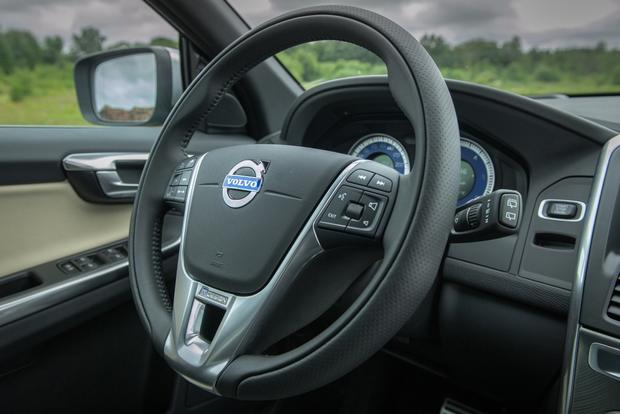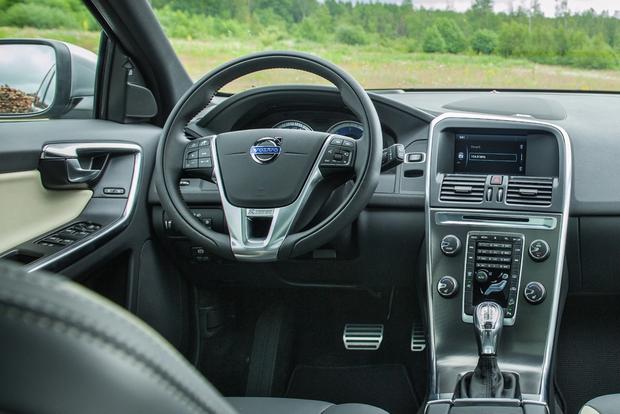 Many vehicles these days promise to be all things to all people, but the 2013 Volvo XC60 is the rare ride that actually delivers. Look at what this luxury crossover brings to the table. Safety? Hey, it's a Volvo: The crash-test results are just about perfect. Comfort? Four adults can lounge all day in the XC60's roomy cabin. Performance? The optional turbocharged 3.0-liter inline 6-cylinder has you covered with its healthy 300-horsepower output. Styling? Thanks to a sleek exterior and Volvo's distinctive interior design, the XC60 is one of the coolest crossovers around.
What more could you want? Well, maybe something a little more inspiring than the base 3.2-liter inline 6-cylinder, which sorely lacks a sense of urgency. Better fuel economy would be welcome, too. And ... we're struggling here. Put it this way: If you're looking for a well-rounded luxury crossover, you'll be hard pressed to do better than an XC60.
What's New for 2013?
Although the XC60 is largely unchanged for 2013, the premium crossover adds a few new features. Headlamp washers and rain-sensing wipers are now standard, for instance. There's a new gear lever -- and it now includes a Sport mode in T6 and T6 R-Design models. And Volvo's Tunnel Mode turns on the XC60's headlights as it enters a tunnel. Option packages are also revised, with the Technology Package adding Volvo's new Road Sign technology, which can read important road signs and alert the driver.
What We Like
Excellent crash-test scores; strong optional turbocharged engine; accommodating back seat; easy on the eyes; plenty of cargo space
What We Don't
Mediocre base engine; subpar fuel economy with the turbo
How Much?
$35,000-$49,000
Fuel Economy
The XC60 3.2 model is powered by a 3.2-liter 6-cylinder engine that's rated at 240 hp and 236 lb-ft of torque. The all-wheel-drive T6 fixes all of this with its smooth turbocharged 3.0-liter inline 6-cylinder, which is good for 300 hp and 325 lb-ft of torque. The R-Design shares the T6's fundamentals but turns up the boost to 325 hp and 354 lb-ft. We didn't really notice a difference, but the R-Design is one quick crossover, no doubt about it.
Every XC60 comes with a 6-speed automatic transmission, which may not be the best device for maximizing fuel economy. The 3.2 gets a so-so 19 miles per gallon city/25 mpg hwy (18 mpg city/24 mpg hwy with all-wheel drive), but the turbocharged XC60 models drop to 17 mpg city/23 mpg hwy, which is a little behind the curve for a modest-sized crossover.
Options & Standard Features
The 2013 Volvo XC60 is offered in three trim levels. Base-level models are called the 3.2 and start around $35,000. They feature standard 18-inch wheels, a power driver's seat, remote keyless entry, Bluetooth, dual-zone automatic climate control and the 3.2-liter 6-cylinder engine. They also come with Volvo's City Safety system, which can bring the XC60 to a full stop at speeds under 15 miles per hour.
It's a big jump to the T6 ($41,500), but shoppers get a lot of bang for their buck. Not only does the T6 model add 60 hp to the 3.2, it also includes standard all-wheel drive, a power sunroof, leather upholstery and a power passenger seat.
Topping the XC60's range is the T6 R-Design ($45,800), which offers a sporty take on the T6. In addition to 25 hp more, it adds several appearance features inside and out to give the XC60 a performance-oriented feel.
Three option packages are available. The Premier Package is offered on the 3.2 only and adds enough features to equal the T6's equipment level. All models offer the Premier Plus Package, which includes a power lift gate, power-folding rear headrests, and front and rear obstacle detection. Topping the range is the Platinum Package, which includes navigation and a rearview camera.
Volvo also offers a Climate Package, which boasts heated windshield washer nozzles and heated front and rear seats, and the Technology Package, which includes adaptive cruise control, the Road Sign Information System, a lane departure warning system and a more advanced version of City Safety.
Safety
The 2013 XC60 features standard stability control, six airbags and Volvo's City Safety system, which can bring the car to a full stop at speeds under 15 mph. The XC60 also boasts a long list of optional accident avoidance technology, including the new Road Sign Information System, lane departure warning and adaptive cruise control.
Six airbags may not seem like many, but remember that it's the crash tests that count, and the XC60 aced them. In government crash testing, the XC60 scored a perfect five stars in all areas except rollover resistance, where it received four stars -- a function of its high center of gravity. The independent Insurance Institute for Highway Safety gave the XC60 its top rating of Good in every category.
Behind the Wheel
The XC60 has the quiet, smooth ride that luxury shoppers expect, and the view from the driver's seat is appropriately commanding. What's unexpected is the XC60's handling prowess, which blows up the stereotype of the stodgy, conservative Volvo family vehicle. There's real athleticism in the way the XC60 moves, though it never compromises the car's primary mission as a practical people hauler. Discerning drivers might still prefer a BMW X3, but the XC60 is right up there among the most satisfying crossovers to drive.
The XC60's front seats aren't quite as stellar as those in the S60 sedan, but they're close. Volvo's trademark combination of simplicity and long-distance support is certainly present in these chairs. From the driver's perspective, the dashboard is brilliant, too, featuring premium materials with distinctive graining, crisp gauges that employ Volvo's unique font and the "floating" slim-line center panel, which looks like something out of an avant-garde design magazine. Ergonomics are satisfactory, with extra points awarded for Volvo's neat airflow controls.
The XC60's back seat is more adult-friendly than many in this class. The integrated 2-stage child booster seats are a notable option, though they can't be ordered with the optional heated rear seats, so you'll have to choose. Fold the XC60's versatile 40/20/40 split rear seat back down and you'll enjoy 67.4 cu ft of cargo space -- a robust figure for a vehicle of this type. Even with the seat back fully in place, there's still 30.8 cu ft of room behind it.
Other Cars to Consider
Audi Q5 -- Smaller inside than the XC60, the Q5 nonetheless matches the Volvo's styling panache, and it's fun to drive, too.
BMW X3 -- The recently designed X3 boasts excellent power in turbocharged xDrive35i form, yet it still gets incrementally better fuel economy (19 mpg city/26 mpg hwy) than the sluggish XC60 3.2.
Cadillac SRX -- Rejuvenated for 2012 with a standard 308-hp V6, the SRX is a distinctive luxury crossover that finally has some real substance to go with its style.
AutoTrader's Advice
Get the T6 and avoid the 3.2-liter engine. You don't need the R-Design unless you're sold on its sporty style, since the T6 can be loaded with features to your heart's content.