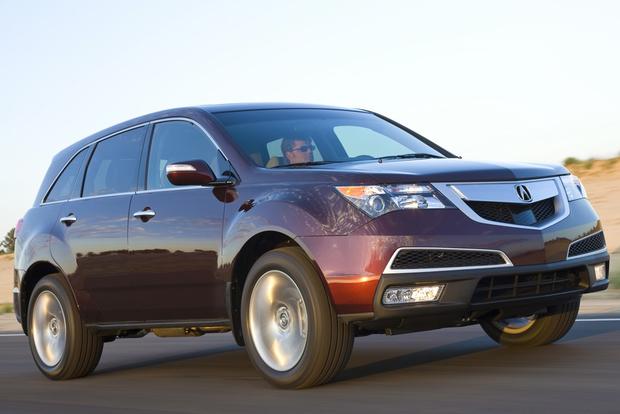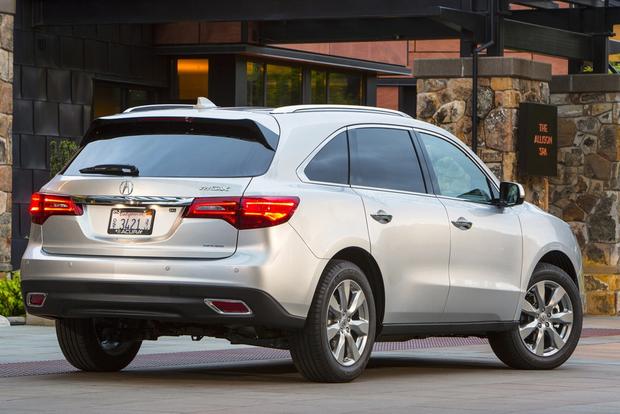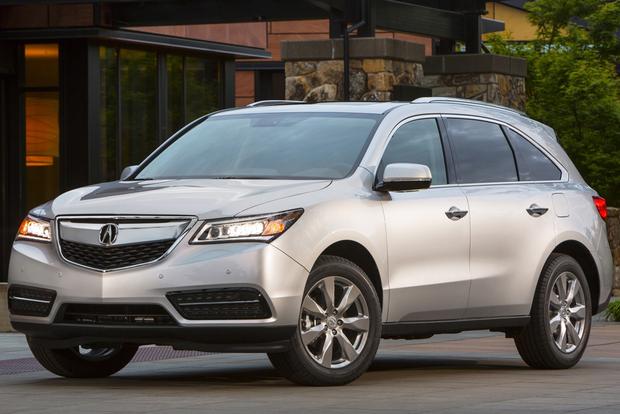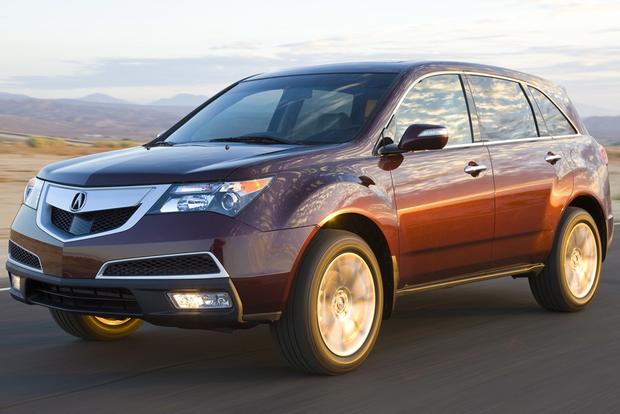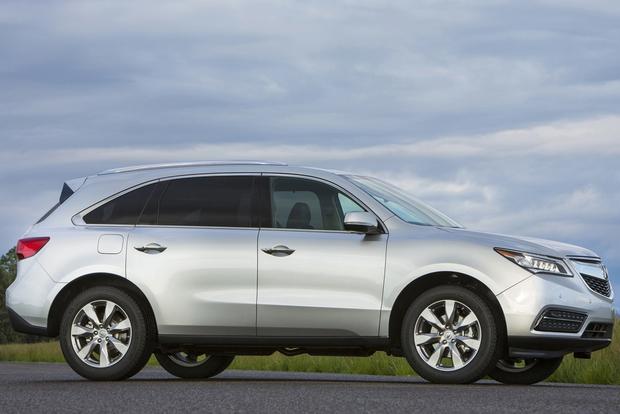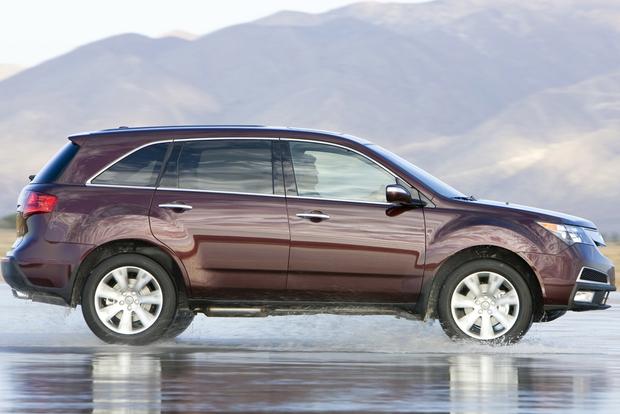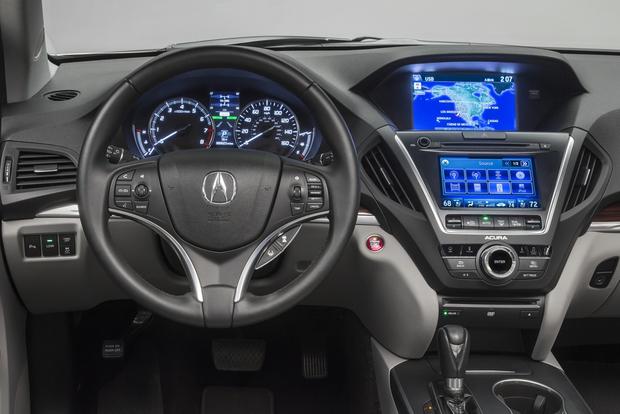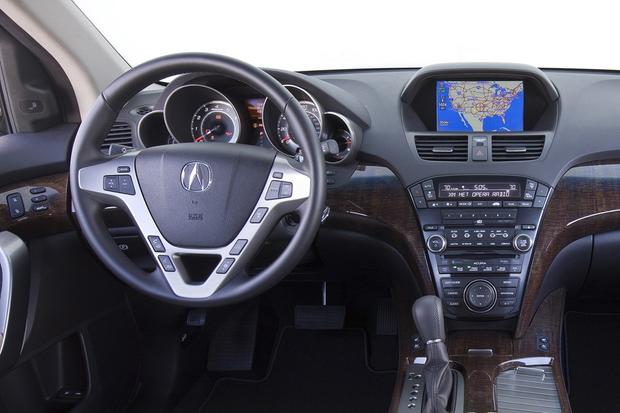 A redesigned 2014 Acura MDX is on sale: the third-generation version of a midsize luxury crossover SUV that has proven quite popular for this upscale brand from Honda. It replaces a vehicle that remains appealing in its own right, despite the fact that it is now seven years old. Has Acura made improvements significant enough to convince MDX buyers to pay a premium for the new 2014 MDX rather than choose an outgoing 2013 model or select from a variety of certified pre-owned examples of the 2008-2013 MDX? Let's take a look.
Fuel Economy
The old Acura MDX is equipped with a 3.7-liter V6 generating 300 horsepower and 270 lb-ft of torque. A 6-speed automatic transmission with Hill Start Assist and Grade Logic Control is standard, and because the MDX is marketed as a performance-oriented crossover SUV, it includes paddle shifters, Shift Hold Control and Cornering G Shift Control.
Every previous-generation MDX is equipped with Acura's Super Handling All-Wheel-Drive (SH-AWD) system. What makes it super at handling? Torque vectoring -- meaning that depending on driving conditions and driving style, the system can deliver a majority of engine power to a single rear wheel to improve grip and vehicle attitude when cornering.
The old MDX weighs a minimum of 4,594 pounds, and returns 16 mpg city/21 mpg highway and 18 mpg in combined driving. It requires premium unleaded.
By comparison, the new 2014 Acura MDX has gone on major diet, shedding 569 pounds. The SH-AWD system is now an option, which helps with regard to weight loss, and the new 2014 MDX is equipped with a new direct-injected, 3.5-liter V6 engine that includes Variable Cylinder Management (VCM) technology. With VCM, the engine can operate on fewer cylinders under certain driving conditions to conserve fuel.
The 2014 MDX is not as powerful as the previous-generation model, but given its massive weight reduction, it doesn't need to be. The new engine develops 290 hp and 267 lb-ft of torque while burning premium unleaded gas. The 6-speed automatic with Grade Logic Control still offers paddle shifters and Shift Hold Control, and includes a new Sport driving mode.
As a result of these changes, fuel economy is dramatically improved. With front-wheel drive, the new MDX returns 20 mpg city/28 mpg hwy and 23 mpg in combined driving. Choose SH-AWD and those figures drop to 18 mpg city/27 mpg highway and 21 mpg in combined driving.
The clear advantage in terms of fuel economy goes to the new 2014 MDX.
Safety
For the 2013 model year, the Acura MDX is named a Top Safety Pick by the Insurance Institute for Highway Safety (IIHS), and receives an overall crash test rating of four stars from the National Highway Traffic Safety Administration (NHTSA). Note that this is a strong 4-star NHTSA rating, as the old MDX has a minimum of four stars or five stars in every testing parameter, including rollover resistance.
The new 2014 MDX has not been crash tested as this article is written. However, it is constructed to next-generation Advanced Compatibility Engineering (ACE) structural standards, which Acura employs to make its products safer in certain types of collisions. Additionally, Acura adds more standard safety equipment to the 2014 MDX, makes optional safety features more accessible at a lower price point and debuts new safety technologies this year.
New standard features include an expanded-view driver's side mirror, a multi-view reversing camera and a knee airbag for the driver. The optional Technology Package adds a blind spot monitoring system at a lower price point than before, plus forward collision and lane departure warning systems. The Advance and Entertainment Package includes an adaptive cruise control system with new low-speed following capability, a Collision Mitigation Braking system with a new heads-up warning, a new Lane Keeping Assist System, new front and rear parking sensors and new E-pretensioning seat belts that automatically remove slack to better secure front-seat occupants.
While the 2014 MDX has not been officially crash tested, we're giving the nod for safety to the redesigned MDX on the strength of its upgraded ACE body construction and new safety features.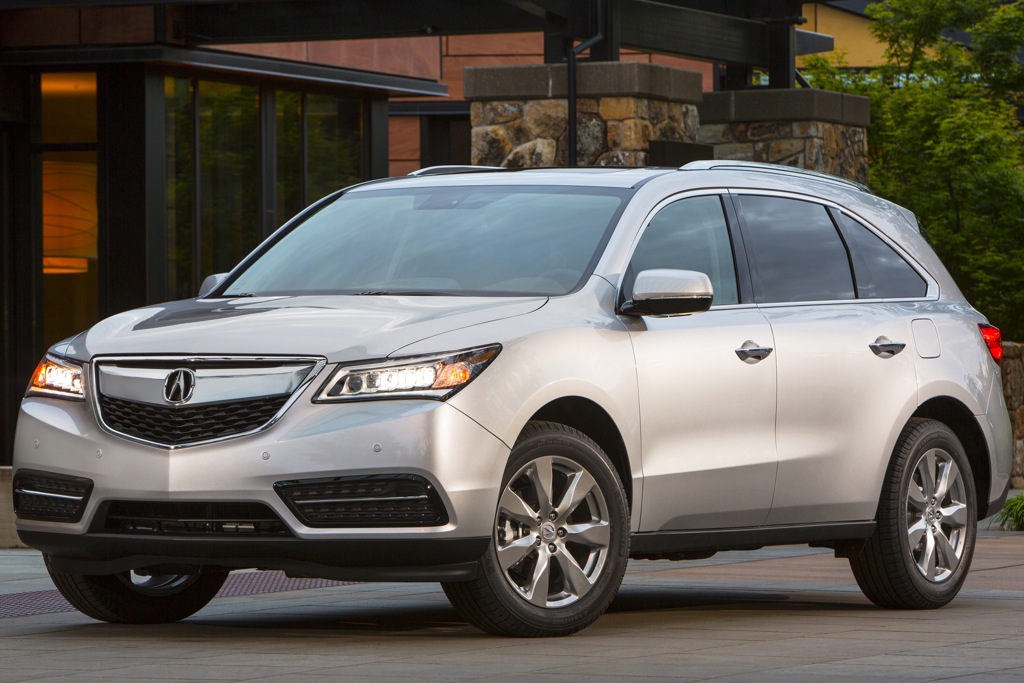 Reliability
During the past six years, the Acura MDX has performed at above-average levels in terms of reliability, according to Consumer Reports. This trend is likely to continue for the redesigned 2014 MDX, especially when considering the Acura brand's performance as a whole. Just in case new MDX owners encounter a problem, the SUV is equipped with a 4-year/50,000-mile warranty with roadside assistance, and the powertrain is covered for six years or 70,000 miles.
A certified pre-owned (CPO) MDX offers additional peace of mind. Acura's CPO program includes models that are six years old or newer and have fewer than 80,000 miles. To qualify, the vehicle must show a clean vehicle history report and pass a 150-point inspection. The dealer brings all scheduled maintenance up to date, details the vehicle inside and out and activates free 3-month subscriptions to satellite radio, real-time traffic reports and Acura Concierge services, if the vehicle is equipped with these features.
On top of this, each CPO Acura receives the remainder of the original warranty and roadside assistance program, or a 12-month/12,000-mile limited warranty with roadside assistance, whichever is longer. The powertrain warranty is also bumped to seven years/100,000 miles.
Based on this information, the main benefit of a CPO MDX is to get a car that's just a year or two old and still has a significant balance of its original warranty, plus the powertrain warranty extension. Either way, however, an MDX is likely to be reliable. We'll call this one a tie.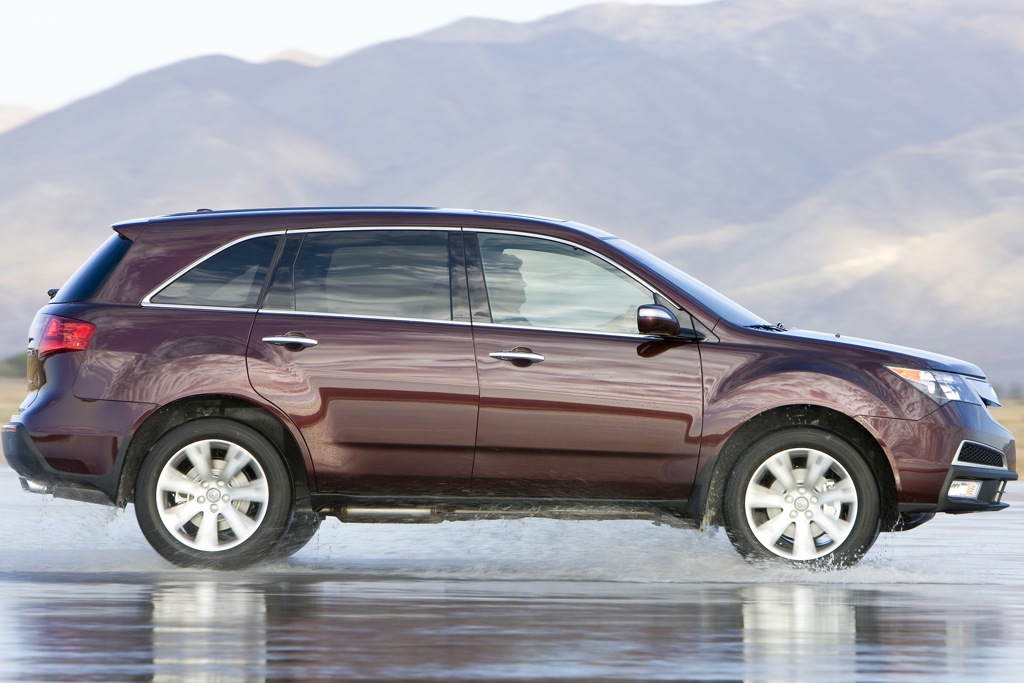 Value
As this article is written, there are 1,151 certified pre-owned MDX models for sale on AutoTrader.com, ranging from a 2008 MDX with just over 78,000 miles and wearing a price tag of $20,990 to a nearly new 2013 MDX with 390 miles and both the Advance and Entertainment Packages for $48,985.
Compare these prices to a new 2013 MDX, which starts at $44,175 and ranges up to $55,700 with the Advance and Entertainment Packages. As this article is written, leftover 2013 MDX models are available for $439 per month for 36 months with $2,499 due at lease signing and a maximum mileage limit of 30,000 miles.
A new 2014 MDX is actually priced lower than the old 2013 MDX, because SH-AWD is now an option. Prices start at $43,185 with front-wheel drive and $45,185 with SH-AWD, while the most expensive MDX with Advance and Entertainment Packages run $54,505 with FWD and $57,400 with SH-AWD.
Choosing a CPO MDX represents a minimum of a 12 percent discount, with older and higher mileage CPO models costing less than half what a new one does. Add the fact that the redesigned 2014 MDX is more advanced and less expensive than the model it replaces and the only way purchasing a leftover new 2013 MDX makes any sense is if dealers are offering at least a 10 percent discount from the sticker price.
In any case, we call this a tie between the value provided by a CPO MDX and the value provided by the redesigned 2014 MDX.
Technology
The new 2014 MDX is loaded with technology that was not available on the previous-generation model, and is the high-tech victor in this battle of new vs. old.
In addition to the safety features discussed above, new technology includes standard equipment such as Jewel Eye LED headlights, Smart Entry with push-button start, a standard USB/iPod connection, Active Sound Control, a 7-inch On-Demand Multi-Use Display screen and an 8-in infotainment screen. The new MDX also includes Agile Handling Assist and an Integrated Dynamics System with Sport, Normal and Comfort settings.
The new MDX model's Technology Package adds a new Acura/ELS Studio audio system with DTS Neural Surround Sound, surface street traffic information and AcuraLink Next Generation smartphone pairing and data services. The new Advance Package contains yet another audio system upgrade, an ultra-wide 16.2-in rear-seat entertainment screen, ventilated front seats that are integrated with the climate control system and remote engine starting.
AutoTrader's Advice
The redesigned 2014 MDX demonstrates huge gains in terms of fuel economy, big leaps forward in terms of safety and infotainment technology and, like its predecessor, is likely to continue to provide reliability for many years to come. The old MDX remains one of our favorites and sure is appealing in CPO format with a discount, but it's not the better SUV.