Editor's note: You may also be interested in reading more of Autotrader's model vs. model car comparison reviews as well as the 2013 Chevrolet Silverado 1500 car review and the 2014 Chevrolet Silverado 1500 car review.
Redesigned full-size pickup trucks are a rarity, but once factories start spitting out copies of the new 2014 Chevrolet Silverado 1500 in full force, you'll see them everywhere. This is and (for as long as most people can remember) has been one of the best-selling vehicles in the U.S., a workhorse truck whose owners are often passionate enough about their pickups to make their Chevy Silverados extended members of the family.
Heading into summer, Chevy dealers are unloading the old 2013 Silverado to make room for the redesigned 2014 Silverado 1500. The deals on the old model are impressive, amounting to thousands off the sticker price. Should truck buyers take advantage of deep discounts on the old Silverado or pay more for the new 2014 Chevrolet Silverado? Let's take a closer look at how these two trucks compare.
Fuel Economy
Before diving into the details, you should know that, as this article is written, Chevrolet has released official specifications for only two of the 2014 Silverado's three new EcoTec3 engines, and that the Environmental Protection Agency (EPA) has not published official fuel economy estimates for any of the Silverado's powerplants. Also, this article covers only the 1500-series trucks, not the 2500HD and 3500HD models.
The 2014 Chevy Silverado's 5.3-liter V8 is expected to be the most popular of three engine choices, which also will include a new 4.3-liter V6 and a new 6.2-liter V8. All three engines include direct fuel injection and an Active Fuel Management cylinder-deactivation system, and are paired with a 6-speed automatic transmission powering the rear wheels. Four-wheel drive is optional, and Chevrolet provides free scheduled maintenance for the first two years or 24,000 miles of Silverado ownership.
According to Chevrolet, the 4.3-liter V6 is rated to generate 285 horsepower at 5,300 rpm and 305 lb-ft of torque at 3,900 rpm, giving it a maximum towing rating of 7,200 pounds. Buyers who upgrade to the 5.3-liter V8 will receive an engine capable of producing 355 hp at 5,600 rpm and 383 lb-ft of torque at 4,100 rpm, with a tow rating up to 11,500 pounds with the Max Towing Package. Chevrolet has not finalized details about the upcoming 6.2-liter V8 engine, which is optional for the Silverado Double Cab and Silverado Crew Cab, but the automaker is estimating it will make 420 hp and 450 lb-ft of torque and provide up to 12,000 pounds of towing capacity.
The only engine for which the automaker has published unofficial fuel economy estimates is the 5.3-liter V8. According to Chevrolet, this engine will return 16 miles per gallon in the city, regardless of drivetrain. With 2-wheel drive, highway mileage is expected to measure 23 mpg. With 4-wheel drive, highway mileage drops to 22 mpg.
Compare these estimates with official EPA fuel economy ratings for the outgoing 5.3-liter V8 with Active Fuel Management. In its most fuel-efficient form, installed in the Silverado XFE Crew Cab with 2-wheel drive, the old engine mustered 15 mpg city/22 mpg hwy. In other Silverado models, the range was from 15 to 21 mpg, regardless of drivetrain.
Clearly, the 2014 Chevy Silverado has an advantage in fuel economy. And when comparing the old 4.3-liter V6 (195 hp/260 lb-ft), 5.3-liter V8 (315 hp/335 lb-ft) and 6.2-liter V8 (403 hp/417 lb-ft) to the new replacement engines, the redesigned truck has a significant horsepower and torque advantage — one that increases towing capacity for 2014.
The winner in fuel economy: 2014 Chevy Silverado.
Safety
The 2013 Chevy Silverado is reasonably safe, earning a 4-star overall rating from the National Highway Traffic Safety Administration (NHTSA), a solid performance given today's Silverado was engineered before NHTSA strengthened testing parameters for the 2011 model year. However, in tests by the Insurance Institute for Highway Safety (IIHS), which measures crash protection above official government standards, the Silverado receives a Marginal rating for roof crush strength. In frontal-, side- and rear-impact assessments, IIHS gives the Silverado ratings of Good or Acceptable.
While the redesigned 2014 Silverado hasn't been subjected to official crash-test procedures, it should improve in this area. For example, Chevrolet has used stronger and lighter high-strength steel to construct most of the new Silverado's underlying structure, and the new truck also has redesigned safety belt lap pre-tensioners.
Furthermore, the redesigned Silverado comes with new safety-related technologies. MyLink Bluetooth connectivity is standard on all except the base model, while a convex driver's side blind-spot mirror is standard for the Silverado LT, LTZ and High Country models. Forward Collision Alert, Lane Departure Warning and a Safety Alert Seat design are new options for 2014, and the Silverado can be optioned with front parking sensors in addition to the previously available rear parking sensors. OnStar telematics with Automatic Crash Response service returns for 2014, as well as an optional reversing camera system.
Given the upgrades to the 2014 Silverado's structure, coupled with new safety technologies, we'll give the new truck the nod for safety despite the absence of official crash-test performance data.
Reliability
Peruse reliability data from Consumer Reports and you'll find that light-duty full-size trucks all shake out to be average — except for the Toyota Tundra, which displays a strong record for above-average performance in this regard. Check the data from the latest J.D. Power and Associates quality and dependability studies, however, and you'll find the full-size truck segments dominated by General Motors products. That bodes well for the current 2013 model's ability to provide reliable, dependable service for years to come.
These J.D. Power ratings also make Chevrolet's Certified Pre-Owned (CPO) warranty coverage even more appealing. In addition to the original 5-year/100,000-mile powertrain warranty, which remains in effect — and the remainder of the original 3-year/36,000-mile new vehicle warranty or 1-year/12,000-mile CPO vehicle warranty (depending on the CPO vehicle's age and mileage) — Chevrolet provides CPO Silverado buyers with two years or 30,000 miles of free scheduled maintenance.
Moreover, each truck receives a thorough 172-point inspection, is thoroughly reconditioned, comes with a free vehicle history report and includes 24-hour roadside assistance throughout the powertrain warranty. Chevy also throws in free satellite radio and OnStar subscriptions for the first three months. And if you decide you don't like your CPO Silverado, you can bring it back and get something else within 72 hours, as long as you haven't driven it more than 150 miles.
Compare these benefits to the new 2014 Silverado and its redesigned family of engines. The new truck is protected by a 3-year/36,000-mile standard warranty, a 5-year/100,000-mile powertrain warranty with 24-hour roadside assistance and a courtesy transportation program, and a 2-year/30,000-mile free scheduled maintenance plan. Satellite radio is free for the first three months, and Chevy provides OnStar telematics for the first six months.
Given GM's excellent CPO program benefits, combined with GM full-size truck performance in J.D Power quality and dependability studies, we're giving the nod to the old Silverado for reliability — especially as its powertrains are known entities.
Value
The price of a new 2014 Chevy Silverado is the same as that of an old 2013 Chevy Silverado — at least the price shown on the window sticker. Given the free scheduled maintenance program, the more powerful engine choices and the increases in payload and towing capacity, those benefits alone represent strong value.
For now, however, the deep discounts for leftover 2013 Silverado models outweigh the 2014 Silverado's benefits. As this article is written, Chevrolet is offering a $2,500 consumer cash allowance on the Silverado and just wrapped up a Memorial Day sale that placed another $750 in cash on the hood. Subtract these offers from the Silverado's invoice price and truck buyers are saving thousands of dollars. And that's before considering any additional money that dealers use to sweeten the pot.
Alternatively, consumers can finance a new 2013 Silverado with 0 percent interest for 60 months or take advantage of low lease payments. And if you own a 1999 or newer Chevy truck and trade it in on a new 2013 model, Chevrolet is giving discounts as high as $8,500.
Now consider a CPO Silverado. As this article is written, there are 436 certified used 2013 Silverado 1500 trucks for sale on AutoTrader.com, ranging from $18,000 for a Work Truck 2WD Regular Cab with 1,100 miles to nearly $41,000 for an LTZ 4WD Crew Cab with 301 miles on the odometer. Expand the search to cover all CPO Silverado 1500 models and the inventory amounts to 4,866 units priced from $12,800. Plus, Chevrolet is offering loans with interest rates as low as 1.9 percent APR financing for its CPO Silverados.
While Chevrolet is holding the line on base prices for the 2014 Silverado, which remain the same as last year, and even though the new Silverado offers free scheduled maintenance for the first two years or 30,000 miles of ownership, the deals on leftover new 2013 Silverados and CPO Silverados, combined with the CPO program's impressive benefits, give the old truck better value.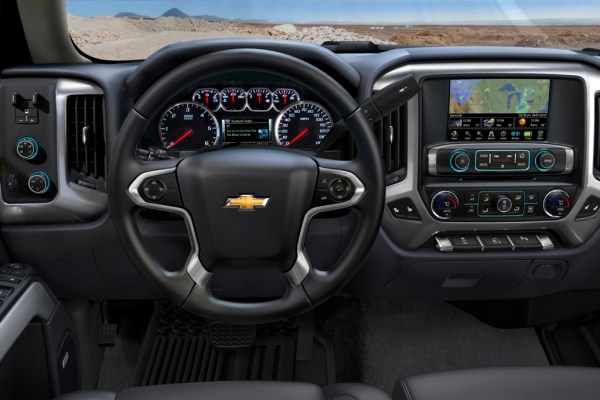 Technology
Naturally, the new 2014 Chevy Silverado is the more technologically advanced truck. With its new direct-injection engines and expansion of Chevrolet's fuel-saving Active Fuel Management system to all three engine choices, new safety-related technologies such as Forward Collision Warning, Lane Departure Warning and a Safety Alert Seat, the new Silverado impresses. Add Chevrolet MyLink smartphone pairing technology with a choice between a 4.2- or an 8-inch color touchscreen, natural voice recognition, HD Radio and Pandora streaming Internet radio and the clear victor in technology is the new 2014 Silverado.
AutoTrader's Recommendation
The redesigned 2014 Chevy Silverado is the superior truck. It has more horsepower and torque, hauls more stuff, tows more weight, goes farther on each gallon of gas, offers modern technology and is likely to prove safer than the vehicle it replaces. But the deals on leftover new 2013 models are amazing. And CPO Silverados represent genuine value beyond their lower prices. If you need to save money, get the old Silverado. Otherwise, sit tight for the redesigned 2014 Silverado to roll onto your local dealer's lot.
Find a 2013 Chevrolet Silverado 1500 for sale