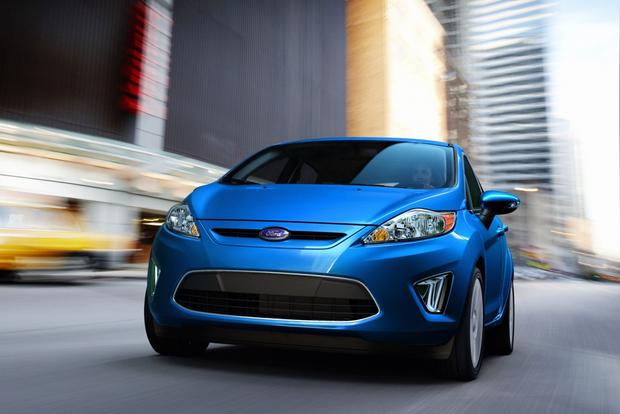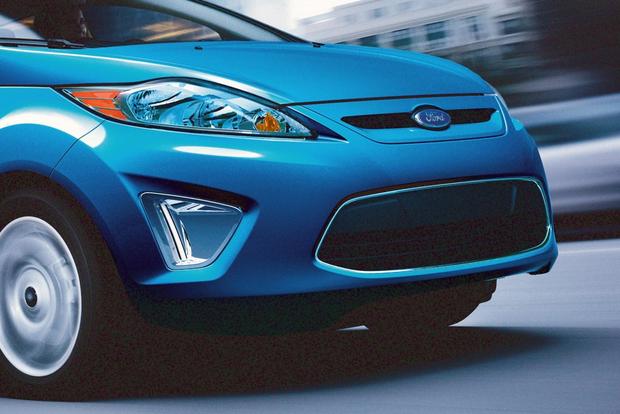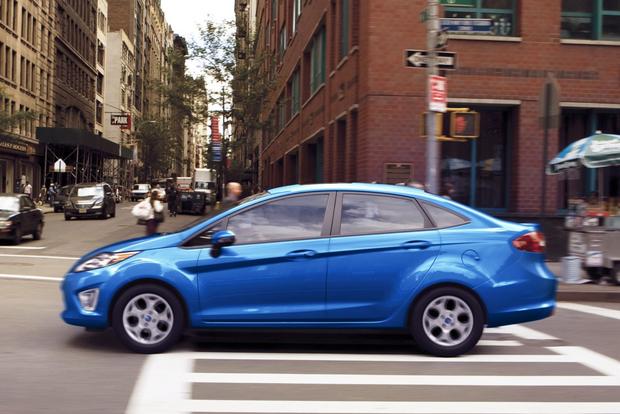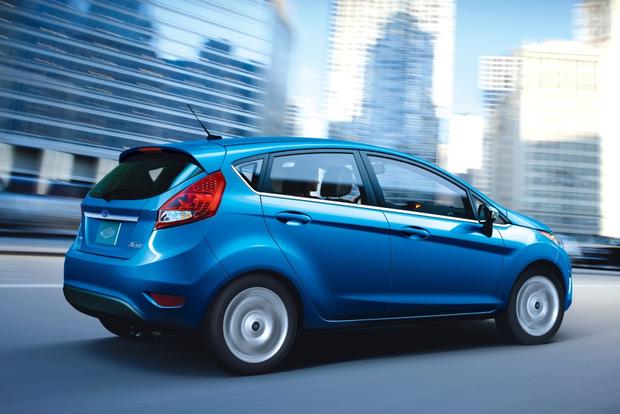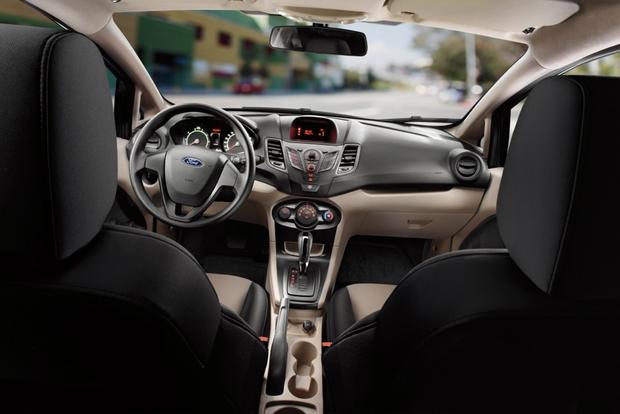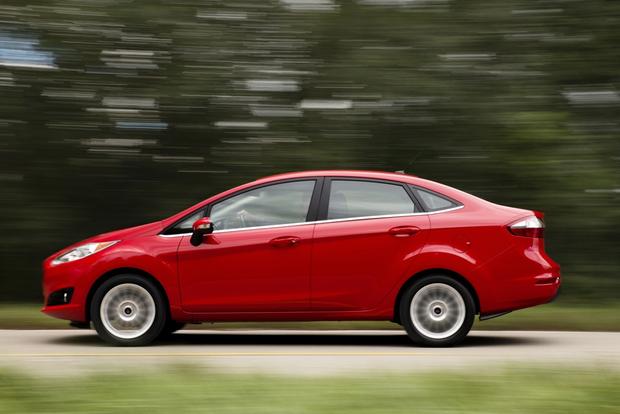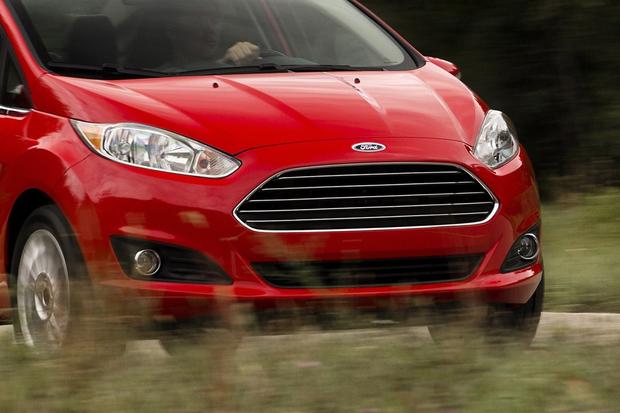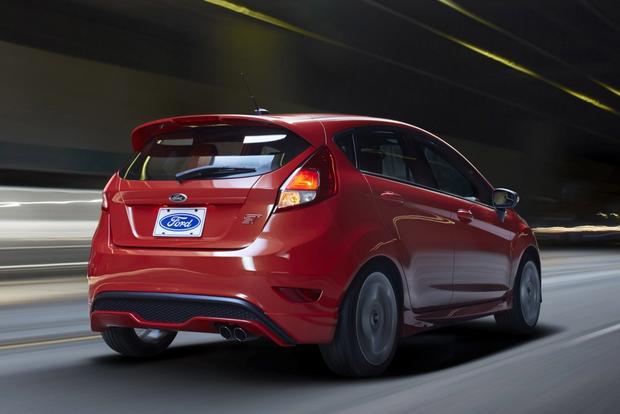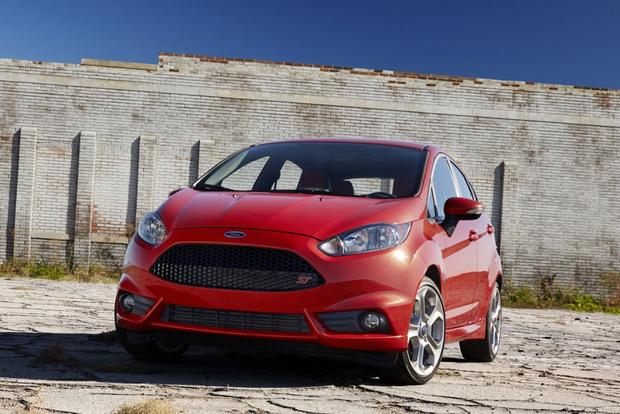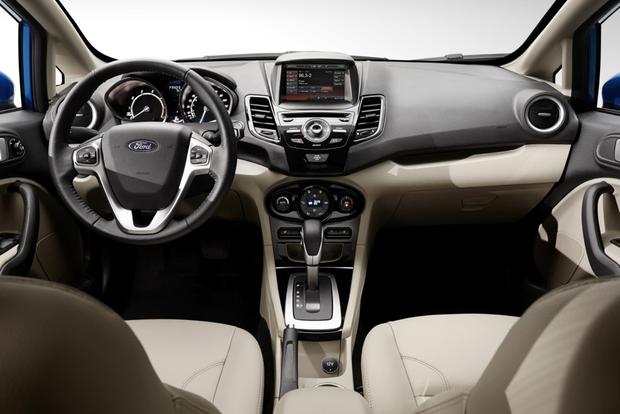 In 2011, Ford was ahead of emerging demand for subcompact cars with the Fiesta, and now the 2014 Ford Fiesta lineup expands and benefits from several upgrades designed to keep the car competitive against newer entrants in the class. In addition to refined styling and added technology, a new performance-oriented Fiesta ST model debuts for 2014, and a new turbocharged 3-cylinder engine promising greater power and fuel economy arrives as an option.
The question is, should small car buyers pay extra for the revamped 2014 Fiesta, or would a certified pre-owned (CPO) Fiesta make better financial sense? We'll give you the data to make the right decision.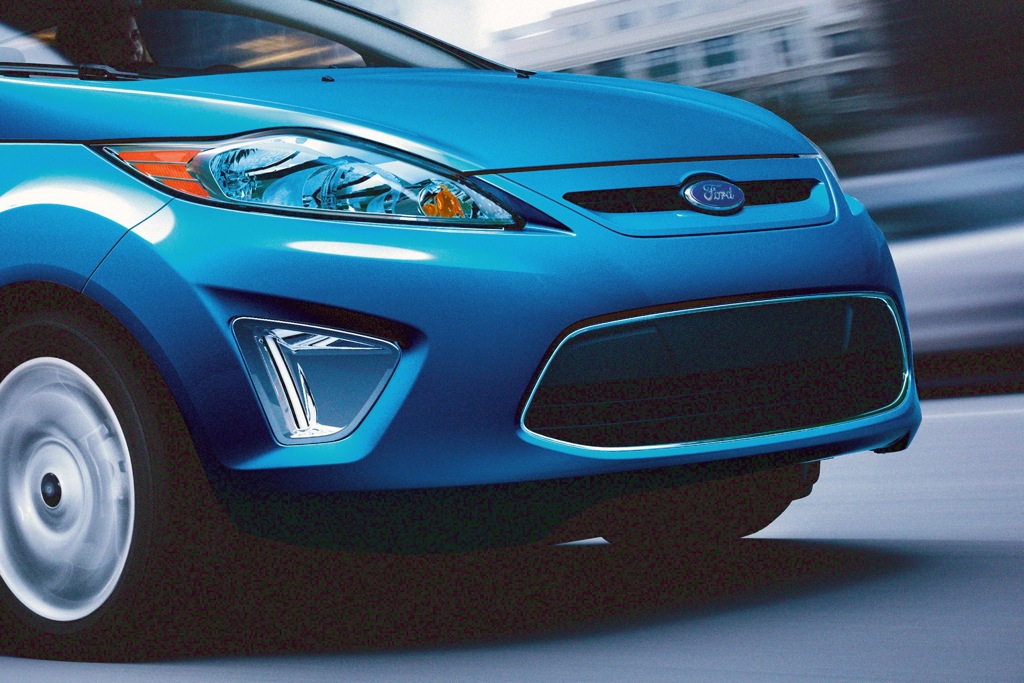 Fuel Economy
Since 2011, a 1.6-liter 4-cylinder engine generating 120 horsepower and 112 lb-ft of torque has powered the Ford Fiesta. A 5-speed manual gearbox was standard, with a 6-speed automated manual gearbox called PowerShift available as an option. To the driver, the PowerShift transmission operated like a traditional automatic, but shift quality did not match what buyers were used to, leading to many complaints.
These powertrains carry over for the 2014 Fiesta, though Ford has refined the optional PowerShift transmission, and it now works better than before. Also, a new performance-oriented Fiesta ST model debuts with a turbocharged 1.6-liter EcoBoost 4-cylinder capable of making 197 hp and 202 lb-ft of torque. Furthermore, Ford is also going to offer a new turbocharged 1.0-liter EcoBoost 3-cylinder engine for the 2014 Fiesta, which makes a little more horsepower than the standard 4-cylinder (123 hp vs. 120 hp) and a lot more torque (148 lb-ft vs. 112 lb-ft).
Concerning fuel economy, the old Fiesta returned 33 miles per gallon in combined city and highway driving regardless of transmission choice. The optional Super Fuel Economy Package bumped highway mileage from 39 mpg to 40 mpg.
The 2014 Ford Fiesta's mileage ratings are actually lower than the old Fiesta, except for those models with the Super Fuel Economy Package. They get 34 mpg in combined city and highway driving, with a 41-mpg highway rating. Versions with the standard manual gearbox are now rated 31 mpg in combined driving compared to 33 mpg previously, while Fiestas with the PowerShift transmission dip to 32 mpg in 2014 compared to the old model at 33 mpg. As might be expected, the new performance-tuned Fiesta ST, only offered with a manual gearbox, gets 29 mpg in combined driving.
That leaves us to speculate about that new 1.0-liter EcoBoost engine, which arrives later in the model year. Ford is promising a "thrill-packed ride with 40 mpg-plus." However, final fuel economy estimates are not available from the automaker or the Environmental Protection Agency.
Until the new EcoBoost engine's fuel economy estimates are finalized, the old Fiesta actually looks like the more fuel-efficient model.
Safety
In 2013, the Fiesta received an overall crash-test rating of four stars from the National Highway Traffic Safety Administration (NHTSA) and a Top Safety Pick rating from the Insurance Institute for Highway Safety (IIHS). NHTSA, however, noted a safety concern related to rear-door panel intrusion in a side-impact crash, despite the car's 5-star rating for that individual assessment.
For 2014, IIHS calls the Fiesta a Top Safety Pick, but as this article is written this car has not been subjected to the tough new small overlap frontal-impact test. Also, it appears NHTSA plans to re-test the Fiesta for side-impact crash performance. NHTSA currently offers only a 4-star frontal-impact rating and a 4-star rollover rating.
Despite the lack of complete data for the 2014 Fiesta, we're going to name it the safer vehicle. The reason is that it is now available with Ford's MyKey programmable safety technology. Using MyKey, a Fiesta owner can program vehicle speed alerts, vehicle speed limitations and stereo volume limits. Moreover, MyKey can program the stereo to remain muted until the seat belts are fastened, to emit incessant warnings about seat belt use and to cancel the ability to turn off safety features such as traction and stability control systems.
Reliability
The Fiesta's track record for reliability isn't favorable. According to Consumer Reports, owners complain about the car's transmission, audio system, and general quality and construction. J.D. Power gives the Fiesta low ratings for quality and an average prediction for reliability.
A 3-year/36,000-mile standard warranty, a 5-year/60,000-mile powertrain warranty and a 5-year/60,000-mile roadside assistance program are included with new 2014 Fiesta models. If you select a CPO Fiesta, the powertrain warranty is extended to cover the engine and transmission for seven years or 100,000 miles, and the car is accompanied by a vehicle history report and put through a 172-point inspection. Additionally, the remaining balance of the standard warranty coverage or a 12-month/12,000-mile program, whichever is longer, is included.
Given the car's unimpressive reliability record, and because complaints revolve in part around the transmission, a CPO Fiesta makes sense if for no other reason than it provides an extra two years and 40,000 miles of powertrain warranty coverage.
Nevertheless, we're going to recommend the new car. That way, you know exactly how it has been treated and maintained since new. Just consider getting an extended warranty or leasing instead of buying.
Value
New 2014 Fiesta models range from $14,795 for a Fiesta S sedan with a manual transmission to $26,960 for a Fiesta ST hatchback with all the extras. Those are relatively affordable prices in the new-car marketplace.
Still, a CPO Fiesta can save you thousands of dollars. AutoTrader's classifieds show prices from about $10,500 for a 2011 Fiesta S sedan with just over 38,000 miles to just under $20,000 for a 2013 Fiesta SE sedan with 60 miles on it. That's right. Sixty miles.
The thing is, that newer CPO Fiesta is basically the same price as a new one after factoring in the $500 rebate Ford is offering. Thanks to lower-interest financing offers on new Fiestas, the CPO Fiesta could actually end up costing more.
Choosing an older CPO Fiesta can save several thousand dollars even as it extends warranty coverage, but we still think getting a new one, negotiating the price to invoice and taking advantage of rebates or low-interest financing is smarter.
Technology
The Fiesta has always been one of the most sophisticated small cars. For 2014, it is enhanced with the availability of MyKey (discussed above) and, for the first time, MyFord Touch technology with a navigation system and a Sony premium audio system. SYNC AppLink continues for 2014, allowing for the operation of popular smartphone apps right from the car's touchscreen or through voice commands.
In terms of technology, the 2014 Ford Fiesta is the better car.
AutoTrader's Advice
There are three reasons to consider a CPO Fiesta instead of a new 2014 Fiesta. First, the base 1.6-liter engine gets better gas mileage without the Super Fuel Economy Package. Second, you can save a few grand by going with the CPO Fiesta. Third, the powertrain warranty is extended for the CPO Fiesta. Nevertheless, the updated 2014 Fiesta is the better car, and we think you should buy it instead, even if you need to take the low-rate, 72-month financing deal to make the payment fit your budget.