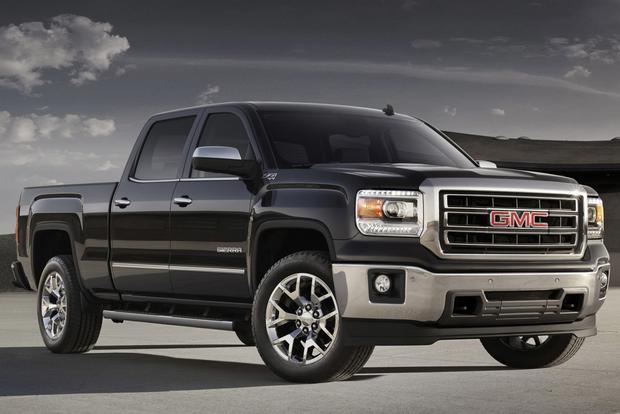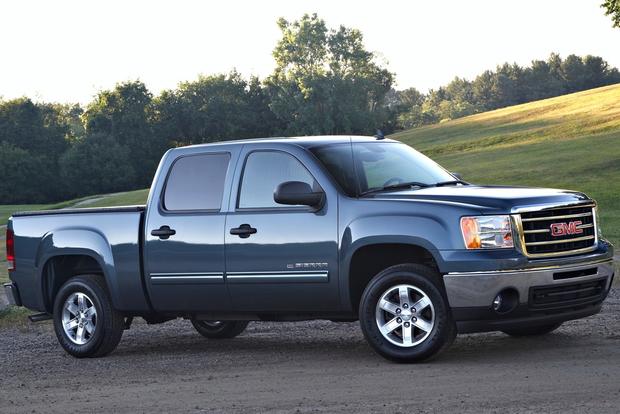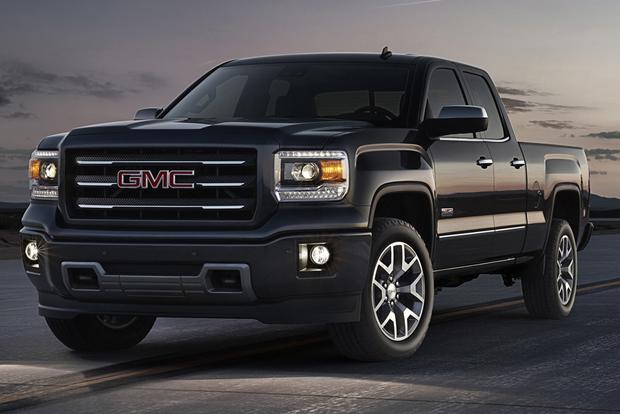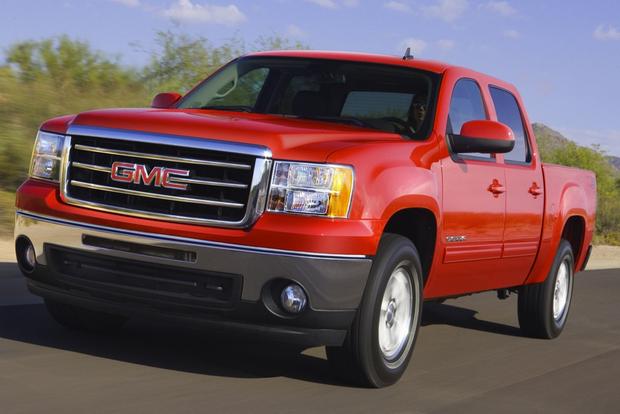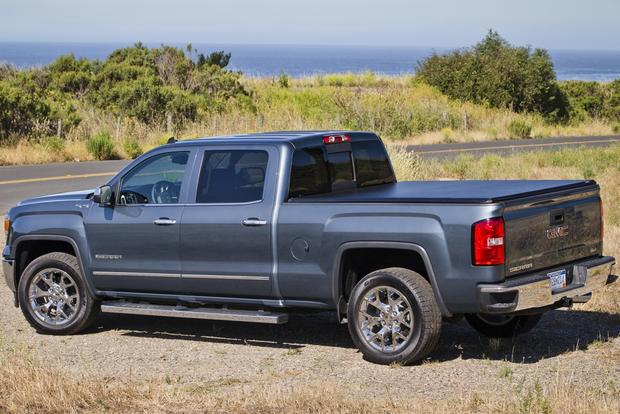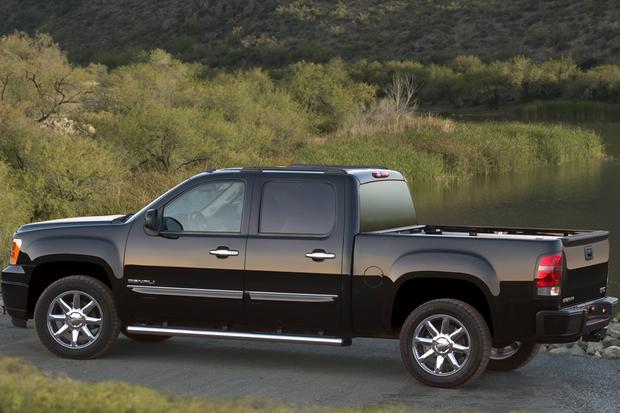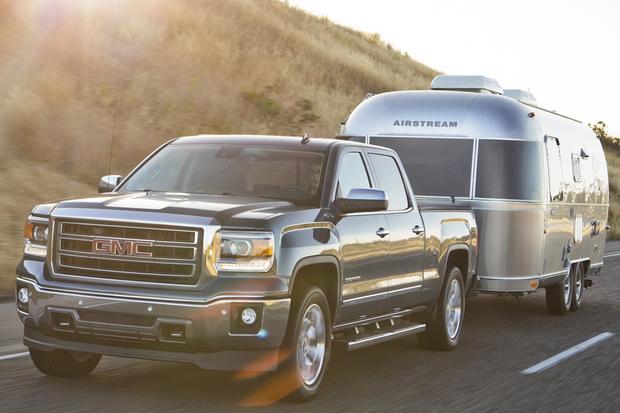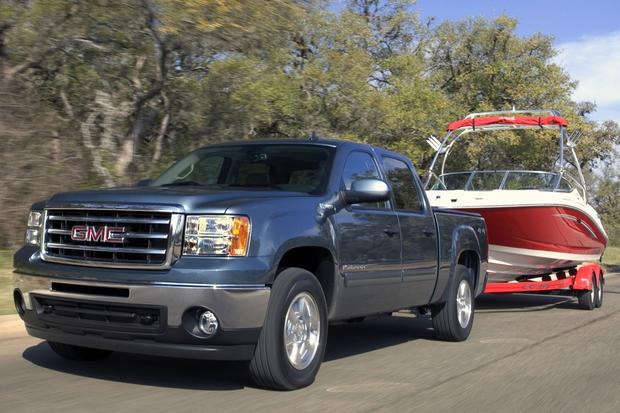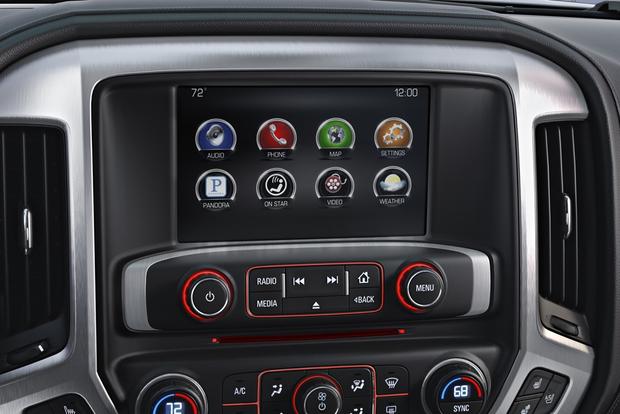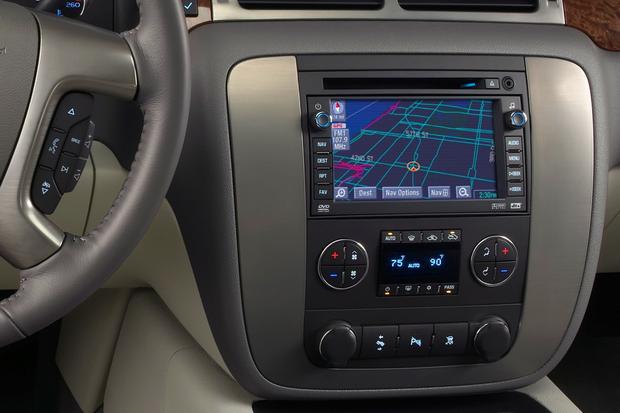 Though it looks much like the pickup truck it replaces, the 2014 GMC Sierra 1500 is completely redesigned. There might be a bolt here or a nut there that was used to construct the previous-generation Sierra. Bumper to bumper, though, this is a totally new rig. The engines are new, the underlying structure is new, the styling is new and the cabin is new.
Trouble is, the previous GMC Sierra wasn't a bad truck. Given both the new Sierra and the old Sierra will be sold side by side over the summer, we thought we'd take a closer look at both versions to help smart truck buyers decide which one is best.
Fuel Economy
GMC offers three new engines for the 2014 GMC Sierra 1500: a 4.3-liter V6, 5.3-liter V8 and 6.2-liter V8. These power plants are more powerful than the engines that they replace, carry greater payload, tow more weight and, based on figures released to date, they're more fuel efficient.
The 4.3-liter V6 generates 285 horsepower and 305 lb-ft of torque. Maximum towing capacity is 7,200 pounds. The 5.3-liter V8 produces 355 hp and 383 lb-ft of torque, and can tow up to 11,500 pounds when properly equipped. The 6.2-liter V8 is expected to make 420 hp and 450 lb-ft of torque (final figures are not available as this is written); this V8 will tow up to 12,000 pounds of trailer.
All three engines are paired with a 6-speed automatic transmission; 4-wheel drive is optional, and GMC provides free scheduled maintenance for the first two years or 24,000 miles of ownership.
Fuel economy estimates are available for the V6 and the 5.3-liter V8. The V6 returns between 17 miles per gallon with 2-wheel drive and 24 mpg with 4-wheel drive. The V8 is rated to go 16 mpg with either drive type. Highway fuel economy tops out at 23 mpg with 2-wheel drive.
The new engines are more fuel efficient, in part due to standard Active Fuel Management cylinder deactivation technology. This allows the engines to run on just four cylinders under low driving load conditions to conserve fuel. The outgoing 2013 Sierra also has Active Fuel Management but only for the 5.3-liter V8.
The outgoing Sierra's 4.3-liter V6 is rated to make 195 hp and 260 lb-ft of torque; the 5.3-liter V8 generates 315 hp and 335 lb-ft of torque; and the 6.2-liter V8 provides 403 hp and 417 lb-ft of torque. Maximum towing capacity for the largest engine, when properly equipped, measures 10,700 pounds.
The 2013 Sierra is offered as an XFE Crew Cab model, with XFE standing for Xtra Fuel Economy. This most fuel-efficient version of the old Sierra was rated 15 mpg city/22 mpg hwy, and that was with a tonneau cover stretched across the bed to smooth airflow and improve aerodynamics.
Clearly, the new 2014 Sierra is the more fuel-efficient truck, and the more powerful and capable one.
Safety
The 2013 GMC Sierra generally is a safe vehicle. The only concern is a Marginal rating for roof crush strength from the Insurance Institute for Highway Safety (IIHS). Safety-related options include OnStar telematics with Automatic Crash Response and Crisis Assist service, rear parking assist sensors and a reversing camera.
For the redesigned 2014 Sierra, GMC employs lightweight, high-strength steel for much of the truck's structure, including the cab. OnStar returns with the same safety-related services, and the new Sierra offers upgraded seat belt design, an available driver's side blind spot mirror and options that include front and rear parking assist sensors, a reversing camera, a forward collision warning system, a lane departure warning system and a Safety Alert Seat that vibrates to get the driver's attention in light of a threat.
As this article is written, the new Sierra hasn't been crash tested. However, given the expanded use of high-strength steel in the truck's structure and combined with new safety technologies, we think the 2014 Sierra will prove to be the safer of the two pickups.
Reliability
In the J.D. Power and Associates 2013 Initial Quality Study, the 2013 GMC Sierra 1500 won an award for highest quality among full-size, light-duty pickups. It tied with the Chevy Avalanche, another General Motors product. In the J.D. Power 2013 Vehicle Dependability Study, the Sierra 1500 ranks second, behind only the Sierra Heavy Duty models. Clearly, the 2013 Sierra is likely to be dependable.
The redesigned 2014 Sierra has a family of new, unproven engines. However, like the 2013 Sierra, the redesigned truck is protected by a 3-year/36,000-mile standard warranty and a 5-year/100,000-mile powertrain warranty. For the duration of the powertrain warranty, the truck includes free 24-hour roadside assistance and, if repairs are needed, courtesy transportation at GM's expense. Scheduled maintenance is free for two years and 24,000 miles, and Sierra buyers enjoy three free months of satellite radio and six free months of OnStar service in trucks equipped with these upgrades.
That helps to reduce concern about the new engines, for sure. But if you purchase a certified pre-owned (CPO) Sierra, the protection is amazing. First, a CPO Sierra must pass a 172-point inspection and have a clean vehicle history report. Then GMC fully reconditions the truck and provides the rest of the original warranty and 24-hour roadside assistance plan, or a 1-year/12,000-mile warranty, for older models.
To sweeten the pot even more, a CPO Sierra includes two years or 30,000 miles of free scheduled maintenance, three free months of satellite radio and OnStar services and, if you decide you don't like the truck you bought, you can return it within 150 miles of driving/72 hours and select something else.
Yes, that new 2014 Sierra is pretty cool. But the 2013 Sierra has proven itself in terms of durability and comes with a long list of benefits as a CPO model.
Value
The 2014 Sierra 1500 is slightly more expensive than the truck it replaces. However, this price increase is justified by more powerful and fuel-efficient engines, greater towing and payload capabilities, new Duralife brake rotors that last twice as long as before and other upgrades.
The reality, though, is that dealers are giving steep discounts on remaining 2013 Sierras in stock. As this article is written, any new 2013 Sierra can be financed at 0 percent interest for 60 months. Alternatively, buyers can take advantage of a $2,500 rebate. And if you own an eligible GMC model and trade it in, you can get up to $8,500 off the price of a Sierra 1500 Crew Cab with the Powertech Value Package.
Deals on the new 2013 Sierra are undeniably good. Now, consider a CPO Sierra. Currently, there are 1,701 CPO Sierras listed on AutoTrader.com. The most expensive is a 2013 Sierra Denali Crew Cab with 8,420 miles, priced at just over $46,000. The least expensive is a 2008 Sierra W/T Regular Cab with 57,518 miles for less than $14,000. These CPO Sierras can be financed at 1.9 percent APR through July 1.
The redesigned 2014 Sierra is appealing, but when it comes to value, the 2013 Sierra and CPO Sierras can't be beaten right now.
Technology
Predictably, where the new 2014 Sierra regains ground is with technology. Whether we're talking about direct-injected engines with Active Fuel Management, GMC IntelliLink smartphone connectivity with color touchscreens and natural voice recognition or new safety options such as the vibrating Safety Alert Seat and the Sierra's forward collision and lane departure warning systems, the new truck is clearly the more technologically advanced.
The victory here is easy to declare: 2014 Sierra.
AutoTrader's Advice
There are two very good reasons to buy a leftover 2013 Sierra or a CPO Sierra. First, you save a lot of money. Second, the outgoing Sierra design has proven itself dependable, according to J.D. Power. That said, the redesigned 2014 Sierra is the better truck. It is stronger, more fuel efficient, more technologically advanced and likely to prove safer. If you can swing the payment on the new Sierra, forget about the old truck, as good as it is.