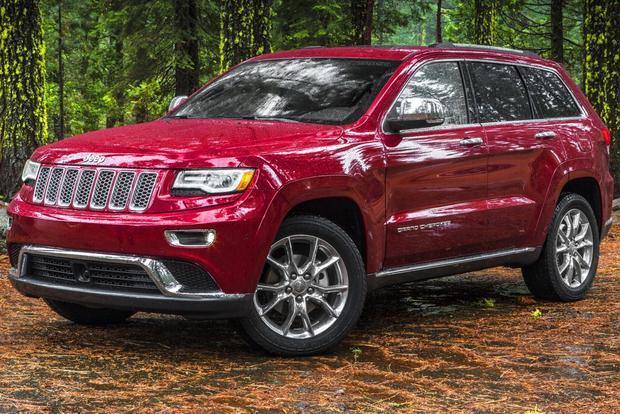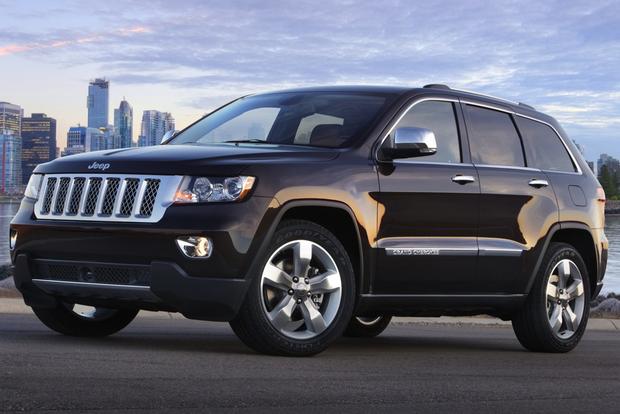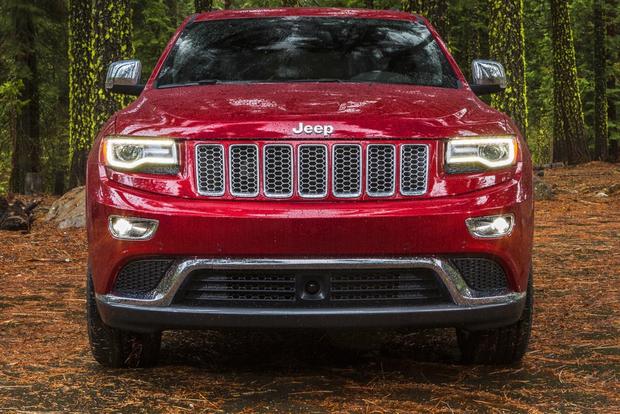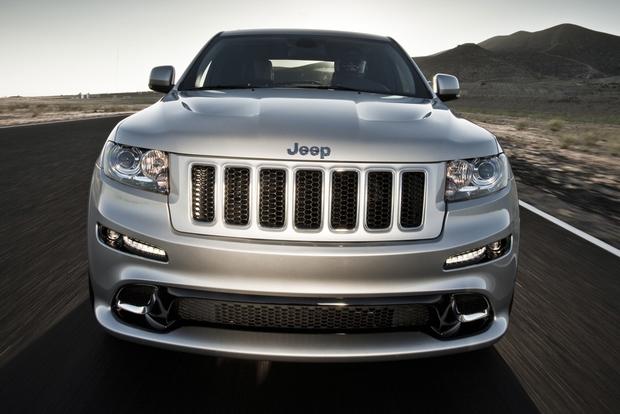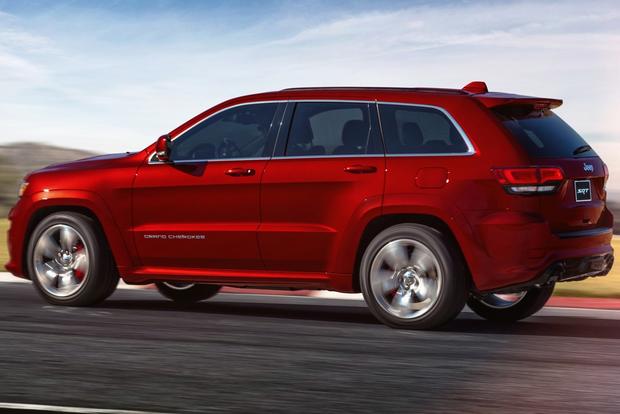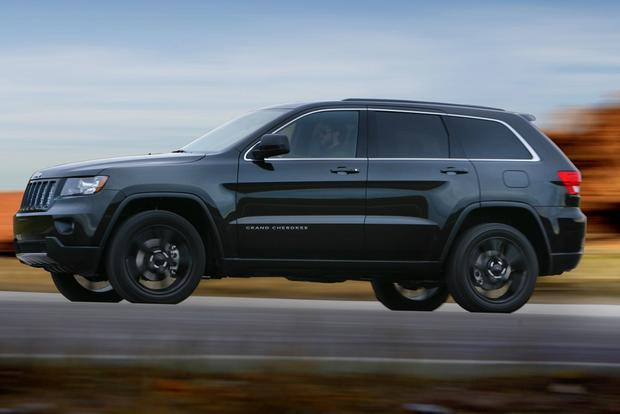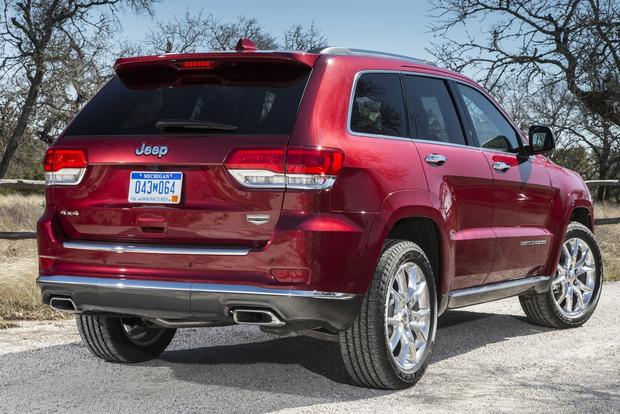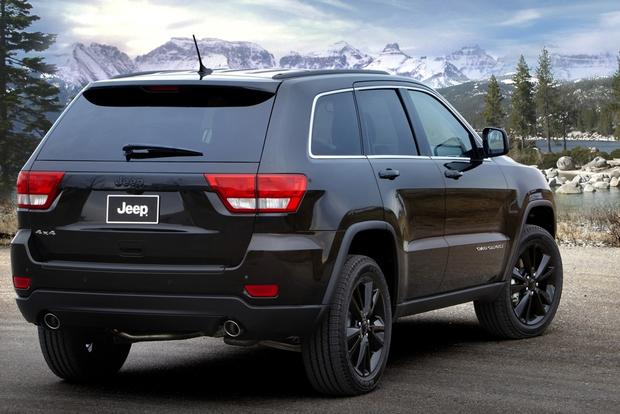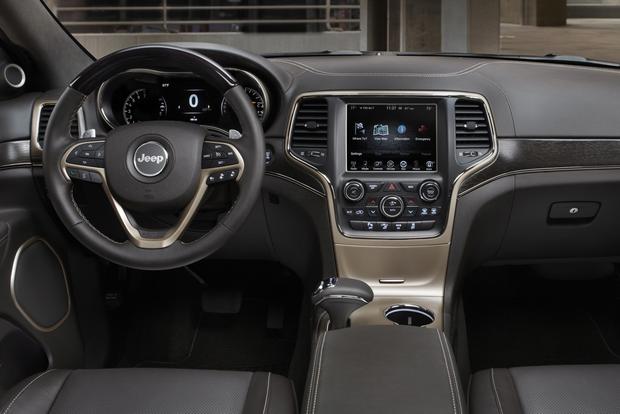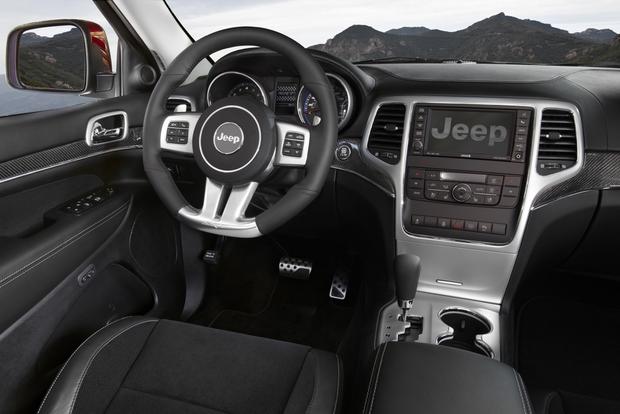 A new 2014 Jeep Grand Cherokee is on sale, tempting SUV buyers with a long list of improvements. The highlight reel includes a new transmission to improve fuel economy, a new diesel engine option and revised design details inside and out. The 2014 Grand Cherokee is also available with new infotainment, safety and 4-wheel-drive technologies. It's sold in a new luxury variant called the Grand Cherokee Summit.
Underneath the new styling, upgraded powertrain, improved technology and other updates, the new 2014 Grand Cherokee is the same as the 2013 model. As the summer car sales season kicks off, Jeep dealers still have 2013 Grand Cherokee models in stock, and are eager to clear them out. Plus, used 2013 Grand Cherokees are filtering into Jeep's Certified Pre-Owned (CPO) program. Therefore, the question is: Should consumers get a certified used 2013 Grand Cherokee, a discounted 2013 Grand Cherokee or a new 2014 Jeep Grand Cherokee? We're here to help you decide.
Fuel Economy
Last year, the Grand Cherokee was offered with a choice between a standard 290-horsepower 3.6-liter V6 engine and an optional 360-hp 5.7-liter V8 engine, each paired with a 5-speed automatic transmission feeding power to the SUV's rear wheels or all four wheels. The performance-tuned version, the Grand Cherokee SRT8, had a 470-hp 6.4-liter V8 engine, a 5-speed automatic transmission and standard 4-wheel drive.
According to the Environmental Protection Agency (EPA), the standard V6 returned between 16 miles per gallon in the city and 23 mpg on the highway, while the optional V8 was rated to get between 13 mpg city/20 mpg hwy. Mileage ratings for the Grand Cherokee SRT8 were 12 mpg city/18 mpg hwy.
For 2014, the Grand Cherokee's engine lineup expands with the addition of a new 3.0-liter 6-cylinder EcoDiesel option, and fuel economy increases across the board thanks to a new standard 8-speed automatic transmission. Jeep also includes a new Eco Mode as the default powertrain mode for all models, a feature that the driver can defeat with the push of a button. The Grand Cherokee SRT, which drops the "8" for the 2014 model year, tows more weight this year at 7,200 pounds -- almost as much as the 7,400-lb maximum for other models.
With the new transmission, the V6 provides 17 mpg city/25 mpg hwy, while the V8 delivers between 14 mpg city/22 mpg hwy. The Grand Cherokee SRT is now rated 13 mpg city/19 mpg hwy. EPA had not officially rated the new diesel engine as this article was written, but Jeep estimates it will provide between 21 mpg city/30 mpg hwy, depending on whether it has 2- or 4-wheel drive.
Clearly, when it comes to fuel economy, the advantage goes to the new 2014 Grand Cherokee.
Safety
The 2014 Grand Cherokee can be optioned with a new Forward Collision Warning system with Crash Mitigation. This system can identify when a collision may occur and warns the driver of impending danger. If the driver fails to respond, the system can autonomously act to try to avoid an accident or reduce the severity of the impact. Additionally, the Grand Cherokee's new Uconnect Access system offers a 911 emergency assist connection to help speed assistance, when needed. Otherwise, the new 2014 Grand Cherokee offers the same safety features as the 2013 model.
In 2013, the Jeep Grand Cherokee received a 4-star overall crash test rating from the National Highway Traffic Safety Administration (NHTSA) and a Top Safety Pick designation from the Insurance Institute for Highway Safety (IIHS). The IIHS rating carries forward to the 2014 Grand Cherokee, but NHTSA has not decided if the 2014 model's slight front styling modifications alter the previous year's test result in the frontal-impact test. Note that NHTSA says the rear-wheel-drive version of the Grand Cherokee is more likely to roll over than the 4-wheel-drive version.
Given the 2014 Grand Cherokee is likely to perform identically to the previous model in crash protection and is offered with new safety technologies, the newer SUV version wins on safety.
Reliability
Perhaps because the Jeep Grand Cherokee's reliability historically has proven to be average or slightly below average, Jeep's CPO program isn't terribly impressive. The powertrain warranty coverage and the 24-hour roadside assistance plan are expanded for two extra years; the Grand Cherokee is protected by a 3-month/3,000-mile limited warranty covering the entire vehicle, and Jeep throws in free satellite radio for three months. To qualify for the Jeep CPO program, each model must pass a 125-point vehicle inspection and possess a clean vehicle history report. For covered repairs, a car rental allowance is provided.
Comparatively speaking, new Jeeps come with a 3-year/36,000-mile standard warranty, a 5-year/100,000-mile powertrain warranty and 24-hour roadside assistance lasting the duration of the standard powertrain warranty. Still, considering we're talking about certified used 2013 Grand Cherokees with few miles on them, a standard warranty transferable to a new owner and a CPO program that expands the powertrain coverage and roadside assistance service by an extra two years, the CPO 2013 Grand Cherokee gets the nod for reliability.
Value
Choosing a CPO 2013 Grand Cherokee delivers value, too. As this article is written, there are 143 certified used Grand Cherokees listed on AutoTrader.com, ranging from just under $25,400 for a Laredo 2-wheel drive with 16,500 miles to nearly $44,500 for a Grand Cherokee Overland 4-wheel drive with less than 6,000 miles. The exception is a single 2013 Grand Cherokee SRT8 with just over 7,000 miles for $58,999.
Clearance deals on remaining 2013 Grand Cherokee models are not great. At the end of May, Jeep was offering buyers $500 cash or 1.9 percent financing for 36 months. While consumers can easily negotiate $500 off the SUV's invoice price, they'll still pay more than they might for a CPO Grand Cherokee. More cash on the hood would start to make a leftover 2013 Grand Cherokee more appealing.
The new 2014 Grand Cherokees have window stickers about $5,000 more than a CPO 2013 Grand Cherokee. Prices open at $29,790 for the Laredo 2-wheel drive and range up to $51,990 for the Summit 4-wheel drive. The 2014 Grand Cherokee SRT is priced from $63,990.
Given that we think Jeep's CPO warranty and roadside assistance extensions are worthwhile, and that a CPO Jeep is priced below brand-new models, our recommendation is to carefully consider a lightly used 2013 Grand Cherokee.
Technology
Typical for the modern era, the new 2014 Grand Cherokee is superior to the 2013 Grand Cherokee in standard and optional technology. This year, a 7-inch Thin Film Transistor (TFT) configurable display screen houses instrumentation, and a 5-in Uconnect touchscreen infotainment system is standard. Models with Quadra-Trac II or Quadra-Drive II 4-wheel-drive systems now feature Selec-Speed hill ascent and hill descent control, operated using only the paddle shifters on the steering wheel. The Grand Cherokee SRT gains a new Launch Control system to help it accelerate even faster than before.
Additionally, the 2014 Grand Cherokee can be optioned with an 8.4-in color touchscreen Uconnect infotainment system as well as Uconnect Access services, including natural voice recognition software, voice text messaging capability and 911 emergency assist. The SUV is also newly available with bi-xenon headlights and LED running lights, front park-assist sensors, an Adaptive Cruise Control system and a new Forward Collision Warning with Crash Mitigation system.
In terms of technology, the 2014 Grand Cherokee reigns supreme.
AutoTrader's Recommendation
Buying a leftover 2013 Grand Cherokee can save consumers money, and choosing a lightly used CPO Grand Cherokee puts thousands of dollars into your pocket while adding a few years of extra protection to the warranty. These are compelling arguments in favor of going with the older version. However, because the 2014 model is improved in so many areas that really count -- especially fuel economy, safety and technology -- our recommendation is to give the 2014 Grand Cherokee serious consideration, even if it's more expensive.