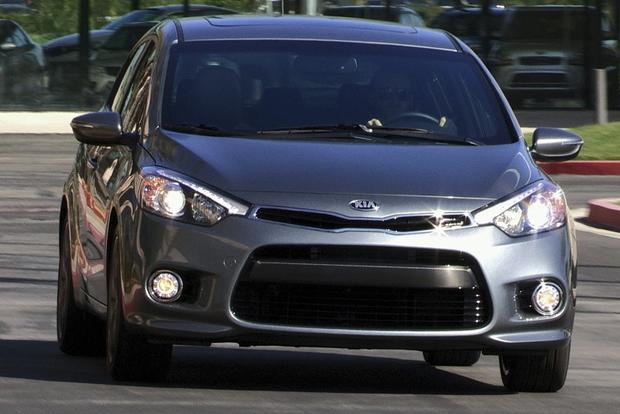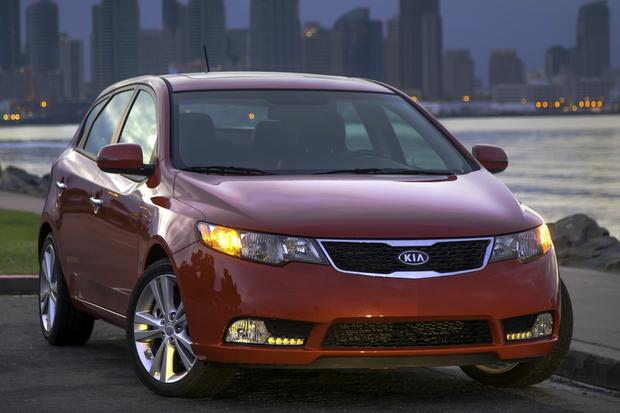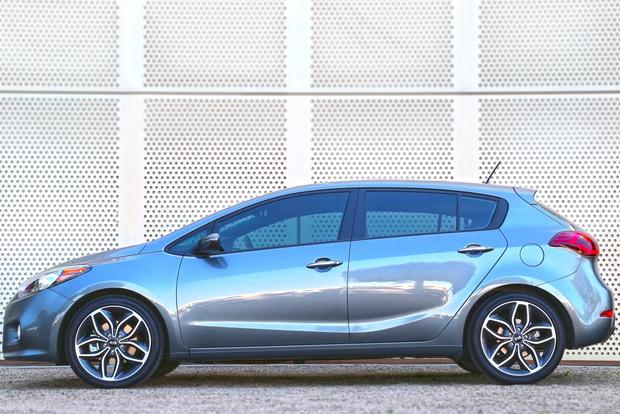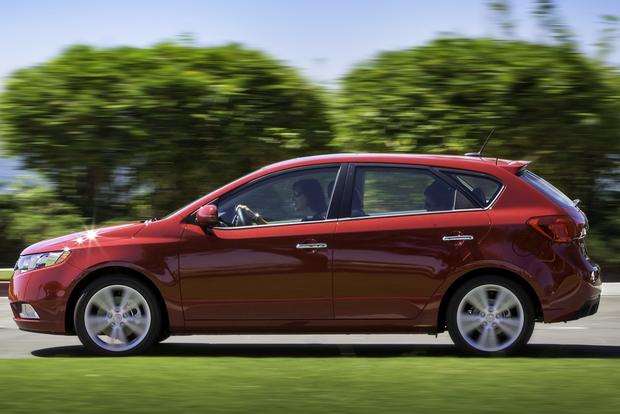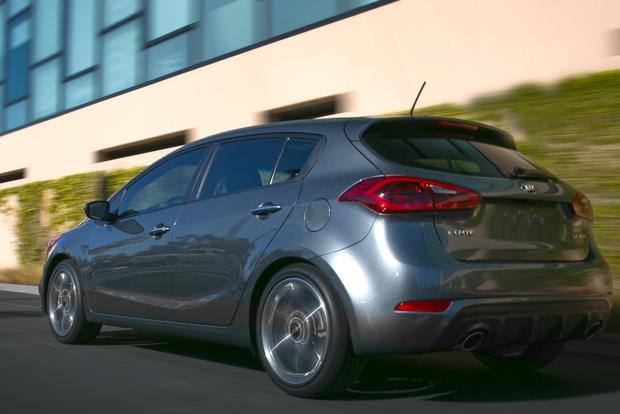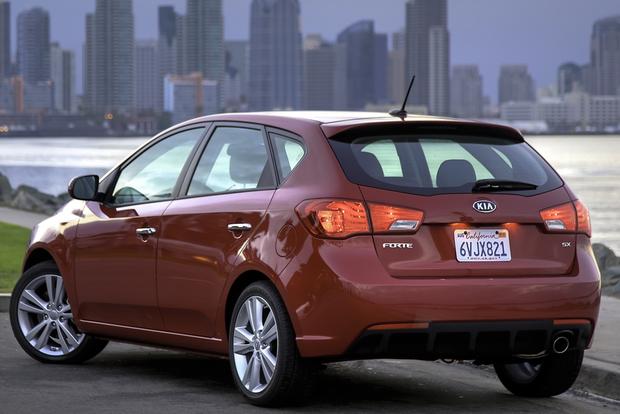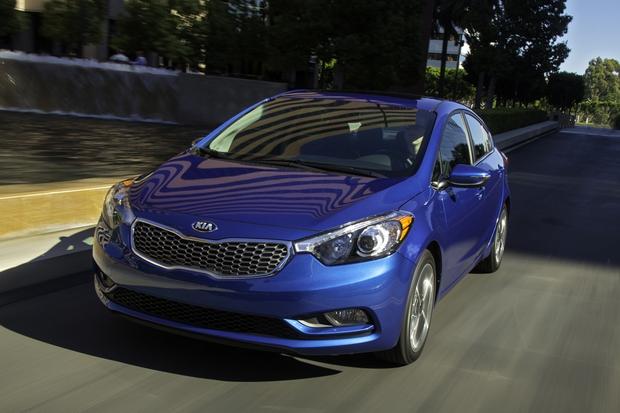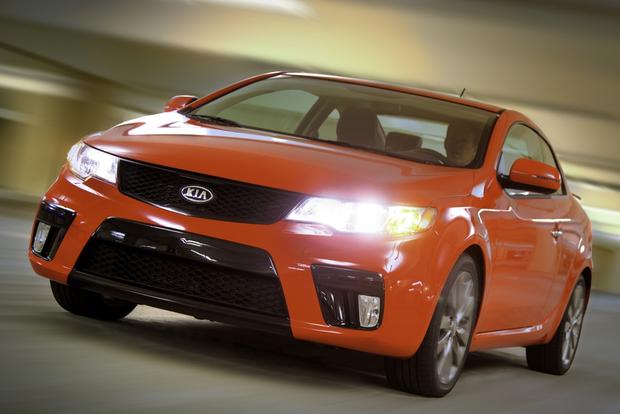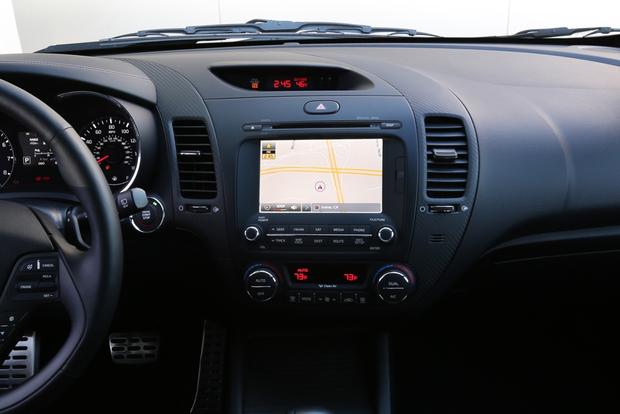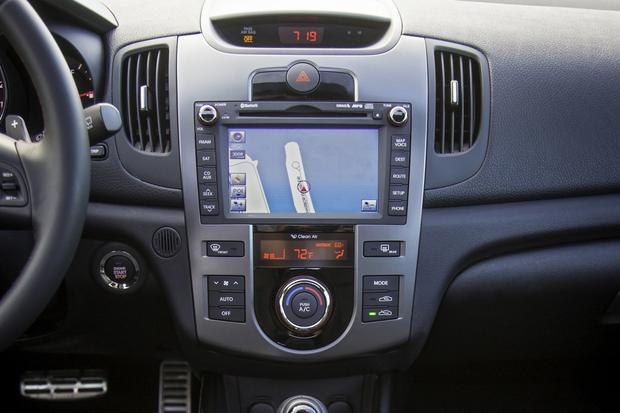 With the arrival of the 2014 Kia Forte, the Korean automaker has transformed its sedan lineup since the debut of the still-fresh 2011 Optima. Every model displays modern Kia design traits, and every one of them looks more expensive than it is. As has been true for years, Kia is just as committed to delivering value as ever, continuing to offer an outstanding warranty combined with competitive prices. The advent of new in-car technologies, however, dictates that those prices climb with each successive vehicle redesign, and that's true of the 2014 Forte.
Given that the new Forte competes against compact cars often bought on shoestring budgets, the natural question is: Should cash-strapped buyers grab a deal on an outgoing 2013 Forte, skip the new-car smell altogether in favor of a certified-used 2013 Forte or save a few more dollars to take advantage of the 2014 Kia Forte's upgrades? Let's take a closer look.
Fuel Economy
The 2013 Forte offered a choice between two engines. The LX and EX models came with a 2.0-liter 4-cylinder engine making 156 horsepower and 144 lb-ft of torque. The sporty Forte SX had a 2.4-liter 4-cylinder generating 173 hp and 168 lb-ft of torque. A 6-speed manual gearbox was standard, and a 6-speed automatic with Sportmatic manual shifting was optional for both engines.
This year, the 2014 Forte LX gets a 1.8-liter 4-cylinder engine producing 148 hp and 131 lb-ft. In certain regions of the country, the Forte's Super Ultra Low Emissions Vehicle (SULEV) equipment restricts engine output to 145 hp and 130 lb-ft of torque. A 6-speed manual gearbox is standard for this model, with a 6-speed automatic optional.
For more power, choosing the Forte EX is necessary. The EX model's standard 2.0-liter 4-cylinder is rated to make 173 hp and 154 lb-ft of torque, and is offered exclusively with a 6-speed Sportmatic automatic transmission.
Last year, the Forte's 156-hp 2.0-liter 4-cylinder was rated to get between 25 miles per gallon in the city and 36 mpg on the highway, depending on transmission choice. For 2014, the Forte's 148-hp 1.8-liter 4-cylinder is expected to return 25 mpg city/37 mpg hwy. Basically, buyers choosing the 2014 Forte give up some horsepower and torque in exchange for a 1-mpg increase in highway mileage.
Differences are greater when comparing the 2013 Forte SX model's 173-hp 2.4-liter 4-cylinder with the 2014 Forte EX model's 173-hp 2.0-liter 4-cylinder. The former returned 22 mpg city/32 mpg hwy, while the latter improves to 24 mpg city/36 mpg hwy.
Examine the differences between the old Forte and the new Forte and you'll see the old car generally made more horsepower and more torque at lower rpm. Considering the Forte's curb weight is essentially unchanged between years, the primary benefit to choosing the new Forte instead of the old Forte is fuel economy. Even then, the improvement is largely limited to the more powerful engine selection.
Safety
Last year, the 2013 Kia Forte offered six standard airbags, 4-wheel-disc ABS with electronic brake-force distribution and brake assist and a traction and stability control system. The Forte EX and SX could be optioned with a reversing camera but no other safety features.
The Insurance Institute for Highway Safety (IIHS) called the 2013 Forte a Top Safety Pick but never subjected the car to the tough new small overlap frontal impact test. In crash tests by the National Highway Traffic Safety Administration (NHTSA), the 2013 Forte received a 4-star overall rating, which reflects the vehicle's middling side-impact protection levels.
When smacked in the side by another vehicle, driver protection measures three stars while rear-seat occupant protection measures five stars. Still, NHTSA notes a safety concern for that rear-seat occupant. During testing, the rear door intruded far enough into the passenger compartment that the interior rear door panel contacted the crash test dummy and produced high lower spine acceleration data, indicating a greater risk for injury.
As this article is written, NHTSA and IIHS have not crash tested the larger 2014 Forte. Furthermore, the new Forte LX has the same standard safety equipment as the old Forte LX. The difference is that the new Forte's EX trim level has a standard reversing camera as well as Your Voice (UVO) eServices technology.
Using UVO, the new Forte's owner can pair a smartphone to the car's infotainment system via Bluetooth. Once paired, a suite of services is available at no additional cost. The suite includes several conveniences, but we're partial to the 911 Connect and Crash Notification Notice functions, each of which puts the Forte's driver and occupants into direct contact with rescuers, if needed. Also, parents with young drivers in the household may like to know that UVO eServices include the ability to set speed, curfew and geo-fenced boundary alerts to help keep them safe.
Though the 2014 Forte hasn't been crash tested, we'll give the new car the nod when it comes to safety, especially the EX model.
Reliability
Based on Consumer Reports data, the Kia Forte has delivered average or better reliability since this model debuted for the 2010 model year. It had better, since new Forte models come with a 10-year/100,000-mile powertrain warranty, a 5-year/60,000-mile bumper-to-bumper warranty and free roadside assistance for the first five years of ownership with no mileage restrictions. Imagine how expensive that could be for Kia if the cars weren't durable.
Coverage for a certified pre-owned (CPO) Kia Forte is even better. The 10-year/100,000-mile powertrain coverage remains intact, and includes roadside assistance for 10 years and unlimited miles. Each CPO car must pass a 150-point inspection, and its CARFAX vehicle history report must be clean to qualify for the program. Kia also provides CPO Forte buyers with a 1-year/12,000-mile Platinum Comprehensive protection plan, including travel breakdown coverage with towing and rental car coverage.
Kia's CPO program offers outstanding protection for a car expected to be reasonably reliable in the first place. Advantage: CPO Forte.
Value
In addition to providing better protection against defects, a CPO Forte is less expensive to purchase. As this article is written, prices for CPO 2013 Kia Forte models on AutoTrader.com range from $15,000 to $21,000, depending on trim level, equipment and mileage. Compare that to the redesigned 2014 Forte, which starts at $16,700 for the LX with no options and rises to $26,205 with all the trimmings.
Leftover brand-new 2013 Forte models can be had with 1.9 percent APR financing for 36 months in addition to a $1,000 rebate, and Kia is providing $500 in competitive or owner loyalty bonus money as a deal sweetener to move the metal. New 2014 Fortes are also available with attractive 0.9 percent financing for 36 months and a $500 owner loyalty or competitive bonus.
These deals might ordinarily make a CPO Forte look less appealing financially, but as this article is written Kia offers interest rates as low as .99 percent APR for 36 months and 2.49 percent for 60 months on CPO Fortes. Therefore, to maximize value, choose the CPO Forte and finance at these discounted rates.
Technology
With each redesigned vehicle, automakers add a lot of new technology, and the 2014 Forte is no exception. In addition to safety features, UVO eServices technology offers Bluetooth music streaming, a Parking Minder to help owners find their car, diagnostic and maintenance alerts, the ability to make vehicle service appointments and more. Soon, Kia will offer Pandora and Twitter access from the 2014 Forte's UVO screen.
Moreover, the new Forte EX can be optioned with ventilated front seats, heated rear seats, a heated steering wheel, memory for the driver's settings, HD Radio, an LCD information display and dual-zone rather than single-zone automatic climate control. Xenon HID headlights and LED taillights are also available for the 2014 Forte EX.
Clearly, the new Forte is more technologically advanced than the old Forte.
AutoTrader's Recommendation
The new Kia Forte is a great-looking car, much larger inside than before, constructed of higher quality materials and, like the original, available in 5-door hatchback and 2-door coupe body styles. While Kia's CPO program benefits are significant, our greatest concern about the old Forte is side-impact collision protection. So it's easy to recommend that buyers spend a little extra to get the redesigned 2014 Forte.