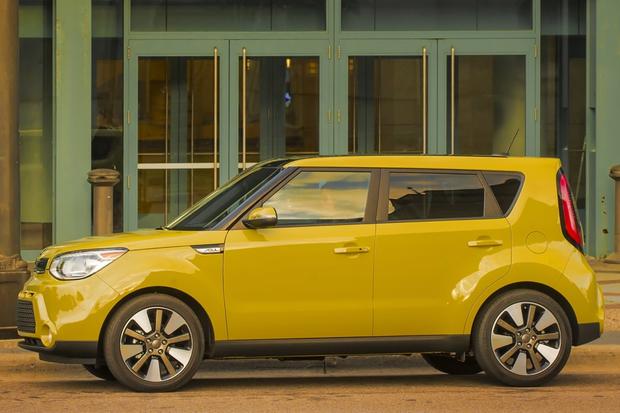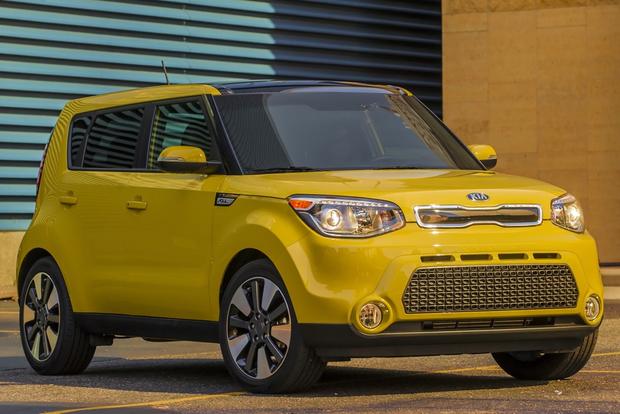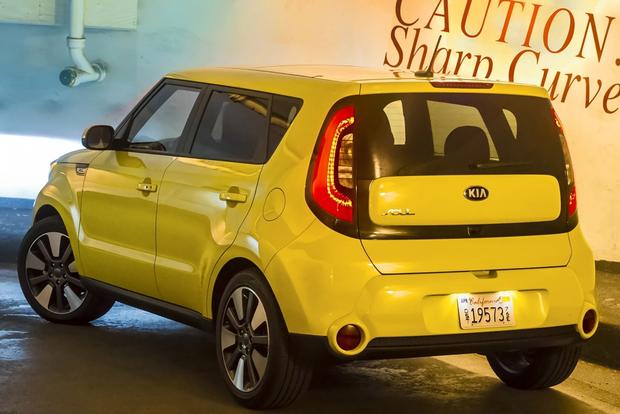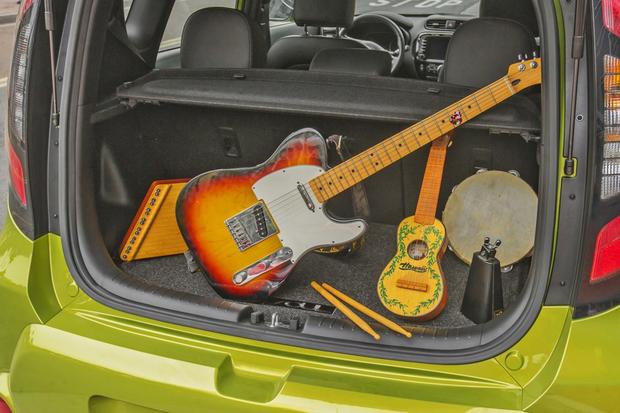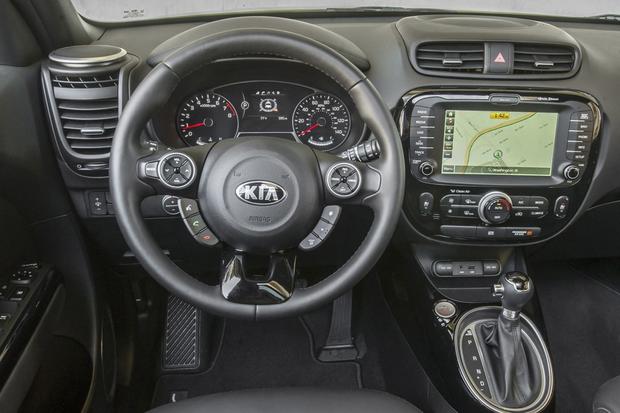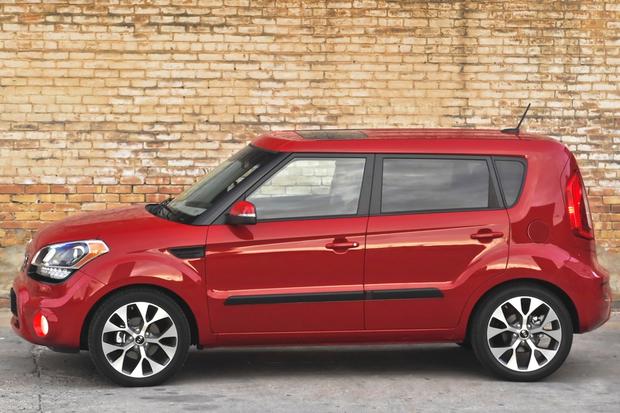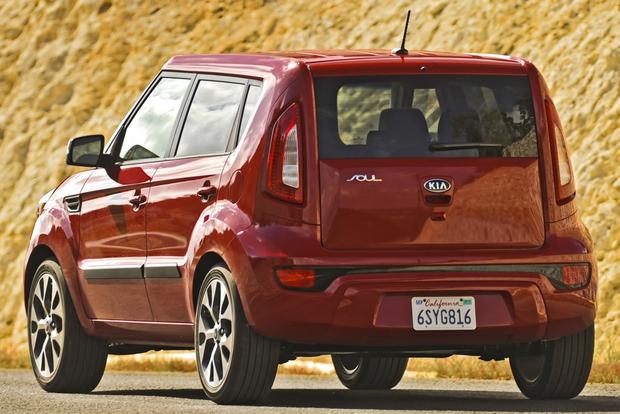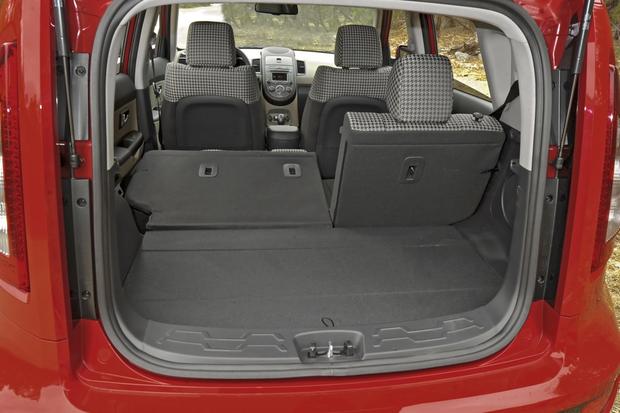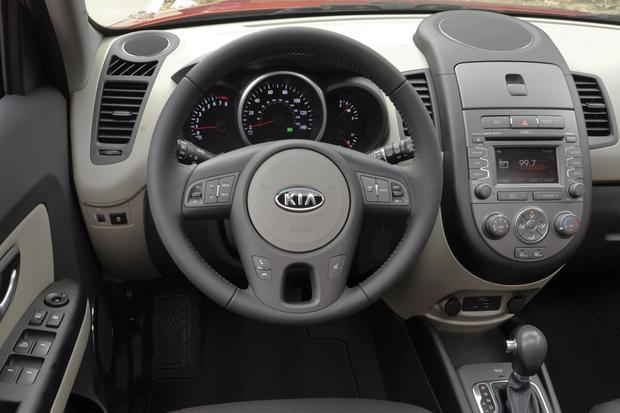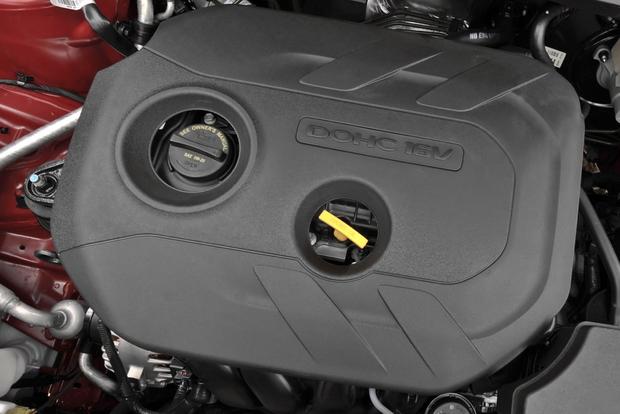 Commercials starring rodents and humble mechanical roots aside, the Kia Soul is an unexpectedly popular car. Now, the 2014 Kia Soul is poised to become even more popular, thanks to a complete redesign that many car buyers might not immediately notice. That's because Kia has employed familiar styling themes with the all-new Soul. The updated model is about as powerful and fuel efficient, and about the same size inside and out, as the vehicle it replaces. Naturally, then, the question arises: Is it better to go with this new 2014 Kia Soul or is it better to go with the previous-generation Soul? That's what we're here to find out.
Fuel Economy
New engines are installed in the 2014 Kia Soul. A direct-injected 1.6-liter 4-cylinder engine is standard in the base model, generating 130 horsepower at 6,300 rpm and 118 lb-ft of torque at 4,850 rpm. These output figures are lower than the 2013 model, and the new Soul weighs 99 pounds more than it did last year. A 6-speed manual gearbox delivers the power to the front wheels. A 6-speed automatic transmission is optional.
The 2014 Soul + (Plus) and Soul ! (Exclaim) models have a standard 2.0-liter 4-cylinder engine with direct fuel injection. Horsepower is measured at 164 hp at 6,200 rpm and torque is rated at 151 lb-ft at 4,000 rpm. A 6-speed automatic transmission is standard equipment with this engine, and Kia's Idle Stop and Go (ISG) technology is optional for the Soul +. With ISG, the engine shuts off when the Soul is idling at an intersection or in traffic to help conserve fuel.
According to the Environmental Protection Agency, the 2014 Soul gets 26 miles per gallon in combined driving regardless of engine or transmission choice. The exception is when the car includes the ISG system. In that case, the combined fuel economy rating is 27 mpg.
If you were to compare these figures to the old Soul and then started scratching your head wondering why Kia bothered to change the powertrains, we would totally understand. Last year, the 2013 Soul was offered with a direct-injected 1.6-liter 4-cylinder engine that made 138 hp and 123 lb-ft of torque, making it more powerful in a vehicle that weighed less. It got better fuel economy, too, returning 27 mpg in combined driving.
The stronger 2.0-liter 4-cylinder engine did not benefit from direct fuel injection last year, but it made 164 hp and 148 lb-ft of torque, putting it right smack dab in the same neighborhood as the new 2014 Soul's larger engine. The difference here is that the new 2.0-liter engine's power peaks at lower rpm figures, which helps to make the heavier 2014 Soul feel livelier. The new engine is also slightly more fuel efficient than last year's 2.0-liter, which was rated at 25 mpg in combined driving without ISG, and 26 mpg with ISG or when paired with a manual transmission.
Let's filter all of this noise. It would appear that the 2014 Soul's base 1.6-liter engine is slightly less powerful and less fuel efficient compared to last year's, while the larger 2.0-liter engine is slightly more powerful and more fuel efficient than before. That's why we're calling it a tie.
Safety
In terms of safety, the redesigned 2014 Soul doesn't demonstrate significant improvement over the car it replaces. Both cars include six airbags, traction and stability control systems, brake assist and hill-start assist as standard equipment. In addition, both cars also offer a reversing camera.
In 2013, the Soul earned a 4-star overall crash-test rating from the National Highway Traffic Safety Administration, receiving no less than a 4-star rating in any of the six assessments. Additionally, the Insurance Institute for Highway Safety gave the Soul a Top Safety Pick rating. Note, however, that the old Soul was rated Poor in the tough new small overlap frontal impact test.
The NHTSA had not crash-tested the redesigned 2014 Kia Soul as this article was written. It had not been subjected to the IIHS small overlap frontal impact test, either. In other IIHS testing, the new Soul earned the best rating of Good.
It is possible that Kia engineered the new 2014 Soul to perform better in the IIHS small overlap frontal impact test, but this hasn't necessarily been the case for other redesigned 2014 models, including Kia's own Forte Sedan. Therefore, based on the available evidence, we have another tie.
Reliability
With both Consumer Reports and J.D. Power reporting that the previous-generation Soul delivered better-than-average quality, dependability and reliability -- especially in recent years -- it is a safe bet to assume that a certified pre-owned (CPO) Kia Soul will prove itself trustworthy.
Just in case, though, every CPO Soul receives a 150-point inspection at the dealership, and every CPO Soul features a 10-year roadside assistance plan with no mileage limit to go along with its original 10-year/100,000-mile powertrain warranty. Plus, Kia supplies a vehicle history report and travel breakdown insurance for all factory-certified Souls.
Choose a new 2014 Soul and you'll receive a 10-year/100,000-mile powertrain warranty and a 5-year/60,000-mile warranty covering the entire vehicle. Roadside assistance and trip interruption coverage also apply to new Souls.
Given that the Soul has historically proven itself to be reliable, and that impressive warranty programs equally protect both new and used Souls, we've got ourselves another tie.
Value
Looking for a tiebreaker? Here's one. A used Soul is, predictably, less expensive than a new Soul, and a car buyer can save thousands of dollars by choosing a CPO version of the previous-generation model instead of a new 2014 Soul.
As this article is written, there are nearly 650 CPO Souls on sale nationwide, according to AutoTrader. They range in price from about $19,000 for a 2013 Soul + with 3,000 miles on the odometer to about $11,500 for a 2011 Soul + with nearly 45,000 miles on it. Compare these prices to a new 2014 Soul, which starts at $15,495 in base trim and with no options. That price rises to $27,960 for a Soul ! equipped with The Whole Shebang Package and every dealer-installed goodie added to the window sticker.
Technology
If the old Soul is the better value, then the new Soul delivers when it comes to modern technology. For 2014, the Soul is available with a new UVO (Your Voice) eServices system with a high-definition capacitive touch 8-inch display screen and next-generation infotainment, connectivity and telematics service. Plus, the new Soul offers turn-by-turn directions, integrated Pandora Internet radio and a 3-month subscription to SiriusXM data services and Travel Link.
Kia's new electric FlexSteer steering, which offers Comfort, Normal and Sport settings, is standard for the 2014 Soul. And the new Soul can be optioned with HID headlights, a heated steering wheel and Smart Key passive entry with push-button engine starting.
Advantage: the new Soul.
AutoTrader's Advice
Ladies and gentlemen, we have a tie. Buy the new 2014 Soul if you want the latest in technology. Buy a certified pre-owned Soul if you want an outstanding value. In terms of fuel economy, safety and reliability, the two cars are essentially the same. That means, for now, the old Soul is just as good as the new Soul.