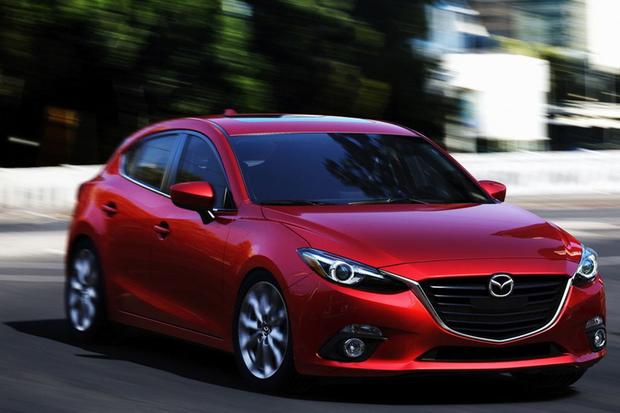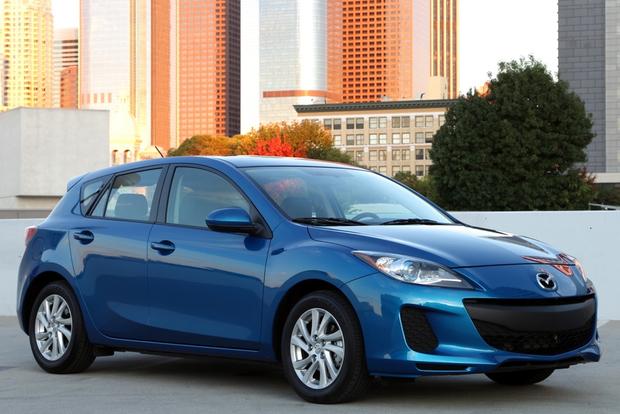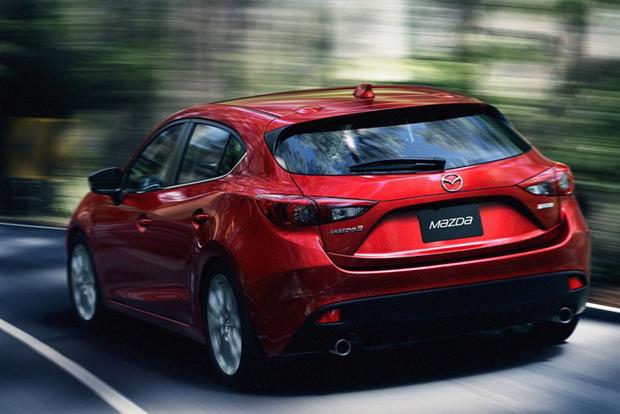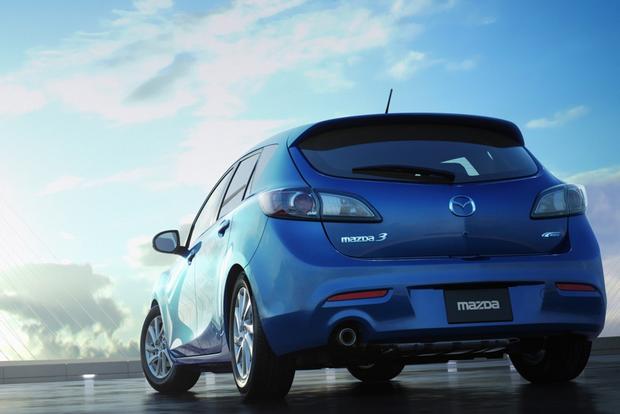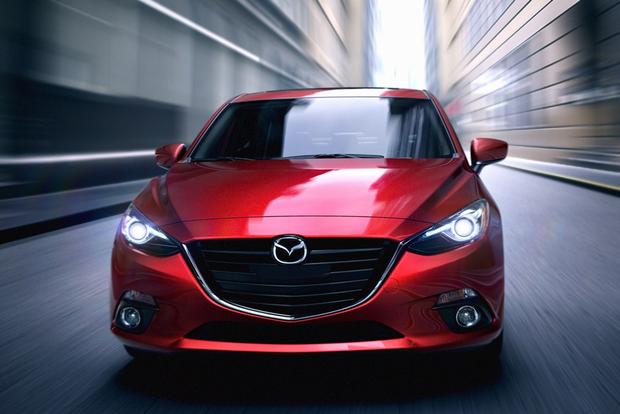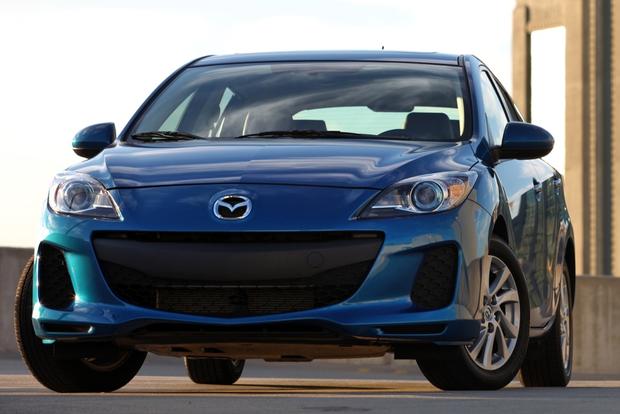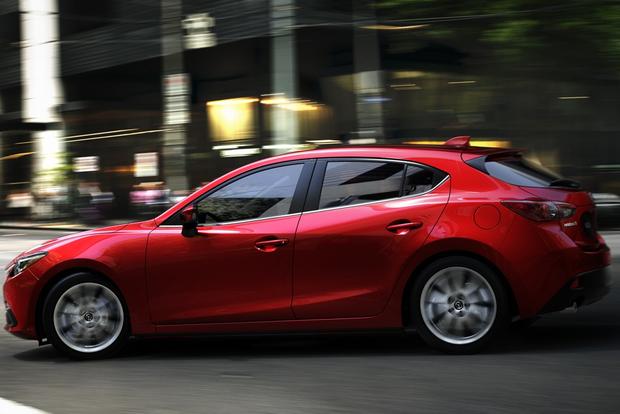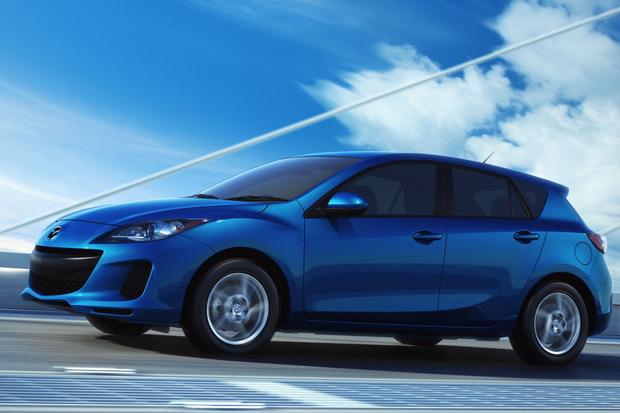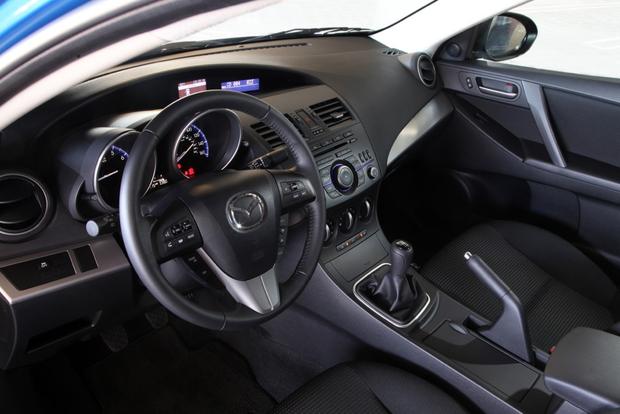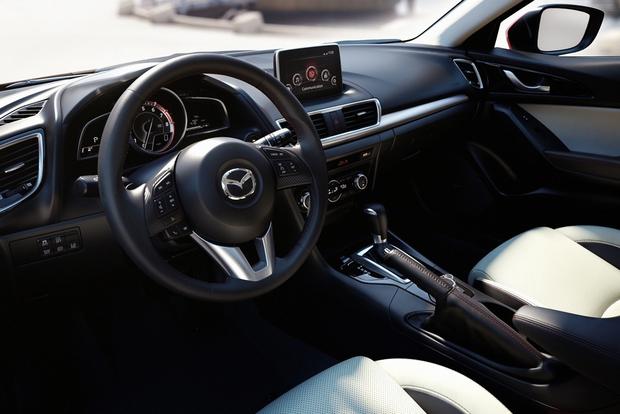 Little moss gathers under the wheels of Mazda's best-selling car, and the all-new 2014 Mazda3 arrives just four years after the model's last complete redesign. Highlights include SkyActiv powertrains, new infotainment options and modern safety technology, all wrapped in sharp new styling that reflects the automaker's latest design philosophy.
In advance of the new 2014 Mazda3 model's late September arrival at dealerships, the outgoing 2013 Mazda3 is on sale. Buyers can take advantage of rebates, 0 percent long-term financing and zero-down lease deals. Used Mazda3 models also qualify for low-interest-rate financing through Mazda's Certified Pre-Owned (CPO) program.
Given the bargains to be had on the old Mazda3, does it make sense to wait for the new 2014 Mazda3? Let's find out.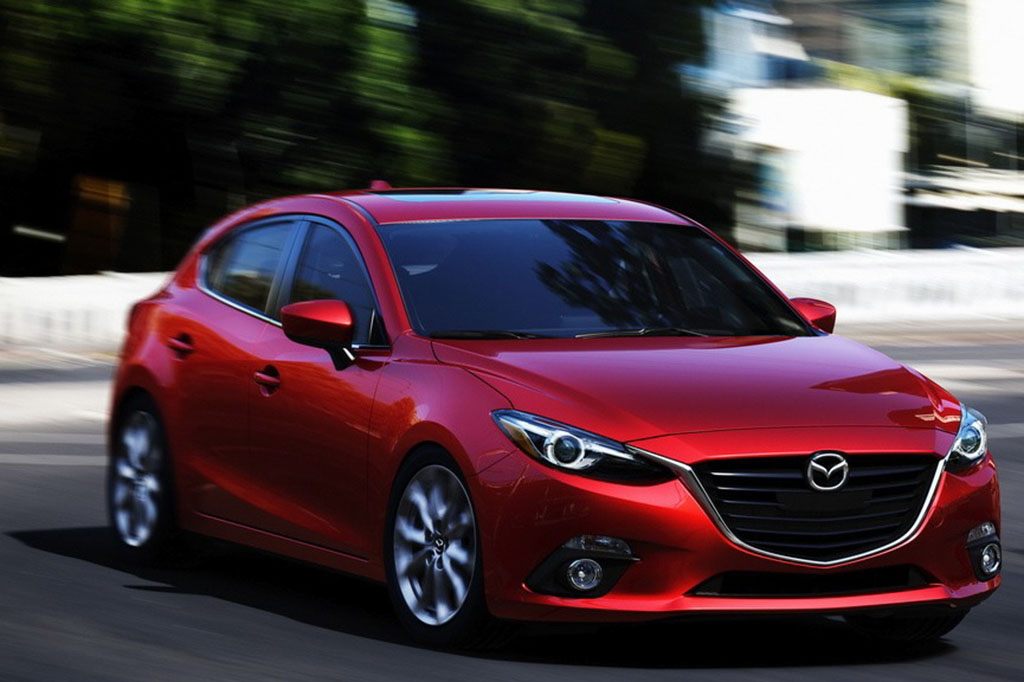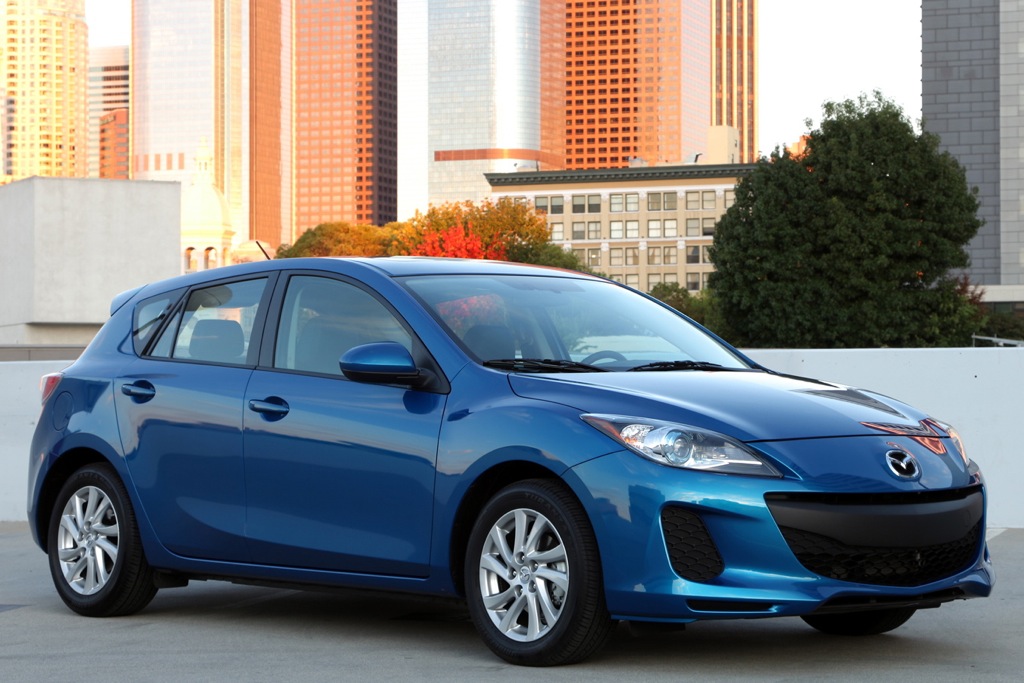 Fuel Economy
The outgoing Mazda3 is offered with a choice between three engines, only one of them equipped with the company's SkyActiv suite of fuel-saving technologies.
The redesigned 2014 Mazda3 can be equipped with a choice between two 4-cylinder engines, each showcasing SkyActiv technology. The 2-liter engine is essentially carried over from 2013, but the new 2.5-liter SkyActiv 4-cylinder engine is more powerful and more fuel efficient than the engine it replaces.
For the purposes of this comparison, we will focus on the 2-liter SkyActiv 4-cylinder engine that carries over for 2014. As this article is written, it is the only engine with official fuel economy ratings for both model years. Additionally, we limit comparison to the Mazda3 5-door model because that's the only version of the new car that the Environmental Protection Agency has officially rated.
In the 2013 model, the 2-liter SkyActiv engine generates 155 horsepower and 148 lb-ft of torque, and drives the car's front wheels through a 6-speed manual gearbox or a 6-speed automatic transmission with a manual shift mode. For 2014, the hp rating and the transmission choices remain the same, but torque rises to 150 lb-ft.
In addition to a barely perceptible increase in torque output, the new Mazda3 is rated to return 33 miles per gallon in combined driving regardless of transmission choice. This same engine installed in the 2013 Mazda3 returns 31 mpg in combined driving with a manual gearbox and 32 mpg with the automatic.
The advantage goes to the new Mazda3.
Reliability
Mixed messages exist between Consumer Reports and J.D. Power when it comes to the Mazda3 model's reliability. The former gives the Mazda3 the highest possible reliability rating between 2010 and 2013, the four years spanning the second-generation model that is about to be replaced. J.D. Power gives the car a slightly better than average rating.
Either way, a Certified Pre-Owned Mazda3 appears to be a solid bet. Mazda's CPO program puts every car through a 150-point inspection and provides a free vehicle history report with a 3-year buy-back guarantee. Additionally, the balance of the standard factory warranty or a 12-month/12,000-mile warranty is included for all Mazda CPO vehicles, along with extended powertrain coverage amounting to seven years or 100,000 miles and 24-hour roadside assistance.
Compared to a new 2013 or 2014 model, a CPO Mazda3 model's added coverage is appealing. The brand new models are equipped with three years or 36,000 miles of bumper-to-bumper warranty protection with roadside assistance, and the powertrain warranty is good only for five years or 60,000 miles. There is no buy-back guarantee included with a new Mazda3.
Though the redesigned 2014 Mazda3 is likely to prove itself just as dependable as the model it replaces, a CPO Mazda3 gives buyers extra confidence at a lower price. However, as we shall see in the next section, that's true only for older and higher-mileage models.
Value
Car buyers looking for a reliable vehicle at a bargain price can find one in a CPO Mazda3. As this article is written, there are more than 1,500 CPO examples of the second-generation Mazda3 for sale on AutoTrader.com, starting at $11,500 for a Touring sedan with 56,000 miles and ranging up to $25,995 for a 2012 Grand Touring 5-door model with 5,500 miles on the clock.
A new 2013 Mazda3 starts at $17,495, but that's for a manual transmission. The automatic runs another $1,245. The good news is that Mazda is offering $1,500 in rebates, or a $500 rebate plus 0 percent financing for 60 months or zero-down lease deals as dealers sweep remaining inventory out the door. That makes the newer CPO Mazda3 models look like a poor value, especially since buyers taking advantage of deals on the new car are certainly negotiating from invoice rather than MSRP.
Either way, the redesigned 2014 Mazda3 won't match these deals once it goes on sale, even if the 5-door hatchback's base price drops by more than a grand due to its availability lower in the trim level lineup.
If getting a good deal is of paramount importance, check out a new 2013 Mazda3 or an older CPO model.
Safety
The previous-generation Mazda3 is not a safety rock star. How could it be when side-impact crash-test results from the National Highway Traffic Safety Administration (NHTSA) reflect a 2-star protection rating for rear-seat occupants and a 3-star rating in the event that the car slides laterally into a pole?
Still, it would appear that the two major safety organizations in the country disagree about the Mazda3. The Insurance Institute for Highway Safety (IIHS) calls the 2011, 2012 and 2013 Mazda3 models Top Safety Picks.
Certainly, the redesigned 2014 Mazda3 will perform better in crash tests once they are conducted. In the meantime, given new safety upgrades for the 2014 model -- including available E911 service to help speed rescue following airbag deployment, optional Lane Departure Warning and Forward Obstruction Warning systems and an extra-cost Smart City Brake Support system designed to eliminate or mitigate low-impact collisions with other vehicles -- we're giving the nod for safety to the redesigned Mazda3.
Technology
Though the 2013 Mazda3 is no stranger to technology, the redesigned 2014 model takes a clear leap forward thanks to the safety options mentioned in the previous section, plus an available fuel-saving Intelligent Energy Loop (i-ELOOP) brake energy regeneration system with active grille shutters. The new 2014 Mazda3 also offers Bluetooth, access to Internet applications and social media services, provides SMS text messaging capability, features Pandora and Stitcher Internet radio and can be equipped with an optional navigation system with 7-inch touchscreen display.
AutoTrader's Advice
Wait for the redesigned 2014 Mazda3. This version is aesthetically appealing, technologically advanced, more powerful and fuel efficient, and it's likely to prove to be the safer vehicle once official crash tests are conducted. Plus, the new third-generation model should duplicate the Mazda3 model's long-standing record for reliability.
By comparison, the outgoing 2013 Mazda3 model's primary virtue is value. Just keep those NHTSA crash-test ratings in mind if you elect to save thousands on the old model.