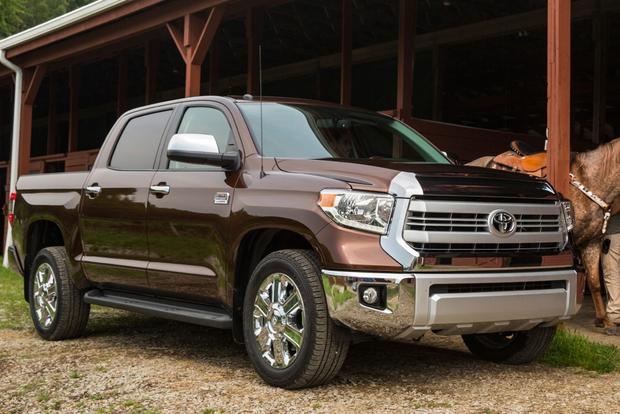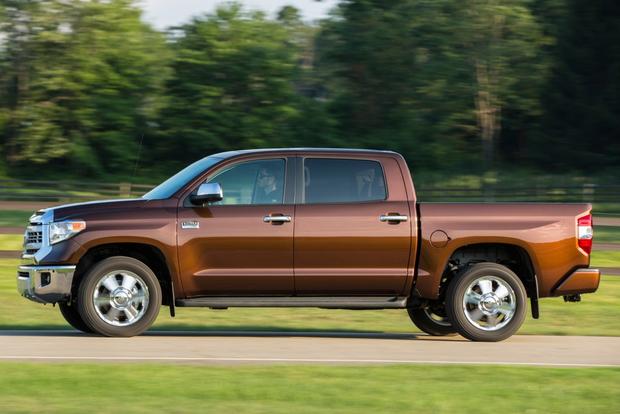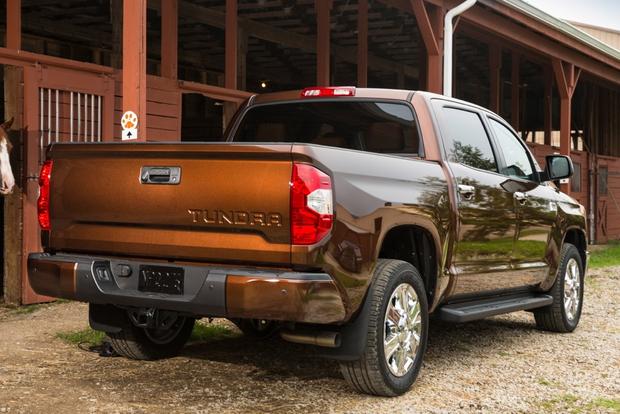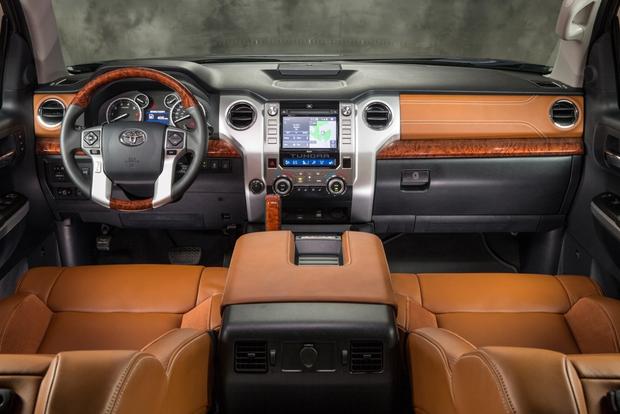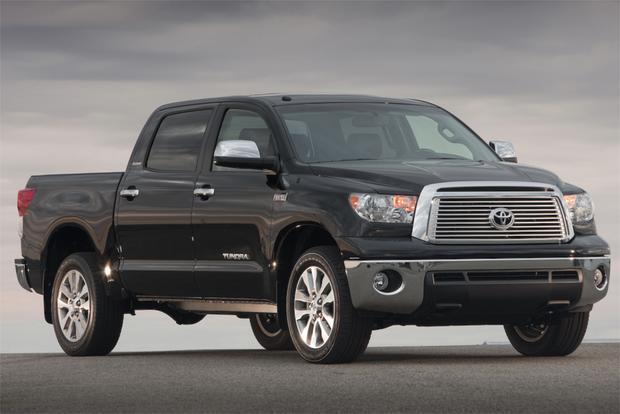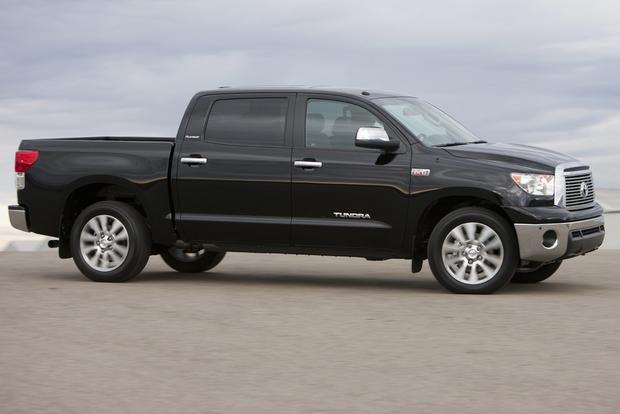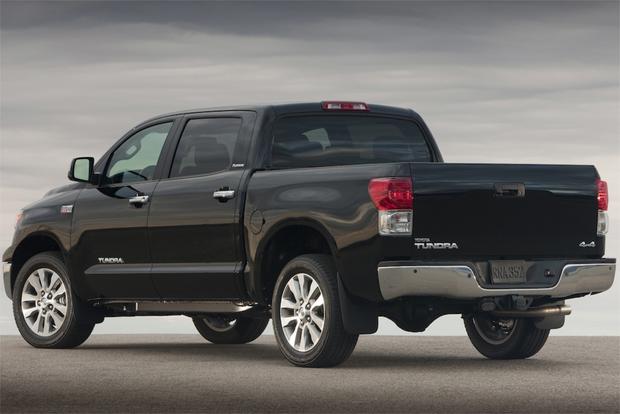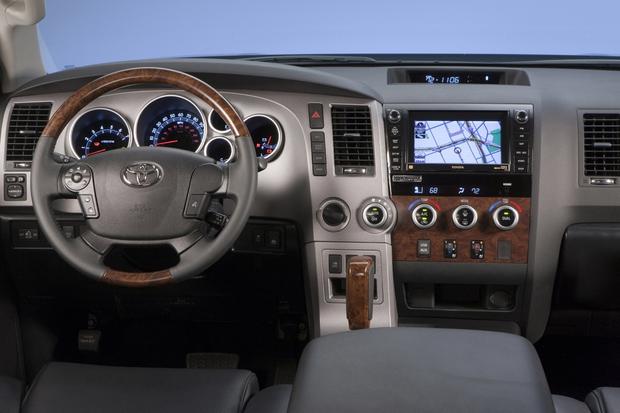 Designed, engineered and built in the U.S., the 2014 Toyota Tundra receives a long list of updates for the new model year, including a chiseled new skin and a reconfigured cabin. While the new Tundra looks different from the previous model, inside and out, Toyota is clear that otherwise the 2014 version is the same full-size light-duty pickup truck that the company was selling last year. Given that the guts of the truck haven't changed, does it make sense to buy a new 2014 Toyota Tundra or choose a leftover 2013 model -- or even go with a certified-used version of the truck? Let's take a closer look.
Fuel Economy
Toyota offers a choice of three engines in the Tundra, and they're carried over from the old truck to the new truck. A 270-horsepower 4.0-liter V6 is standard equipment, unless you need 4-wheel drive, in which case a 310-hp 4.6-liter V8 is a requirement. At the top of the powertrain lineup sits a stout 381-hp 5.7-liter V8 that can tow up to 10,400 pounds by SAE J2807 towing standards.
While the new Tundra uses the same engines and can tow the same amount of weight as the old Tundra, something unexpected has occurred with the truck's restyling. The 2014 Toyota Tundra's fuel economy ratings actually drop in a couple of instances.
Both changes occur with the mid-level 4.6-liter V8 engine. With 2-wheel drive, the 2014 Tundra's combined-driving rating from the Environmental Protection Agency drops from 17 miles per gallon to 16 mpg. With 4-wheel drive, the 2014 Tundra's highway rating falls from 19 mpg to 18 mpg. As a result, the old Tundra gets better fuel economy than the new Tundra by the slightest of margins.
Safety
Since the National Highway Traffic Safety Administration (NHTSA) and the Insurance Institute for Highway Safety (IIHS) have not performed crash tests on the new 2014 Toyota Tundra as this article is written, it's tough to compare the new truck and the old truck for safety, even if their underlying structures are essentially the same. Normally, if NHTSA determines that design changes won't impact crash-test results, they're carried forward. Since that's not the case for the 2014 Tundra, we can only conclude that NHTSA believes the front styling changes could affect crash protection.
Let's hope they affect it positively. Last year, the Tundra received a 4-star overall crash-test rating, with the front passenger protected at just a 3-star level in a frontal-impact crash. IIHS gave the Tundra a more impressive rating, calling the truck a Top Safety Pick.
If the new Tundra repeats these performances, what may separate the trucks in terms of safety? Technology. For the 2014 model year, the Tundra adds a standard reversing camera, and Toyota says it is the only full-size pickup to offer a blind spot monitor system with Rear Cross Traffic Alert. Because the new Tundra offers these features and the old Tundra doesn't, we'll give the new truck the nod for safety.
Reliability
Both Consumer Reports and J.D. Power give the old Tundra high marks for reliability and dependability. Most owners report slightly fewer problems with the 2-wheel-drive models than with 4-wheel drive, but either way, the Tundra has proven itself to be very dependable, a trait that should continue with the mechanically identical 2014 Tundra.
With these ratings assuaging concerns about choosing an old Tundra to save a few bucks, what might buyers expect from Toyota's certified pre-owned (CPO) vehicle program? Any used Tundra sold through the CPO program has passed a 160-point vehicle inspection, a CARFAX vehicle history report and an extension of the original powertrain warranty to seven years or 100,000 miles, whichever comes first. Additionally, all CPO Tundras get a 1-year/12,000-mile comprehensive warranty, and Toyota provides financing for used Tundras at new-Tundra rates.
If you decide you like the new Tundra's big-rig styling and more industrial interior appearance, you'll get a 3-year/36,000-mile comprehensive warranty, a 5-year/60,000-mile powertrain warranty and two years or 25,000 miles of free scheduled maintenance with roadside assistance.
Either way you go, the Toyota Tundra is a reliable truck. But we think a used CPO Tundra provides a little more peace of mind in terms of warranty coverage.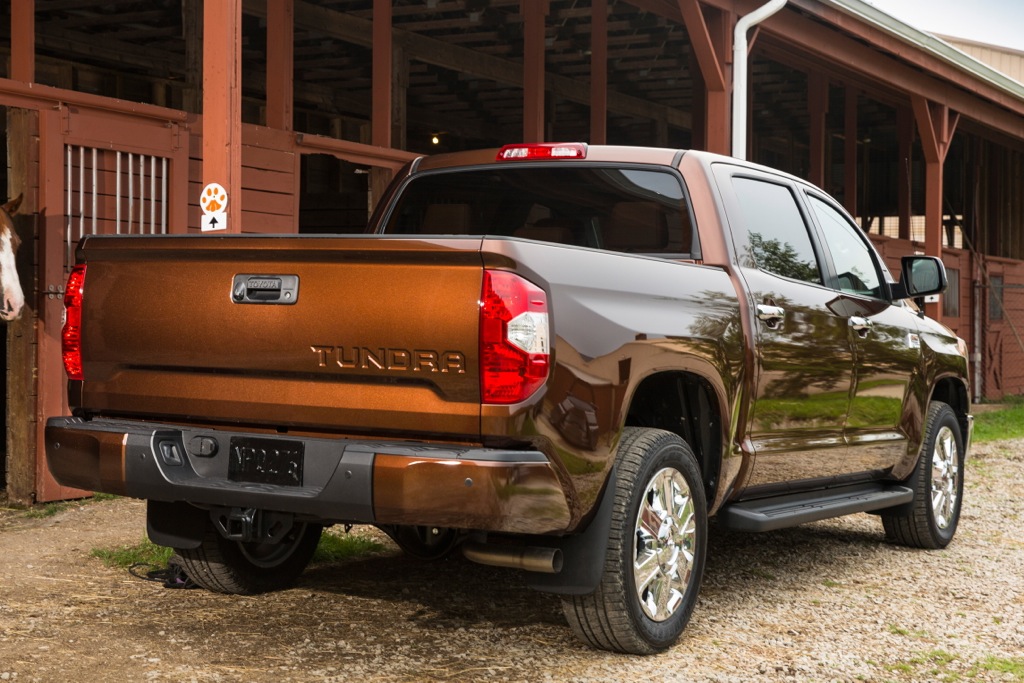 Value
In addition to a long powertrain warranty -- important for any workhorse vehicle such as the Toyota Tundra -- the CPO models deliver better value. Consider that the least-expensive new 2014 Tundra will cost a minimum of $26,915 for the base SR trim level, a regular cab and 2-wheel drive. Based on the 1,759 CPO Tundras advertised as available on AutoTrader.com as this article is written, you could get a 2007 Tundra regular cab with a long cargo box, 4-wheel drive and 72,000 miles on the odometer for just $15,900.
At the higher end of the scale, the differences are not as dramatic. Purchase a brand-new 2014 Toyota Tundra 1794 Edition and add every option, and the truck checks in at more than $50,000. That's before adding Toyota Racing Development extras, which push the price to nearly $55,000. Compare that to the certified-used 2013 Tundra CrewMax Limited 4-wheel drive -- on sale for $49,900 and just 700 miles from new -- and it's clear the discount is almost nonexistent.
Nevertheless, given the Tundra's reliability record, its impressive CPO coverage and what could amount to thousands in savings depending on the truck you choose, we think a CPO Tundra represents better value.
Technology
The new 2014 Tundra represents clear improvement over the old Tundra with standard and available technology. Even in the least-expensive format, the 2014 Tundra has heated side mirrors, a wiper de-icer, an Entune 6.1-inch touchscreen audio system with an auxiliary audio jack and a USB 2.0 port, Bluetooth calling and music streaming, and a reversing camera. Upgrade to a higher level of trim and the 2014 Tundra is available with a blind spot monitor and Rear Cross Traffic Alert.
AutoTrader's Advice
There are two reasons to buy the revamped 2014 Tundra over a CPO version of the truck it replaced: styling and technology. The new Tundra looks more rugged inside and out, and Toyota has added modern infotainment and safety features. Otherwise, the old Tundra has proven itself reliable, and represents excellent value. Plus, it's been called a Top Safety Pick. And, if you're getting the 4.6-liter V8 engine, it is slightly more fuel efficient. That's why AutoTrader recommends a CPO version of the old Tundra.