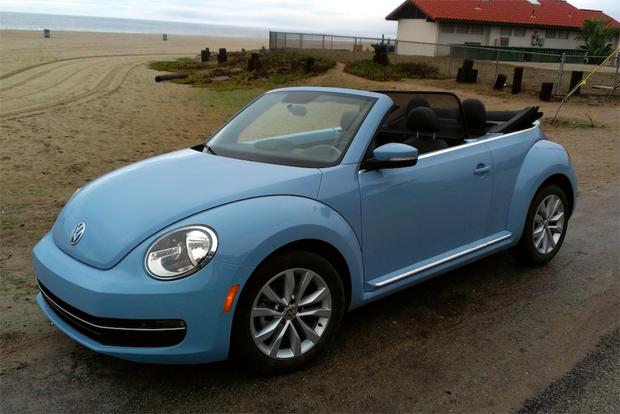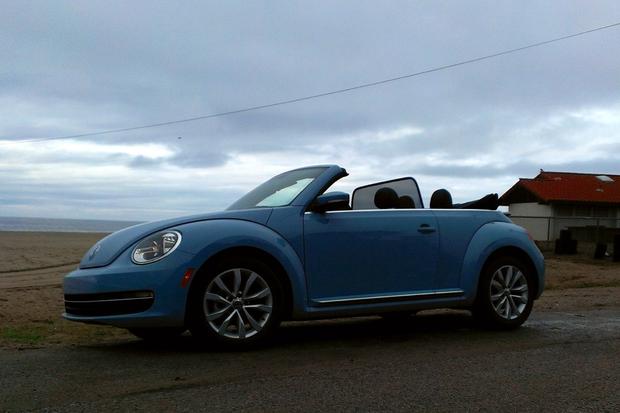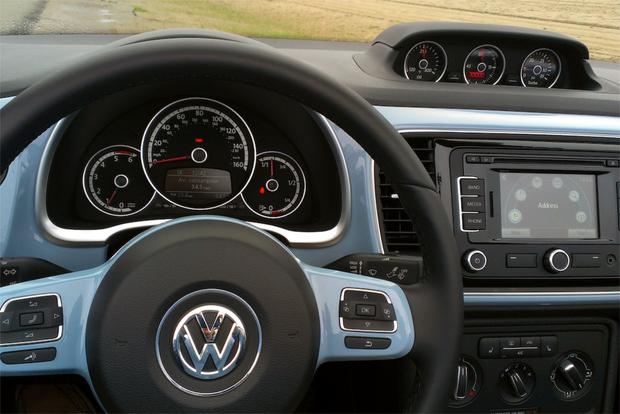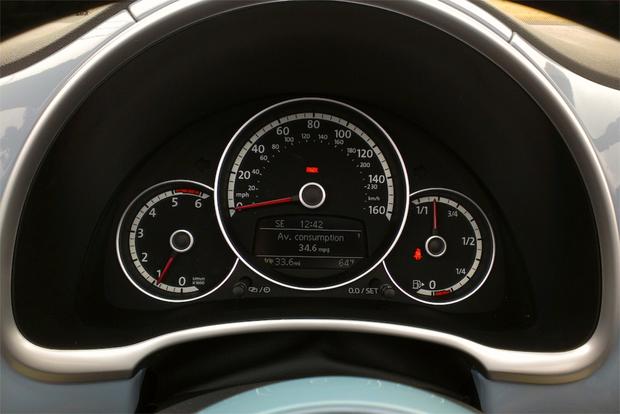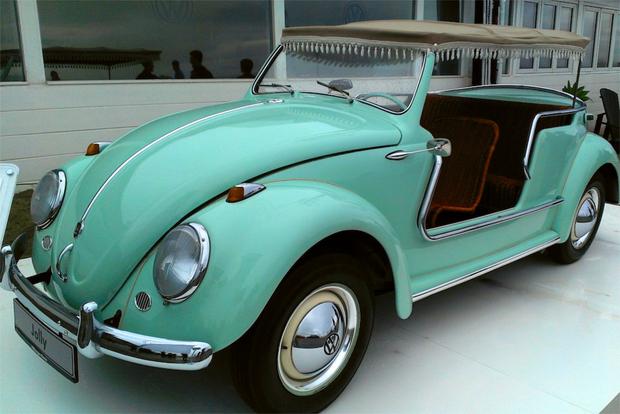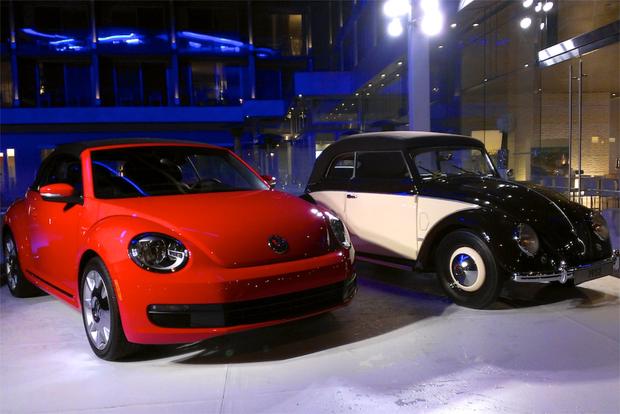 Volkswagen says it's committed to delivering better cars across the board. The brand-new 2013 VW Beetle convertible recently unveiled at the 2012 Los Angeles Auto Show is lower, longer, wider and more powerful, but did VW really improve on its icon? We had a chance to drive the Beetle Convertible in Malibu, Calif. after the show, to see if VW lived up to its promise.
A Blast From the Past
In an homage to its heritage, VW is offering a choice of three retro-inspired limited-edition trim levels to evoke emotions and memories that recall the glory days of classic VW "Bug" convertibles. There's a black 1950s version with tan interior and 2.5-liter 5-cylinder engine, a groovy denim blue '60s version with a two-tone black and blue interior and 2-liter turbocharged 4-cylinder engine, and a toffee brown '70s version with beige interior, also powered by the 5-cylinder. Can you dig it? We can.
Beetle Power
If you're not into Beetles of yesteryear, you can still get your Beetle convertible in one of sixteen different colors with a choice of three different engines: 177 horsepower 2.5-liter 5-cylinder, 200 horsepower 2-liter turbocharged 4-cylinder, and 140 horsepower 2-liter TDI turbocharged clean-diesel that can travel up to 594 miles on one tank and get up to 41 mpg on the highway.
We think the diesel version of the Beetle is actually the most fun, but even the base 2.5-liter gas engine is pretty good.
The gas turbo is the most powerful and has a firmer sport suspension to match. This is a smooth, powerful engine that feels like it belongs in a German performance car (and for good reason -- its similar to the turbo engines offered in many Audi models). Both the TDI and Turbo versions have a dash-mounted performance gauge cluster located in the top center of the dash. This is a stark contrast to the dash-mounted flower vase found in the old Beetle convertible.
The drive is also much better than in the past. The ride feels firm and handling is responsive, particularly in turbo models. The car seems to hug the road due to its wider stance and lower profile. There's virtually no cowl shake, where the top of the windshield vibrates with the top down -- something that plagues many other convertibles.
Comfort and Safety
The style of the 2013 Beetle convertible was inspired by the original 1949 Type 1 Beetle, with a flatter roof line and a more upright windshield. Speaking of which, that windshield is attached to a reinforced A-pillar, part of the Automatic Rollover Support System. This system includes two roll-over bars concealed behind the back of the rear seats that are activated within milliseconds by the same computer that deploys the airbags during a crash.
With the top up, outside noise is a non-issue. The cabin remains quiet enough to have a conversation or enjoy the optional Fender audio system, even at low volume. And the power-folding soft-top can be activated in a simple one-step, one button operation that's fast and quiet. Volkswagen says the roof can be fully raised or lowered in approximately 10 seconds, and you can do this while traveling up to 31 mph. The soft top even has a heated rear window. Stow the top, and the mechanism lays flat (flatter than the previous Beetle convertible and even the old Cabrio) to increase rear visibility. Cover it with the matching boot and you get an even more streamlined look.
Bang for the Buck
Plenty of standard amenities come with the base model 2.5-liter model, including 17-inch aluminum-alloy wheels; a thick leather-wrapped, flat-bottom steering wheel; cruise control; V-Tex leatherette seating surfaces with heated front seats; heated exterior mirrors; 50/50-split folding rear seats; an eight-speaker sound system with aux input; Bluetooth technology; VW's Media Device Interface with iPod cable; and interior 3-color 4-position ambient lighting. Pricing starts at $24,995.
Of course there are optional upgrades like touch-screen HD radio, Fender premium sound system, navigation, bi-xenon headlights with LED running lights, and more -- including accessories to personalize your Beetle convertible.
Prices top out at $32,295 for a fully-loaded Turbo model with VW's quick-shifting dual-clutch automatic transmission. And, no matter which model you choose, you'll pay a $795 destination charge, as well.
Tougher and Better
The all-new 2013 VW Beetle convertible offers fun in the sun for up to four, but it's also pretty practical, too. And given its sportier look and performance-oriented features, driving enthusiasts of both genders will likely find this new Beetle convertible to be significantly "better." In fact, since the redesign of the coupe, Volkswagen claims that 40% percent of overall buyers have been male.
The previous Beetle convertible may have been cuter, but it was essentially an economy car wrapped in sassy skin. Distinctive bodywork aside, most versions of the previous Beetle weren't even great economy cars.
The 2013 Beetle convertible is the whole package. It looks great on the outside, evokes fond memories of classic Beetles and now feels like a premium German coupe inside. The 2013 VW Beetle truly delivers on Volkswagen's promise to build cars that are simply better.