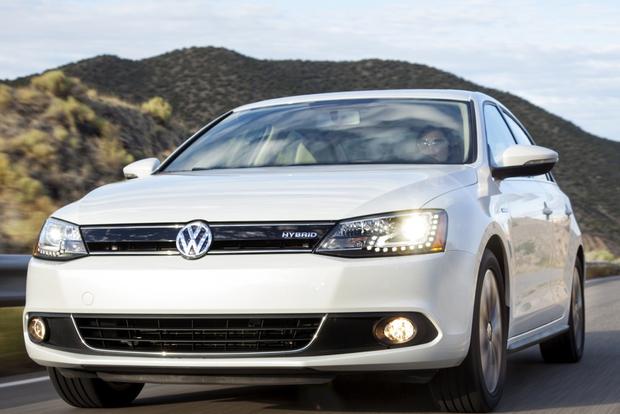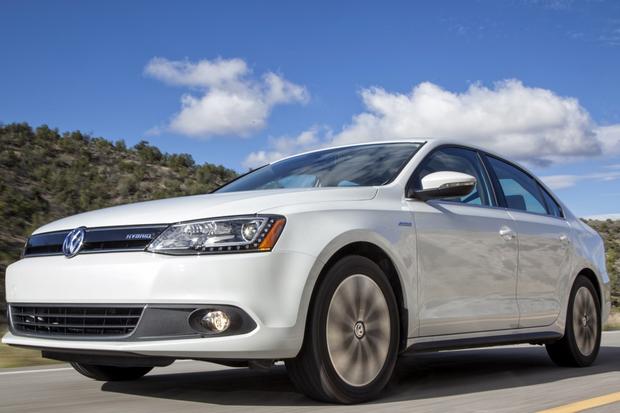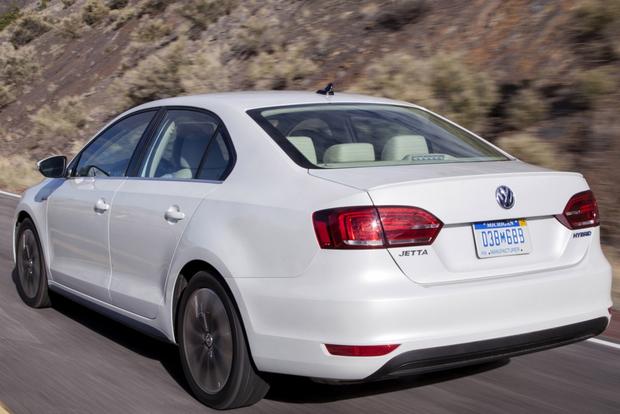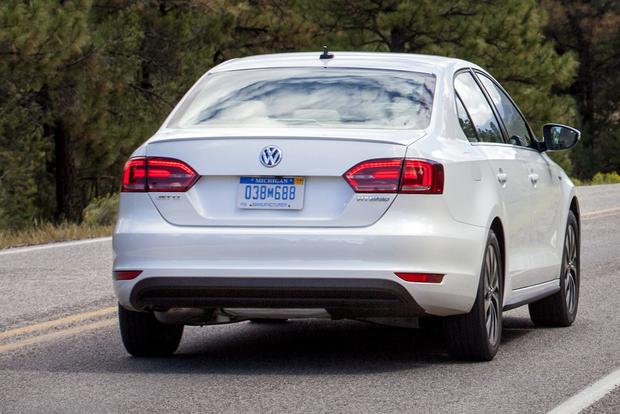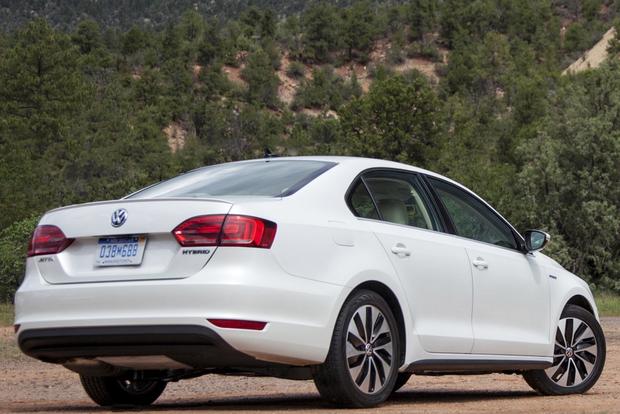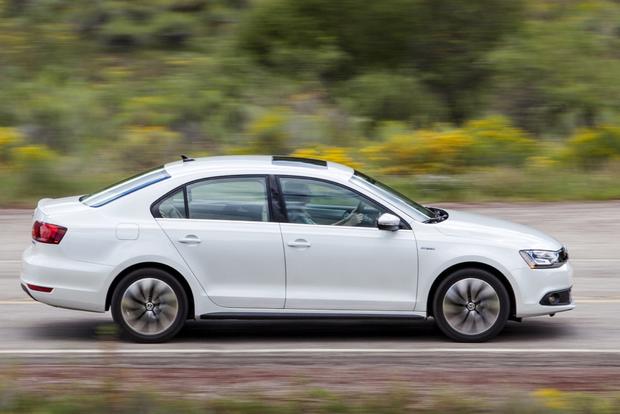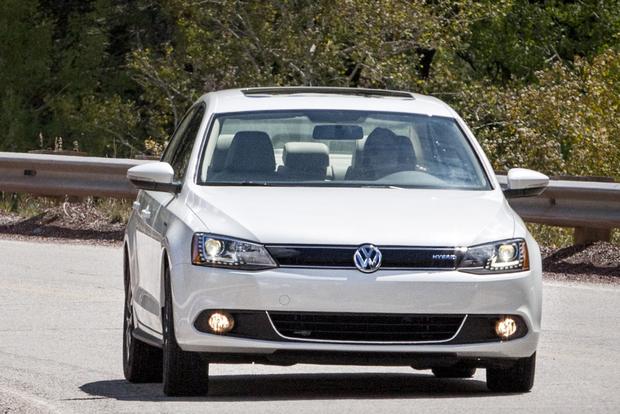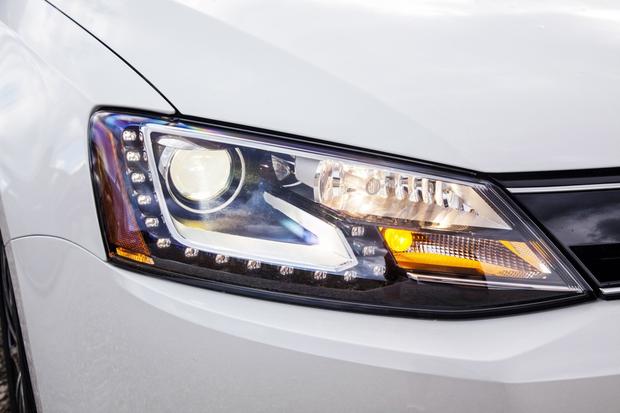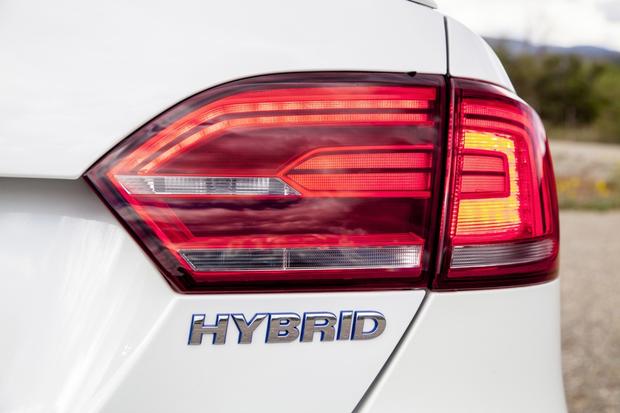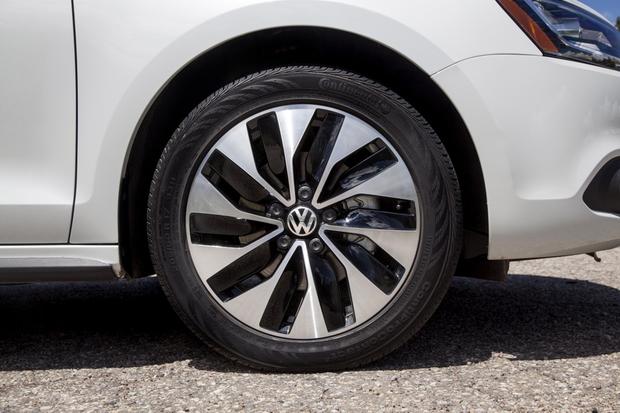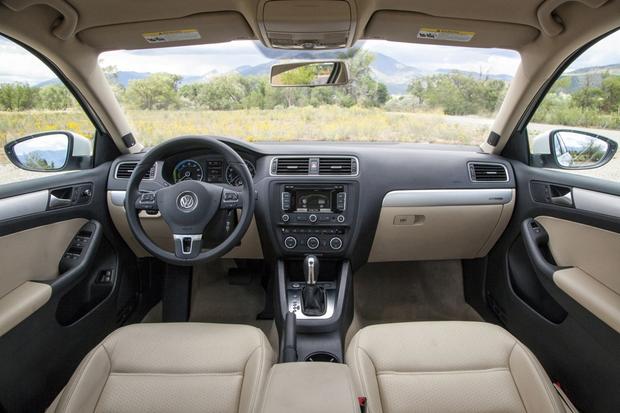 Pros: Exceptional fuel economy; sprightly acceleration; "normal car" character; roomy backseat; attractive price
Cons: Touchy brakes; low-speed quirks from the DSG transmission
What's New: The Jetta Hybrid makes its debut for 2013.
Introduction
If you're skeptical about the value of hybrid vehicles, or if you simply haven't been a fan of hybrids so far, the all-new 2013 VW Jetta Hybrid just might change your mind. This unassuming sedan targets two negative stereotypes about hybrids and bids them a decisive auf Wiedersehen.
The first stereotype is that driving a hybrid is a strange experience. We've certainly tested our share of hybrids that drive like transportation pods and look like spaceships, but the Jetta Hybrid is notable for how downright normal it is. Aside from having two different motors -- gasoline and electric -- that work together to maximize fuel economy, the Jetta Hybrid basically drives like any other Jetta. And it looks like a Jetta too, from its sensible sedan exterior to its simple, cleanly styled interior.
The second stereotype is that hybrids are slow. That's true of the Honda Civic Hybrid, no doubt, and of the Toyota Prius as well. But you'll realize the Jetta Hybrid is a different beast as soon as you hit the accelerator. The electric motor provides immediate punch off the line, and then the turbocharged 1.4-liter gas motor kicks in seamlessly, teaming up with the quick-shifting DSG automanual transmission to pull you forward with real urgency. In fact, the Jetta Hybrid feels similar to the fastest Jetta on the market, the turbocharged non-hybrid VW GLI -- except it gets an incredible 45 miles per gallon in mixed driving, which is 17 mpg better than the GLI, and even 1 mpg better than the aforementioned Honda.
Throw in a reasonable base price of around $25,000 and it's clear why Volkswagen thinks its new hybrid is such a big deal. We'd tell anyone shopping for a fun, affordable, fuel-efficient car to put stereotypes aside and give the 2013 VW Jetta Hybrid a chance.
Comfort & Utility
The 2013 Volkswagen Jetta Hybrid sedan is offered in base, SE, SEL and SEL Premium trim levels.
The base model features a fully independent suspension (the regular Jetta has a less-sophisticated "torsion-beam" rear suspension), 15-inch alloy wheels, Bluetooth, automatic climate control, a 6-speaker sound system, a leather-wrapped multifunction steering wheel and a Hybrid-exclusive power gauge that replaces the tachometer and shows how efficiently you're driving.
The SE adds LED taillights, keyless entry with push-button start, iPod connectivity and a central touchscreen interface with a graphical Hybrid status display and an SD-card reader.

The SEL tacks on 16-in alloy wheels, a sunroof, a navigation system and heated front seats with 6-way power adjustments for the driver.
The SEL Premium, which starts at a bit more than $31,000, boasts 17-in alloy wheels, adaptive bi-xenon headlights with LED accents, fog lights, a premium Fender audio system and a rearview camera.

In our interior evaluation, we noted that the standard tilt-telescopic steering wheel and height-adjustable driver's seat help drivers of all measurements find a comfort zone at the Jetta's helm. One pleasant surprise is that even the base Jetta Hybrid's front seats come with adjustable lumbar support for both passengers -- a rare treat at this price. Lateral support is lacking, but that's not a big deal; the Jetta Hybrid is more about quick turbo-electric bursts than enthusiastic cornering.
Surveying the scene from behind the wheel, we were struck by how ordinary the dashboard layout seemed, and that's a compliment. A lot of hybrids seem desperate to impress you with gadgets and high-resolution readouts, but the Jetta Hybrid mostly does a bang-on impression of a regular car. Models with the touchscreen interface do offer an informative Hybrid status readout, but you can hide it if you want. The touchscreen itself is the same one that many other Volkswagen models employ. The only obvious sign you're driving something different is that an analog hybrid power gauge has taken the place of the tachometer.
On the build-quality front, the Jetta Hybrid's cabin is distinguished by its soft-touch dashboard, an improvement over the hollow-sounding hard plastic in lesser Jettas. However, the door panels continue to be hard and cheap-feeling, so there's a bit of a mismatch here. If you want a full soft-touch interior like in Jettas of old, the Hybrid can't help you. Only the Jetta SportWagen delivers, and it's not offered in Hybrid form. But to be fair, the Jetta Hybrid's switchgear has an upscale character, and there's a general Euro-premium vibe inside that makes the tacky elements more tolerable.
Turning to the backseat, even 6-foot passengers will be content in the outboard positions, so we see the Jetta Hybrid as a true rival to the technically larger Ford Fusion Hybrid and Toyota Camry Hybrid. But when you're at the dealership, make sure the trunk is to your liking. Although the regular Jetta has an impressive 15-plus cu ft of trunk space, the Jetta Hybrid's got a battery pack back there, so it can only manage 11.3 cu ft. (That battery pack creates an awkward hump in the cargo floor.) There's still more than enough room for groceries and such, but golfers will find scant room for their bags, and larger suitcases can be a tight squeeze.
Technology
Although we like that the Jetta Hybrid's technology doesn't dominate the driving experience, we're disappointed that iPod integration isn't standard on the base model. Some might be miffed that the touchscreen isn't standard either, requiring you to step up to the SE if you want more hybrid-related information than the analog power gauge provides.
But if that's what keeps the starting price down around $25,000, we're willing to forgive it. Although other hybrids might give you more gadgets, the Jetta Hybrid gives you a genuinely fun-to-drive experience, and that's a tradeoff we'll take every day of the week.
Of course, if you're willing to ante up, there's plenty of available technology on tap, including navigation and the desirable Fender audio system. And, in truth, even the top-shelf SEL Premium isn't outlandishly priced for what you get.
Performance & Fuel Economy
The Jetta Hybrid is powered by both a 1.4-liter turbocharged 4-cylinder gasoline motor and an electric motor that gets its energy from a rear-mounted battery pack. Being a dual-mode hybrid, the Jetta Hybrid is capable of shutting the gas motor off when it's not needed.
When you step on it, both motors work in tandem to produce 170 horsepower and 184 lb-ft of torque. An unusual touch is the 7-speed DSG dual-clutch automanual transmission, which the Hybrid shares with sporty models such as the GTI hatchback.
In practice, the Jetta Hybrid is a revelation, powering confidently away from stoplights and zipping around slow-moving traffic with ease. The gas motor is refined and responsive, while the electric motor adds a big dollop of torque that shoves you back in your seat. The DSG transmission can be finicky when you're parking -- you can feel it feathering the clutch like a teenager learning to drive, with less-than-precise results -- but it delivers amazingly quick shifts at speed.
Given all that, the fuel economy numbers are simply astounding: 42 mpg city/48 mpg highway, according to the Environmental Protection Agency (EPA).
Safety
The 2013 Volkswagen Jetta Hybrid comes with standard stability control and six airbags (front, front side and full-length side-curtain). Four-wheel anti-lock disc brakes are also standard.
In government crash testing, the Jetta sedan received four stars out five overall, including four starts for frontal impacts and five stars for side impacts. The independent Insurance Institute for Highway Safety (IIHS) gave the Jetta sedan its highest rating of "Good" in every crash-test category.
Driving Impressions
The Jetta Hybrid driving experience is dominated by its energetic powerplant, but there's a lot to be said for its dynamics, too. Blessed with largely the same upgraded suspension components as the GLI performance sedan, the Jetta Hybrid holds its own in corners, limited more by its mpg-minded tires than anything else. As for the ride, it's great, striking a subtle balance between control and comfort -- and generally keeping road and wind noise at bay.
Our only real criticism here regards the brakes, which use regenerative technology to recharge the battery pack via energy from the wheels. All hybrids employ some version of this technology, and most have odd-feeling brakes as a result. Alas, the Jetta Hybrid is no exception: The pedal feel is inconsistent, and the act of braking generally requires more thought than you're probably used to. It's not a huge deal, but keep it in mind on your test drive.
Other Cars to Consider
Ford Fusion Hybrid: The sleek Fusion Hybrid gets slightly better EPA-rated fuel economy. Like the VW, it's got a surprisingly playful character. We prefer the Jetta's power delivery, though.
Honda CR-Z: The CR-Z has that spaceship vibe we talked about, for better or worse, but it's an intimate 2-seat coupe that's fun to drive, so we recommend giving it a look if you don't need a backseat.
Toyota Camry Hybrid: The Camry Hybrid's fuel economy, while still mighty impressive, is no longer class-leading. However, Toyota's fuel-sipping family sedan does provide surprisingly robust power, albeit with less refinement than the Volkswagen.
AutoTrader Recommends
Given the reasonable pricing, there's not a bad Jetta Hybrid in the bunch. We'd steer you toward the base model just because it's a lot of car for $25,000, but higher trim levels fortunately won't break the bank.