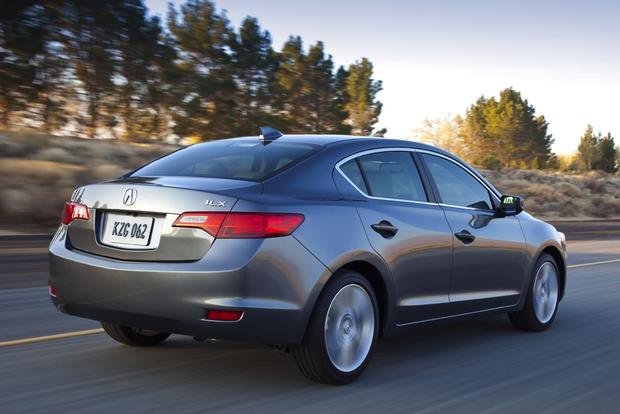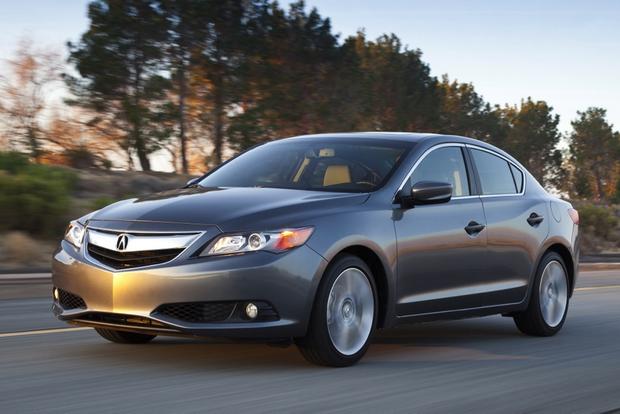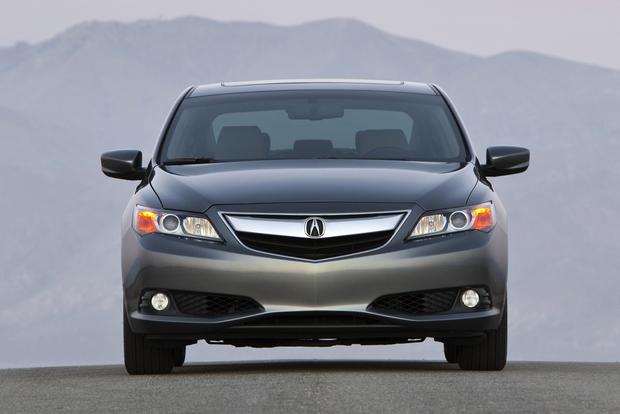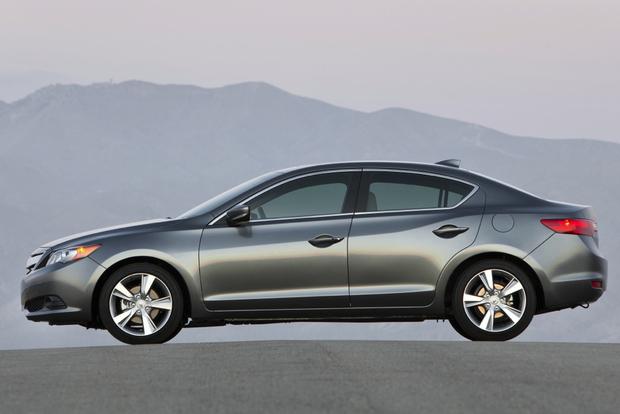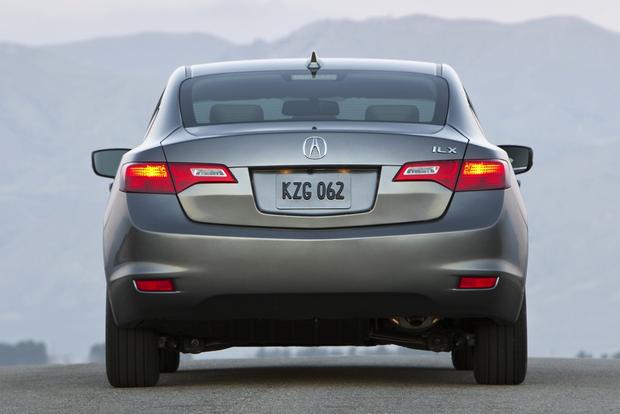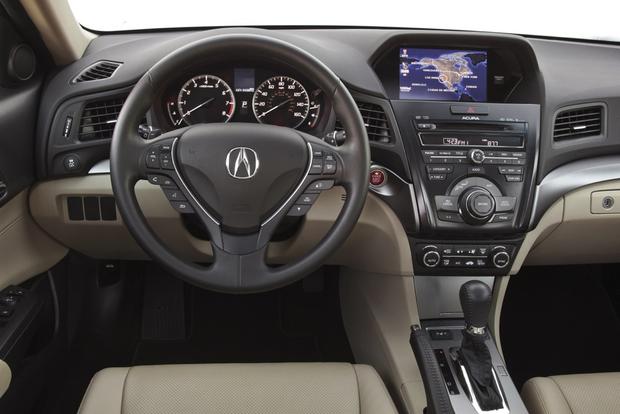 The 2014 Acura ILX is that rarest of creatures: a compact economy sedan that's been converted into a luxury car. Acura's transformation of the humble Honda Civic into the premium ILX is the sort of thing we'll be seeing frequently in years to come.
If you pay close attention, you can feel the Civic in the ILX model's soul. The base 2.0-liter engine is more advanced than the Civic's standard motor. But at a mere 150 horsepower, the ILX finds itself outgunned by a number of lesser family sedans. The optional 2.4-liter engine pulled from the Civic Si seems more in line with the kind of power you'd expect from an Acura, but it can only be had with a 6-speed manual transmission.
Sleek exterior styling hides the ILX's roots. Inside, the material quality is leaps and bounds ahead of what you get in the Civic, and the leather seats are typical Acura: firm and wonderfully supportive. The available technology is likewise superior.
Considering the ILX model's enticing starting price of around $27,500, it may not have the commanding power and presence of past premium sedans, but it's a good fit for these fast-changing times.
What's New for 2014?
The 2014 Acura ILX receives a number of new standard features, including heated front seats, an 8-way power driver's seat, new 17-inch wheels and a rear backup camera. A new audio setup includes Active Noise Cancellation.
What We Like
Full feature set; available ILX Hybrid version; engaging 2.4-liter engine; pleasantly premium interior
What We Don't
Lackluster 2.0-liter engine; the ILX Hybrid is downright slow; 2.4-liter engine is manual only
How Much?
$27,795-$31,000
Fuel Economy
The base ILX gets a so-so 2.0-liter engine with 150 hp and 140 lb-ft of torque. Fuel economy is 24 miles per gallon city/35 mpg hwy, which is average-minus these days for an economy sedan.
Optional is a 2.4-liter engine that makes 201 hp and 170 lb-ft of torque. Oddly, the only transmission is the Civic Si's admittedly excellent 6-speed manual, which will naturally limit the ILX 2.4 model's appeal. Fuel economy is an underwhelming 22 mpg city/31 mpg hwy.
As for the ILX Hybrid, it has Honda's 1.5-liter inline 4-cylinder with Integrated Motor Assist, a gas/electric combination that returns 39 mpg city/38 mpg hwy.
Standard Features & Options
The 2014 Acura ILX comes in three models: 2.0, Hybrid and 2.4.
Standard on the 2.0 ($27,795) is a 5-speed automatic transmission, 17-in alloy wheels, a sunroof, keyless entry with push-button ignition, automatic climate control, fog lights, 8-way power driver's seat, leather seating surfaces, Bluetooth, a 5-in color display that controls many accessory functions (including a read-aloud SMS text feature) and a 6-speaker 160-watt sound system with iPod/USB connectivity, Pandora Internet radio and Active Sound Cancellation.
The ILX Hybrid ($29,795) has the same equipment as the ILX 2.0 only it runs on 16-in wheels, has cloth seats and uses a CVT gearless transmission. The hybrid also deletes the Active Noise Cancellation system but gains a rear spoiler.
The 2.4 ($30,095) brings a 6-speed manual transmission and stainless-steel pedal covers.
The Premium Package (not available on the ILX Hybrid) adds a 7-speaker 360-watt Premium sound system, USB port and Bluetooth Audio plus Pandora Internet radio interface.
The Technology Package includes the Premium Package plus an 8-in display and a hard-drive-based navigation system that offers 15 gigabytes of music storage.
In back, the ILX has plenty of room for a couple of adults, which shouldn't come as a surprise. The Civic has been similarly roomy for quite a few years. So, although this is a compact sedan, your rear passengers won't necessarily feel the pinch.
You will, however, notice space limitations in the trunk, where maximum cargo capacity is a modest 12.3 cu ft. That drops to 10 cu ft in the Hybrid.
Safety
The ILX comes with 4-wheel anti-lock disc brakes, electronic traction and stability control and a full roster of airbags. The independent Insurance Institute for Highway Safety gave it perfect Good marks across the board in crash tests, while the National Highway Traffic Safety Administration gave it a top 5-star crash rating overall, including four stars in front impacts and five in side impacts.
Behind the Wheel
The ILX is softer than the Civic, and that's a good thing. It has a ride quality that we're comfortable calling premium, even if you still feel more impacts than perhaps you're accustomed to in an Acura. Road noise, too, is thankfully reduced. With the 2.4-liter under the hood, the story gets more exciting. Smooth and engaging, this is the little motor that could, and with good reason. It's plucked from the Civic Si sport sedan, even though the handy limited-slip differential (for better cornering traction) didn't make the transition. Overall, we'd say that razor sharp handling isn't a real highlight of the 2014 ILX (get a Civic Si if that's a concern), but it's certainly secure.
Other Cars to Consider
VW Jetta GLI-- The GLI has more horsepower, a more engaging ride and better sport seats. Its interior is equally refined, yet the GLI has a lower base price.
Audi A3 -- The A3 costs more but offers more power, more luxury features and the option of diesel engine.
Buick Verano-- The Verano has a lower base price, a smoother ride and an available 240-hp turbocharged engine.
AutoTrader's Advice
Unless you favor a manual transmission, the base 2.0 with the Technology Package provides a fully equipped luxury car for just over $31,000.