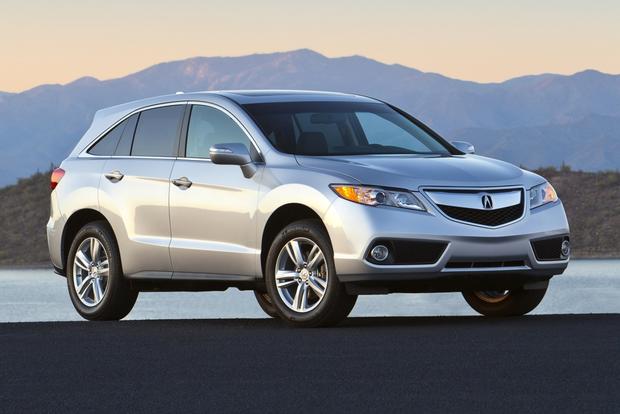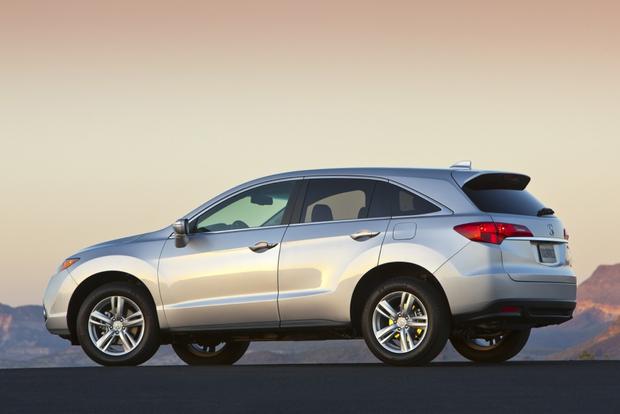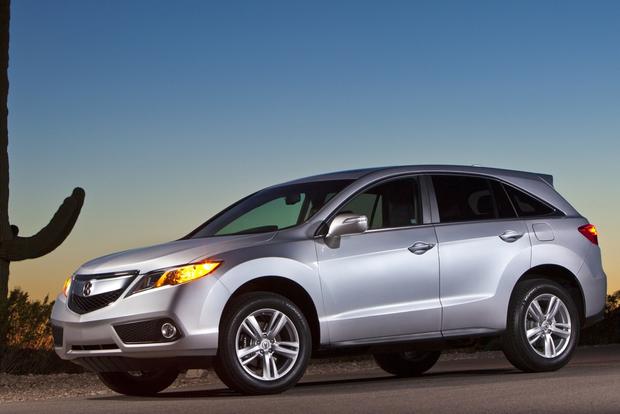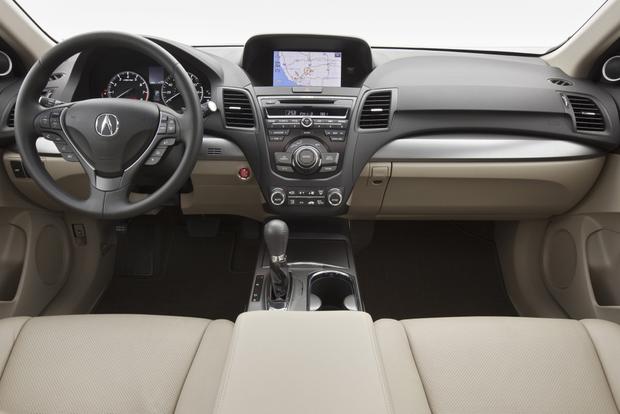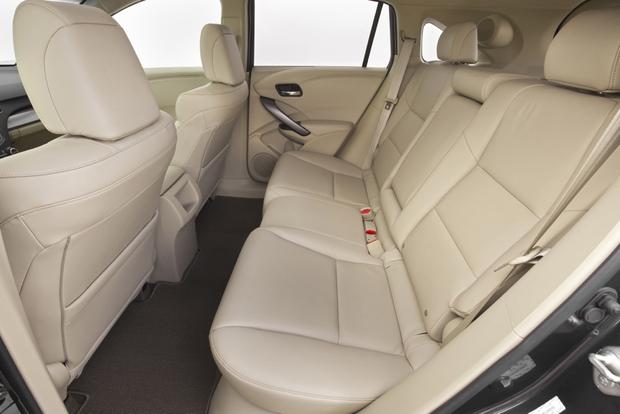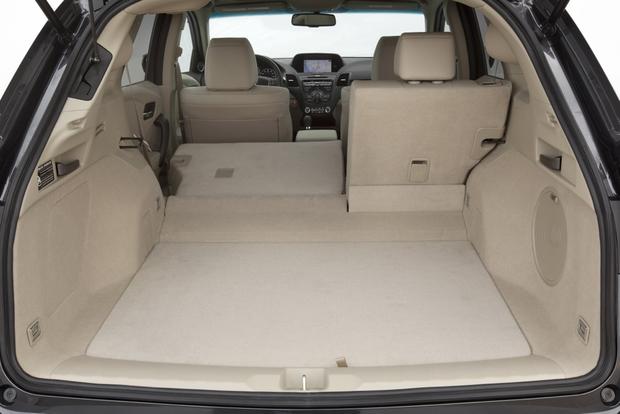 Honda and its Acura premium division have long thrived by being unorthodox. So when Acura launched the original RDX compact SUV in 2007 with a turbocharged 4-cylinder to compete against the V6-powered Lexus RX350, it seemed possible that Acura could again succeed by zigging when everyone else zagged.
But it didn't work out that way. Instead, RDX sales lagged. So, last year Acura performed a complete remake, advancing an RDX more in line with customer expectations. The result is the 2014 Acura RDX, a roomy, smooth and luxurious mini version of the brand's popular MDX midsize SUV.
Acura says it had a sporty customer in mind the first time around, but now it's targeting an older, luxury-minded driver. The difference shows, as the newest RDX enjoys a visibly more opulent cabin, with rich-looking soft-touch surfaces.
Under those premium materials, the RDX packs more sound-deadening ability and uses the stereo system for Active Sound Control (it works like noise-canceling headphones) to create a hushed environment inside. Even the window glass is thicker than before, to keep out wind noise.
What's New for 2014?
There are no major changes to the 2014 Acura RDX.
What We Like
Plush cabin; smooth power; quiet at highway speeds; slightly sporty edge
What We Don't
Pricey; muddled brand image; generic look and feel; no high-mileage hybrid or diesel option
How Much?
$35,415-$43,000
Fuel Economy
The 2014 Acura RDX is powered by a 273-horsepower, 3.5-liter V6 teamed with a 6-speed automatic transmission. Acura's Active Cylinder Management system lets this engine run on six, four or three cylinders depending on the need for power. The 6-speed automatic transmission goes about its business without notice, but if you are so inclined, you can shift gears yourself with the steering-wheel-mounted plastic shift paddles.
Fuel economy for the front-drive RDX is a modest 20 miles per gallon city/28 mpg highway. The all-wheel-drive version earns 19 mpg city/27 mpg hwy.
Standard Features & Options
The 2014 Acura RDX comes in one trim with no standalone options. All-wheel drive is available with or without the advanced Technology Package.
The front-wheel-drive RDX ($34,415) includes a power moonroof, 18-inch alloy wheels, heated outside mirrors, auto on/off headlights, an 8-way power front driver's seat with power lumbar support, a 4-way power passenger seat, leather seat trim, heated front seats, dual-zone automatic climate controls, cruise control, keyless access with push-button start, a manual tilt/telescopic steering column, 360-watt 7-speaker sound system, Bluetooth, a rear backup camera and the Active Noise Control interior noise cancellation system.
The RDX with the Technology Package ($39,115) brings the AcuraLink satellite communications system, voice-activated navigation with real-time traffic and weather updates, SMS text messaging, GPS-linked climate control and the ELS premium sound system with 410 watts, 10 speakers, DVD audio, Dolby Pro-Logic II and 15 gigabytes of hard-drive music storage.
All-wheel drive adds another $1,400 to the bottom line of either model.
The GPS-linked, solar-sensing dual-zone climate control system seems a bit gimmicky and didn't provide any noticeable benefit to cabin comfort. Credit goes to Acura for adding the automatic 3-flash lane change turn signal function to the RDX. This is a handy feature that remains uncommon among Asian vehicles, although American and European brands have long since embraced it.
Safety
Acura has packed in more high-strength steel to armor the RDX for safety. In this Acura model, 65 percent of the body is made of high-strength steel, compared with 47 percent in the old model. The result is a 24 percent improvement in torsional rigidity for an extra-strong body shell. Extra reinforcement was added to the rear and to the roof pillars with the aim of better scores in new government tests for rear impact and roof crush strength. Knee bolsters under the dashboard help keep occupants in optimal position, so the numerous airbags and air curtains can do their jobs in the event of a crash.
In the National Highway Traffic Safety Administration crash tests, the 2014 Acura RDX performs near the top of its class, earning five out of five stars in the front-end and side-impact tests, and four stars in the rollover test. The Insurance Institute for Highway Safety also thinks highly of the RDX, handing it a Top Safety Pick rating.
Behind the Wheel
It's often a knock to say that a car feels bigger than it is, because this usually means that it feels clumsy and ponderous. But in the case of the RDX, it means that the car has the steady smoothness you'd find in a bigger class of vehicle, such as the MDX. Too often, small SUVs are just bouncy and rough.
The taut, accurate steering provides uncommon feel and feedback for a luxury-class vehicle, especially one that isn't German. Acceleration from the V6 is quiet and strong, with the 6-speed automatic transmission gliding smoothly through its gears.
Lexus established itself as the player to beat in the premium compact SUV market with its slick, quiet, luxurious RX350. The RDX now enjoys all of those same attributes, so it should be very appealing to customers who want to be bathed in an atmosphere of luxury while driving a smaller SUV. The RDX adds the benefit of responsive handling and a communicative steering feel, so the driver not only feels coddled but also feels involved with the activity of driving rather than disconnected from it.
Other Cars to Consider
BMW X3-- BMW has gone in the opposite direction, replacing a 6-cylinder engine with a turbocharged 4-cylinder. Because BMW is already on people's shopping lists, it is a risk the brand can take, even though the new TwinPower turbo engine delivers exactly the same horsepower as that of the previous Acura RDX turbo.
Mercedes-Benz GLK-- The 2014 Mercedes GLK offers a higher quality of materials and a more sophisticated information and entertainment system. A fuel-sipper diesel is also an option.
Audi Q5-- Audi has quickly made itself the understated favorite in many vehicle categories, and the Q5 certainly qualifies. It has the curb presence and visible quality to state its case.
AutoTrader's Advice
Although SUVs are thought of as 4-wheel-drive off-roaders, most of us do fine with the cheaper, more fuel-efficient front-wheel-drive versions, especially when they're equipped with modern traction and stability control systems. So it makes sense to save money on the purchase and save gas while you own it by choosing the front-wheel-drive version. Unless you're all about premium audio and factory navigation, we'd say skip the Technology Package.