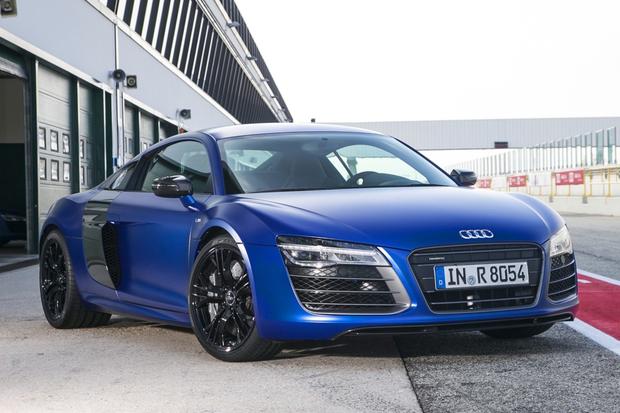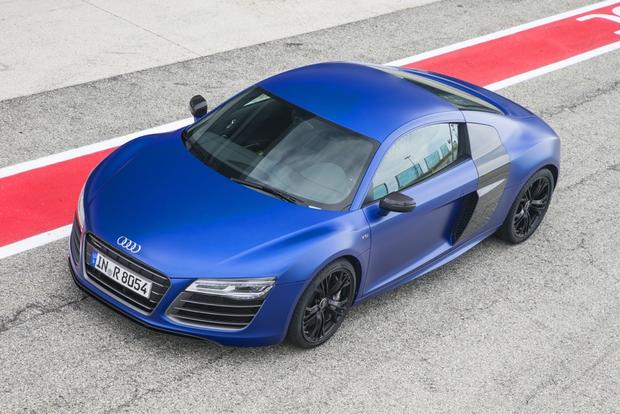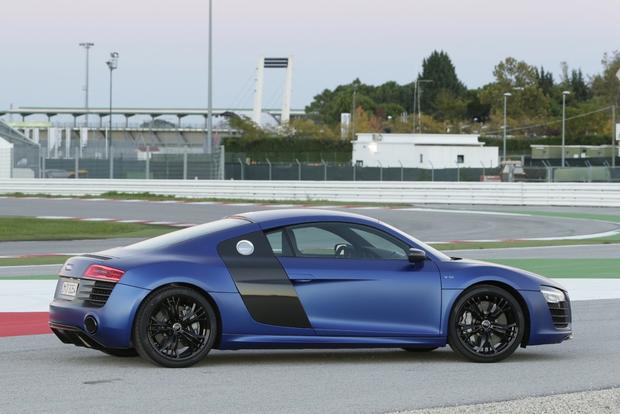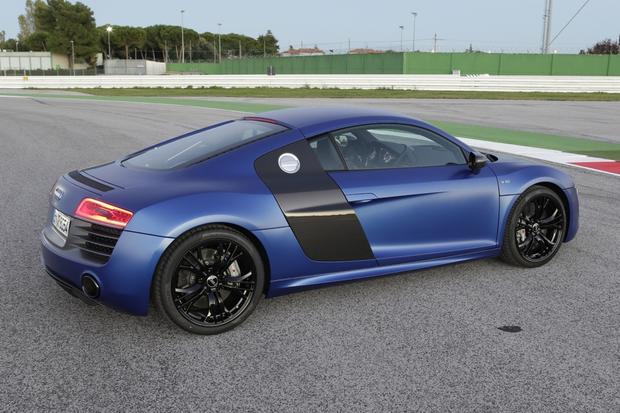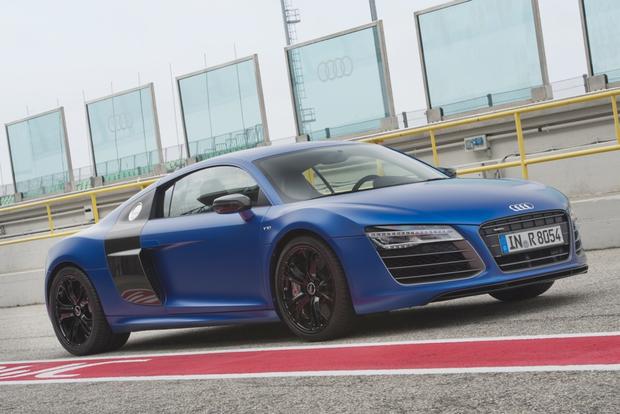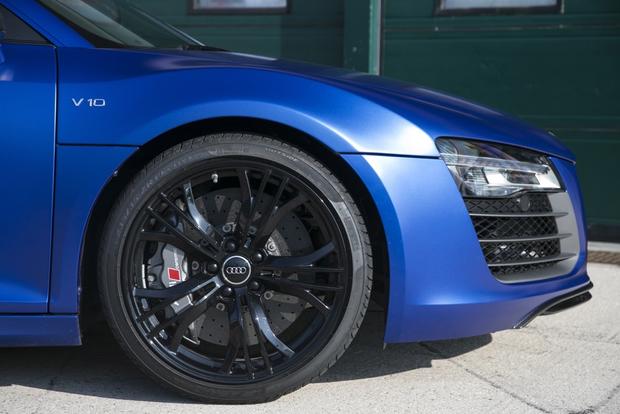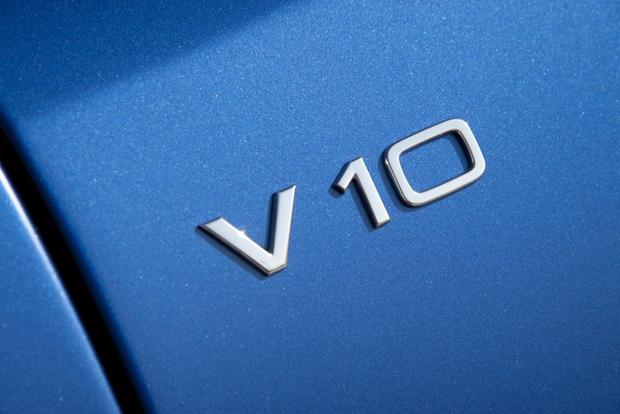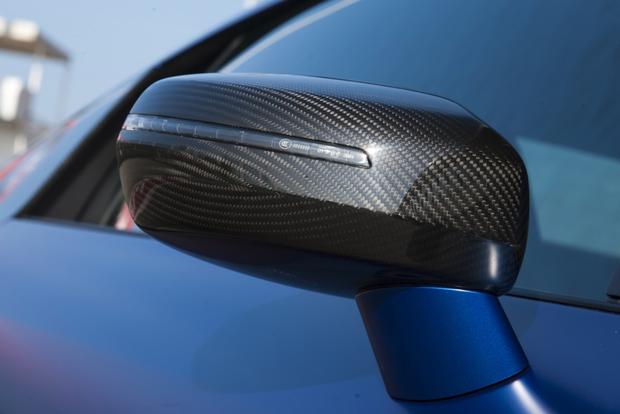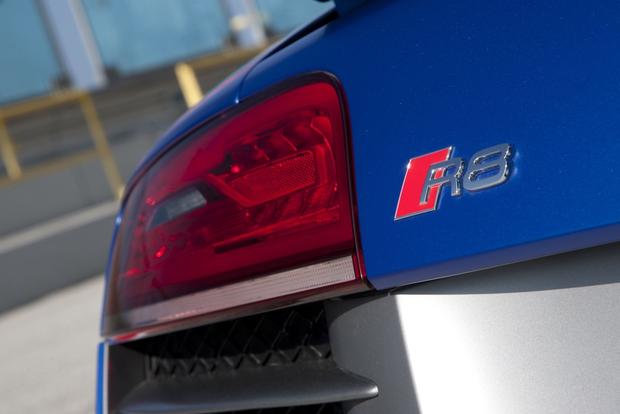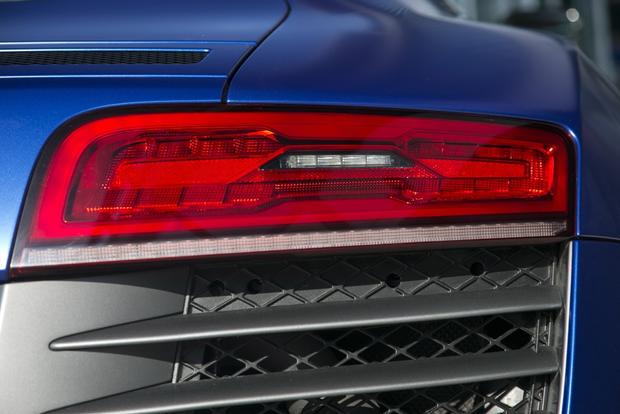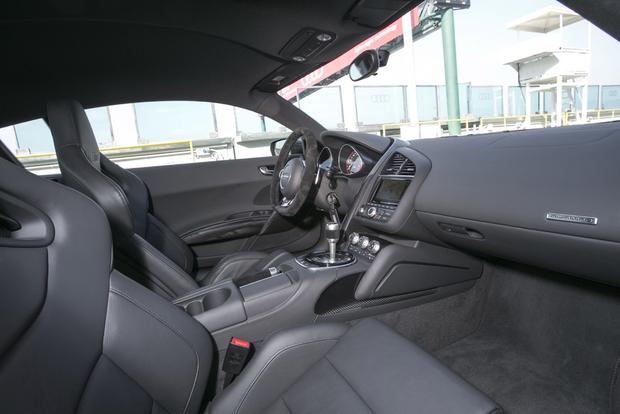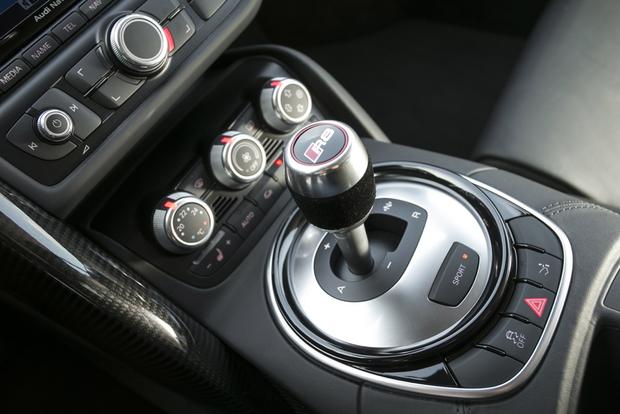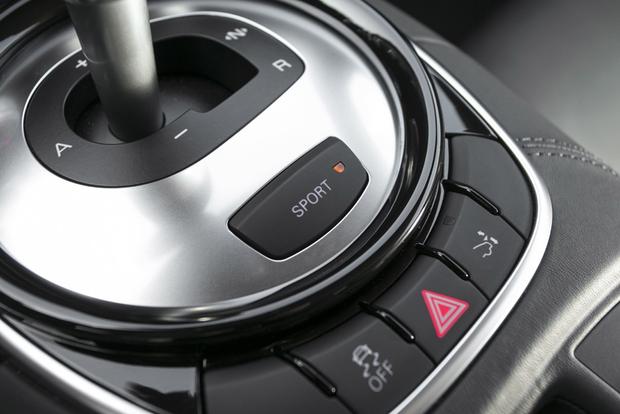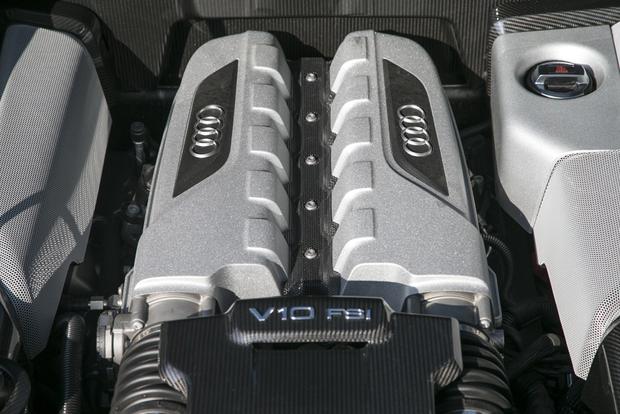 Pros: Faster and more fuel efficient than its predecessor; dual-clutch gearbox enables more refined driving dynamics; relatively economical compared to supercar alternatives
Cons: Styling isn't dramatically refreshed for second-generation update; automatic upshifts at redline not possible in Sport mode; mild performance specifications compared to some exotics
What's New: Mild styling refresh and a long-awaited dual-clutch transmission that replaces the automated single-clutch gearbox.
Comfort & Utility
As high-dollar sports cars go, the 2014 Audi R8 offers more usability and comfort than most of its 2-seater competitors. Though interior storage volume only measures 3.18 cu ft and cell phone attachments are awkwardly situated behind the driver (just ahead of the engine compartment), we felt exceptionally comfortable during a 600-mile road trip from Italy to Germany. The supportive leather-wrapped seats never created soreness or fatigue, and though modestly sized the 3.53 cu ft trunk accommodated our modestly sized luggage easily enough.
Technology
The 2014 Audi R8 is outfitted with the cadre of sophisticated features usually found on high-end cars, but most of its technology is focused on performance. For instance, the aluminum space frame chassis weighs only 463 pounds in coupe form and 476 pounds in convertible form. Available carbon ceramic brakes enhance durability and boost stopping power, and all three versions of the R8's V8 and V10 engines feature direct-injection and sodium-cooled valves. Most notably, the R8's new dual-clutch transmission works more efficiently than the single-clutch automated manual it replaces, proving that high-tech drivetrain solutions often create win-win advantages for the driver.
Performance & Fuel Economy
Because weight savings equals fuel savings and performance gains, all 2014 R8 models incorporate carbon reinforced plastic components in the interest of trimming mass, while V10 models offer additional mass reduction. Official U.S. fuel economy figures have yet to be released, but Audi claims the dual-clutch S tronic transmission improves numbers across the board. The S tronic makes a strong case for itself: Not only does it accelerate faster than the manual gearbox (and is faster getting to 60 mph by .3 seconds compared to the old gearbox), it also scores better mpg numbers. Three R8 engines are now available: a 4.2-liter V8 producing 430 horsepower, a 5.2-liter V10 producing 525 hp (both available in Coupe or Spyder configurations) and a new 5.2-liter V10 plus model, which produces 525 hp but is only available as a coupe. Zero-to-60 times range dramatically, from 3.5 seconds for the V10 plus with S tronic to 4.8 seconds for the V8 Spyder with a manual gearbox.
Safety
The Audi R8 is constructed with a rigid body shell and a reinforced occupant cell with side intrusion beams intended to protect passengers in the event of a collision. The array of safety features includes standard dual-stage, head and thorax and knee airbags for both driver and passenger. Stability control is standard but can be configured into sport modes for high-performance driving.
Driving Impressions
Our test drive of various Audi R8 models on both racetracks and public roads revealed a versatile, potent and entertaining performer whose behind-the-wheel impressions belie its generally tame specification sheet. Sure, the Audi RS5 has more horsepower (450) than the V8-powered R8 (430), but the R8's chassis tuning and focused handling dynamics lend it a sense of finesse and maneuverability that simply can't be matched by its 4-seat stablemate. At the Misano World Circuit in Italy, the edges of the R8's performance envelopes revealed incredibly robust yet tractable power. The V8 model reaches the upper registers of its powerband with a smooth, predictable rise in momentum, and the V10 delivers similar dynamics, only with a faster, fiercer ascent and an exhaust note that sounds meaner. Though the R8 has a tendency to understeer, driving with ESP in Sport mode enables some sliding, which helps aim the car more accurately through turns by using throttle oversteer. Magnetic ride control (standard on V10 models except for the plus variant, and optional on the V8 version) stiffens the suspension with the push of a button, but we preferred the soft setting for its flexibility during all but the most aggressive, track-oriented drives. Brakes are strong (and especially effective in carbon ceramic form), but the most impressive aspect of the R8's skill set pertains to its new dual-clutch gearbox, which delivers far smoother and more seamless power transfer compared to its predecessor. Shift times occur in approximately .125 seconds, and slightly less-than-perfect downshifts only occurred twice during low-speed city driving in Sport mode. Apart from those exceptions, the gearbox produced a nearly ideal blend of effortlessly quick upshifts and uninterrupted downshifts. Though it won't set any land speed records or offer mind-bending performance stats, the Audi R8 certainly feels like a winning performer from behind the wheel.
Other Cars to Consider
Lamborghini Gallardo: This corporate cousin to the R8 shares numerous key components (like an aluminum space frame and a 5.2-liter V10), but the Lambo is tuned with a more raw, bestial quality that makes it less of a daily driver and more of a boisterous track toy.
Nissan GT-R: If you're fixated on performance numbers, it's hard not to be impressed with the Nissan GT-R's accomplishments, which include a 0-to-60 mph time of just under 3 seconds. It's stats helped earn this 2+2 sports car the "Godzilla" nickname; however, Godzilla's brutish road manners and rough ride make for a challenging companion during casual driving.
Porsche 911: The newest iteration of the legendary rear-engine sports car from Stuttgart is internally referred to as the Type-991, and its newfound stability and even further refined road manners make it a more compelling alternative to the Audi R8 than ever before.
AutoTrader Recommends
The Audi R8 has come into its own with the second-generation improvements, most notably thanks to the new dual-clutch transmission. Though the V8 models pack plenty of smooth, free-revving power and nimble handling, the V10 is louder, meaner and ultimately more charismatic. In a segment where personality is a key differentiator, we see the V10-powered plus model with the exemplary dual-clutch transmission as the most involving and most desirable member of the R8 family.