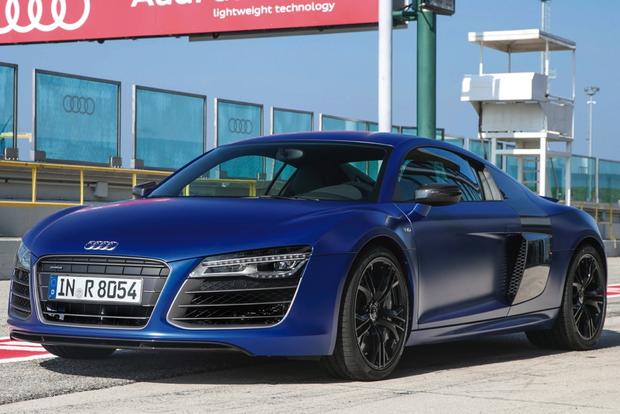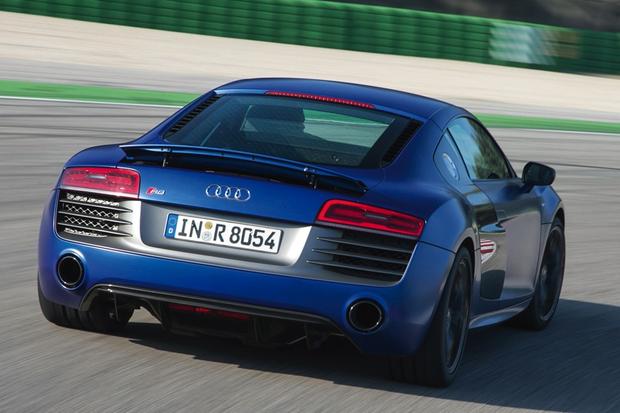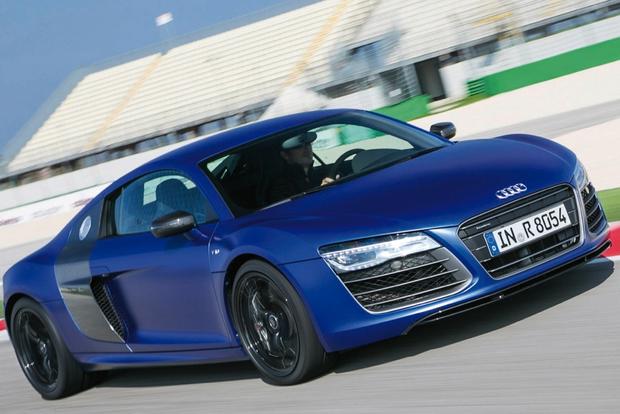 At heart, the 2014 Audi R8 is the same car that debuted seven long years ago, and usually that means it's time for a reboot. But in the R8's case, it's genuinely hard to find anything that needs improvement. The styling's still worthy of "Iron Man," the exquisite V8 and V10 engines sound better than anything this side of Maranello, and the Lamborghini-derived all-wheel-drive chassis provides exceptional handling. It may be an old-timer by automotive standards, but the R8 remains one of the best sports cars in the world.
Sweetening the deal for 2014 is an all-new optional automated-manual transmission that finally shifts the way it should. Until this year, the R8 was saddled with an outdated single-clutch setup that lurched through upshifts like a teenager learning to drive stick. But the new dual-clutch S Tronic gearbox shifts like a seasoned pro, so the automatic R8 is now much more appealing. Don't worry, though. You can still get the Italian-style gated 6-speed manual, an increasingly rare treat for purist types.
There are certainly newer supercars on the market, but are there better ones? Now that its two transmission offerings are equally strong, we'd be hard-pressed to say any car is better than the 2014 Audi R8.
What's New for 2014?
The big news for the 2014 R8 is the debut of Audi's S Tronic dual-clutch automated manual transmission, which replaces the single-clutch, lurch-prone R Tronic gearbox. There are also some subtle styling tweaks, including new LED headlights and taillights. Inside, diamond-stitched Nappa leather is available.
What We Like
Exotic styling and performance; thrilling V8 and V10 engines; everyday drivability; available gated manual shifter; new S Tronic transmission is a big improvement
What We Don't
Outdated MMI controls; lacks the astounding acceleration of some rivals
How Much?
$116,150-$171,795
Fuel Economy
The R8 V8 models are powered by a 4.2-liter V8 rated at 430 horsepower and 317 lb-ft of torque. The R8 V10 steps up to a 5.2-liter V10 that pumps out 525 hp and 391 lb-ft. The V10 Plus gets the same 5.2-liter V10 with some tweaks that yield 550 hp and 398 lb-ft.
All R8s employ all-wheel drive and one of two transmissions: a 6-speed conventional manual or a 7-speed dual-clutch automated manual known as S Tronic.
Fuel economy for the R8 V8, according to the Environmental Protection Agency (EPA), is 14 miles per gallon city/23 mpg hwy for the V8 with S Tronic, dropping to 11 mpg city/20 mpg hwy with the 6-speed. The R8 V10 returns 13 mpg city/22 mpg hwy with S Tronic and 12 mpg city/19 mpg hwy with the stick shift.
Though not specifically rated by EPA, the V10 Plus should get roughly the same fuel economy as the regular V10.
Standard Features & Options
The 2014 Audi R8 is offered in V8, V10 and V10 Plus trim levels. The V8 and V10 are available in both coupe and convertible (Spyder) body styles, while the V10 Plus is coupe-only. All trims start with a 6-speed manual transmission. The dual-clutch S Tronic automatic will run you a few grand more.
The V8 coupe ($116,150) comes standard with 19-inch alloy wheels, an adaptive adjustable-mode suspension, LED headlights, LED taillights, fog lights, heated side mirrors, quad exhaust tips, an adaptive rear spoiler, LED engine-compartment lighting, a flat-bottom steering wheel, automatic climate control, a manual tilt/telescopic steering column, leather/Alcantara upholstery, 8-way power heated seats, Bluetooth and a 7-speaker audio system with a 6-CD changer and satellite radio.
The V8 Spyder ($129,650) substitutes a power-folding fabric roof.
The V10 coupe ($152,450) boasts unique exterior trim, Nappa leather upholstery, front and rear parking sensors, a rearview camera, a navigation system and a 12-speaker Bang & Olufsen audio system.
The V10 Spyder ($165,950) gets the V10 coupe's features along with the power-folding fabric roof.
Aside from the V10's subtle exterior differences, its extra standard features can optionally be added to either V8 model. All of the above models are also eligible for customization, including unique color combinations with the R8's distinctive side-blade panel inserts.
The hardcore, track-ready V10 Plus coupe ($171,795) offers more power, a fixed (non-adjustable) sport-optimized suspension, a smaller fuel tank, carbon ceramic brakes (optional on other R8s) and manual sport seats.
Safety
The 2014 R8 comes with 4-wheel anti-lock disc brakes, stability control, six airbags (front, front side, knee) and hill-hold assist.
Like other high-performance sports cars, the R8 has not been crash-tested.
Behind the Wheel
In our interior evaluation, we couldn't help but notice the R8's slightly dated look and feel relative to most other Audis. This is still one of the finest cabins in any sports car, but the materials aren't Audi's absolute best, and the MMI interface is hobbled by awkward dash-mounted controls. (Newer Audis put the controls on the center console between the seats.) The seats are excellent, though, and the flat-bottom steering wheel feels just right. Throw in that gated 6-speed shifter, which makes "tink-tink" noises with each shift, and we couldn't care less about infotainment screens and the like.
Under the hood, the standard V8 is more motor than most drivers could ever dream of. It revs past 8,000 rpm with incredible refinement, making soul-stirring noises all the while, but you don't always need to run it hard. There's plenty of mid-range power, as well. Of course, some folks always want more if it's available, so Audi also offers the 5.2-liter V10, a Lamborghini-inspired beast that's every bit as exotic as you'd expect. Having to choose between these two works of art is a wonderful problem to have.
On the road, the new S Tronic transmission makes for a seamless flow from corner to corner, putting the discontinued R Tronic gearbox to shame. However, managing your own flow with the classic manual is arguably more rewarding. Either way, the R8 astounds with its combination of razor-sharp reflexes and reassuring all-wheel-drive handling. This isn't a car that wants to bite you. On the contrary, it wants to make you a better driver than you really are. Sure, the R8 isn't the absolute fastest car on the road, but it just might be the most user-friendly supercar you could buy, particularly given its more-than-tolerable ride quality.
Other Cars to Consider
Chevrolet Corvette -- Starting at less than half the price of an R8, the C7 Corvette coupe and convertible should give some Audi shoppers pause with their astonishing bang for the buck.
Nissan GT-R -- Nissan's top-dog sports car has been getting more and more expensive, but it's also more capable than ever before. It remains a bargain compared to the R8.
Porsche 911 -- If anything, the 911 is even more livable on a daily basis than the R8, though it lacks the Audi's superhero handling and exotic engines.
AutoTrader's Advice
The V10 gets all the press, but the cheaper V8 sounds fantastic and is fast in its own right. We'd get the V8 Spyder with the sweet 6-speed manual for maximum visceral thrills.