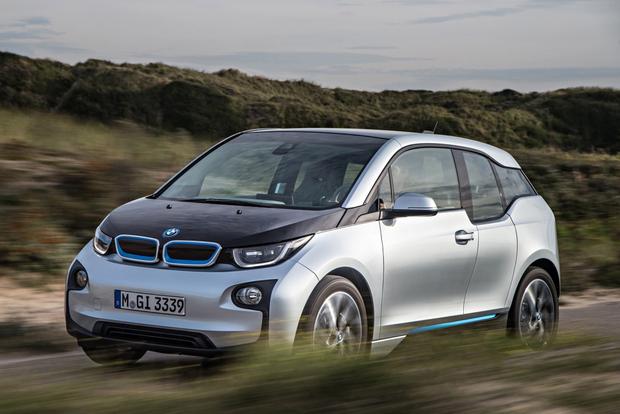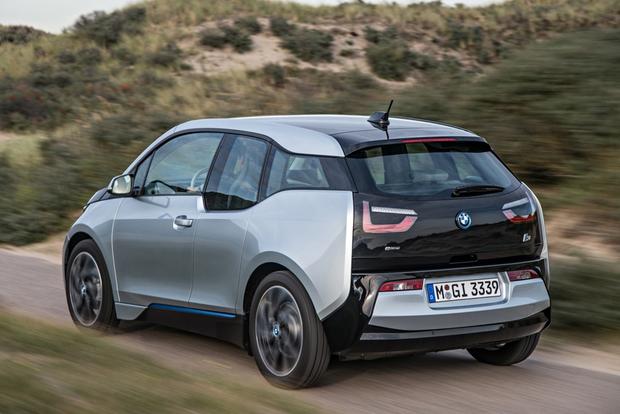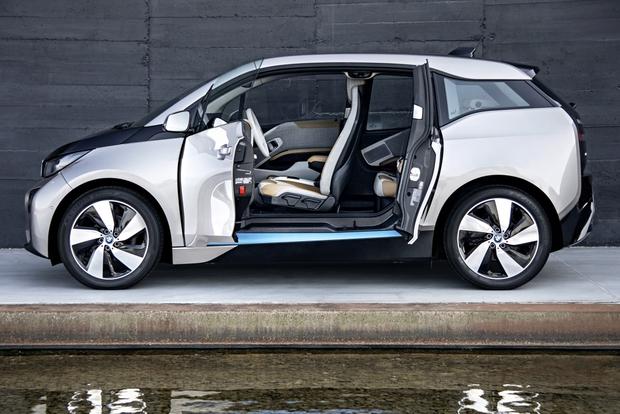 With the 2014 BMW i3, there's a learning curve. Not particularly steep, but a curve nevertheless.
First Lesson
This is not a typical BMW. The company forged a reputation as the Euro brand of choice for those whose hearts pump gasoline. The all-electric i3 takes it in a new direction.
About the only things that say "BMW" apart from the badges are the double-kidney grille (there for cosmetic purposes only), rear-wheel-drive setup and the iDrive command system that allows users to control things such as air conditioning, navigation, etc. The famous blue-and-white propeller symbol is encircled with an appropriate electric blue.
Thanks to a revolutionary construction -- an aluminum "tub" with a light-yet-strong, carbon-fiber-reinforced plastic shell on top -- the center of gravity is low, despite its headroom-friendly height of 62 inches. The body is stiff enough to dispense with the usual middle pillar, allowing a wide aperture for easy entry and exit. That height also provides a lofty driving position, while all-round visibility is excellent -- a definite plus when pedestrians, cyclists, cars and buses all seem to converge at once.
Make of the styling what you will, but this 4-seater's design is effective and efficient.
Second Lesson
Welcome to 1-pedal driving. Until now, motorists have been pressing the accelerator to go faster and the brake to slow down. The i3's accelerator still works as it should on the downward motion, but take that pressure off and the car slows at a higher rate than a conventional car.
The reason is that there are basically two kinds of braking: regenerative and braking.
Braking braking is more familiar, like when a dog runs on to the road or we suddenly have to make a turn. Regenerative braking is when the friction produced by slowing down is turned into energy and stored in the battery pack.
The right foot can modulate speed by not coming off the throttle quite so quickly. No more frantic dancing between two pedals -- and it doesn't take long to become intuitive. If you take your foot off the accelerator abruptly, the brake lights will illuminate, so those behind you will realize what's happening. Braking braking helps replenish the battery, too.
Third Lesson
Expect silence. No combustion engine roar, naturally. But there's no obtrusive whirr of the electric motor as it develops 170 horsepower and 184 lb-ft of torque, either. That might not sound like much, but the car is super light (2,635 pounds), and maximum torque is available virtually at all times. Overtaking is easy, as is urban cut-and-thrust. Sprinting from standstill to 60 miles per hour takes 7.2 seconds. Top speed is 93 mph.
No wind noise, either. It has to be a gale outside to hear any whoosh or feel any wobble. The i3 is crazily stable in crosswinds. And remember, it's tall.
Road noise is likewise subdued. The i3 runs on skinny tires. Great for aerodynamic purposes and optimizing range, but not so great -- in theory -- whenever the road gets curvy and grip becomes precious. In practice, the i3 turns in to bends eagerly and holds a steady line through them, but the nose will wash wide if those bends are attacked with too much gusto. In other words, it's kind of fun within strict parameters of safety and predictable handling.
The turning circle is a compact 32.4 feet -- ideal for getting around tight streets and squeezing into awkward spaces.
Fourth Lesson
Plan your trips. This is not a car you can just jump into and take off. Distances must be considered. What is the current state of battery power? Is there a charging station at the destination? How bad is the traffic? What air conditioning or heating might be required? Luckily, an app -- iPhone or Android -- helps with such considerations, and the navigation system is similarly obliging.
The i3 has a workable range of around 85 miles. Recharging on basic domestic electrical equipment needs to happen overnight or during the working day. A range-doubling twin-cylinder gasoline engine is optional; it doesn't drive the wheels but acts as an on-board generator.
BMW's iDrive had its detractors in the past, but it has evolved into an easy-to-use system for controlling in-car functions. For utmost efficiency, though, there's a separate button to select among Comfort, Eco Pro and Eco Pro Plus modes -- maximum range grows the more "eco" the user goes for.
Fifth Lesson
The 2014 BMW i3 isn't just a car, it's a sustainable package. And not solely from an eco-friendly point of view.
Details are being finalized, but owners will have the chance to use a gasoline-powered (or diesel, supposedly) BMW for several days of the year when longer trips are necessary. Fast-charging equipment is available, including a solar energy scheme.
Standard equipment and options for the U.S. will be announced as the i3 approaches its on-sale date of March 2014.