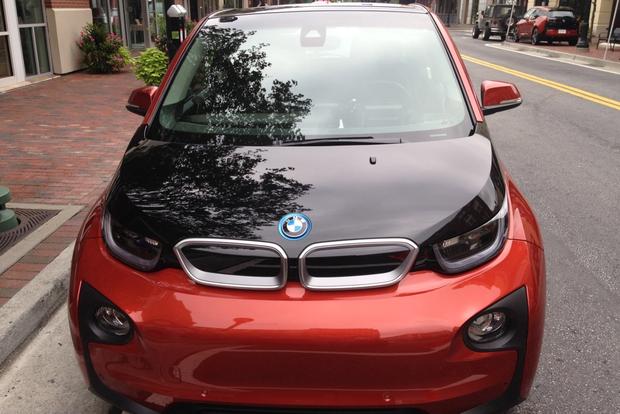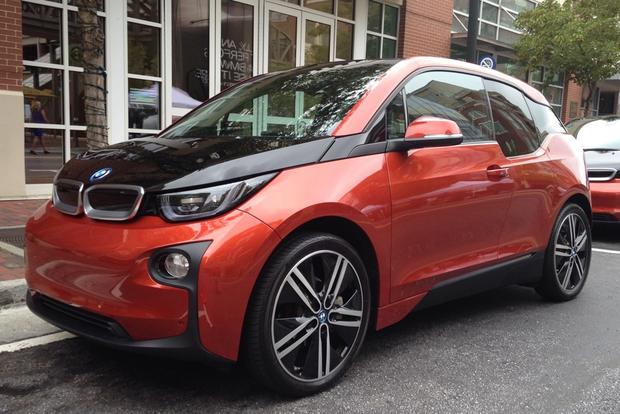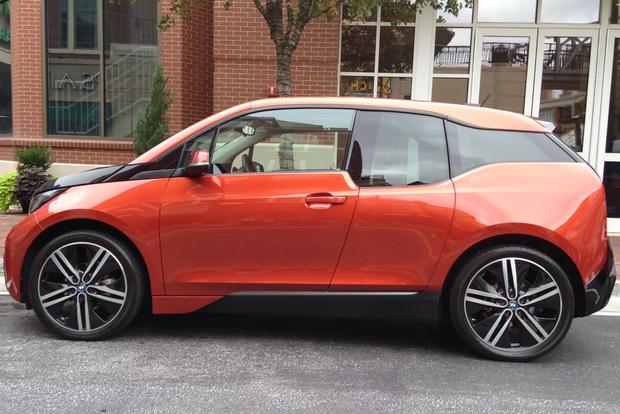 We recently had the chance to test out the all-new 2014 BMW i3, which is BMW's first electric car and a radical departure from usual fare for the brand. One of the biggest differences is in the car's drivetrain, which boasts 170 horsepower and a fully electric 81-mile range, though shoppers who need a little extra distance can opt for a range-extender gasoline engine with a 150-mile range. The i3 also differs from the usual BMW offerings with its packaging: It's not a low-slung sports car or a high-performance sedan, it's a futuristic hatchback with a tall roof and a lot of unusual features. How does it all come together? We took a few trips in the latest BMW to find out.
Drives Like a BMW
For most electric vehicles, the primary focus -- in fact, the entire reason for being -- comes down to one thing: efficiency. As a result, most electric vehicles conserve their power, limiting the driver to slow acceleration and lackluster handling due to mediocre eco-friendly tires, but that's not true with the i3. In fact, all three of our staff members who drove the economical BMW walked away impressed with the car's sharp handling and muscular acceleration. Dwight even noted that the car is "very quick off the line." These attributes keep up with typical BMW traditions, which place a high priority on excellent driving characteristics.
The i3 does, however, include one major change from the traditional BMW driving experience: one-pedal driving. While all i3 models are equipped with two pedals, you'll quickly find that you rarely need to use the car's brake pedal. Instead, take your foot off the accelerator and the i3 will slow down for you -- a feature designed to regenerate energy and extend the i3's range. It's an unusual feature, with one tester, Tommy, noting that it "took some getting used to." And while another staffer, Kris, concurred with Tommy, he said that he "actually found it to be a nice feature" in the end.
Doesn't Look Like One, Though
Whether you're inside or outside the i3, you'll find that it offers a whole new experience from the traditional BMW styling cues. While we won't debate the merits of the exterior styling -- for most, it's a love-it-or-hate-it affair -- we have a few impressions of the interior, which most shoppers probably haven't had the chance to see.
For one, we should note that the i3's interior isn't filled with rich wood and supple leather like most models. Yes, there's optional wood trim and available leather seating, but the i3 focuses on minimalism, prioritizing sustainable materials over traditional luxury items. Still, most testers loved it, with Dwight noting that "the interior felt upscale, even though the materials don't scream luxury." Likewise, Tommy called the interior "unique," and everyone mentioned the recycled plant fibers used in the door panels.
The interior materials aren't the only surprise in the cabin. There's a 2-spoke steering wheel, which split opinions among our staff; some felt it was unique, while others suggested it was different for the sake of being different. There's an unusual rear-hinged door, which offers easy ingress and egress into the back seat, though our testers noted that there's not a lot of room to spread out back there.
One tester, Kris, rightfully called out the i3's unusual shifter placement (behind the steering wheel), while nearly everyone spoke positively of the car's excellent visibility and higher-than-usual driving position. We also like the car's many gadgets, including its huge center screen and the latest iDrive system, which allows you to input your destination address.
Would We Buy It?
In general, we were impressed with the 2014 BMW i3. It's quick, and it handles well. It offers an impressive interior full of exciting gadgets, unique recycled materials and just enough cutting-edge oddities. The only problem is its cost. If we were going to spend $50,000 on an electric vehicle such as our well-equipped test car, we'd want it to travel more than 80 miles on a single charge. Still, for most shoppers, the i3 will be a lot more about making a statement than making a logical automotive choice, and in that sense, the small BMW succeeds perfectly.