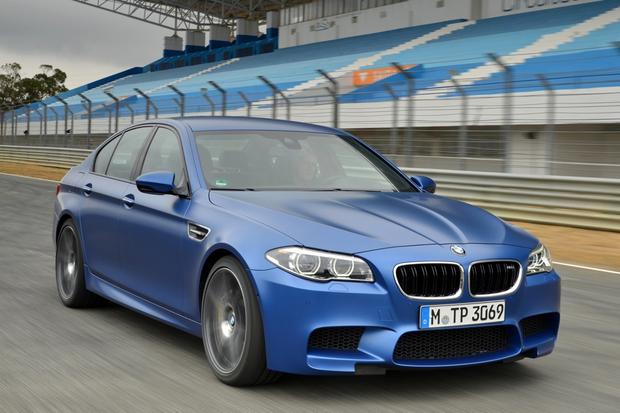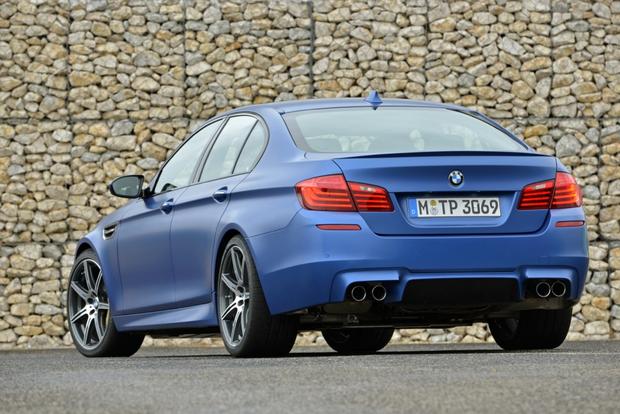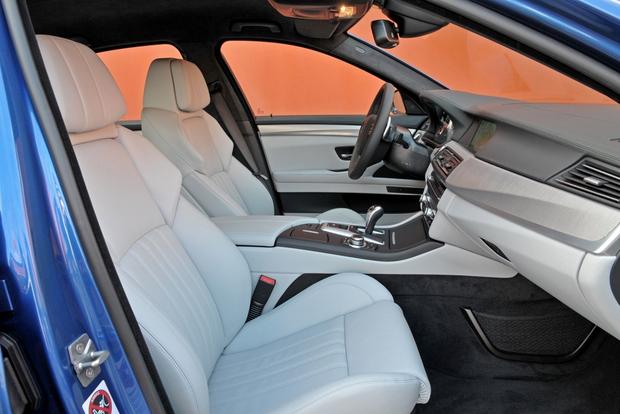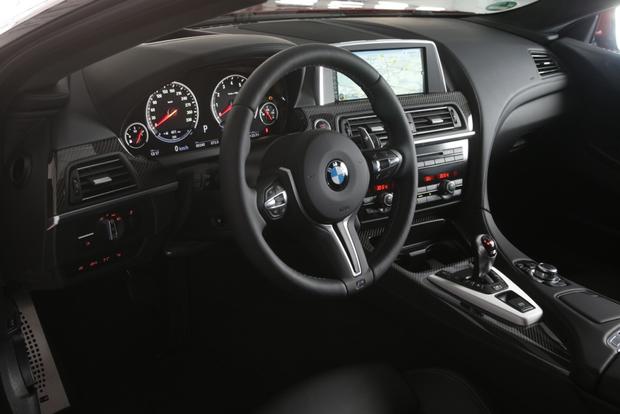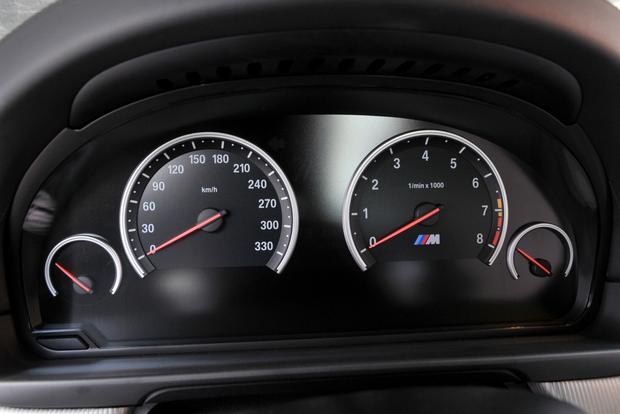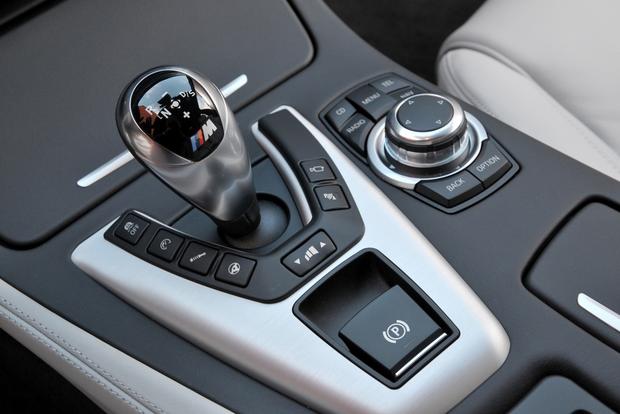 The 2014 BMW M5 marks the dawn of a new era for BMW's hallowed high-performance M (for Motorsport) division. Historically, M cars have been powered by naturally aspirated, race-inspired engines with high redlines -- the previous M5's V10, for example -- but in these miles-per-gallon-minded times, turbo engines are all the rage. That's why the current M5's engine is a lower-revving, twin-turbocharged V8. Instead of being a one-off design for M duty, it's essentially an amped-up version of what you'll find in the cheaper 550i.
Now, before you accuse us of being Luddites, let us add that we have absolutely no problem with the M5's 552 horsepower and 502 lb-ft of torque -- increases of 107 hp and 22 lb-ft, respectively, over the 550i's V8. If you add the new Competition Package, by the way, horsepower multiplies to 567. Fast cars are fun, and this M5 is very, very fast. It's also 30 percent more efficient than the previous M5, and it's a lot more focused on tight roads than the regular 5 Series on which it's based.
So, we understand why BMW made the switch to turbo power, and we really can't complain about the arrival of another 500-plus-hp supersedan. As the next generation of M cars hits the streets, we're glad to see that the M Division's laserlike focus on performance remains intact.
What's New for 2014?
The M5 gets a number of minor upgrades this year, including a new grille, redesigned LED taillights, optional LED headlights and carbon ceramic brakes, a revised steering wheel and a touchpad iDrive controller. There's also a new Competition Package with 15 hp more and various other performance tweaks.
What We Like
Huge power; amazing handling; high-quality interior; fantastic front seats; full range of technology offerings; available manual transmission
What We Don't
Less exuberant than previous M5s; much cheaper 550i uses a similar engine
How Much?
$93,825
Fuel Economy
The rear-wheel-drive M5 is motivated by a twin-turbocharged 4.4-liter V8 rated at 552 hp (567 hp with the Competition Package) and 502 lb-ft. BMW's chosen transmission for the car is a 7-speed dual-clutch automated manual, but a 6-speed conventional manual is offered as a no-cost option.
Fuel economy ranges from 15 mpg city/22 mpg hwy with the old-fashioned manual to 14 mpg city/20 mpg hwy with the automated manual.
Standard Features & Options
The 2014 BMW M5 comes in one well-equipped trim level.
Standard features on the BMW M5 ($93,825) include 19-inch wheels, a unique M-tuned sport suspension with forged aluminum elements, electronically adjustable dampers, hydraulic power steering without electric assist (the regular 5 Series has electric steering), adaptive xenon headlamps, fog lights, an electronic limited-slip differential, keyless entry with push-button ignition, 20-way Multi-contour sport front seats, automatic climate control, iPod/USB and Bluetooth connectivity, 16-speaker Harman Kardon audio and the iDrive infotainment system with a 10.2-in widescreen display.
The Lighting Package includes new-for-2014 LED headlights and automatic high beams. Also new for 2014 are the optional M Carbon Ceramic Brakes, which cost a cool $9,250. The Competition Package ($7,300) adds 15 hp more, 20-in wheels with performance tires, revised suspension tuning, refined steering with more direct input (according to BMW) and a sport exhaust. A Bang & Olufsen audio system can supplant the standard Harman Kardon unit for $3,700 more. The Executive Package ($5,500) throws in niceties such as 4-zone climate control, a head-up display, self-closing doors and a power trunk lid, while the Driver Assistance Plus Package ($1,900) brings safety aids such as a blind spot warning system, side- and top-view parking cameras, speed limit information and a driver-fatigue monitor.
In terms of versatility, the M5's trunk officially measures 14 cu ft, which is low for a midsize sedan. In our experience, though, it's a usefully deep cargo bay.
Safety
The M5 is part of the 2014 BMW 5 Series lineup, so it comes with standard stability control, 4-wheel anti-lock disc brakes and six airbags (front, front-side, full-length side curtain).
In government crash testing, the current 5 Series received a perfect five stars overall, including four stars for frontal impacts and five stars for side impacts. The independent Insurance Institute for Highway Safety gave the 5 Series its highest rating of Good in all tested categories. While the M5 has some unique body panels and such, these test results should apply to the M5, as well.
Behind the Wheel
The Multi-contour sport seats are, in the grand tradition of M5 thrones, incredible. They hug you in all the right places, and the wide range of adjustments ensures that you'll get comfortable behind the wheel no matter what kind of driving you're doing. The gauges use BMW's classic white-on-black theme, changing to orange-on-black at night. Interior materials are superb, while the subtle dashboard design is straight out of the 7 Series playbook. The standard widescreen iDrive display is nicely integrated and helps give the cabin a thoroughly modern vibe.
The M5's donor car, the 5 Series, may be based on the 7 Series, but its back seat is much less accommodating. Don't get us wrong, adults can still fit in the back row just fine. The bench is on the low side, though, and legroom isn't as ample as you might expect given the car's substantial dimensions.
On the road, the M5's massive thrust is its dominant characteristic. The twin-turbo V8 is a veritable torque factory that makes the gear you're in almost irrelevant. With maximum torque on hand from just 1,500 rpm, chances are you're already in the boost if you want it. Let loose at a drag strip, the M5 is impossibly swift for a 4,300-lb luxury sedan, charging through the quarter-mile at over 120 miles per hour, which is fast enough to make all but the strongest sports cars blush. We just wish the engine kept on pulling to its indicated 7,200-rpm redline. Alas, like most turbocharged motors, it starts to run out of steam a good bit earlier.
Handling-wise, the pudgy M5 feels larger and perhaps a touch softer than its predecessor, but it still puts up incredible numbers. It just doesn't fully engage the driver in the process, though the unique suspension and steering system are greatly appreciated. Around town, you may have to play with the electronically adjustable dampers, but once you've got the right setting dialed in, the M5 is ready to glide over bumps like the luxury sedan that it fundamentally is.
Other Cars to Consider
Jaguar XFR-S -- With 550 eager supercharged horsepower and sports-car handling, the ultimate XF just may be a match for the M5.
Mercedes-Benz E63 AMG-- The E63 AMG has followed the same path as the M5, switching to a twin-turbocharged V8 -- an incredibly capable 5.5-liter unit in this case. Standard all-wheel drive adds a new element versus the rear-wheel-drive-only M5.
Porsche Panamera-- You can get into a V8-powered Panamera S for M5 money, and while the S doesn't offer M5-grade acceleration, it does feel sharper in corners. It has an executive-approved back seat, too.
AutoTrader's Advice
We'd get the 6-speed manual for the sheer novelty of harnessing a 560-hp sedan with a clutch. Otherwise, the standard M5 should be plenty, as it's exceptionally well-equipped.