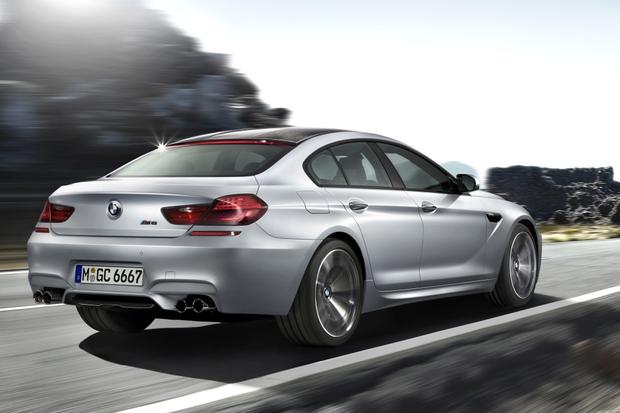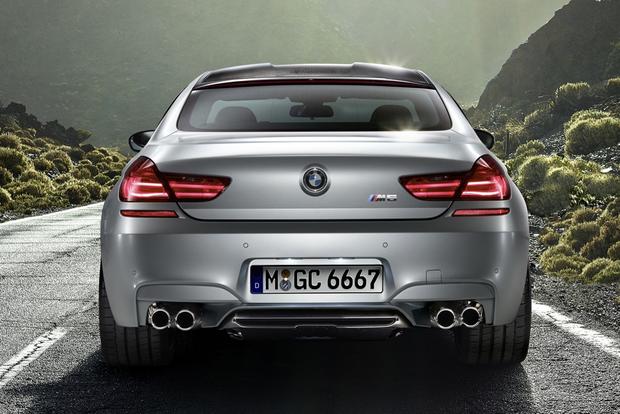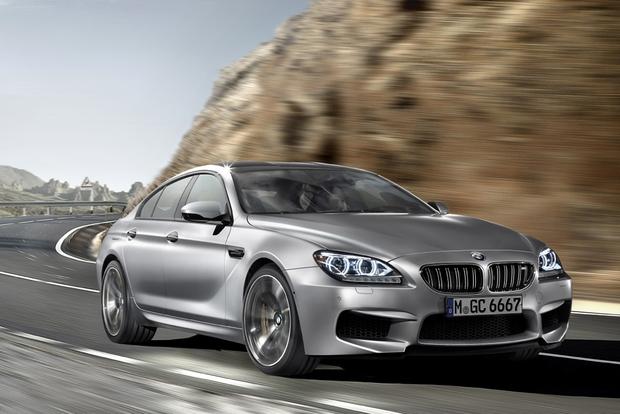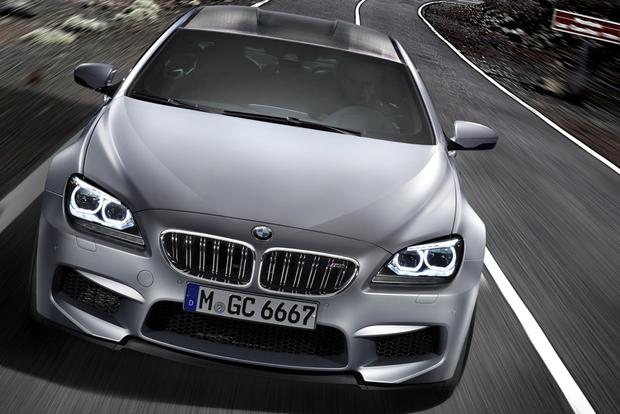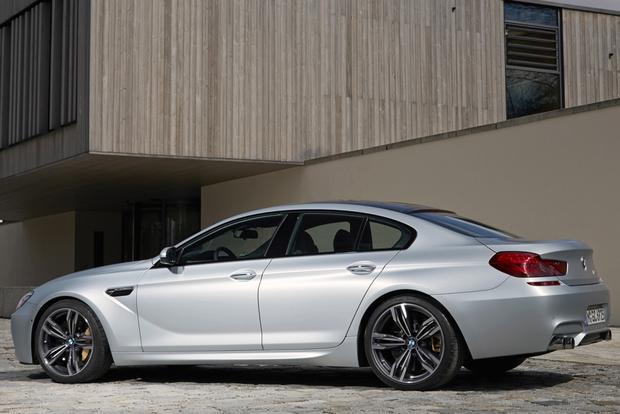 The 2014 BMW M6 Gran Coupe is based on the familiar 650i Gran Coupe 4-door sedan, but some things are a little different. Sure, the M version has the same slinky coupe-like profile, but its massive 20-inch performance wheels and tires hint at higher limits. Yes, they've both got a twin-turbocharged V8 under the hood, but the M motor makes a whopping 560 hp to the 650i model's 445. And then there are all those M badges on the M6 Gran Coupe, signifying the approval of BMW's hallowed Motorsport racing division. In other words, the M6 Gran Coupe's got a little something special going on.
Indeed, this M-labeled sedan is less of a faster 650i Gran Coupe than it is an M5 with a sleeker physique. As any car enthusiast will tell you, the M5 name is one of the most illustrious in autodom, representing perhaps the ultimate BMW sport sedan. And under the skin, the current M5 and the M6 Gran Coupe share practically everything, from their platforms and suspensions to that ridiculously powerful V8. Viewed from this perspective, the M family's latest addition makes perfect sense. BMW wants you to have a choice: either the traditional, under-the-radar M5 or the slightly different, fashion-forward M6 Gran Coupe.
What's New for 2014?
The M6 Gran Coupe is all new for 2014.
What We Like
Astounding acceleration; impressive handling ability; sumptuously snug interior; comprehensive technology features; optional manual transmission
What We Don't
More expensive and less roomy inside than the M5
How Much?
$113,925
Fuel Economy
The rear-wheel-drive 2014 M6 Gran Coupe is powered by a twin-turbocharged 4.4-liter V8 engine that pumps out an epic 560 hp. Note that the optional Competition package ups the ante to 575 horses. The transmission is a 7-speed dual-clutch automated manual with paddle shifters, though, in a nod to BMW's performance heritage, you can specify a 6-speed stick shift with an actual clutch pedal. We love it.
As you've perhaps already surmised, fuel economy is not the M6 Gran Coupe's strong suit. The Environmental Protection Agency estimates 14 miles per gallon city/20 mpg highway with the automated manual and a slightly better 15 mpg city/22 mpg hwy with the stick.
Standard Features & Options
The 2014 BMW M6 Gran Coupe is available as a 4-door sedan in one very well-equipped trim level.
Standard features include 20-in wheels, an electronically adjustable sport-tuned suspension with a limited-slip rear differential, adaptive bi-xenon headlights, adaptive cruise control, a carbon-fiber roof, keyless entry/ignition, leather upholstery, M-specific front sport seats with heating and memory settings, a power-adjustable steering column, carbon-fiber cabin trim, Bluetooth and the iDrive infotainment system with a 10.2-in widescreen display, a rearview camera, a navigation system and a surround-sound audio system with iPod/USB connectivity.
In case that's not enough, BMW will be happy to outfit your M6 Gran Coupe with a tempting array of options. The Competition package adds 15 hp, a lowered suspension with even sportier settings, lighter-weight 20-in wheels and black chrome exhaust tips. The Executive package contributes a power rear sunshade with manual rear-side sunshades, full LED lights, a head-up display, a heated steering wheel, active ventilated front seats with real-time cornering adjustments, heated rear seats and automatic headlights. Standalone options include carbon ceramic brakes, an Alcantara headliner and a 16-speaker Bang & Olufsen audio system.
Due to the Gran Coupe's rakish profile, passenger space suffers relative to the upright M5, but you can still fit two good-sized adults in the backseat (forget about three, though). Standard folding rear seat backs enhance the Gran Coupe's modest trunk capacity of 12 cu ft.
Safety
The 2014 M6 Gran Coupe is equipped with driver-adjustable stability control, numerous electronic brake-optimization features, active front-seat head restraints, eight airbags (front, front side, front knee, full-length side curtain) and the BMW Assist telematics system, which provides emergency services including crash notification and roadside assistance.
The BMW Gran Coupe body style has not been crash tested in the U.S.
Behind the Wheel
It's natural to compare the M6 Gran Coupe to the M5, and as iconic as the latter may be, we honestly prefer the former for sheer driving pleasure. The Gran Coupe feels sharper and more alive, adding an element of nimbleness that's always been missing from the brutish current M5. Of course, having what's essentially the M6 coupe's interior doesn't hurt -- the M6 Gran Coupe really does feel like a coupe from behind the wheel. Also not hurting are those 560 horses under the hood, which get up and go with fearsome intensity. This is one of the fastest, most capable cars in the world, a seemingly invincible sedan that excels at practically everything. Heck, it even rides nicely if you put the adaptive dampers on the right setting.
Other Cars to Consider
BMW M5 -- The obvious counterpoint to the M6 Gran Coupe is its more conventional sibling, the 5-Series-based M5 sedan.
Mercedes-Benz E63 AMG -- The big bad Benz boasts standard all-wheel drive for 2014, as well as a twin-turbocharged V8 of its own that feels even torquier than the BMW motor.
Audi S6 -- Despite its twin-turbo V8, the S6 isn't quite in the M6 Gran Coupe's performance league, but it's incredibly well-rounded and pretty attractive in its own right.
AutoTrader's Advice
What can we say? Buy one if you can. The M6 Gran Coupe is one of the great ones.