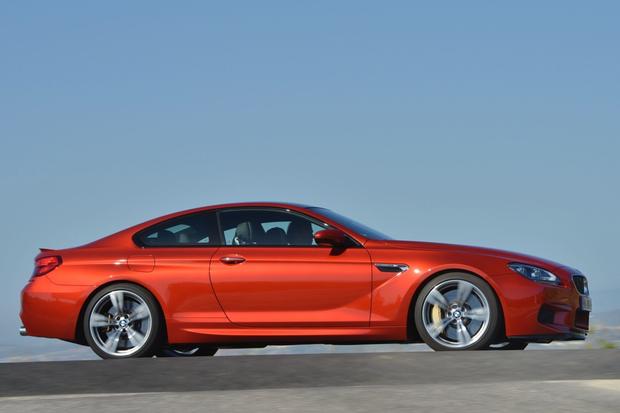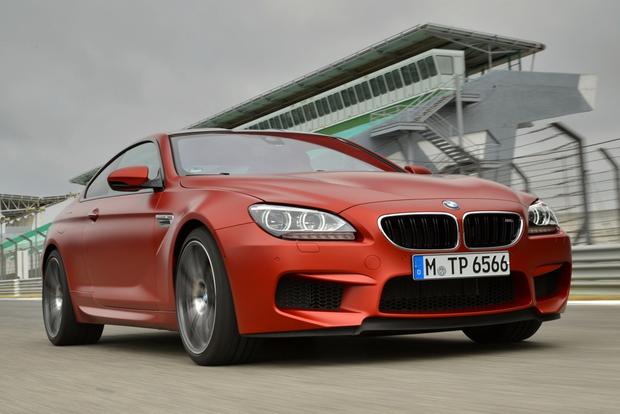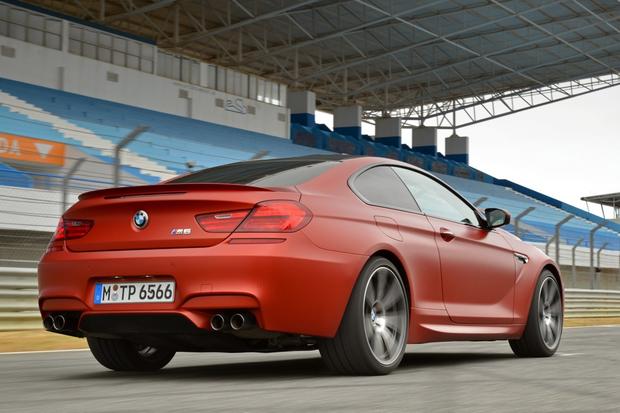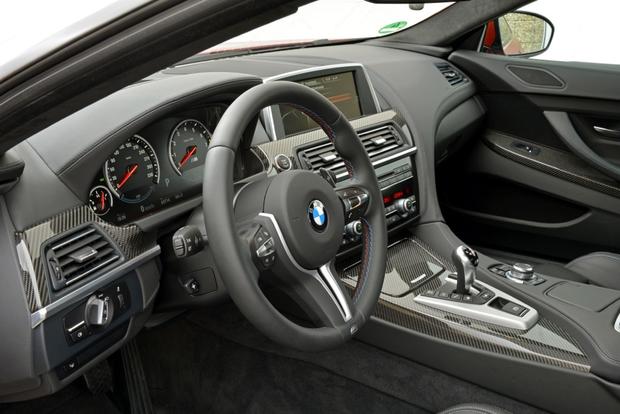 The 2014 BMW M6 is a test of the new engineering philosophy at BMW's high-performance M division. Previously, M cars had purpose-built, naturally aspirated engines that defined their driving character, but now they have tweaked versions of engines from other BMW products. In the M6's case, the tweaks admittedly are pretty serious: its 4.4-liter twin-turbo V8 has been massaged to produce 560 horsepower, a whopping 115 hp more than the similar engine in the 650i. But here's the thing -- only truly deranged speed freaks would find the much cheaper 650i's acceleration inadequate.
That's not necessarily a problem, however, because M cars have always been aimed at a fringe enthusiast element. Without a doubt, this element will enjoy the amazing force generated by the M6's hot-rod V8. Also, the M6's handling is a clear improvement over that of the 650i in outright capability, though the car's inherent bulkiness still makes this less of a sports car than, say, the Porsche 911 or even BMW's own M3.
We still have our reservations about the new M philosophy. Whereas the previous V10-powered M6 felt like a completely different beast, the 2014 M6 feels more like a 650i on steroids. But steroids are good when it comes to cars, and we can't really argue with a philosophy that produces a luxury performance car with 560 hp under its hood. Yeah, the new M6 is just fine by us.
What's New for 2014?
Notable changes for the M6 include a new Competition package (includes various handling enhancements and 15 hp extra), an optional conventional manual transmission, updated iDrive software (which oddly lacks the touchpad featured on other BMWs) and carbon-ceramic brakes as a standalone extra.
What We Like
Incredible acceleration; capable handling; top-shelf interior; plenty of technology
What We Don't
Cheaper 650i's acceleration was already incredible; feels big in tight corners
How Much?
$112,125-$118,425
Fuel Economy
The rear-wheel-drive M6 is powered by a twin-turbocharged 4.4-liter V8 rated at 560 hp and 500 lb-ft of torque. A 7-speed dual-clutch automated manual transmission is standard, though a 6-speed conventional manual is a no-cost option for traditionalists.
According to the Environmental Protection Agency, the M6 returns 14 miles per gallon city/20 mpg highway with the automated manual, while the stick-shift yields a slightly better 15 mpg city/22 mpg hwy.
Standard Features & Options
The 2014 BMW M6 comes in one well-equipped trim level in either coupe or soft-top convertible form.
The M6 coupe ($112,125) comes standard with a carbon-fiber roof, staggered-width 19-inch alloy wheels, adaptive xenon headlamps, fog lights, adaptive dampers with selectable driving modes, keyless entry/ignition, 20-way Multicontour heated sport seats, dual-zone automatic climate control, iPod/USB and Bluetooth connectivity, BMW Apps smartphone integration, a 16-speaker audio system and the iDrive infotainment system with a 10.2-in widescreen display, digital music storage, a navigation system and a rearview camera.
The M6 convertible ($118,425) is similarly equipped but substitutes a power soft-top with a heated glass rear window that can be independently raised and lowered.
The Competition package adds 20-in wheels, a sport exhaust with black chrome tailpipes and "enhanced sound," 15 hp extra and sportier suspension and steering tuning. The Executive Package includes LED headlights, ventilated active front seats with massage functions and a head-up display.
The Driver Assistance Plus package throws in active blind-spot detection, lane-departure warning, a forward-collision monitor with full automatic braking, a driver drowsiness monitor, speed-limit information and side- and top-view cameras.
Standalone options include carbon ceramic brakes, a Bang & Olufsen audio system and a night vision system with pedestrian detection.
Under the trunk lid, the M6 coupe boasts a reasonable 13 cu ft of space, while the convertible has 11 cu ft with the top up and a couple fewer with it folded.
Safety
The 2014 BMW M6 comes with stability control, 4-wheel anti-lock disc brakes, active front head restraints and four airbags (front and front-side). Also standard is BMW Assist, which includes four years of enhanced roadside assistance, stolen-vehicle recovery and more. The Driver Assistance Plus package mentioned above adds numerous high-tech safety features.
Neither the government nor the independent Insurance Institute for Highway Safety has crash tested the M6.
Behind the Wheel
While the M6 borrows heavily from the 7 Series executive sedan under the skin, its cabin is uniquely intimate and sporty. The seats are mounted low, although ingress and egress aren't difficult. Let's talk about those "Multicontour" front seats, by the way: they're outstanding, with robust lateral and lumbar support complemented by adjustable thigh support and seemingly infinite tilt and recline options. Interior materials are top-quality, and the rakish dashboard is defined by a bold character line that swoops from the passenger door all the way down to the driver's seat.
Sadly, the M6's back seat is useless except as a parcel shelf, which is surprising in such a sizable car. The folks in front could slide their seats forward to accommodate rear passengers, but even then, rear headroom will be limited unless you're in the convertible with the top down. Speaking of which, the vinyl roof operates rapidly and with minimal fuss, but it's naturally not as secure or versatile as a retractable hardtop.
At full throttle, the M6 is -- surprise! -- incredibly fast, and its modified V8 has a more authoritative bark than the nearly silent twin-turbo V8 in the 650i. Low-end and mid-range torque is so beastly that we're reminded of a turbodiesel, though the blown V8 loses a bit of breath near redline. While it's cool that BMW offers a manual transmission, the automated manual seems better suited to this car (except for its inferior fuel economy), ripping off rev-matched downshifts with the best of them yet remaining quite civilized in normal "Drive" operation.
On the road, the M6 reminds us of another big, heavy, unbelievably capable coupe: the Nissan GT-R. Cars of this size simply shouldn't be able to do what the M6 does in corners, whether it's remaining remarkably free of body roll or getting sideways with the precision of a custom-built drift car. The adjustable steering with three effort levels adds to the sense of driver control, though hard-core BMW fans will likely find this rack lacking in genuine feedback (the Competition package's revised steering aims to fix this). This car can handle practically everything you throw at it -- especially if you've specified the optional, indefatigable carbon-ceramic brakes. And when you just want to cruise, don't worry, the M6's adjustable dampers and fundamentally supple suspension provide luxury-grade ride quality.
Other Cars to Consider
BMW M3 -- Whether we're talking about the previous-generation M3 with the high-revving V8 or the new one with the twin-turbo inline 6-cylinder, it's going to be a smaller, lighter and more responsive car than the M6. Plus, the M3 convertible has a hardtop.
Chevrolet Corvette Stingray-- If you don't need the vestigial back seat, take a flier on the new C7 Corvette. It's tens of thousands of dollars less expensive than the M6, looks cooler, handles better and has a much-improved interior.
Nissan GT-R -- The GT-R has a reputation as a soulless robo-car, but people who spread that rumor clearly haven't driven one. In fact, the GT-R is immensely engaging, and its all-wheel-drive system makes it quicker off the line than the M6.
AutoTrader's Advice
Not many choices to make here; The M6 has but one available trim level and drivetrain. We'd check the box for the fade-proof carbon-ceramic brakes, though, as those are typically a good idea. You have an extra $9,000 or so, right?