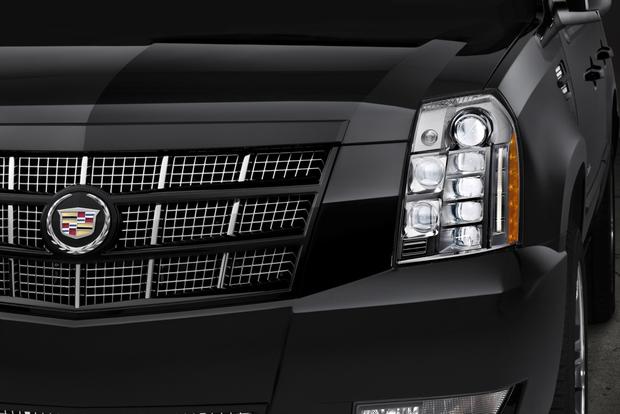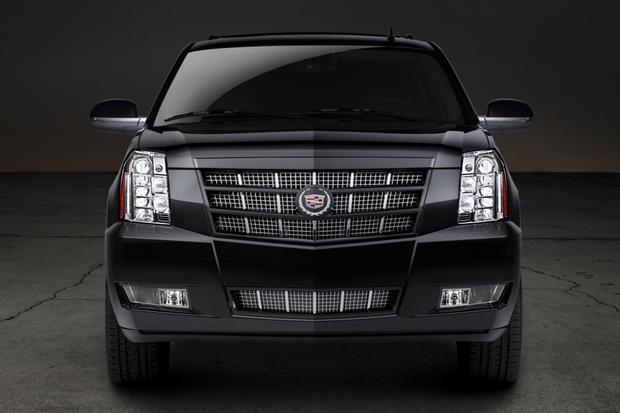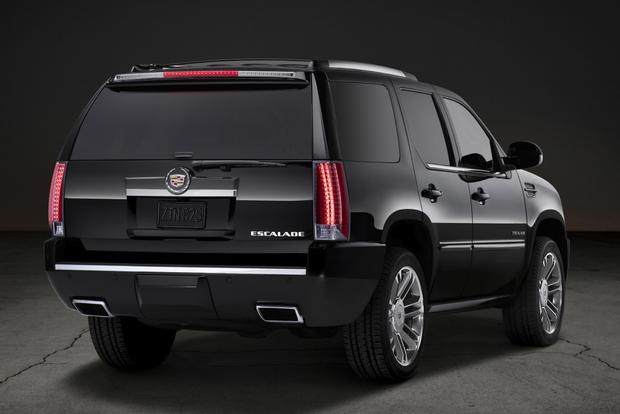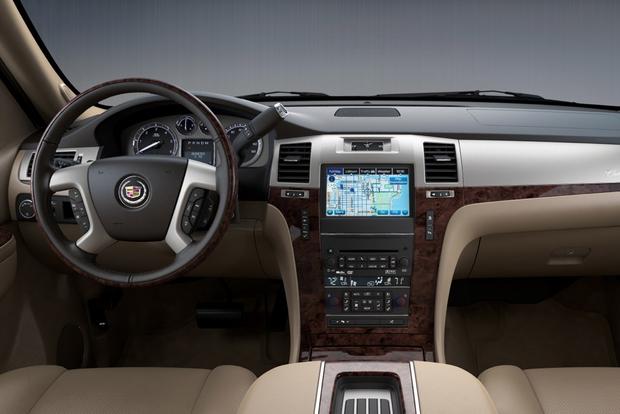 If the producers of "Pimp My Ride" were to select one vehicle that speaks to their production values and audience, that vehicle would be the 2014 Cadillac Escalade. The Escalade and its larger stablemate, the Escalade ESV, were originally intended for country clubbers, but their design, production and marketing have achieved huge resonance with the night club crowd. The reasons for its success with younger demographics vary, but they certainly include the Cadillac cachet, a "king of the road" driving position and a vast network of Cadillac dealers located largely in the country's urban areas.
Regardless of its urban, suburban or rural applications, the Escalade's straightforward mechanical menu and last-century construction have been massaged into a beautifully tuned machine. Its 6.2-liter all-alloy V8 delivers ample horsepower and torque through GM's Hydra-matic 6-speed automatic transmission. Although applying 403 horsepower to 3 tons (with passengers) doesn't make for neck-snapping acceleration, the Escalade effortlessly finds its rhythm at legal speeds. For the country club set, the Escalade can tow up to 8,000 pounds of horse and trailer.
Before you buy a new Escalade, you should know that an all-new 2015 model is around the corner. That means you should be able to negotiate deep discounts on the outgoing 2014 Escalade, making a great value even better.
What's New for 2014?
The Cadillac Escalade Hybrid isn't returning for the 2014 model year. Otherwise, the 2014 Escalade is unchanged, as a new model is on the way for 2015.
What We Like
Upscale ambiance; strong truck-based work ethic; extensive technology features
What We Don't
Pricey, considering it's built alongside the Chevrolet Tahoe and GMC Yukon; will be outdated the moment the new model arrives
How Much?
$70,000-$86,500
Fuel Economy
With the hybrid model gone, the Escalade and extended-length Escalade ESV are available with just one engine: a 6.2-liter V8 that makes 403 hp and 417 lb-ft of torque. It's mated to a 6-speed automatic transmission. As you may guess, fuel economy is abysmal: Rear-wheel-drive Escalade models get 14 miles per gallon city/18 mpg hwy, while all-wheel drive drops that figure to 13 mpg city/18 mpg hwy.
Standard Features & Options
The 2014 Cadillac Escalade SUV is offered in two body styles: regular-length Escalade, based on the Chevrolet Tahoe, and extended-length Escalade ESV, based on the Chevrolet Suburban. (A pickup-based Escalade EXT is covered in a separate review.) From there, drivers can choose among Luxury, Premium and Platinum trim levels.
The Escalade Luxury ($70,000) has a long list of high-end features, such as leather upholstery, heated and cooled front seats, a rearview camera, Bluetooth, a USB port for music, a navigation system, a remote starter, tri-zone automatic climate control, a power sunroof, a blind spot monitor, 22-inch alloy wheels, a heated steering wheel and a power seat release for the second row.
Step up to the Premium ($74,200) and you add a rear-seat DVD player, a dual rear exhaust and power retractable running boards to ease with entry and exit.
Topping the range is the Platinum ($82,500), which adds heated and cooled cup holders, LED headlights and "ultra bright" chrome wheels.
The Escalade doesn't have many options. Drivers who choose the Luxury can add a few options to bring their Escalade up to Premium or even near-Platinum equipment levels, but the Platinum's option list primarily consists of color choices. Note that all-wheel drive adds about $2,500 to the base price, while opting for an ESV boosts the price by another $3,000.
Safety
When confronted with a collision scenario, size does matter. At almost three tons, the Escalade will be bigger than most things it collides with. It offers head-curtain side air bags with rollover protection for all seating rows, dual front-side-impact airbags and pretensioners to minimize passenger movement during a collision.
Helping to avoid collisions are StabiliTrak with rollover mitigation technology, standard 4-wheel disc brakes with ABS and the safety of a responsive, albeit thirsty, V8 powertrain. A blind spot monitor and rearview camera are also standard.
In National Highway Traffic Safety Administration tests, the Escalade received four stars overall. That rating stems from a 5-star score in front- and side-impact tests, and a 3-star score in the agency's rollover test.
Behind the Wheel
From the Escalade's elevated perch, drivers enjoy a commanding view of what's going on around the vehicle. But visuals will have to mostly suffice, as the steering communicates little of what's happening at road level, aside from the road imperfections transmitted through the oversized wheels. The ride and handling balance of the Escalade is likely better than it deserves to be (even without the available Magnetic Ride Control), but it lags behind that of several more contemporary competitors.
As for technology, where to begin? Cadillac's team may have started with the more pedestrian Chevrolet Tahoe as its base, but thousands of engineering hours later, you'd barely recognize the brown roots within this very blonde confection. Under the hood is Cadillac's Active Fuel Management technology, which uses computers to monitor the engine's load. If all eight cylinders aren't necessary for forward movement, four are shut down to save fuel. High-tech Magnetic Ride Control suspension is optional.
Inside, the leather-trimmed front buckets are both heated and cooled, while tri-zone automatic climate control works to keep everyone comfortable. Touchscreen navigation is standard on all models. On the entertainment side, there's MP3/CD/DVD, voice recognition and a USB port. Bluetooth technology is standard on all models.
Finally, GM's OnStar is provided on all trim levels. Whether you're using it for turn-by-turn navigation, concierge service or an on-road emergency, it can prove invaluable. Its only cost is a subscription fee, though you get a year free when you buy a new Escalade.
Other Cars to Consider
Mercedes-Benz GL-Class -- It's certainly more contemporary than the Cadillac, and the available BlueTec diesel makes it significantly more efficient. Plus, 3-row seating means there's room for the whole family.
Land Rover Range Rover -- The Range Rover remains the king of the SUV hill thanks to high-tech features, off-road capability and extremely high brand cachet. But it's far more expensive than the Escalade.
Infiniti QX80 -- Despite its whale-like proportions and similar body-on-frame architecture, the QX sports a King Kong powertrain and delivers a generally more responsive driving experience than the Cadillac.
AutoTrader's Advice
We recommend the slightly more compact standard-length Escalade over the ESV. It's easier to maneuver in tight spots but still provides ample room for people and cargo, provided you don't mind removing the third-row seat when you need to carry something large. We like the Premium package and its rear-seat entertainment, which makes the miles fly by for passengers on long road trips.