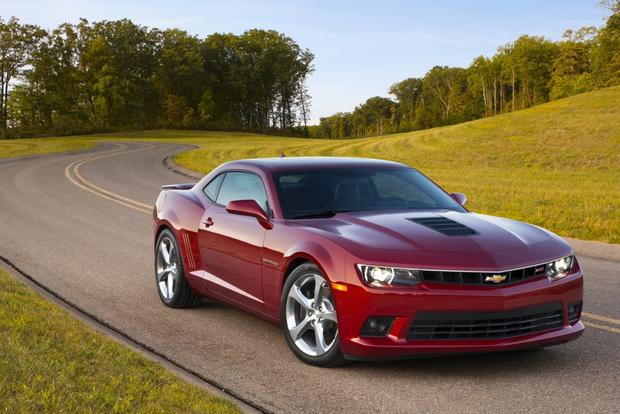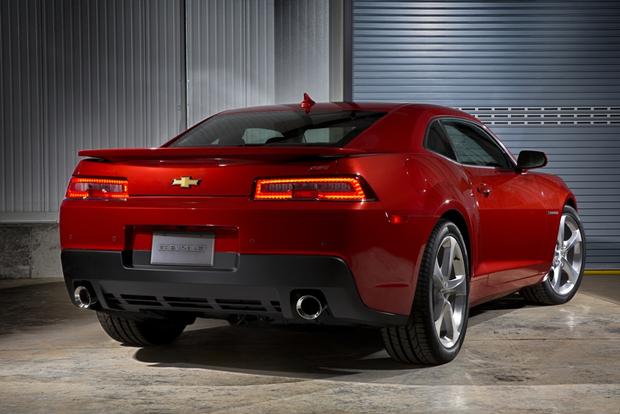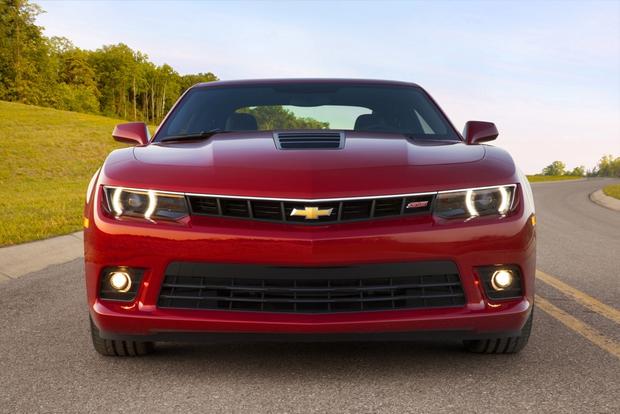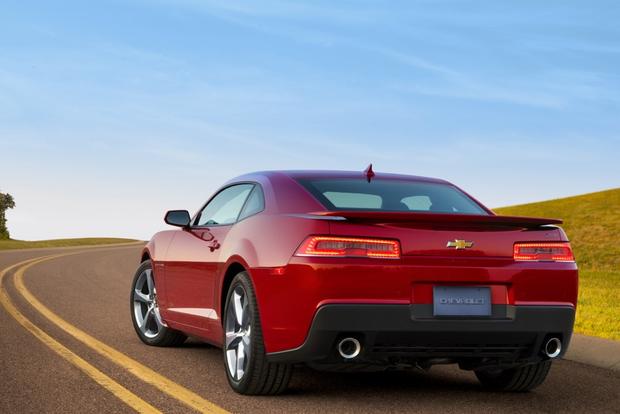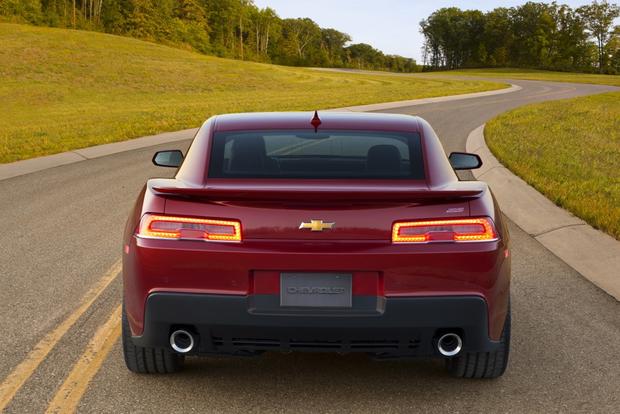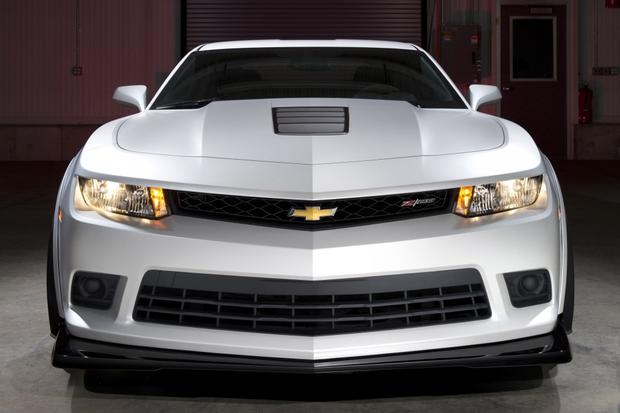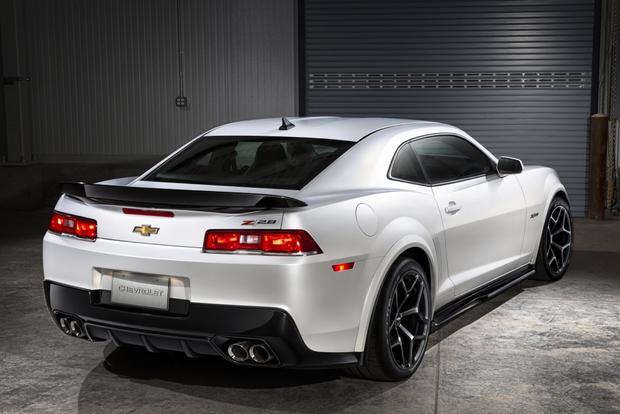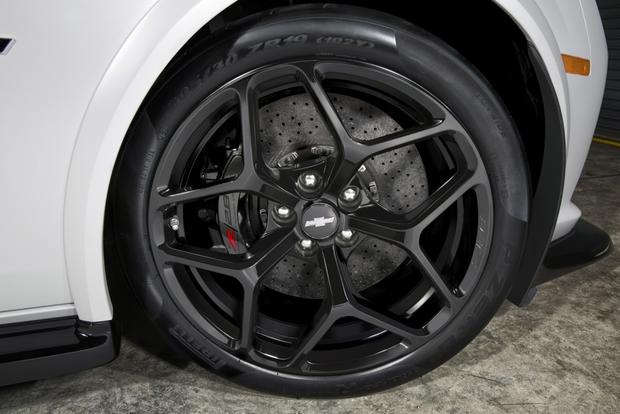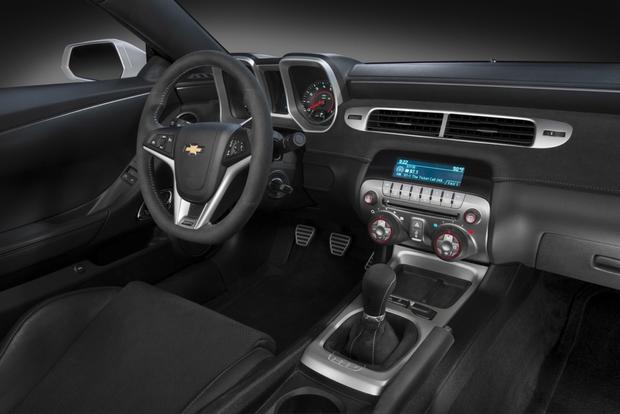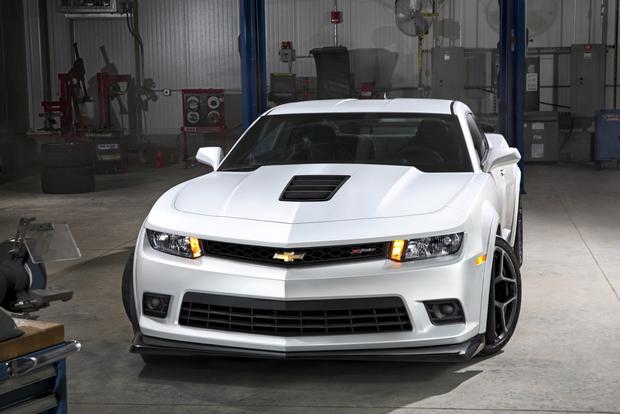 The 2014 Chevrolet Camaro continues the latest Camaro's role as the modern interpretation of the iconic 1960s muscle car. That's because few other vehicles effectively blend 21st-century engineering with the power and bravado of the muscle car age that dominated America some 40 years ago. Available in coupe and convertible styles, the 2014 Camaro recalls the time of the big engine in a relatively tidy package. But now it does so with a new approach that's more aligned with modern times.
For those interested in big off-the-line acceleration and burnout potential combined with sharp handling skills and respectable fuel economy, the 2014 Camaro delivers it all. It almost sounds too good to be true. Sure, the Camaro has its shortfalls, but overall it's a dream car for enthusiasts young and old.
The greatest achievement of the current Camaro might be its exterior look. The Camaro is an artful masterpiece that balances 1960s brawn with the sexy lines of today's great sports cars. Both coupe and convertible will likely be turning heads for years to come.
Together, the Chevy Camaro, Ford Mustang and Dodge Challenger make up the holy trinity of America's recent muscle car resurgence. Each has its highs and lows. The right one for you might come down to your personal needs and tastes.
What's New for 2014?
The Camaro receives several exterior updates for the 2014 model year, including revised front and rear fascias. The 2014 model year also marks the return of the Camaro's once-popular Z/28 high-performance trim level.
What We Like
Powerful engines; impressive handling and maneuverability; gorgeous design; good overall performance value; efficient V6
What We Don't
Hard interior plastics; tight rear seat; poor rear visibility
How Much?
$24,000-$61,000
Fuel Economy
The 2014 Camaro is offered with a litany of engine choices. Base-level Camaro LS and LT models use a 323-horsepower 3.6-liter V6 that returns 17 miles per gallon city/28 mpg hwy with a standard 6-speed manual, or 19 mpg city/30 mpg hwy with an optional 6-speed automatic.
Drivers who step up to the Camaro SS get a 6.2-liter V8 that makes 400 hp in automatic guise or 426 hp with a stick shift. Manual Camaro SS models return 16 mpg city/24 mpg hwy, while the automatic can reach 16 mpg city/25 mpg hwy.
The Camaro also offers two performance models -- the ZL1 and the new Z/28. The ZL1's 580-hp supercharged 6.2-liter V8 is offered only with a 6-speed manual that returns 14 mpg city/19 mpg hwy. The Z/28 uses a monstrous 500-hp 7.0-liter V8 that has not yet been rated for fuel consumption by the Environmental Protection Agency.
Standard Features & Options
The Camaro is available with five trim levels -- LS, LT, SS, Z/28 and ZL1.
The Camaro LS ($24,000) is offered only as a coupe. In addition to the 323-hp V6, standard equipment includes 18-inch steel wheels, automatic headlights, OnStar, Bluetooth and air conditioning -- in other words, just the basics.
Drivers have to step up to the Camaro LT ($26,500 for a coupe; $31,500 for a convertible) for a few more luxury features. While the LT still includes the V6, it boasts goodies such as 18-in alloy wheels, GM's MyLink infotainment system and dual power front seats. An upgraded Camaro 2LT adds 19-in alloy wheels, a rearview camera, heated leather seats and rear park assist.
Above the LS and 1LT is the V8-powered Camaro SS ($33,500 for a coupe; $39,500 for a convertible). In addition to its 6.2-liter V8, the SS adds 20-in alloy wheels and sport-tuned suspension. The Camaro 2SS combines the SS's 6.2-liter V8 with the 2LT's luxury equipment.
Topping the Camaro range are Z/28 and ZL1 models. The ZL1 starts around $56,000, and while pricing for the Z/28 hasn't been announced, we expect it to be a little more expensive. Both are offered with manual transmissions and coupe body styles only. They include a long list of performance upgrades, such as magnetic suspension, enhanced brakes, unique wheels and recalibrated steering.
The Camaro's biggest option is an available RS package, which is offered on LT and SS models. It includes 20-in wheels and xenon headlights. A power sunroof is also optional on all models except the LS.
Safety
The Camaro is equipped with front and rear head airbags and dual front side-mounted airbags. It also offers OnStar, a communication system that alerts emergency services in an accident. To keep the Camaro on its intended path, it comes with ABS and stability control.
While the National Highway Traffic Safety Administration (NHTSA) hasn't tested the slightly revised 2014 Camaro, last year's model received a 5-star overall score in the group's crash tests. To earn that score, the Camaro received five stars in all three NHTSA tests -- front impact, side impact and rollover tests.
Behind the Wheel
Both V6- and V8-powered Camaro models are true muscle cars. They offer sublime off-the-line acceleration and huge power at the top end of the rev band. The supercharged 580-hp ZL1 is the fastest and most powerful Camaro ever. It brings near-supercar performance to the muscle car category.
But what makes even the base Camaro especially impressive is its ability to corner and handle like a smaller car. It belies its size by remaining extremely well composed in high-speed turns. It also displays gobs of grip thanks to its large 18-in (as well as 19- or 20-in) wheels. For these reasons, today's Camaro aptly tops those from decades past.
Although ride comfort isn't plush, it is adequately comfortable for the daily commute. The only real issue with the Camaro's road manners is the low visibility factor. This becomes an even larger issue when maneuvering in tight spots such as parking lots.
Other Cars to Consider
Ford Mustang -- The Mustang is comparable to the Camaro in terms of power and performance. The two cars each have huge followings, and it seems you're either a Mustang fan or a Camaro fan for life.
Dodge Challenger -- Thanks to its larger size, the Challenger is perhaps the purest of the three in touting its muscle car heritage. It also offers a larger cabin and better interior materials.
AutoTrader's Advice
We highly recommend the 2014 Chevrolet Camaro V6 over its SS counterpart for several reasons. First, it offers more than enough muscle for most buyers. Second, the V6 is a near-perfect match for its chassis. The SS can overpower its ability to handle crisply. The V6 is also more fuel efficient and affordable, making it one of the best performance values out there. For 2014, buyers should enhance their Camaro V6 with 2LT trim. It brings standard MyLink, the essential backup camera and 19-in wheels. The 2LT trim level also makes available navigation and a sunroof.