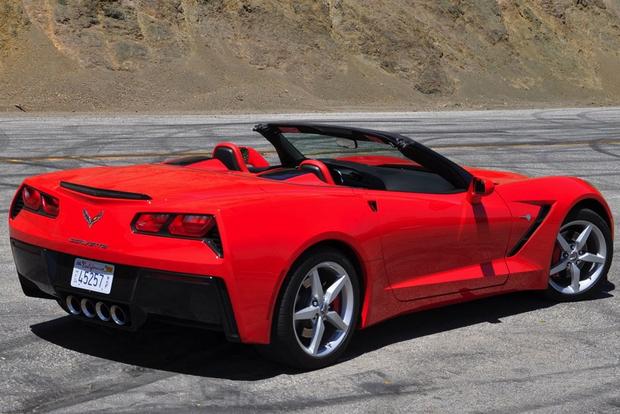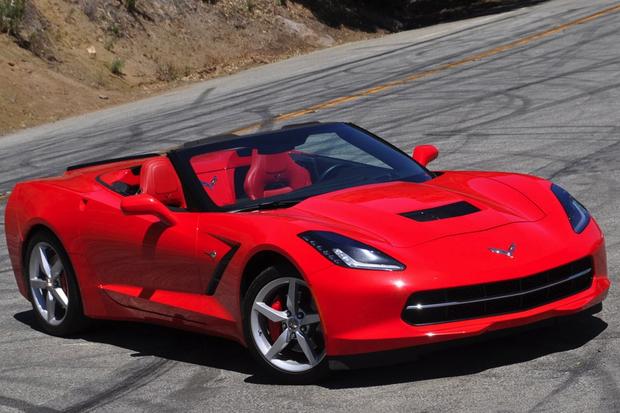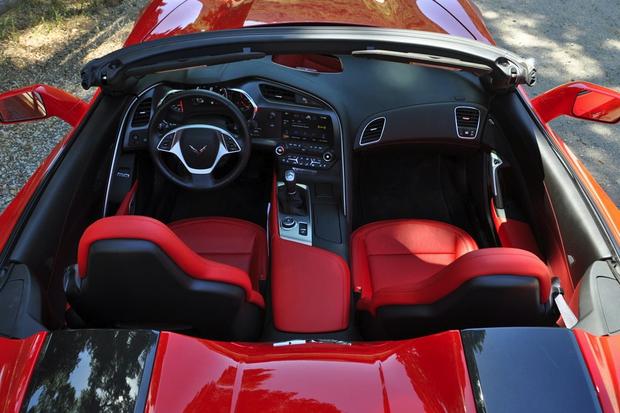 Looking at the 2014 Chevrolet Corvette convertible, you can't really tell how dramatic the carbon-fiber hood's topography is until you slide into the driver's seat. From this perspective, the classic blistered fenders and center hood bulge are unexpectedly exaggerated, and no matter what you might think of the latest Corvette's styling, all is right with the world from behind the steering wheel.
Unless you're wider of girth, that is. I'm bigger than I should be, and I found the Corvette's standard leather-wrapped GT bucket seats restrictive. They are heated and ventilated, though, helping to improve comfort and making it easier to drive the Corvette with the top down on chilly or muggy days. Also, if you're interested, you can opt for competition seats with even more substantial bolstering.
Improved Interior and Tech
Chevrolet addresses long-running complaints about the Corvette with these new seats, which are bolted into a redesigned interior that features much-improved materials and controls. Thoughtful details include soft padding on the parts of the cabin where drivers might brace themselves while taking corners with enthusiasm, a grab bar for the front-seat passenger, and separate climate controls for the passenger which are located under the rightmost dashboard vent. Chevy also says it uses authentic aluminum trim and premium leather inside the new Corvette, with genuine carbon fiber offered as an option.
The latest technology is also installed in the new 2014 Chevrolet Corvette convertible in the form of a high-definition 8-inch instrument display screen, a MyLink infotainment system with an 8-in color touchscreen, a reversing camera, and a 6-month subscription to OnStar services. If you're thinking that display screens inside a convertible are a bad idea, don't worry: I had no trouble seeing them or using them with the top down, and my polarized sunglasses didn't cause any problems, either.
In addition to the standard technology, my test car also had the 2LT equipment package, containing a color head-up display and a premium 10-speaker audio system (among other upgrades), plus a navigation system, a multi-mode performance exhaust system, and red-painted brake calipers. The extras inflated the sticker price from $56,995 to $63,790.
Under the Hood
A 6.2-liter V8 engine with direct fuel injection is standard equipment, making 455 horsepower unless you opt for the same performance exhaust system fitted to my test car. In that case, the hp rating is bumped to 460. Installed in the 3,362-lb Corvette, this translates to an acceleration time of 3.8 seconds when going from zero to 60 miles per hour, according to Chevrolet.
A new 7-speed manual gearbox feeds the power to the Corvette convertible's rear wheels, which measure 19 inches in diameter, one inch larger than the 18-in front wheels. The manual gearbox includes active rev-matching, which automatically blips the car's throttle when downshifting. If you'd rather not push a clutch pedal, a 6-speed automatic transmission with paddle shifters is optional. For city driving or commutes with heavy traffic, I recommend opting for this transmission. The standard manual gearbox is pleasing to use, thanks to tight gear spacing and short throws, but I had trouble acclimating to the clutch and stalled the car on at least one occasion.
Either way, the 2014 Chevrolet Corvette convertible features a power-operated fabric top that drops in after about 20 seconds and works while the car is traveling as fast as 30 mph. It stows beneath a hard tonneau cover, leaving 10 cu ft. of trunk space, which is enough for the two people the car can carry. You'll want to pack light anyway, as the lift-over height is substantial and you won't want to scrape the car's paint.
On the Road
Naturally, the best way to drive a Corvette convertible is with the top down. Making my way to the mountains northwest of Los Angeles, with the car's Driver Mode Selector technology set to Sport mode and traveling at a fairly relaxed pace, I thought the 'Vette's steering was a little light, especially on center. Also, the Magnetic Ride Control suspension essentially glided across the pavement. Cruising on a coastal highway or a freeway in Sport mode, you really don't get a traditional sports-car vibe.
Put the Corvette on a twisty road, though, and this car's personality changes. This is a terrific sports car that is really easy to drive hard and fast. The steering is accurate and well-weighted, the rim is properly sized and shaped, and the shape of the hood and fenders helps to place the car in a corner or lane.
The 6.2-liter V8 rockets the car to speed, and the multi-mode performance exhaust system's note is phenomenal. Going through the tunnels bored into the Santa Monica Mountains, I revved the engine, filling the man-made caverns with the utterly satisfying sound of fury.
Driver Mode Selector offers additional settings besides Sport mode. If you're competing in a weekend track event, the Track mode adds launch control and adjusts the steering, suspension, throttle, and stability and traction control system for optimum performance. Road trips are more comfortable with the Tour mode engaged, while the Eco mode maximizes fuel economy to the tune of 21 miles per gallon in combined driving. A Weather mode manages power delivery to improve traction in rain or snow.
Needless to say, on a beautiful sunny day in southern California, I didn't need the Weather setting. Instead, I needed long stretches of vacant, writhing mountain roads upon which to test the new Corvette convertible's mettle. Having spent some quality time flogging it in just such an environment, I'm prepared to agree with Chevrolet when the company asserts that this latest Corvette is truly a world-class sports car. And I also think it's a relative bargain at the price.